This is the sixth in an ongoing series exploring the lives of artists and community organizers during the coronavirus pandemic. If you know of someone or are yourself a musician, artist, organizer, filmmaker, author, etc. and want to chat, send an email to sconrad@flaglive.com or mchase@flaglive.com.
Artists Duane Koyawena and Landis Bahe were preparing to move their Pivot: Skateboard Deck Art exhibit to Durango, Colorado, for its year-long stay at the Fort Lewis College Center of Southwest Studies when coronavirus closures began to take effect.
The exhibit, which was co-curated by Koyawena and Bahe and went on display at the Museum of Northern Arizona in 2018, features nearly 100 skateboards, decorated by 30 Native American artists—a wide variety of traditions represented on each meticulously rendered deck.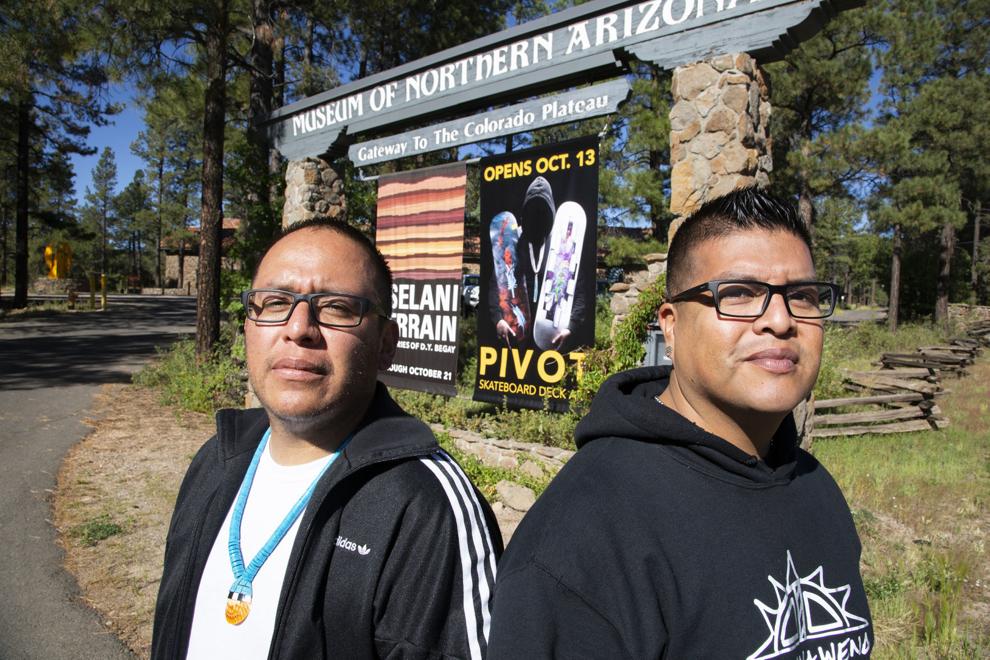 The exhibit opening was slated for March 25, but the Fort Lewis campus closed shortly before that could happen, and Koyawena, who works as a mental health technician at the Flagstaff Medical Center behavioral health unit in addition to painting, had to adjust. He was also set to attend Indigenous Comic Con (now called Indigenous Pop X) with "Hopi R2." The sculptural R2-D2 replica built by Joe Mastroianni and painted by Koyawena is part of the longstanding The Force is With Our People exhibit at the Museum of Northern Arizona. Indigenous Pop X was postponed to a yet-undeclared later date.
As COVID-19 sweeps through reservations across the United States, exposing longstanding disparities as direct results of settler colonialism, artists, indigenous and otherwise, are grappling with the disease's devastation.
It took Koyawena several weeks to form the idea for his newest piece. In early April, it was still nothing but a blank skateboard deck waiting to be transformed.
"There have been a couple projects that I fell into recently, one is a piece related to what's going on right now," he says. "I did that with the Museum Fire, too, tying it in with Hopi culture and what it meant to a lot of Hopis. Even with what's going on, I have an idea of something. My canvas is ready, the backdrop is ready, it's just a matter of me working on it."
Then, come the first week of May, just a couple days ago, Koyawena had completed it, a piece titled "Itaa quaatsiy oo'qalyani" ("Having the strength to persevere in our lives").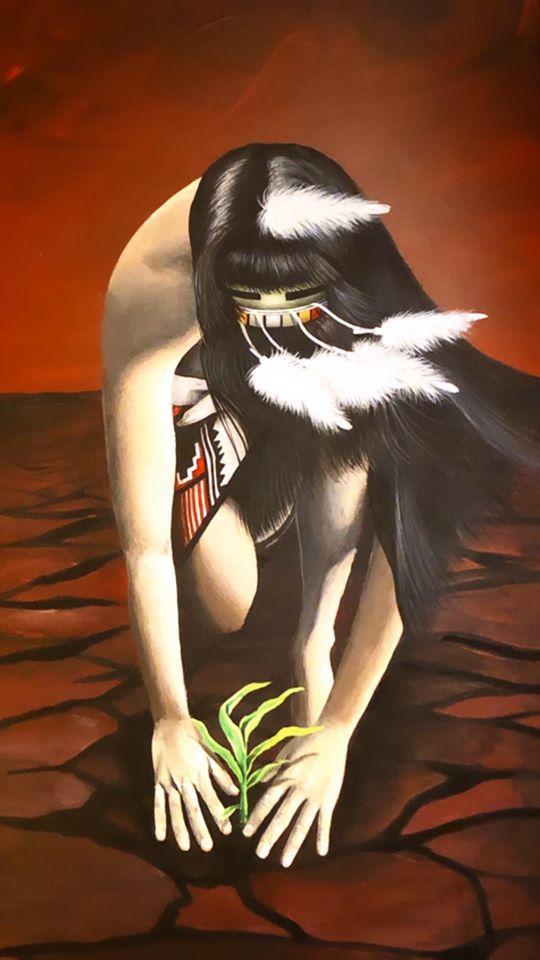 "Depicting enduring traditions and the continuation of our way of life, this piece expresses high hope in the midst of conflict and destruction," he says. "Our future is sustained by our hard work and our collective dedication to our beliefs."
Koyawena adds that he was moved to paint "by the profound impact COVID-19 has had on the world, including Hopi Sinom."
"This work is an expression of our resilience," he explains.
According to the Hopi Department of Health and Human Services as of April 30, the Hopi Health Care Center had tested more than 160 patients, with 40 tests coming back positive, 21 of those members of the Hopi Tribe.
This and last month marks the beginning of Hopi planting season, and Koyawena was planting corn in mid-April, on a sunlit windowsill in his apartment, and still more crops at a friend's greenhouse in between painting. The health crisis has prompted him to re-focus on his art a great deal, he says. Between spending time with his young daughter and going to work at FMC—a shift that is no longer as simple as it used to be—he has had the opportunity to continue with his practice.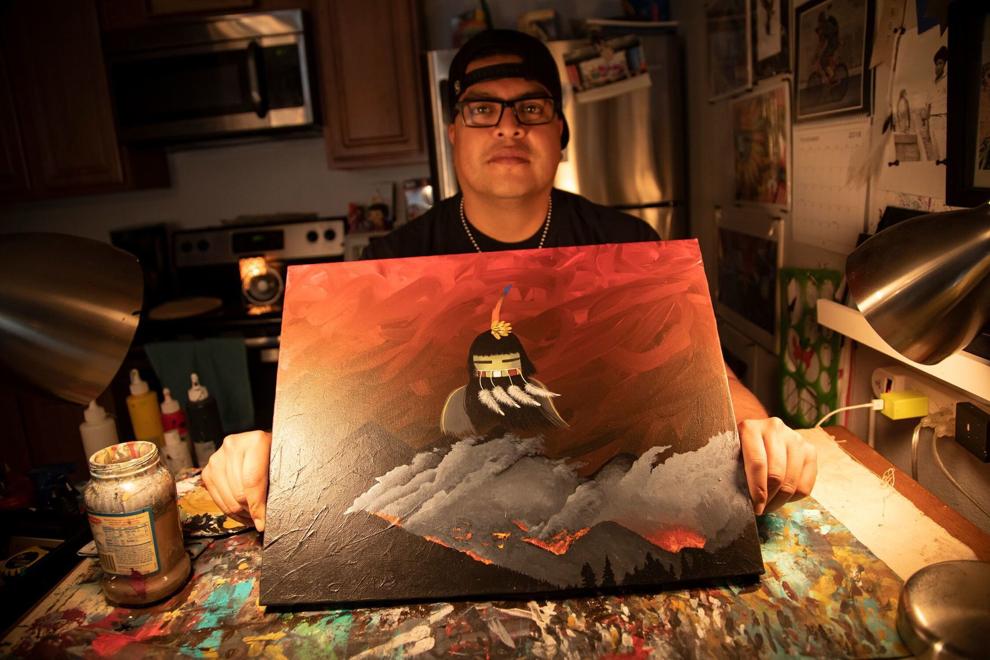 "Even with everything it's been a great time for me to get at other projects and luckily I have this desire to really push," he says. "I am really grateful for that time, and people are actually purchasing art more than any regular time. There's been a lot of support for myself as an artist, all the people that follow my work have been really supportive. It's been a great time for art. I've been very fortunate."
Other recent works Koyawena has undertaken are 3D-printed Mandalorian helmets, inspired by the Star Wars Franchise TV series, as well as another skate deck, inlayed with bright blue and deep black lines.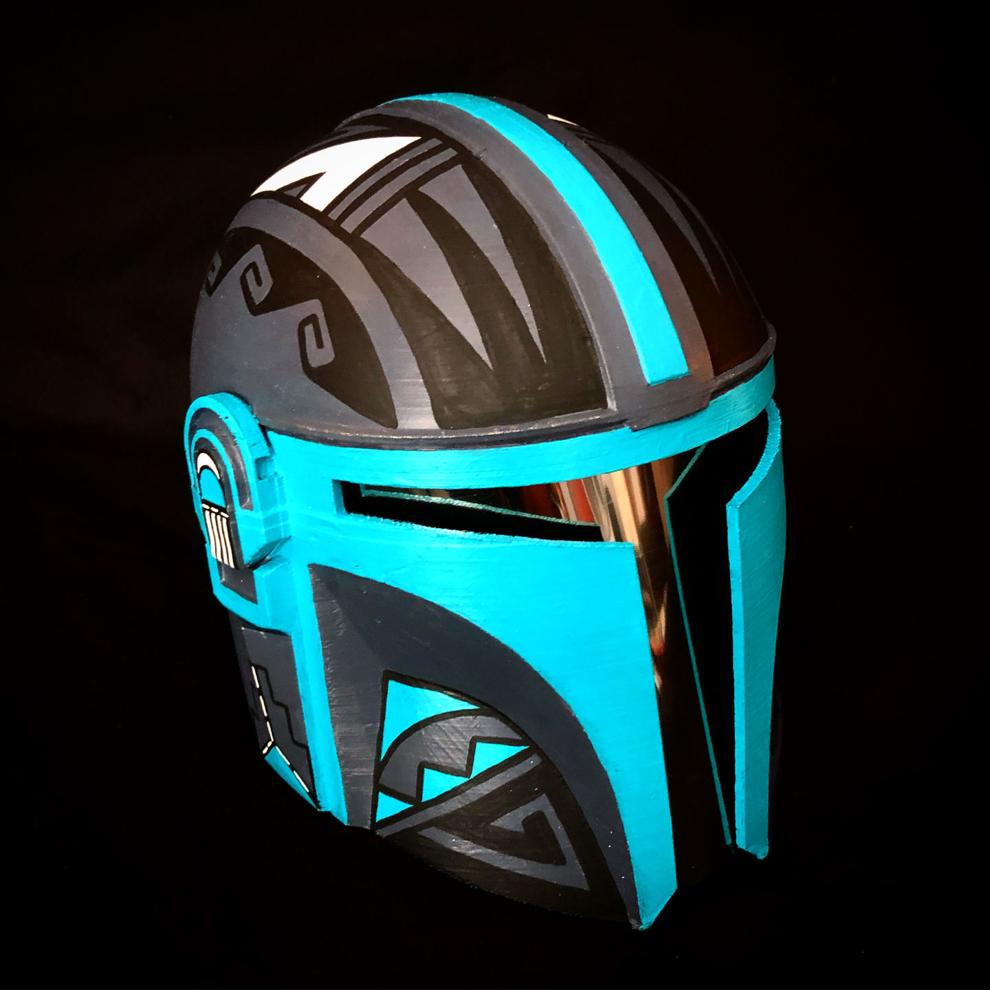 And, though his work at the hospital now means heightened precautions, including paying closer attention to his own respiratory issues, which put him at increased risk, the job is something to which Koyawena remains dedicated.
"It has been a little stress on me, but at the same time I try to consider being there to help people who need the help. So I'm on both sides of the fence [and] being at the hospital definitely means being close to [COVID-19]," he says. "I'm worried but at the same time I want to be there."
At the end of his shift, as he and other healthcare workers and staff exit the hospital wings, Koyawena is greeted by the bright lights of dozens of cars in the FMC parking lot, residents giving their thanks to those inside.
"When I'm not [at FMC] working I have the support of people buying prints; stickers, too, have been really popular lately. On an average day I'm probably checking my emails and invoices for purchases, doing any shipping, packing up orders and then hopefully I have enough juice left to start working on painting. I'm trying to be productive but also taking breaks in between."
To follow Koyawena's art, visit his Facebook page Duane Koyawena Arts-Uutsi'mah, @DuaneKoyawenaArts.