As a Flagstaff concert promoter and festival producer, I spend a lot of time thinking about the ins and outs of events. One of my favorites is the Jazz Fest in New Orleans. Unlike most U.S. fests that are mostly just about the music, the Jazz Fest celebrates the culture of Louisiana in a meaningful way that has resonated for almost 50 years.
I last attended the New Orleans Jazz & Heritage Festival eight years ago and had been to the city several times before, but in the days leading up to this year's fest, I found myself strangely obsessed with NOLA. I would listen to NOLA music all day and read books about and set in the city. What was it about this city that had gotten so completely under my skin?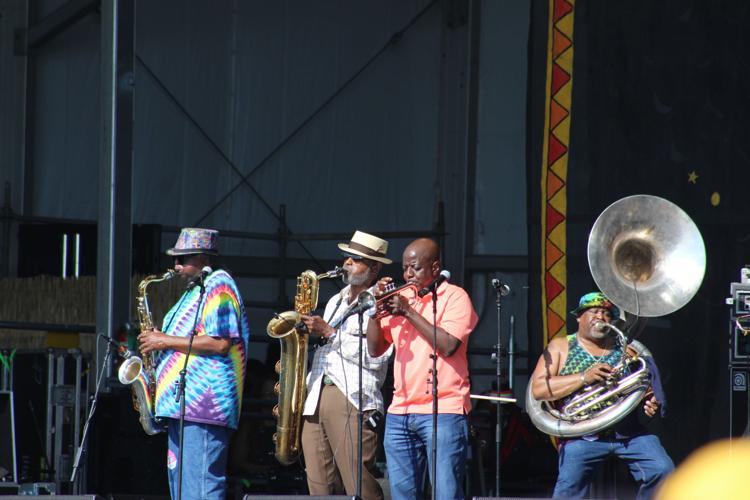 I arrived at Louis Armstrong International Airport and met one of a few dear friends I was rendezvousing with headed to our home for the weekend. After the next old buddy arrived, we beat feet to Felix's Restaurant and Oyster Bar for a welcoming meal of a dozen on the half shell followed by po' boys and jambalaya.  We then headed into the heart of the French Quarter to hit Café Du Mond for beignets and coffee. On our way back to the house, we happened upon a brass band playing on the street with a crowd of 50 plus revelers getting down. Just another Wednesday night in NOLA.
We caught Kermit Ruffins playing a free show at Louis Armstrong Park before enjoying a super avant-garde jazz duo consisting of NOLA heavyweight James Singleton on bass and Aurora Nealand on violin and sax. The show began abruptly with the players manically rattling car keys and making a general racket with containers on the floor. Some bowed bass notes emerged out of the din and the dissonance melted into sublime melodies intertwined with throbbing rhythm that challenged the audience yet rewarded us with something unique and quite mesmerizing.
We could have stuck around for a second set, but I wanted to sample more of the massive buffet of music served across the city during Jazzfest so we took a car over to the Maple Leaf. This evening the band featured George Porter Jr., bassist for the seminal funk band The Meters. Joining him was Vernon Reid, best known for his work with Living Colour, and rounding out the trio was drummer Johnny Vidacovich. Seeing a group like this embodies the ethos that surrounds Jazzfest—with frequent supergroups playing all around town, giving audiences a chance to see something they would never see otherwise.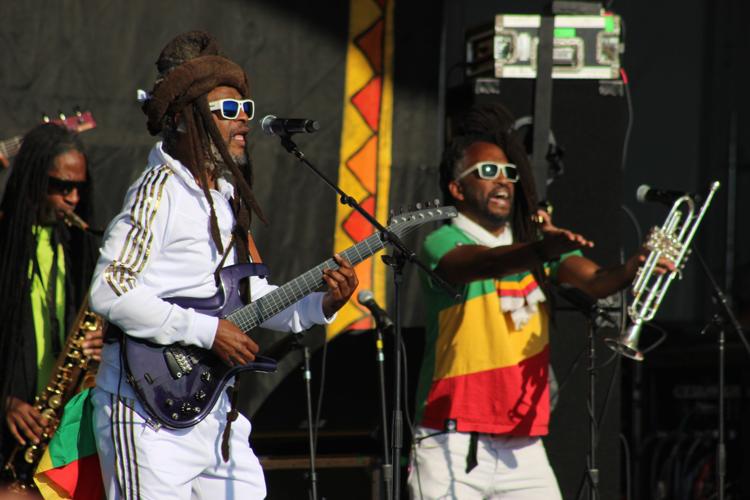 We began the day at Willie Mae's for a breakfast that comprised of the best fried chicken in the world, and there's nothing better than three pounds of fried chicken to give us the energy to walk the two miles to the Fair Grounds Race Course for the first day of the festival.
The Jazz Festival is a massive operation that includes 12 stages of music as well as scores of stellar food stands helmed by some of NOLA's best chefs. There are also parades throughout the day by Mardi Gras Indians.
We started off seeing Eric Lindell, a NOLA musician who has made a mark with his soulful take on the blues,  before catching Christian Scott Atunde Adjuah, a NOLA cat who has achieved great success on the international jazz scene.
The headlining slots were typically filled with impossible choices. Should I catch UK-reggae legends Steel Pulse, country roots/rock rising star Sturgill Simpson or probably the biggest name of all—Sting. Rather than pick one we caught bits of them all.  
Friday night we headed over to the Republic in the Central Business District to take in Voodoo Dead. The lineup featured George Porter Jr. on bass, Jackie Greene and Steve Kimock on guitars and Jeff Chementi on keys. From face-melting funk to mind-bending guitar rock and soulful vocal delivery, these guys dropped two sets of heat.
We trudged back to the fairgrounds early for more music, starting with a Fats Domino tribute featuring Bonnie Raitt, Jon Batiste, Irma Thomas and a who's who of the best horn and rhythm players in NOLA. The show was especially poignant because Fats passed away last year, demonstrating again the power of music to carry on after its creators have died. Like a sacred text, these songs came back to life again and again in the able hands of these musicians.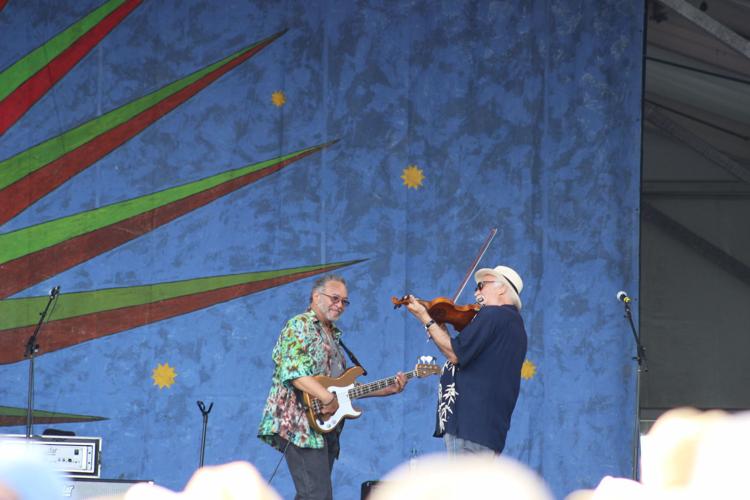 The next time slot saw me bouncing between stages, catching a performance by the Voice of the Wetlands All-Stars featuring Tab Benoit, Cyril Neville, Anders Osborne and George Porter Jr., just to name a few, before hightailing it over to the Jazz Tent to see Charles Lloyd & the Marvels with Lucinda Williams. For the final slot of the day I eschewed Rod Stewart in favor of Cha Wa, a mashup of Mardi Gras Indians and a brass band. Their show was funky and carried a cultural heaviness that drove home the sense of place that is endemic to the festival.
Despite tired bones and sore feet, my crew rallied and made the trek back to the fairgrounds to kick the day off with Tribute to Jellyroll Morton, one of the progenitors of jazz. We followed this up with a set from the Treme Brass Band, another act with close to three decades of history. The cherry on top was David Byrne's amazing set featuring his 12-piece ensemble in a choreographed show that touched on the new album but also made inroads into the Talking Heads catalog.
Once the fest was over we ambled to Mother's for their Famous Ferdi Special, a roast beef po' boy au jus. After, we still had one more show on the docket: Foundations of Funk with George Porter Jr. and Zigaboo Modelsite of the Meters with Anders Osborne and Jojo Herman of Widespread Panic and the Bonerama horns.
This set was high energy funk from start to finish. They dug deep into the Meters catalog and blew the roof off of the Howling Wolf with high-strutting fat back beats, deep in the groove bass lines, searing guitar licks, soul-drenched keyboard and, of course, a tight horn section, definitely a great note on which to end.
NOLA is a one-of-a-kind place. The city's contribution to music is incomparable: from the slaves in Congo Square keeping alive the rhythms of Africa to the advent of jazz to many of the building blocks of rock 'n' roll to hip-hop, New Orleans has its fingerprints all over modern music.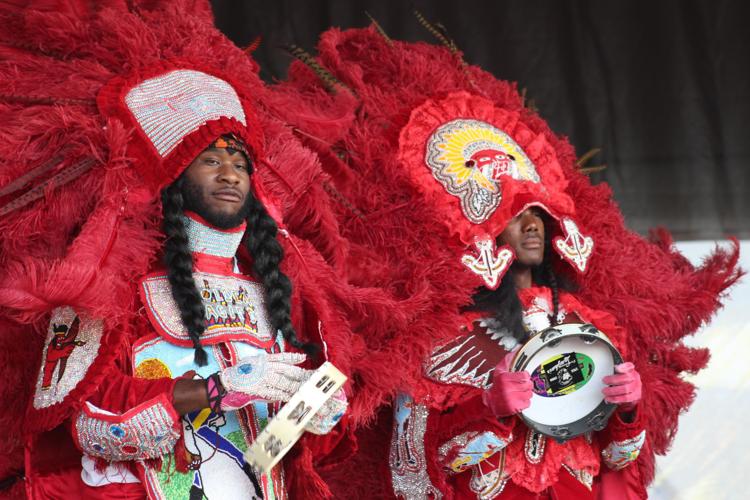 The Jazz & Heritage Festival shines a spotlight on New Orleans' cultural achievements and the more than 400,000 attendees are a testament to the magnificence of the city. While there are big headliners not from NOLA, the vast majority of the lineup consists of local groups and plays from the canon of NOLA music. This is how culture is renewed and passed on. In a world obsessed with the next big idea, NOLA is content to keep on being what it has always been—a convergence of cultures defining the American ideal of the melting pot.
As I consider how to incorporate some of the successful strategies used at Jazz Fest into my upcoming festivals I think about Flagstaff and our very unique sense of place that is so focused on the outdoors. How better to celebrate this than to gather outside in a public space and come together as a community? In addition to the breathtaking landscapes that define our town, the people who live here are another aspect that makes Flag so special. When we converge it helps us remember that we are all part of something bigger than ourselves. While I don't know that Flag will ever have an event like the Jazz Fest, I think our town does have a pretty impressive array of festivals and I see Jazz Fest as a great model because it goes beyond just the music.
So here I am back in Flagstaff, happy to be home and ready to put on the 9th Hullabaloo, but I am also plotting how I can get back to the city that stole my heart.