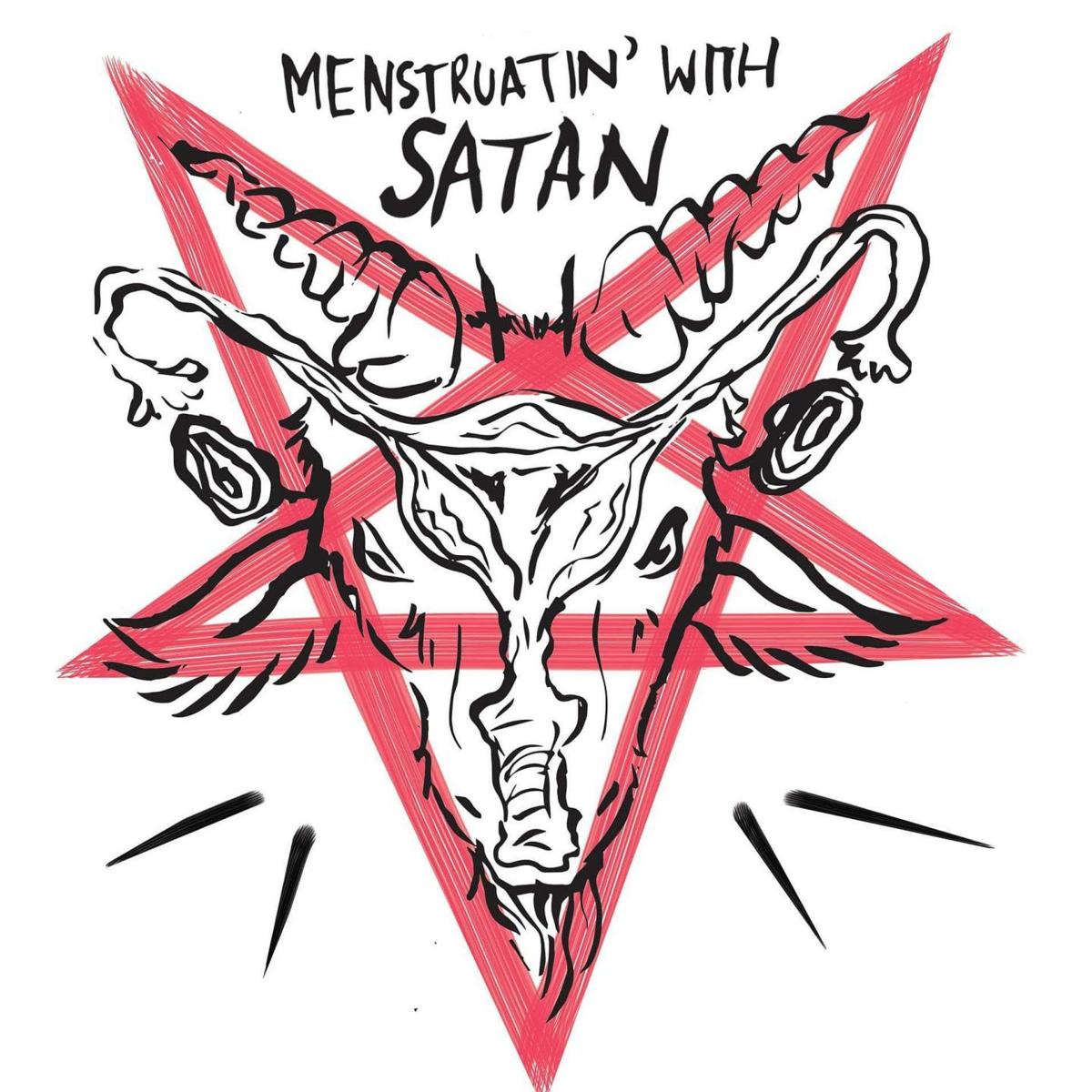 Everyone goes through puberty at some point in their lives—outside of the very few people who suffer from Kallmann syndrome, a rare genetic disorder. The typical age puberty occurs for girls is between 8 and 13, and between 9 and 15 for boys, but not everyone has equal education regarding the changes their body is experiencing.
For those with uteruses, there's the initial concern that the bleeding means something is wrong with them if they never got the opportunity to learn about periods. Then there's the cost of products needed to maintain cleanliness once they learn this is a phenomenon that will happen once a month for the next four or five decades of their life. It adds up—feminine products are a $2 billion industry in the United States.
This is the fourth year the Arizona chapter of The Satanic Temple has participated in Menstruatin' with Satan, a period product drive that collects items to be donated to communities in need, especially schools.
Worldwide, approximately 131 million people are unable to attend school due to menstruation according to the United Nations Educational, Scientific and Cultural Organization, and 100 million of those are of high school age. Even in the United States, one out of five people with uteruses stay home from school during their monthly cycle according to data released last year by Always.
"If we can keep these kids in school, awesome, that's very important," says Michelle Shortt, chapter head of The Satanic Temple Arizona. "Kids shouldn't miss school because they have a natural bodily function that they can't control."
The Satanic Temple Arizona held its first Menstruatin' with Satan drive the same year the chapter was formed in 2016. The drive was first implemented by the Boston chapter.
"It went so well, almost all chapters have done drives," Shortt says, whether they're collecting socks, coats or period products. "The Temple loves to participate in community activities."
The response to Menstruatin' with Satan in Arizona has grown each year. In 2017, donors dropped off a total of 64 boxes of tampons, 110 boxes of pads, five packets of baby wipes and two menstrual cups at five participating locations in Tucson, Phoenix and Mesa. Phoenix New Times awarded the Temple "Best Community Service Project" for the drive's success. The following year, The Satanic Temple received 132 boxes of tampons, 234 boxes of pads, 40 packets of baby wipes, 17 packets of feminine wipes, 35 menstrual cups and 165 Ipsy bags to donate to schools in need.
Shortt says the increase was likely due to the implementation of an Amazon Wish List.
"We were receiving donations from all over the world," she says. "You don't have to go to a drop location, just order online and I go pick it up at the post office."
This year is the first the Flagstaff community has gotten involved. Of the eight drop box locations currently confirmed across the state, The Green Room and Cornish Pasty Co. will represent northern Arizona.
"We were approached by one of our regulars, who is a member of the Phoenix Temple and has found The Green Room very open and accepting of people and felt that we would be a good location to participate in Menstruatin' with Satan and that it could make a difference within the community," Brandon Kinchen, Green Room owner, and Kim Austin, production/marketing manager, explain in an email. "We were aware of the issue before, not only in the lack of access, but also the high cost of feminine products, and when this opportunity was brought to our attention it inspired a lot of discussion about the issue within the staff and we knew it was something we would like to get behind."
They note that while The Green Room does not currently have tampon dispensers in the bathrooms, it is something they want to look into and there is a small supply of products behind the bar for staff and patrons should they be in need.
The Satanic Temple has partnered with local Arizona nonprofit Go with the Flow the past two years to distribute Ipsy bags full of pads and tampons to schools across the state. The nonprofit was created in 2017 by Demetra Presley after she learned about a teacher who gave bags of menstrual hygiene products to students who couldn't afford them. The school didn't have a budget to provide these items, and the cost came out of the teacher's own pocket.
Some of the Satanic Temple's members have attended packing parties with Go with the Flow to prepare Ipsy bags following the annual drive.
"Grassroots is where we like to go," Shortt says. "A bunch of volunteers getting together, organizing, no corporate giants breathing down our necks."
"A lot of charities don't really focus on the menstrual side of donations. They focus on food, clothing, but they don't really focus on menstrual products, and especially for transgender men," she continues."The Satanic Temple is a supporter of the LGBTQIA community. We try to use agendered pronouns, they, them, students, disadvantaged people. We don't want to exclude anyone and I think that's a very important part of Menstruatin' with Satan. This isn't just a woman's issue, it's everybody's issue"
The Satanic Temple's Menstruatin' with Satan drive will begin May 13 and run through July 13. Donations of new, unopened pads, tampons, menstrual cups and sanitary wipes can be dropped off at The Green Room, 15 N. Agassiz St., or Cornish Pasty Co., 26 S. San Francisco St. Items can also be purchased through Amazon. Visit www.thesatanictemplearizona.com or www.gowiththeflowaz.org for more information.
Be the first to know
Get local news delivered to your inbox!