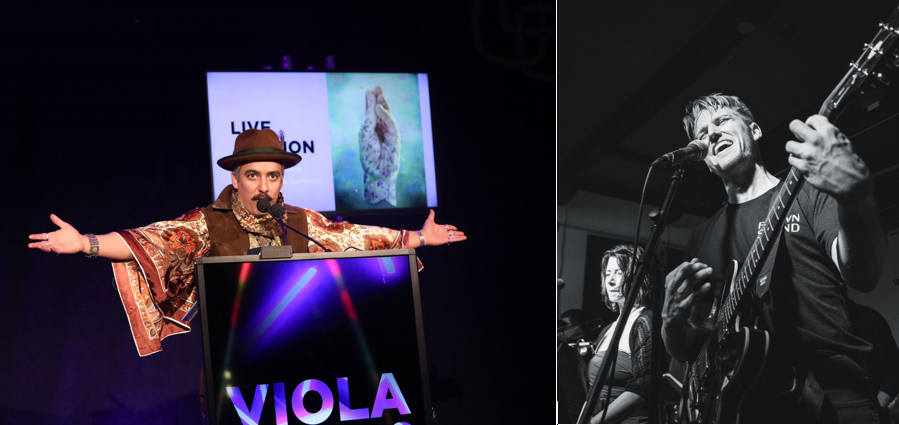 This is the first in a weekly series exploring the lives of artists and community organizers during the coronavirus pandemic. If you know of someone or are yourself a musician, artist, organizer, filmmaker, author, etc. and want to chat, send an email to sconrad@flaglive.com.
Last week, Andres "Dapper Dre" Adauto, local emcee, board member with Flagstaff Foundry, programming coordinator for the Museum of Contemporary Art Flagstaff and so-dubbed unofficial mayor of town, was still optimistic. At the time, warnings from the Centers for Disease Control and Prevention mandated that gatherings reach no more 50 people. That number rapidly decreased to 10; now the recommendation stands that social gatherings be eliminated almost entirely.
Top of mind for Adauto and others in Flagstaff's arts community is the health of the people around them, family and friends, those in the service and other industries who will be suffering financially and vulnerable populations, he says. But self-isolation has already taken its toll for Adauto, whose "practicum," as he calls it, involves being around people, coordinating arts events and physically being present in the community.
For those who've seen him in action, the word lifeblood seems more appropriate than "job" when it comes to all that Adauto does. He's a veritable beacon on the Flagstaff arts landscape, a man with a plan and someone who gives the impression that he's actually capable of being in several places at once. And yet, he was uncharacteristically somber come Tuesday morning.
"It's not only about my two income sources," Adauto, who also works as a bartender at Uptown Pubhouse, says. "But the outlets that I consider make me up as a human being are essentially shut down. It's pretty hard on the mental landscape as a person who vibes on just going and being in the community and I can't do anything about it. Financially aside it's the practicum and feeling that crunch. I didn't think it was going to affect me that hard but I'm really struggling."
Sean Golightly, a member of local bands The Canaries, F-Town Sound and A Band Called Sports, as well as the music director for Flagstaff Shakespeare Festival, expressed similar concern—for him, self-isolation represents something bodily, sustaining.
"I find it encouraging myself to continue to engage in my community because that is important to my mind and my body, even if that means bumping elbows," he says. "For me music is medicine, so is being able to come together and dance—it is important to our community health."
Among the arts organizations that have postponed or canceled upcoming events are MOCAF, Flagstaff Symphony Orchestra, The Orpheum Theater, Flagstaff Shakespeare Festival, Flagstaff Foundry, the Museum of Northern Arizona and more. The arts scene was dealt another unforeseen blow when Mayor Coral Evans made the decree limiting all restaurants and cafes to be take-out only, impacting establishments like Firecreek Coffee Company, Hops on Birch and other local venues which host events like live music and drag shows.
In terms of its Blackbird Roost warehouse location, MOCAF is still in its infancy. Not quite two years into existence, its organizers recently expanded programming, attained official nonprofit status and brought together a board of people from across the community. The decision to shut down until further notice weighed heavily.
"With MOCAF there was particularly melancholy, you could see the tension on everybody's faces," Adauto says. "You see what the future is going to be and have to disengage. You have to not only worry about the small things that is your own local arts org, but a broader sense of what things look like for your family, or everybody really. This is a lot scarier than fire season, this is a lot broader in impact and a lot harder to read."
A great deal of Adauto's gigs take place in the summer—a time that includes his and Coconino County Supervisor Art Babbott's community flea market, Hullaballoo and other events that draw crowds well into the hundreds.
"We've been calling [the month of] May, 'May or may not,'" Aduato says with a quick laugh.
Golightly--for whom music gigs alone account for roughly 30 percent of his income--remains, like Adauto, concerned for those who have even less of a monetary buffer than himself.  
"The truth is artists are used to being economically unstable," he says. "And while it's true we're no stranger to economic hardship, these next months will be trying and it's for that reason I encourage people to see how they can be a patron for their community arts."
Doing so requires a certain "reframing" as Golightly calls it. Not seeing an event or art as a "singular commodity" that one buys once, but considering these organizations and people as "services that you subscribe to [and] give to in habitual ways in order to have the opportunity to have arts in your community."
Now is a time of questions and uncertainty but perhaps one that might also bring about creative workarounds.
"How do you hardline not being good at social distancing and wanting to hug friends, and shake hands, and wanting to be around 50-plus people all the time and coming to grips with those realities?" Adauto says. "I think everybody's minds have to crank and turn and think of new ways to continue to do what we do."
A number of local organizations are looking to introduce virtual programming including MOCAF and the Flagstaff Foundry.
For those who are financially able, here are some ways to support the arts in Flagstaff during ongoing closures: Don't ask for refunds for already-purchased tickets to events. Instead, consider those a donation; donate to the Flagstaff Arts Council Community emergency grant fund, which directly benefits local artists and nonprofits (https://flagartscouncil.org/covid19/0;) donate to Flagstaff Shakespeare Festival (www.facebook.com/flagshakes/). Stay tuned for more ways to support local artists in coming weeks.
Be the first to know
Get local news delivered to your inbox!