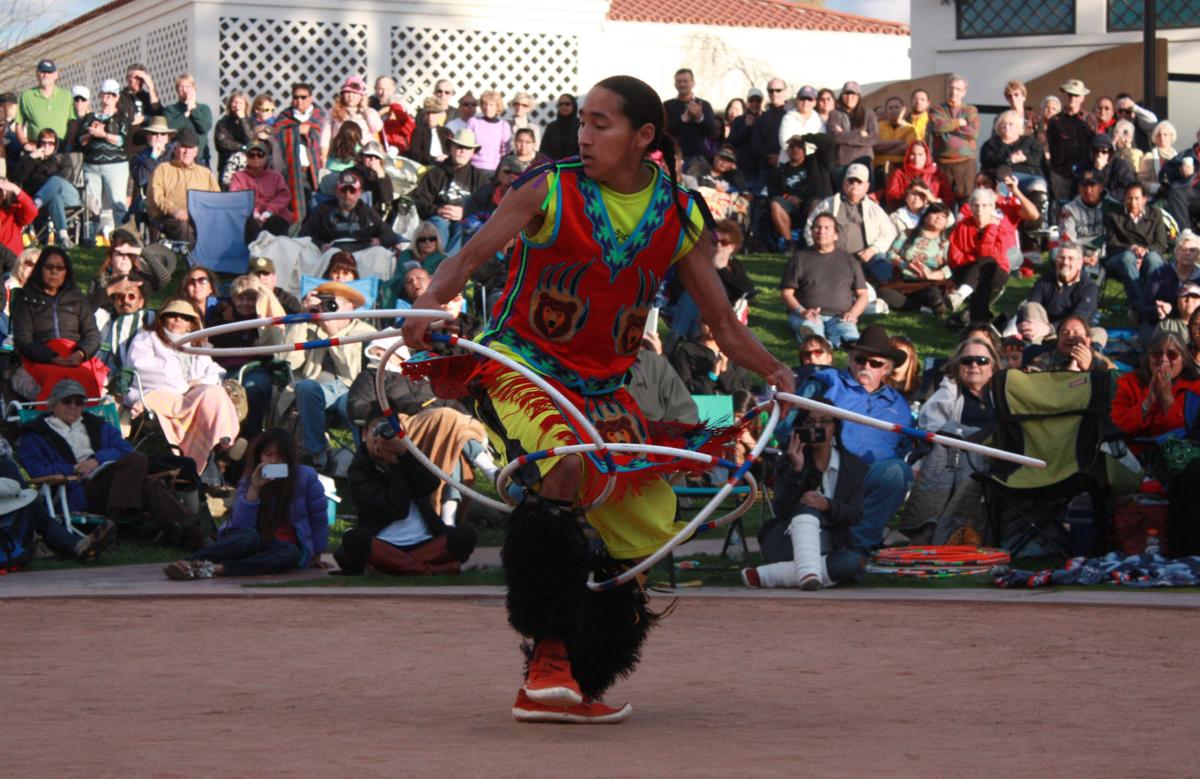 "Hoop dance is originally a medicine dance, for healing," a 26-year-old Nakotah "Lomasohu" LaRance told the Arizona Daily Sun in 2016 ahead of his performance at the Museum of Northern Arizona's annual Hopi Festival. "Mine is involved in modern and Native American performance for the beauty of movement, and to be in touch with oneself when one is moving."
LaRance (Hopi/Tewa/Assiniboine), a world-renowned and award-winning hoop dancer, died Sunday, July 12, after falling from a bridge in New Mexico's Rio Arriba County, according to his father, Steve LaRance. He was 30.
LaRance, remembered by friends and family as full of laughter, humility and a powerful force on the basketball court, was a nine-time winner at the World Championship of Hoop Dance, a principle dancer with Cirque Du Soleil and played a main role in Steven Speilberg's Into the West (2005), among other accomplishments. He also worked as an instructor at the Lightning Boy Foundation and created the Pueblo of Pojoaque Youth Hoop Dancers. Despite all his accolades and world tours, the core reward of his art, LaRance told the Sante Fe New Mexican, lay in passing it on through teaching.
"My kids come up and give me a big hug and are so happy to be doing what they are doing," he said in the 2016 interview. "Educating others about their world and their tribal heritage and sharing that through performances with other people—to me that's the payoff.
"To make that contribution to the community through my art, through working with youth," he added, "is enough for me."
LaRance was born Aug. 23, 1989, in Barrow (now Utqiagvik), Alaska. His father is a silversmith and jeweler; his mother, Marian Denipah, is a jeweler and painter.
The LaRance family moved to Flagstaff after Nakotah was born, and it was here that he spent his childhood and adolescence, starting dance at the age of 5 after his father took him to a powwow where he met champion hoop dancer Derrick Davis (Hopi/Chocktaw). The latter made Nakotah his first set of hoops and started teaching the young dancer.
LaRance attended Thomas Elementary School and his early high school years were spent at Coconino High School before he transferred to Flagstaff Arts & Leadership Academy his junior year.
"[Nakotah] came to us a seasoned professional in the art of hoop dance and had already filmed the Into the West miniseries," Leslie Baker, retired FALA dance teacher, remembers.
"It felt odd to require him to take dance classes, but he chose to tap with me. I remember him as a funny, quiet, humble presence," Baker adds. "It was a joy to have known him."
In 2009, shortly after graduating from high school, LaRance joined Cirque du Soleil, travelling with the troupe for more than three years. As one of two solo hoop dance artists in the ensemble, he performed as the "Amerindian Dancer," who traced the evolution of species through rings.
In his more than 25 years of dance, Nakotah honed footwork and movements that expressed the weight and import of the hoop dance tradition, one that the young dancer came to know intimately for its history as well as his ability to create and move therein—incorporating modern dance influences like hip-hop and Michael Jackson moves as well as marital arts into his singular style.
"This generation, and also before that, they seem to be molding together and you have to mix it up. You're doing traditional and modern-day stuff. There's no challenge except to find a balance of it all. You learn and accept everything," LaRance told the Daily Sun.
LaRance's father would often accompany his son's dance with singing and drumming, pausing like he did at MNA's 2016 Hopi Festival, to explain each dance in the context of Hopi culture.
LaRance was dance incarnate and vice versa.
"I always remember Nakotah's passion and focus," Deidra Peaches, local filmmaker and close friend of LaRance, says. "He would always challenge himself and was driven by his heart and what he loved. He'd listen to a song and vibe with it instinctively. Dancing was a language for him, it was how he expressed himself."
LaRance and Peaches met at Thomas Elementary, the starting point of their lifelong friendship, both just third graders at the time. She remembers how he loved to play on a specific piece of playground equipment, a haphazard and outdated set that the group dubbed, "The Big Toy," jumping off it daringly for his friends to see.
"Nakotah was always doing something. He was energy," Peaches says. "If he wasn't practicing hoop dancing at the Flagstaff Recreation center, he would be skateboarding at Bushmaster. What I loved about Nakotah was how carefree he'd be. Nakotah would show up to my family's house and go straight to our refrigerator. With his smile and unforgettable laughter, he could brighten your day. He effortlessly would make you smile, laugh and in an instant, you would forget what your trouble was in the first place."
For Peaches, the time spent with her friend is defined by laughter, playing basketball at Bushmaster Park or binge watching anime VHS tapes and DVDs, playing Dance Dance Revolution, Guitar Hero or Rock Band.
"We were never bored," she says.
LaRance continued to dance, adding teaching to his skillset as an adult and practicing his art the way only he could—all the while constantly supporting the next generation of young indigenous dancers and artists.
"Witnessing Nakotah achieve so much success was inspiring. Especially being here in Flagstaff and knowing that Nakotah was out filming a movie or hoop dancing in New York. When Nakotah was cast for Into the West, he made all those dreams seem so obtainable. It was inspiring to know that someone I knew is out there in the world achieving their dreams and getting to visit the world," Peaches says. "It made me think and even pursue those same inclinations in filming. In many respects I am deeply grateful Nakotah was in my life because he was us on television—still something that is yet to be seen is more Natives on television. Nakotah made all those a reality, and I am thankful for him doing so."
"To us kids, Nakotah was Nakotah, and as we grew up Nakotah was always humble and never boasted or flaunted his success," she says. "He was always genuine to himself and to all his friends."
The family plans to hold a public memorial for LaRance once the pandemic is over.
To learn more about Nakotah LaRance and how to honor his memory, visit www.lightningboyfoundation.com or the Lightning Boy Foundation Facebook page. At this time the family is asking for prayers for Nakotah, as well as "Kind words and honoring Nakotah in your own home, encourage your children to dance, watch videos of Nakotah dancing, listen to music or whatever you think would make him smile." For those who would like to, donations in honor of Nakotah are being accepted via the Lighting Boy Foundation.
Be the first to know
Get local news delivered to your inbox!