President Donald Trump's rhetoric is, to say the least, rousing. His words and ideas provoke, excite, inspire, sadden and anger, triggering knee-jerk reactions followed by heated political debate. From seasoned politicians to grocery store clerks, everyone has something to say about what our president is saying and doing.
But perhaps no one has been more ignited to speak out than artists.
"I think artists have always been ahead of society with respect to progressive ideas and policies," says Heather Nash who, with Together We Will Northern Arizona, is organizing Flagstaff's second Nasty Women Art Exhibition.
Shortly after the 2016 presidential election, Brooklyn-based sculptor Roxanne Jackson made a Facebook post that went viral. It read: "Hello female artists/curators! lets [sic] organize a NASTY WOMEN group show!!! Who's interested??? We need a venue!!!!!"
More than 700 female-identifying artists contributed to the first Nasty Women Art Exhibition at the Knockdown Center in Queens, New York. With more than 30 sister shows in California, Oklahoma and Utah, as well as overseas in Portugal and the United Kingdom, the Nasty Women Art Exhibition has become a global artistic phenomenon, acting as a direct response to the Trump administration.

"Really what the art show is about is a response to a rollback of human rights, rights for sexual orientation, minority rights, women's rights and just trying to preserve progressive gains we've made and speak out against what we view to be regressive policies from the current administration," says Nash.
With Trump in the second year of his presidency, Nash says the difference with this year's show is "fears realized."
"Measures that have been taken up by the administration that I was fearful would happen have actually happened," says Nash. Citing the recent signing of Tax Cuts and Jobs Act and Congress and President Trump's effort to dismantle the so-called Obamacare, she says, "instead of moving toward insuring more Americans, we're moving toward insuring less Americans. The tax cuts. I feel middle- and lower-income people are being overlooked."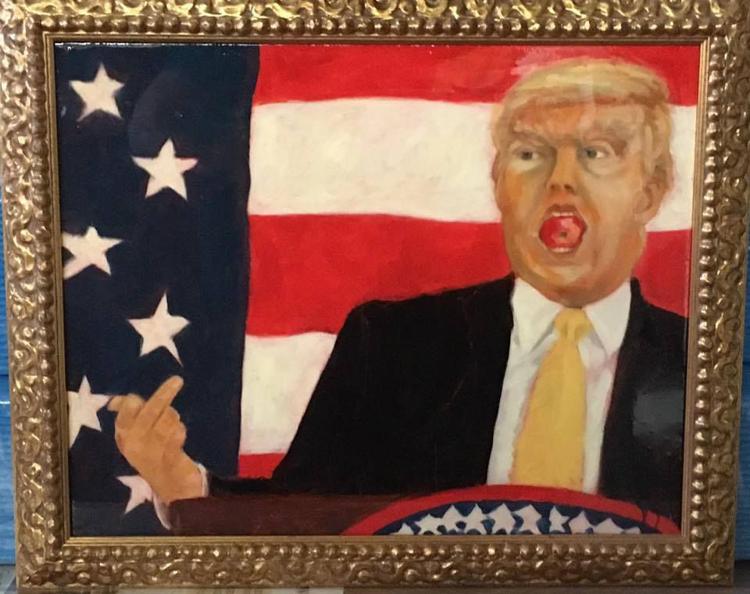 The exhibit's namesake, of course, derives from the final moments of the last presidential debate on Oct. 19, 2016 in which Trump called democratic candidate Hilary Clinton a "nasty woman." Trump's provocative remark immediately drew criticism, but the term "nasty" began to grow into a movement, a way of identifying one's self that was against the status quo.
Owen Davis, percussionist and curator for Flagstaff's Interference Series, says he was watching the debate and remembers distinctly the moment Trump used the remark and how the word "nasty" was transformed.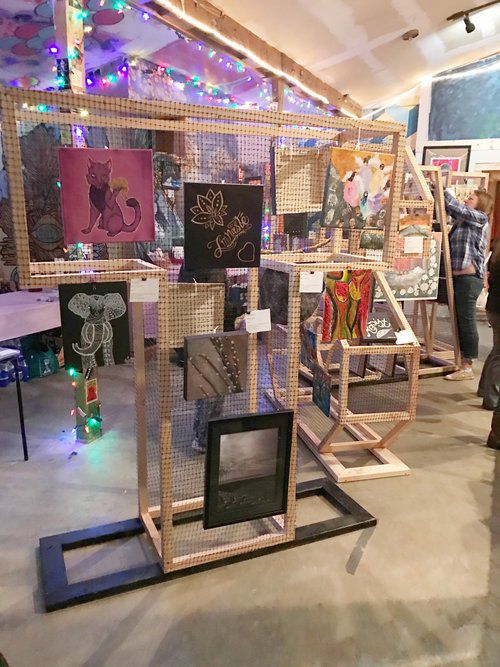 "This absurd and petty remark immediately became a rallying call and identifier for millions of women. It was more than Hilary; it was Hilary as a woman, and therefore all women who opposed Trump," says Davis, who will be performing in this year's exhibit. "'Nasty woman' overnight became a qualifier for any woman who wanted to almost cathartically reverse its negative into a positive. It was a huge middle finger to a man who historically and empirically degrades women as sexual objects."
For Nash, being "nasty" is empowering.
"I think women are tired of being told what our role is, what we're allowed to say, how we're allowed to present ourselves, and the idea that presenting a critique of something makes you less amiable, makes you less likable, makes you nasty," says Nash. "When men do the same things, they're given more latitude. When Trump says and does similar things he's given more latitude. I think women are done with that. We're moving forward."
Moving forward, Together We Will hopes to use the Nasty Women Art Exhibition to raise awareness of the 2018 local and statewide elections, produce more exposure for female-identifying artists and link arms with the #MeToo movement, which Nash says is "part and parcel" to their goal.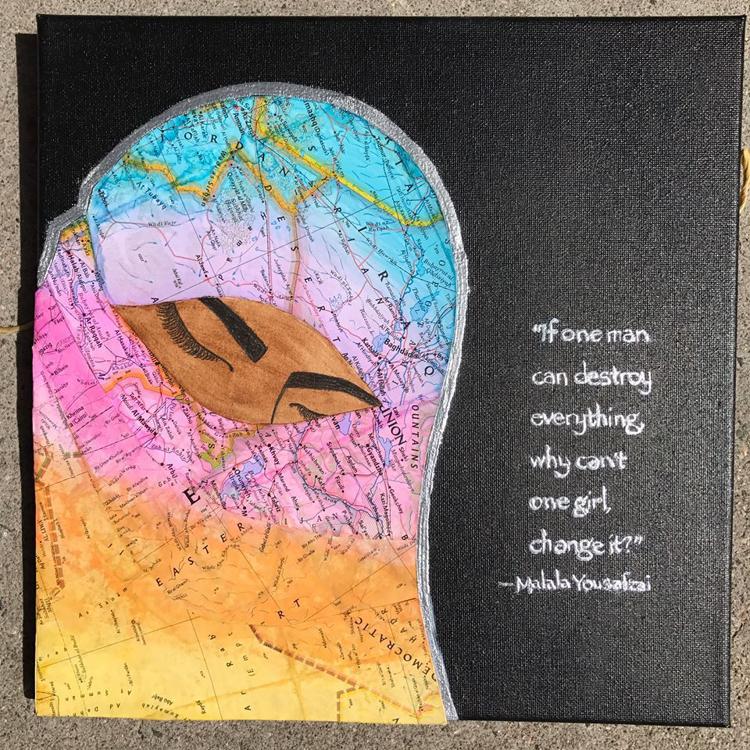 Last year's event raised more than $2,000 for Victim Witness Services for Coconino County, and this year the event's funds will go toward Planned Parenthood Arizona, Inc., One New Education and World Bicycle Relief, with dozens of local artists' work on display and more than 20 performances from local musicians and artists including Davis, The Canaries and Marisa Scionti, who has written an original short play for the event.
Similar to Disney Pixar's Inside Out, Scionti's play personifies emotions, using the night of the presidential election to exemplify fear, anger, denial, sadness and hope. Though the play seems inherently political, Scionti says it's about more.
"My hope is that it's lighthearted and funny and that it will send a message that people are not alone."
For Scionti, the Nasty Women Art Exhibition is more than a political statement. It's a way to build community and form a resistance against values and beliefs that are regressive, not just an administration or a political system.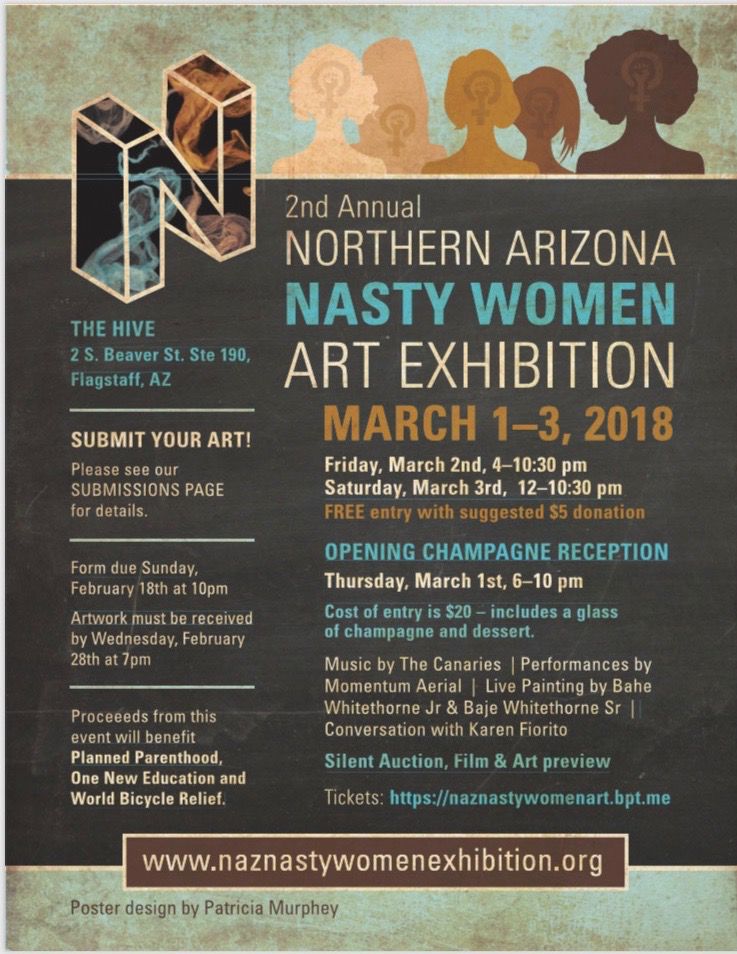 "I think that art is really important these days, that all art sets forth a vision of the way the world could be," says Scionti. "It sends a message that we can find inspiration in each other and form a community and set forth our values."
"Just being willing to put your voice out, being willing to stand up and be who you are and speak your mind—that in and of itself is perfect."
The Nasty Women Art Exhibition 2.0 will take place March 1-3 at the Hive, 2 S. Beaver St. Suite 190. An opening night and champagne reception will be held on Thursday, March 1, from 6-10 p.m., $20, with a silent auction, a musical performance by The Canaries and an art preview. More information at www.naznastywomenexhibition.org