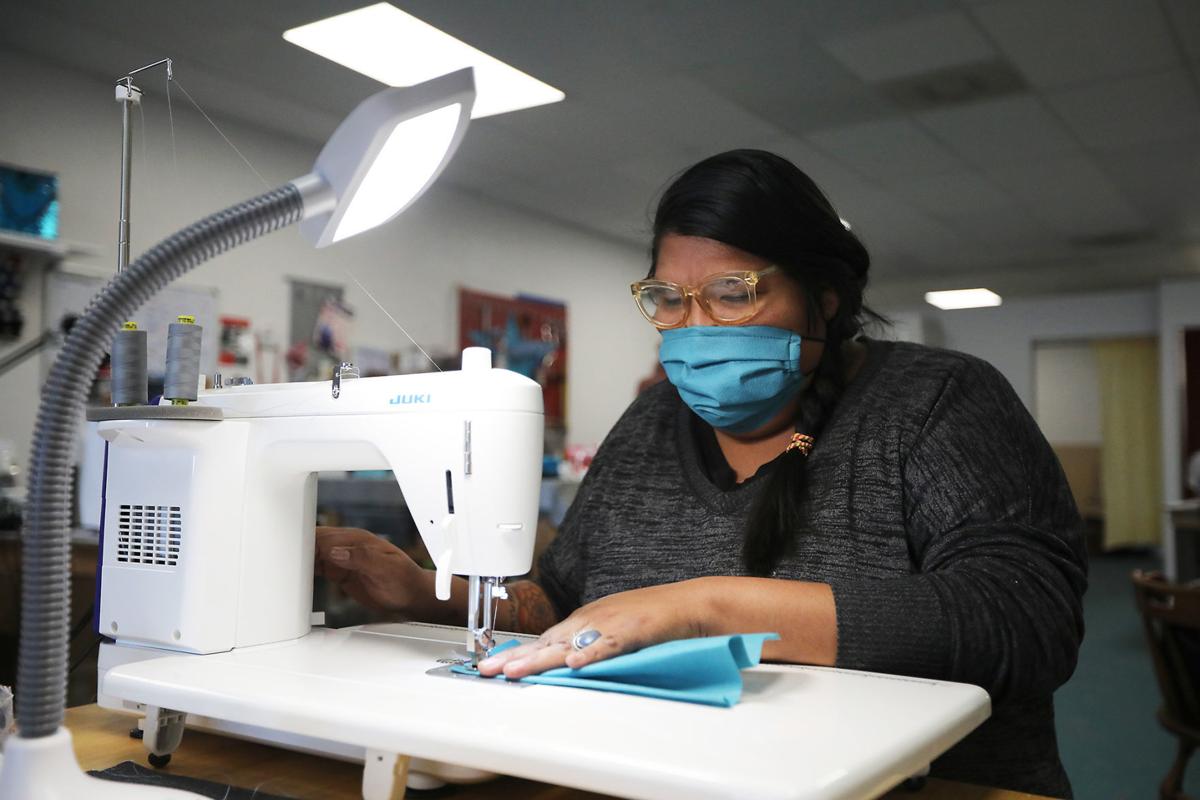 Earlier this year, a typical afternoon would see Odegaard's Sewing Center on Flagstaff's east side packed with 30 or so women of all ages, laughing and telling stories, petting the mascot dog as sewing machines whirred, producing feminine hygiene kits to be mailed to young girls across the world. Since the chapter was officially granted team status in 2018, the 140 members of Flagstaff's Days for Girls organization have sewn thousands upon thousands of beautiful and reusable menstrual products to be shipped to communities in Nogales and Haiti. Then, in mid-March, their plans were abruptly altered.  
"When COVID started rearing its ugly little head, Celeste [Mergens], our founder, said, 'We're going to start making masks,'" recalls Wendy Wetzel, director and founder of Days for Girls Flagstaff and regional representative for Days for Girls International.
"So that night I sent out an email blast to the team saying, 'Alright, girls, rev up your sewing machines!'" she says with a laugh. 
The local group worked from two simple patterns, one pleated and the other fitted. As of this week, Day for Girls chapters internationally have produced more than 1,000,000 reusable masks in response to the vast global need during the COVID-19 pandemic. Flagstaff seamstresses have sewn upward of 9,200 masks.
"The masks we've been producing have been sent to the hospitals and to the post offices, first responders and the local shelters, even to Sprouts Market," Wetzel says. 
In addition to meeting the PPE needs of Flagstaff health care providers and essential workers, Days for Girls worked to supply the community's neighbors on the adjacent Navajo and Hopi reservations.
"We got 1,000 of our masks up to the Navajo Nation and a lot of kits and materials as well because a lot of Navajo and Hopi women are great seamstresses. A whole bunch of donated fabric was sent up to Inscription House," Wetzel says. 
The Inscription House Health Center is an Indian Health Services facility located between Flagstaff and Page on the Navajo Nation. The Inscription House facility provides pediatric care, internal medicine, ambulatory and family medicine care to approximately 7,000 nearby residents. As of this week, the number of COVID-19 positive cases on the Navajo Nation totaled 6,150, with 285 deaths, according to data from the Navajo Times.
But the sewing group's impact has not only been felt close to home, as masks produced by them have been distributed around the country as well. 
"I've personally sent masks to my daughter-in-law and grandchildren in Utah, friends in Ohio, Illinois and Texas," Wetzel says. "It's just been wild. And today I did 13 masks for a special order."  
During the pandemic, Wetzel and her team of sewing mavens have been working alongside another local group of seamstresses, Threaded Together. The local nonprofit's mission is to utilize textile-based programming to empower participants, enrich the community and provide employment pathways for women and vulnerable populations.
"I've been happy to put my simple skills to work," Bea Cooley, who is an active member of both groups, says. "The purposeful sewing, whether for Days for Girls or making masks and gowns, has helped to ease the sense of isolation wrought by COVID."
As the need locally for PPE has somewhat ebbed, the local chapter of Days for Girls is looking to pivot back to producing its signature washable hygienic products. 
"Soon I'll be making a run down to Phoenix to meet a friend who can take the kits down to Nogales," Wetzel says.
Though happy to help meet the dire health care needs domestically during the pandemic, Wetzel is excited to get back to the mission of Days for Girls. Helping young women access sanitary and reusable menstrual products means they will not miss vital school time during their periods. Days also provides women across the globe with their own patterns, to sew and sell the products in their community, encouraging female entrepreneurship and financial independence. 
"To date we've served approximately 1.7 million women in over 140 countries, and before COVID hit we had active distribution across the world. We're making in-roads, girls are staying in school, women are employed taking care of their families," Wetzel says.
Be the first to know
Get local news delivered to your inbox!