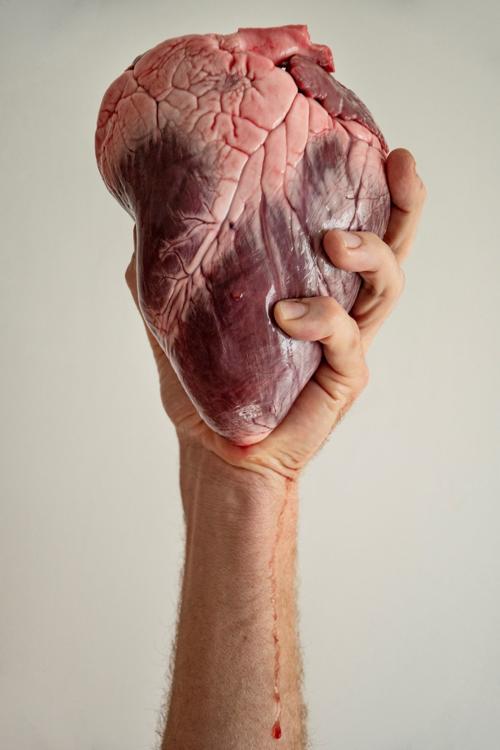 When Margeaux Bestard received an elk heart from a hunter friend, she finally realized a vision she had for a series of photos depicting love, loss and vulnerability.
In "The Heart is Out of Focus," a hand is centered in the frame, firmly holding the large elk heart like a trophy with a trail of blood dripping down the arm. When the photo shoot was done, Bestard ate the heart. Sautéed in a meal of fajitas, consuming the organ was her way of honoring the animal's life and bringing it full circle, as well as fulfilling a promise to the hunter.
"I felt like that was really important for the whole process of the animal," she says. "And after I created that image, I felt like there was a project that was far more powerful that had been conceived in the moment of creating that image."
Bestard has experienced her fair share of loss in recent years, from the death of her mentor, prolific photographer John Running in 2018, to the "transformation of a relationship." But she didn't want her upcoming Evisceration Series at the Museum of Contemporary Art Flagstaff to be solely about the grief, which so often follows love's expiration date.
When viewed through the lens of each of her models, the project grew into a celebration of love, whether that of a parent, romantic love or the love of a place. Rather than wearing their heart on their sleeve, the models—couples and hunters, parents and children—grasp the very thing that gives life in their hands, displaying a raw vulnerability most people hide from view. The result is a show Bestard says is her strongest yet, one that took on a life of its own as all the pieces came together.
"It sounds really cliché until you become a vessel for a project like that," she says. "Oftentimes when I was creating these images, it felt like there was something else happening, like I was just a means of communication for something else."
The other photos in Bestard's collection, part of the upcoming Evisceration Series at MOCAF, incorporate the hearts of cows, geese, ducks and quail, all sourced from hunters proud to see their bounty being used for a greater artistic purpose they hadn't imagined before.
In preparation for each shoot, Bestard sat down with the models to discuss what love means to them.
"It was beautiful to see how they handled the objects," Bestard says. "And that's what makes the transformation of love so powerful is what it once was, right? How powerful and consuming it is when it first happens. The bigger and the greater something is, the more painful it is to be ripped away."
You have free articles remaining.
Laura Kish's addition to Evisceration Series explores personal loss through photos she sent to long distance lovers. Framed with old cellphone cases scoured from thrift stores throughout Flagstaff, she looked back at photos from the past seven years to craft a narrative fitting for the almost anti-Valentine's Day show.
"Revisiting these images, either they would make me laugh or cry or kind of feel a little bit lonely at times," she says. "They just have good memories attached to them. But to share them? I'm scared a little bit, but it's good to push yourself like that. It's a story of lovers."
While stripping down during trips to hot springs is no problem for her, these personal artistic shots—in which she plays with lights illuminating water in the bathtub and frames her body with her long hair—took more courage. Ultimately, Kish wanted to share her commentary on technology's grasp on society; that, as much as we may be frustrated with its prevalence, our cell phones can keep us connected to those outside of our everyday.
MOCAF is one of few venues to exhibit contemporary art in town, with boundary-pushing pieces less likely to be accepted in standard galleries, such as the work of Kish and Jeremy Slater. The latter's contribution to the upcoming show was loosely inspired by road kill he encountered while living abroad with his family.
"I was on a run once in Spain, kind of in a lonely place, and came across a dog that had been hit by a car," Slater says. "You could see where the poor thing was hit and there was blood all the way across the sidewalk. I was sad that it died there all alone."
He returned later with his wife and kids to cover the blood stains with wildflowers they had gathered, surrounding the dog with beauty in the wake of its sudden, violent end.
At first, Slater thought his photo series—featuring rainbow Care Bears smeared across unforgiving asphalt in picturesque locations such as Sedona or outside the crumbling Meteor City Trading Post east of Flagstaff on Interstate 40—might be too tragic to be included in the show.
"I sent [Jeremy] some of my images, and it was like, 'Oh, try me. I'm getting pretty deep in the strange here,'" Bestard says with a laugh. "So when he told me about his project and I watched it develop, it was perfect."
The Care Bears, with tire marks on their faces and neon blood pooling underneath them, take more of a light-hearted approach to grief, aiming to make viewers laugh and bring some much-needed color and levity into a world often filled with tragedy.
The Evisceration Series opens at the MOCAF, 555 Blackbird Roost, #5, with a reception Friday, Feb. 14, from 5:30-9 p.m. Artists Jacques Jacques Cazaubon Seronde, Chelsea Arndt and Brie Short will also have work on display, and Clare Magnison will perform a poetry reading. Cocktails will be mixed by Patrick Carter of Rendezvous, and music will be provided by DJ Marty Marr. The exhibit can also be viewed by appointment through the beginning of March. Visit MOCAF on Facebook for more information.