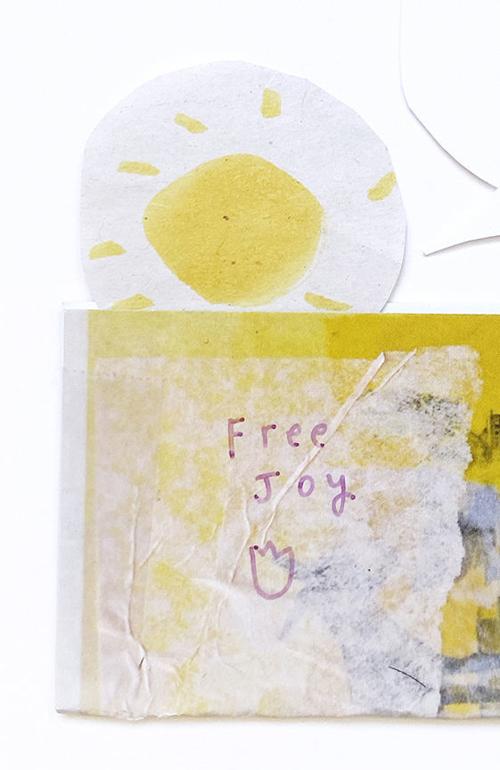 "Fill your paper with the breathings of your heart."
Growing up, Flagstaff collage artist and illustrator Linden Eller remembers constantly trading correspondence with her grandmother. The two would mail letters back and forth, the activity providing Eller with a deep appreciation for the written word. She has since carried that joy of the tangible with her throughout her nomadic life in order to keep in touch and trade thoughts with friends, family and even strangers.
"I believe that receiving real mail is really powerful and can really make us feel valued," Eller says. "There's something about someone sitting down and making something analog and putting a stamp on it."
She started putting together packets this past fall, filling them with odds and ends she found delightful, whether they be scraps of lace, photocopied illustrations from children's books or poems, and distributing them at local businesses The HeArt Box, Northern Arizona Yoga Center and the Tourist Home All Day Café.
"I've always just been fascinated with connections between strangers and kindness and how powerful that can be," Eller says. "[During college,] back when there were still phone books, I would pick a random name and address out of the phone book and send an encouraging letter. FREE JOY is just an extension of that curiosity."
In a similar spirit to Ben's Bells, a kindness project originating in Tucson, Eller's goal with FREE JOY is to give happiness freely. She says she would purposely omit a return address when mailing strangers during her college years, the unknown adding a sense of whimsy that could allow her random recipients to appreciate the unexpected gift without worrying about reciprocating.
Sitting down to compose a letter or gather other cheerful items can be a lengthy process, but what better gift than one's time, a precious limited commodity even during the best of times.
While Eller started FREE JOY as a localized project, people from all over the world can now sign up to share the breathings of their heart with total strangers in hopes of bringing a little light into their lives.
When participants sign up on Eller's website, they can choose to either give joy or receive joy. As of this week, the majority of people have noted they are in a secure environment that allows them to offer joy to others. People who may consider signing up to receive joy include health care workers, those struggling with mental health while in isolation and other emotional hardships—to name a few.
"I think it's hard for us as humans to accept that we aren't doing well and that we need help, or we could use help," Eller says.
The desire to help others has arguably grown exponentially in recent weeks, with the very human act of providing for one another shining through more than ever lately. This can be seen in the Flagstaff community as donations to nonprofits like the Flagstaff Family Food Center and the Flagstaff Arts Council have become more urgent, volunteers rally to distribute food boxes and neighbors offer to make grocery store runs for those who are elderly or immunocompromised.
The contents of the FREE JOY packets can include anything that fits in a standard first-class letter envelope, whether that's something as simple yet thoughtful as a handwritten letter or any number of other materials the sender feels might bring a moment of calm to their recipient.
"When you receive something in the mail, seeing real handwriting, it connects it to a real person, whereas if you just received an encouraging email from a stranger, it just blends together," Eller says. "There's something distinct and human about it.
"I think as a society we don't even realize the amount of art that is affecting us every day and that it is a necessary part of our emotional and mental health. I think this project, even though this is definitely not limited to people who consider themselves creative, is a great opportunity to show an example in a way of how art can change our mental states and our emotional states and offer perspective."
Be the first to know
Get local news delivered to your inbox!