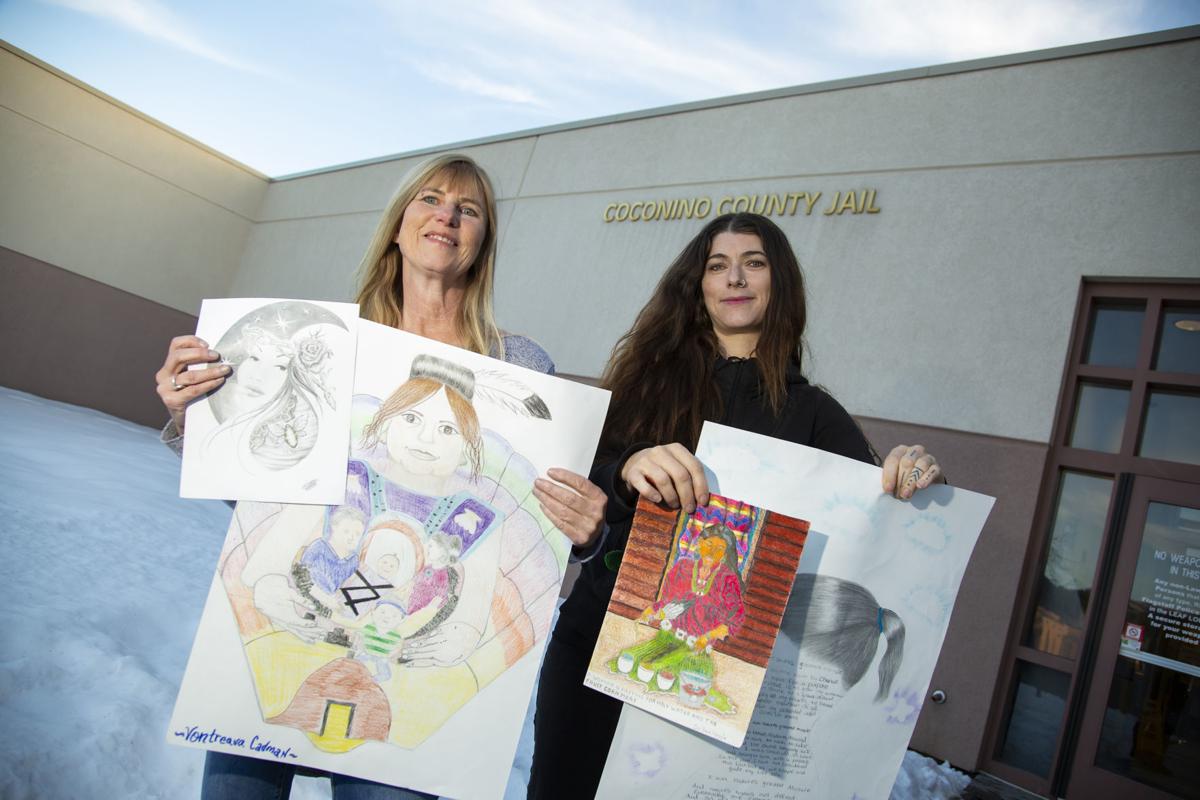 Color shimmers in the windowless gray, shining a light of hope that a better future awaits. Whimsical and troubled coexist to show the interior lives of choices that led to journeys down a dark path.
Jailed, but so painfully human.
The power and impact of art from inmates in the Exodus In-Custody Drug and Alcohol Treatment Program at the Coconino County jail will be on display this weekend at the Coconino Center for the Arts. Titled Exodus Pop-up Art Show, this exhibit will feature more than 200 pieces by various artists currently incarcerated in Flagstaff.  
"Art helps with the recovery process, as it allows people to express their feelings that they may not be able to verbalize," Candace Ryan, who works with the Peaceful Revolution Project, a nonprofit that brings yoga and meditation to at-risk, underserved individuals, says.  "It offers space to explore emotions and even start the process of healing."
Flagstaff poet Jill Divine, who is a long-time treatment professional in the jail's Exodus program, has spent many years teaching inmates how to write poetry and to make art.
"I feel many people see inmates as very one-dimensional," Divine says. "It's not who they are. They're not just a person charged with a crime."
Each artist is deeply complex, filled with hopes of finding good jobs, reconnecting with family and staying sober. The art show is meant to shed light on that fact, to remind people that each participant is much more than an orange jumpsuit and a criminal charge.
"They are working harder than anyone I've seen to make their lives better," Divine says. "When we can show their complexities … I think it helps everybody all around."
Exodus, which started in 2007, is a voluntary program for men and women at the jail that calls for heavy doses of structured activities geared toward helping inmates regain their lives. The goals of the program are to reduce the impact of substance abuse and related crimes, offer educational and therapeutic services to help people make choices to avoid alcohol and drugs and reduce chances of returning to jail.
"The Exodus program has taught me so much more about my addiction and I want to come back to tell my story," one participant writes in a questionnaire.
Divine and Ryan teamed up for the first time in 2015, bringing Exodus art and poetry to Firecreek Coffee Co. This is just the second iteration of the event, though Ryan and Divine are working to make it an annual occurrence.
The themes presented in this year's Exodus show reflect the pillars of the program in many ways—images depict recovery from addiction, change and growth and spiritual journeys. Some pieces are humorous and light-hearted while others are darker, more serious and somber. Colored pencils and lead pencils, paint, each are used by the men and women whose art makes up the show. There are no formal criteria for inclusion in the exhibit, no formal judgment—just artistic expression of who they are in the moment.
Some of the images are accomplished and show an innate talent that could even lead some down the path of becoming professional artists, Divine adds. Others are rough around the edges, but equally as creative.
Ryan, who teaches yoga and meditation at the jail, says that the process of making art is itself a form of meditation.
"Art requires you to focus, to be in the moment and to be aware, which parallels what we strive for in meditation," Ryan says.
In her years at the jail, Divine has seen the depth of feeling in the art, and she saw that there could be a greater purpose to it by moving it out of the jail.
"I thought, naturally, this should not be kept in these walls," Divine says. "[The art] should be seen."
And the more people who are incarcerated come back into the community, the better their chance to remain in recovery and to thrive, Divine says. Giving the inmates an opportunity to present their art in a venue, to be seen by community members, helps with self-identity and confidence.
"It's important to dispel the stereotype of people who've been in jail," Ryan says.
To do so can, inevitably, help people find purchase after incarceration, giving them the tools to lead productive lives and be active, contributing members of the community, she adds.
Divine says, "To be human is to make mistakes. Redemption is possible, and they want what we all want."
The Exodus Pop-up Art show takes place on Saturday and Sunday, Jan. 25-26, at the Coconino Center for the Arts, 2300 N. Fort Valley Road, from 11 a.m.-5 p.m. both days. There will be an opening reception Friday, Jan. 24, from 6-8 p.m. Admission is $5, of which a portion will go toward art supplies for members of the Exodus program. For more information, visit www.flagartscouncil.org/2019/12/exodus-pop-up-art-show/
Be the first to know
Get local news delivered to your inbox!