Flagstaff High School is making headlines this week as two students, Alyssa Williams and Nicole Dougherty, were named finalists in the nationwide Vans Custom Culture contest. Each year, Vans invites schools across the country to design pairs of shoes for a chance to win $75,000 for their art programs.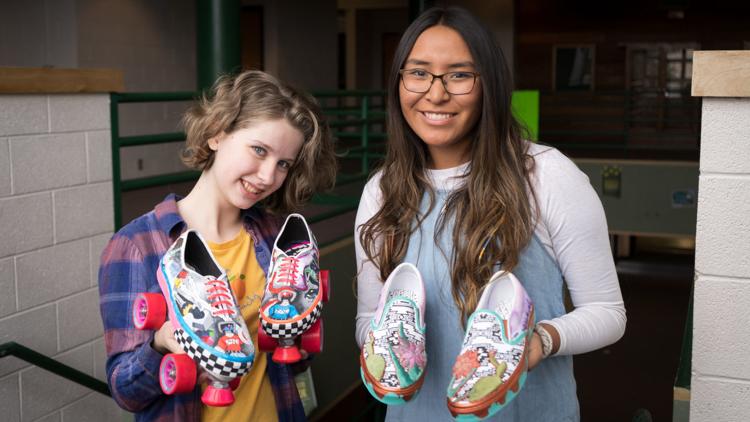 The competition was created "to inspire and empower high school students to embrace their creativity through art and design and to bring attention to diminishing arts education budgets," according to the apparel company's website. "Vans believes everyone should be empowered to express themselves creatively and should be given the tools to do so."
The final 50 schools were narrowed down from the 500 that received plain white shoes to design. FHS is the only Arizona finalist in the running for the $75,000 grand prize. Second through fifth-place winners will receive $10,000.
Williams and Dougherty designed their shoes to be representative of their own personalities as well as fitting within the themes of "Local Flavor" and "Off the Wall." Williams incorporated her Navajo heritage with the native-inspired pattern behind embroidered succulents. She created an outline of Monument Valley on the midsoles to represent her "Local Flavor" design.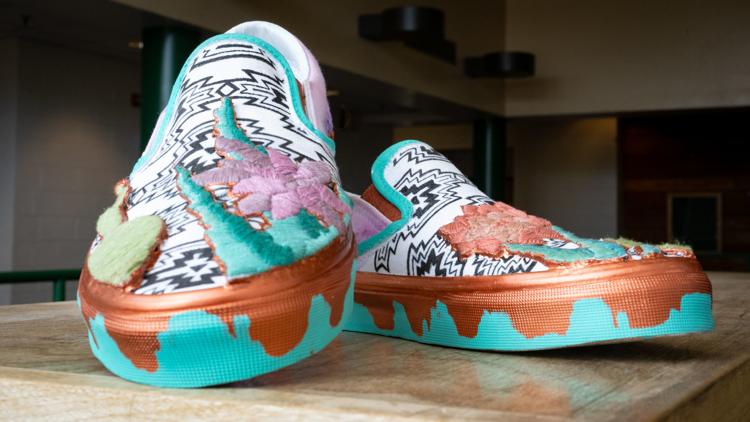 The Arizona desert is represented by the succulents, and Flagstaff by the aspen trees drawn inside the shoes. A watercolor sunset celebrates the state's signature beauty. Williams says embroidering the succulents took up two of the three weeks the students were given to complete their designs. Not only this the most time-consuming part, it was also the most difficult, especially since she taught herself the medium specifically for this contest.
"I watched one YouTube video and that was it," she says.
"And she nailed it," graphic design teacher Kayley Quick says.
"I would call myself kind of a perfectionist because I just love everything looking neat and sharp," Williams says.
For Dougherty, who worked within the "Off the Wall" theme, her colorful shoes reflect her love of pop culture and gaming as a self-professed "DnD nerd." 20-sided dice are placed among vibrant original characters designed by Dougherty, and the shoes are laced up with neon pink laces that light up. The whole masterpiece is mounted to quad roller skate plates.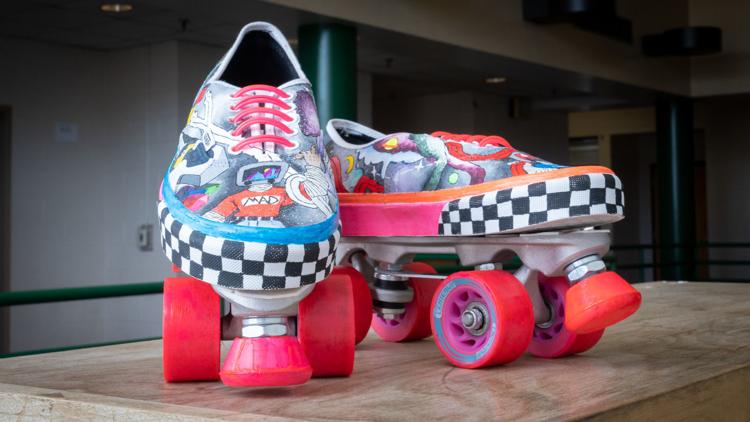 "I put what was in my head on a shoe and that's what happened," she says.
"I could not have envisioned something better with the 'Local Flavor' that Alyssa did and the 'Off the Wall' that Nicole did, especially the 'Off the Wall,'" Quick says. "Everything is just crazy and interesting and vibrant and unique, and I think that's what made both of these shoes stand out in the top 50 and progress to the next round."
Each of the 50 schools submitted an impact document outlining what it plans to do with the winnings if they place in the top five.
"We discussed using a lot of the money for school betterment, to create a more welcoming and warm feel for Flagstaff High School," Quick says. "It feels institutionalized and it doesn't really match students' current tastes and trends. So just using a lot of it to bring mural artists to create something that's going to really represent who they are."
"Bring some flavor," Dougherty adds.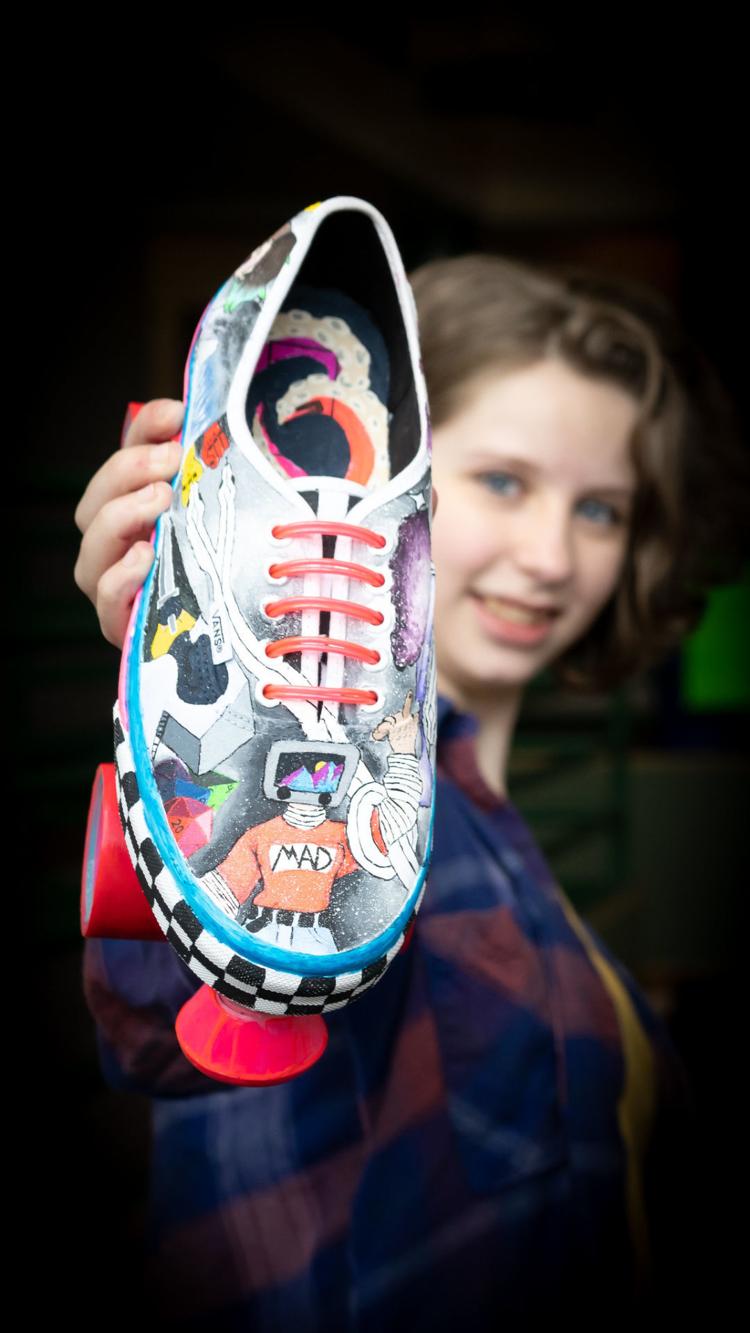 They also plan to use some of the money to upgrade portions of the graphic design lab and screen printing lab to bring them up to industry standards in the hope that "when these kids and these girls graduate and work in the graphic design field someday, they will be equipped with modern technology that industry is using instead of lagging behind," Quick says.
While Williams and Dougherty were working on their shoe designs, they still had to attend their regular classes, work on homework and participate in extracurricular programs, leading to many late nights just to be able to fit in all of their responsibilities.
Williams is also an athlete with Flag High's varsity softball team the club volleyball team.
"People know me by playing sports, but I also want them to know about my artwork, and I feel like I just need to get myself more out there and this did that," Williams says.
"Yeah, this project has given us the opportunity to just put ourselves out there, give us a platform to say, 'Hey, this is what I do,'" Dougherty adds. "I can do this; I'm not limited to school."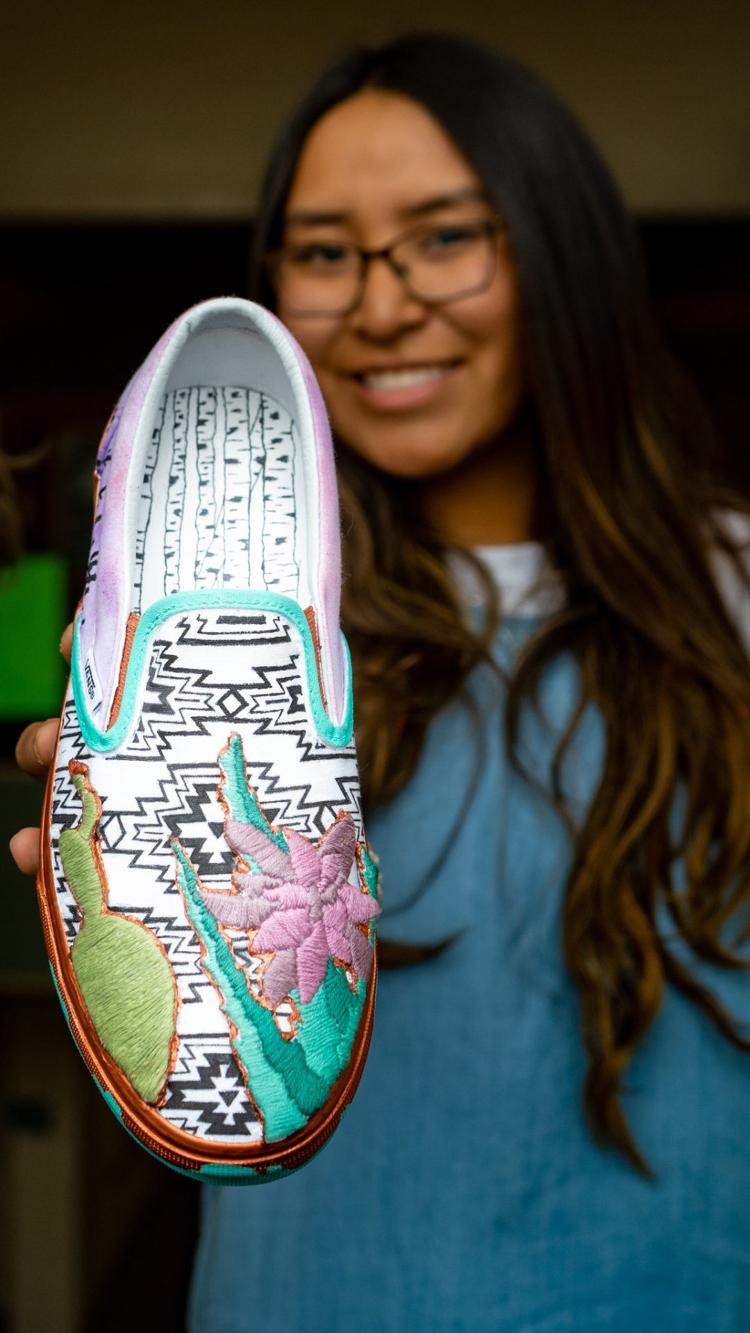 The two say they have seen their fellow students and the community members rallying behind them and rooting for them to win. They've also been asked by other students about the possibility of buying a custom pair from them. On a Tuesday afternoon while sitting outside Quick's classroom, a student walking past, stopped to congratulate them on making it to the top 50 and asked if they will be selling the shoes. These specific shoes will end up in their art portfolios, though, a testament to what hard work can achieve.
"A lot of students have come to me asking if I'm selling the shoes or if I'm going to make more, like, 'I'll pay you if you make some for me, how much will you charge to do something like that for me?'" Williams says. "And I'm like, 'A lot. If you wanna wait a whole month, then, yeah, I can give it to you.'"
"The amount of gratitude I have to these girls for their dedication to completing this project all the way through, this was not an easy task," Quick says. "A lot of late nights, a lot of extra hours, a lot of shoulder and hand cramps. And, to me, that's a level of dedication that I don't often get to see as an educator and it really just warms my heart that they would be willing to work so hard to get this goal."