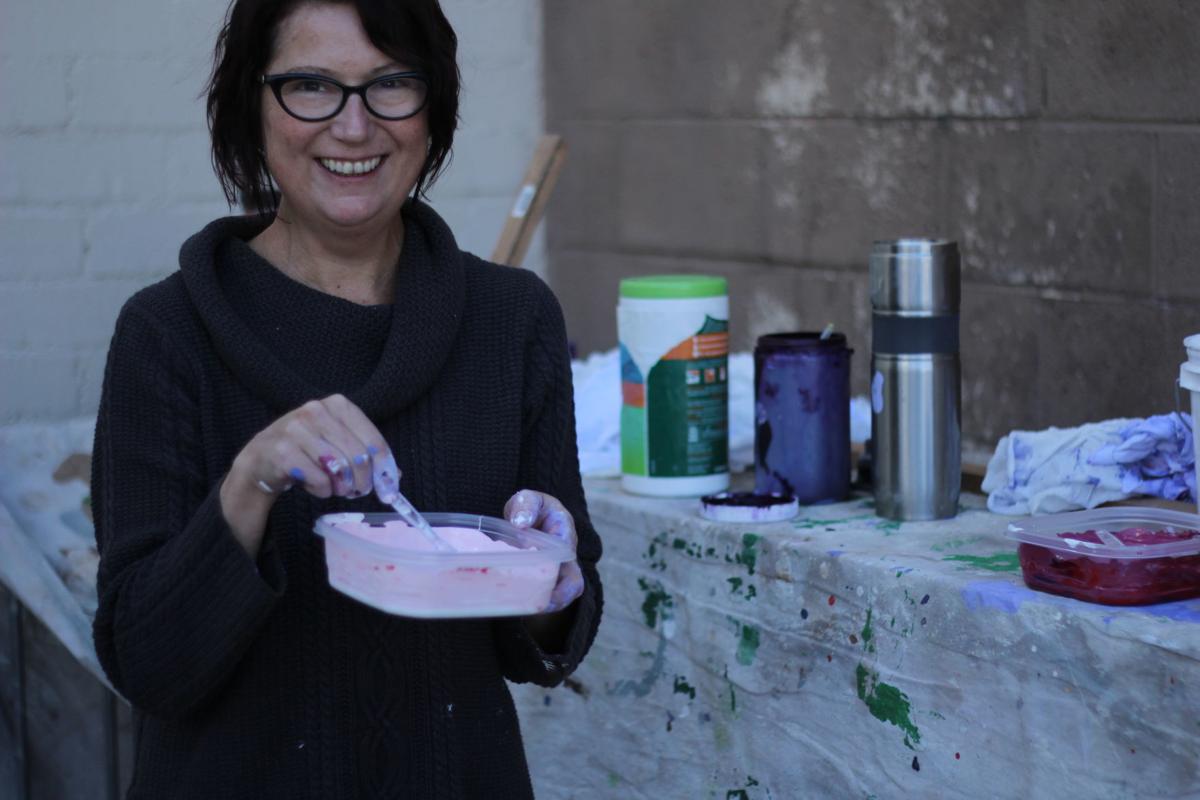 "It is time for parents to teach young people early on that in diversity there is beauty and there is strength"
One of the newest additions to downtown Flagstaff's open air gallery celebrates humanity's differences and aims to connect people in a way that seems to have been forgotten in recent years. San Diego-based artist Karen Fiorito's mural features five hands of varying races spelling out the word "unity" in American Sign Language against a rainbow sunburst background in a call for people of every race, creed, gender, ability or disability to come together.
"I think this is something that's really needed now, and I'm hoping that as things get better this message will be more accepted and become more universal," Fiorito says.
Fiorito's previous two visits to Flagstaff were in collaboration with Together We Will Northern Arizona as a speaker during Free Speech Week in October 2017 and then this past March for the Northern Arizona Nasty Women Art Exhibition. Now Northern Arizona Pride Association joins to help Fiorito raise money for the installation of her mural.
"Part of Together We Will from the beginning has been to work with other nonprofits in town that focus on the issue areas that we focus on and help promote them," says Lori Poloni-Staudinger, executive director of TWWNAZ. "We've collaborated with Flagstaff Pride a lot so this was a natural decision."
While looking for the ideal location for the mural, Poloni-Staudinger passed by the Orpheum's blank west-facing wall and proposed it be painted above the parking lot, where it could be seen by anyone walking by. Several months of fundraising and grant proposals later, everything was set when Fiorito experienced a flare-up of her spondylolisthesis, a spinal condition which causes one of the lower vertebrae to slip onto the bone beneath it, making it painful to work on the physically-taxing project of painting a mural.
"I had never done anything that high up before. I had no idea how complicated or challenging it would be," she says. "When I started researching all I needed to do to get up 20 feet in the air, such as climbing scaffolding like a monkey, I realized I needed help."
She reached out to R.E. Wall of Mural Mice Universal to ask if he could help her complete the project during the two weeks she was given, which included prepping the wall's chipped surface and working around Flagstaff's sporadic monsoon weather.
When local artist Sky Black began working on his ambitious Sound of Flight mural in 2014, he asked Wall and Margaret Dewar—the other half of Mural Mice—to help him complete the 4,500-square-foot piece on the east exterior wall of the Orpheum Theater. In turn, Wall reached out to Black for assistance in completing UNITY on schedule.
"It would be very hard for me to do this on my own even if I were in great shape," Fiorito admits, as she is afraid of heights.
"It's her design fully, we're just the drones," Black says.
"Helping other artists is what it's all about and just standing together as a community," Wall adds.
Both prolific artists have made their marks on Flagstaff and agree that public art is important to the culture of a community.
"When I first came here in the early '90s there were very few murals," Wall says. "In the last 20 years it's been an enhancement of the downtown area that I think is being received really well."
Even a brief walk through the downtown streets and alleyways reveals a variety of artistic styles from Joe Sorren's darkly mysterious piece in Heritage Square, The Veridic Gardens of Effie Leroux, to the whimsical All From a Moment Alive by Lyle Motley across from Arizona Music Pro. 
"Murals belong to the people," Black says. "[UNITY] is a lot different than what's on the other side [of the Orpheum], a lot of voices can be heard and that's what happens when you bring artists from out of state. That's important as well to show that we're a welcoming community." 
"The more styles and different artists that are contributing to the town, the better," Wall says.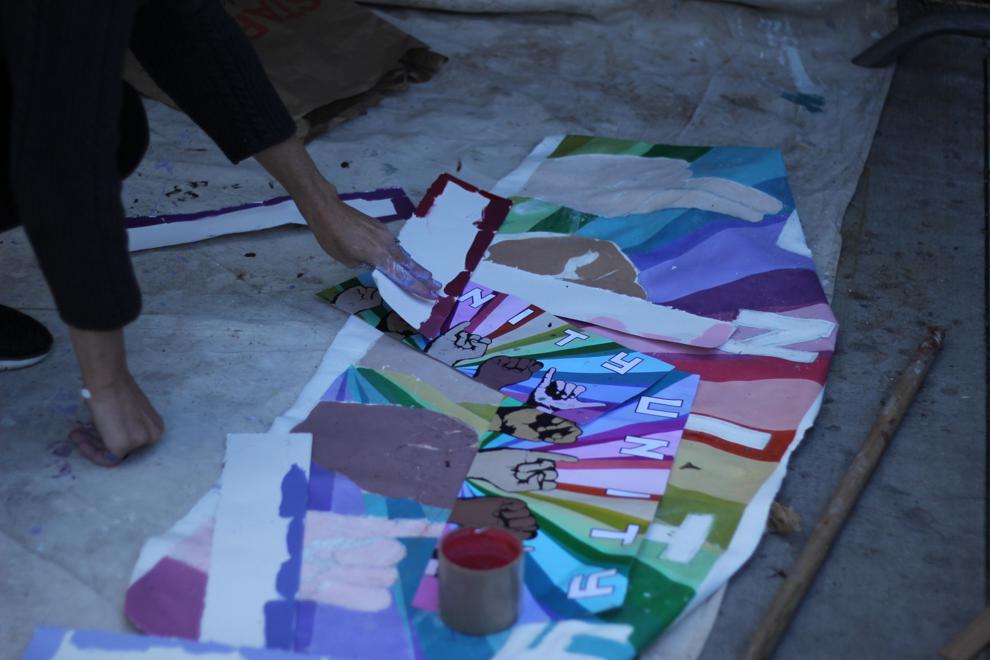 UNITY was first designed to complement the Trumpocalypse billboard Fiorito installed in Phoenix following 2016's election. Placed on the backside of her design depicting President Trump surrounded by nuclear clouds in the shape of laughing clowns and dollar signs bearing a deliberate resemblance to swastikas, it serves as a reminder of what the country should strive for instead of division caused by controversial and nonsensical Twitter posts.
"I don't want to be remembered forever as that woman who did the Trump billboard, so this is a way to leave my mark in a more positive way," Fiorito says.
The rays in the background were originally colored in the style of Arizona's state flag, but Fiorito redid it to make it more inclusive of Flagstaff's community ahead of this installation.
"I would say that it is a sign of hope for what we expect for 2018 and 2020, hope of getting back on track and focusing on humanity, human rights, our LGBTQ+ community," says Kat Jim, director of the Pride Association. "November elections are coming up sooner than we know, and we have tons of issues on the ballot that will reflect us as a community and reflect us as Arizonans. Even with Red for Ed and dark money [initiatives] being kicked off the ballot, it proves even more that we need to unite and stand up and say, 'This is it, we're fed up.'"
While the 2016 election tore many people apart, it was also a catalyst for powerful art pieces and activism. After two years full of crowded demonstrations for women's rights and education, it's time to come back together to fight for what people feel the country needs in order to find the light.
"My father is a staunch Republican, watches 12 hours of FOX News a day, is totally brainwashed,  but he loves this project," Fiorito says. "I think it's really cool that, even though he may not agree totally, at least he can see that what I'm trying to do is something positive. I just want to give hope to people who need hope right now because they're being discriminated against."
TWWNAZ and the Pride Association have been working to raise funds for the project through GoFundMe, UNITY sticker sales, a film screening of The Death and Life of Marsha P. Johnson at the Orpheum, a Beautification in Action Grant from the city and the annual Coming Out Drag Show will donate a portion of proceeds to the project as well.
"This would not be possible without the support of the community and its activists," Fiorito says. "I feel very honored to be part of the community in a way."
Other projects of Fiorito's focus on bettering the world through a series of billboards installed around the world which raise awareness of drought and the importance of animal rights, some of which will be included in the collaborative Art of Compassion book.
The theme that ties all of her work together is unity. No one can accomplish anything truly alone. It takes collaboration to fight against discrimination, take back the liberties guaranteed to citizens in the Constitution's First Amendment and return to bipartisanship. 
"The UNITY wall stands for all of that," Jim says. "It's going to set a basis of creating what Flagstaff is and should remain to be—a community with a strong foundation of hope, love, pride and unity."
UNITY is on schedule to be completed this week or early next week, with an unveiling celebration planned for Oct. 6 at 8 p.m. Drinks will be available for purchase at the Orpheum Theater and then Northern Arizona Pride Association will host their annual Coming Out Drag Show beginning at 10 p.m. Visit www.orpheumtheater.com for more information or www.gofundme.com/unity-mural to make a donation to the project.