An echo—a fragment of a sound repeated or reverberated after the original sound has stopped—is a central concept at the upcoming exhibit at Flagstaff's Coconino Center for the Arts. Echoes of Loss: Artistic Responses to Trauma, opening April 7, focuses on the complicated relationship of 15 artists from around the world toward collective and individual histories, memories and losses.
"The term 'echoes' works well for me because it sends a signal out and…then it comes back. Meaning: even if we step away from an event, you can still hear or see its traces," says Björn Krondorfer, co-curator of the show and director of NAU's Martin-Springer Institute.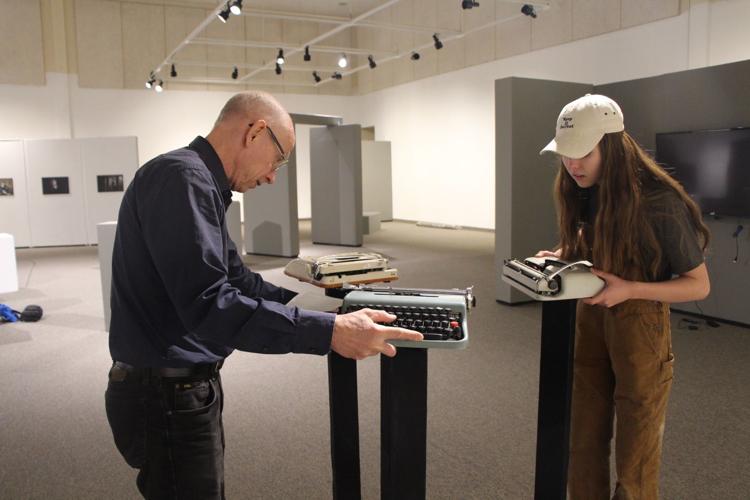 In this case, those traces are transmitted by way of art, through a variety of mediums. Like an echo, an event reverberates into present day: the Holocaust, Jim Crow, the exploitation of indigenous lands, the Chernobyl disaster—all are represented in the exhibit with the reminder that these events are not sealed in time but rather have repercussions, traumas and aftermaths which persist both tangibly and intangibly into the fabric and the the reality of the present.
Krondorfer and fellow curator Tara Kohn, an NAU faculty member who currently holds a post-doctoral position in Art History at Bowdoin, spent just over two years planning the exhibit.
In the course of planning came a name change too, with its original title: The Traumatized Subject.
"Because the subject, we defined not just as people—but architecture can be subject, or landscape can be subject," Krondorfer says. "We refocused a little bit over these two years into emphasizing the loss part of the title—because trauma obviously is a loss, it's a loss of your integrity, it's a loss of your belief that the world is a safe place, it's a loss of home, it's a loss of innocence."
Like loss, trauma is not just visited upon the human body—despite what its medical definition suggests. In fact, the second the viewer is shuttled through the gallery door, it quickly becomes clear both a site and a body can be receptors of a cataclysmic, catastrophic occurrence or crisis, as can a place, a building, a landscape—even language itself can hold trauma and convey loss.
New York City-based artist Ruth Liberman has two works in the show. Her pieces Word Shot and Untitled Book both deal with language, its sound, structure and usage. Liberman, the child of Holocaust survivors, examines German itself in Word Shot. The piece stretches along the eastern wall of the gallery and features the word Bürde distributed across six frames. The word, meaning legacy or burden, has been pierced by Liberman herself, by shooting it with a .45 caliber gun.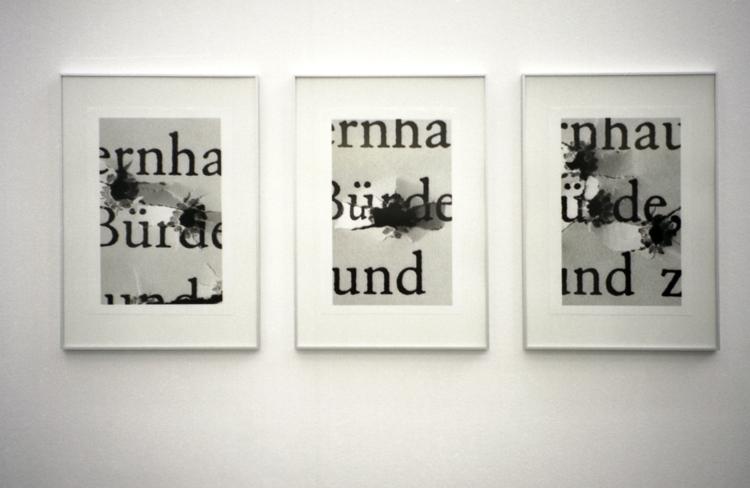 "I was really going by the sound of the word… I just hated how it sounded," Liberman says.
"It's a conflicted relationship, and then there's my accent: I'm always identified as this German that I don't identify with," Liberman says. Her father, who was liberated from the concentration camp Buchenwald, was raised speaking Yiddish.
"I had to get out of Germany," Liberman recalls. "I just wanted to be a person and not a Jew."
Azin Seraj also grapples with language in her experimental video Prima Materia and, like Liberman, her art leans toward the conceptual. Seraj, who is an Iranian native, Canadian citizen and American resident, uses the piece to explore both trauma and identity.
"I locate my art practice in a space between languages, cultures and generations," Seraj says.
In Seraj's video, a slab of ice melts away as a song is sung in Farsi in the background. The women singing, whom Seraj came upon by accident one day, literally echo in a staircase.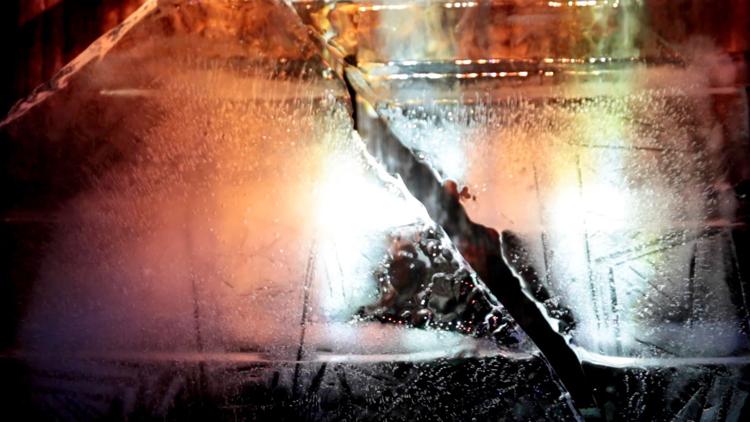 "Ice spoke to me as a metaphor for dissociation, barriers and numbness. The thawing process represented coming back to self," Seraj wrote in reference to the video depicting in part the cleansing process after a trauma she experienced in 2014.
If you draw a nearly straight line across the gallery from Seraj's video, Gina Adam's quilt titled Treaty of Middle Plantation 1677 hangs suspended from a nearby arch. The calico fabric—quintessentially American, Adams notes—is emblazoned front and back with the treaty's full text. It is part of the series Broken Treaty Quilts.
Adams, who is of Ojibwe and Lakota as well as Lithuanian and Irish descent, carries the assimilation policies of the United States as an inherited trauma, she says.
"I see the antique quilts as the perfect symbol for the colonizers and the US movement westward," Adams writes in an email. And this particular treaty was one of the earliest created with the original colonies. "All of the removals and reservations systems came after this treaty was formed."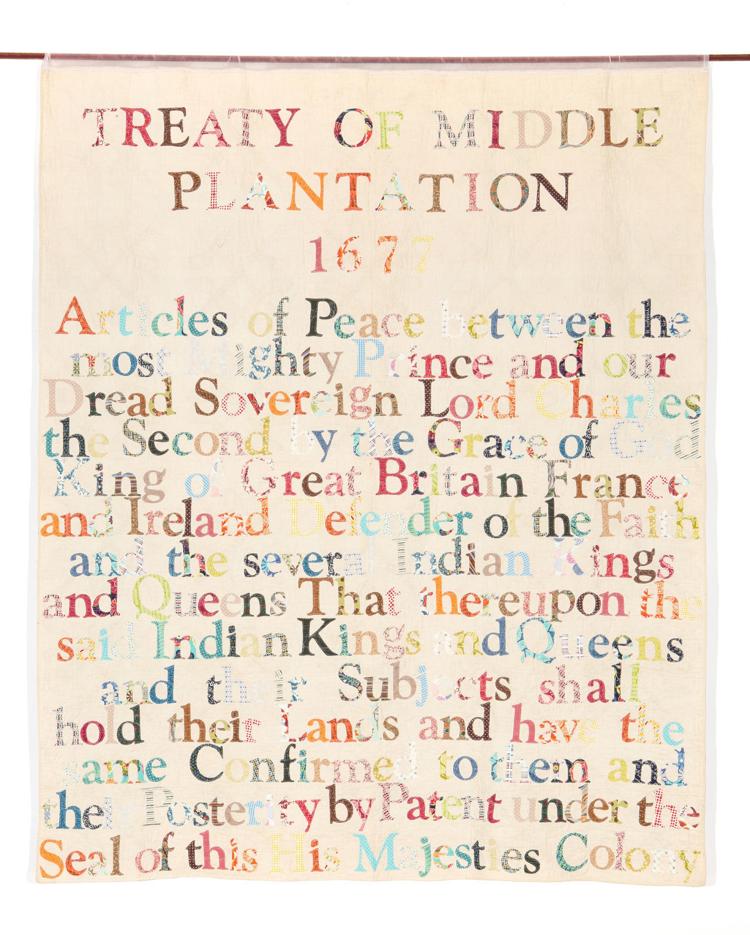 "Many lives were lost. Many people suffered. The descendants of the survivors carry the loss and trauma in their blood," she explains. "They cannot separate from it. It is an unhealed wound."
The exhibition space is set up so that the works of art create a synthesis on this mutual theme of trauma and loss. They are in conversation with one another. Almost directly across from Adams' work is a drawing that depicts the violation of the female body, A Privacy/Skinned Boned  and My Private Heart Throb by Karen Baldner. Similarly, images of the barren desert behind the border wall (Michelle Frankfurter) hang adjacent to images of the effects of the dustbowl captured by Tracy Templeton.
According to Krondorfer, this was a deliberate choice, to have the pieces overlap and communicate with one another within a larger framework.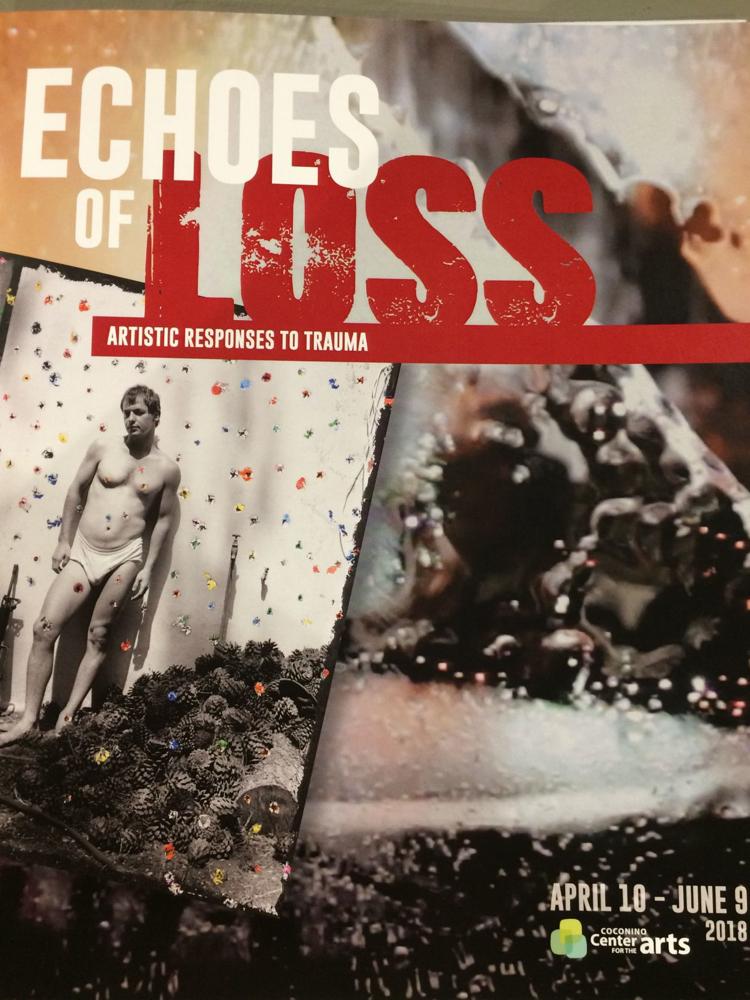 "What I would hope for people to take away is a more nuanced understanding of the effects of trauma and the long-term lingering effects, that an event in history is not over when it's over but that the memory is still with us and the artists kind of bring this memory back or engage with it," he says.
Echoes of Loss: Artistic Responses to Trauma opens at Coconino Center for the Arts on April 7 with a free brunch reception from 11 a.m. until 1 p.m. The exhibit will be on display April 10-June 9. Artists Ruth Liberman and Azin Seraj will be panelists at an upcoming talk at CCA on Monday, April 9, from 6:30-8:30 p.m., also free and open to the public. For more information, and to see a full list of artists participating in the exhibit, visit www.flagartscouncil.org
Be the first to know
Get local news delivered to your inbox!