First Friday Art Walk and the streets of downtown Flagstaff are buzzing.
Locals fuse with tourists to form a mass of gallery-goers and music listeners, restaurant patrons and curious wanderers — each letting the crowd carry them from destination to destination.
While everyday life in Flagstaff's historic center takes place mostly on ground levels, First Fridays unlock the nooks and crannies, demystify the creaky beautiful second and third floors of the town's old brick buildings. The recently opened Art Loft Collective occupies the top floor above The Artists Gallery and FLG Terroir. A plant-dotted atrium overlooking the local wine bar is the first indication that you've almost arrived at the studio space and dream-come-true of local artist Ashley Matelski.
"Art Loft started because I wanted to expand my studio space as a full-time artist and have a place I could share with the public and do art walks," Matelski, who embarked on life as a full-time artist in February, said.
Like many others, Matelski was working a separate job to support herself and her art. Then the pandemic prompted the restaurant she was managing to close and later reduce opening hours. That gave her the final nudge to pursue her wood-burning art and watercolor creations as a main source of income.
Matelski's vibrant watercolor landscapes and fine-lined botanical sketches have since appeared in collaborations with the local Canyon Coolers, commissions with a waitlist that stretches more than a year out and an upcoming project with Absolute Bikes, among others.
"I have so many friends in town who ask how they can do that too and I started thinking, we need a space where people can learn about doing artwork more publicly and going more full-time, like a hub for artists and small business owners," she said.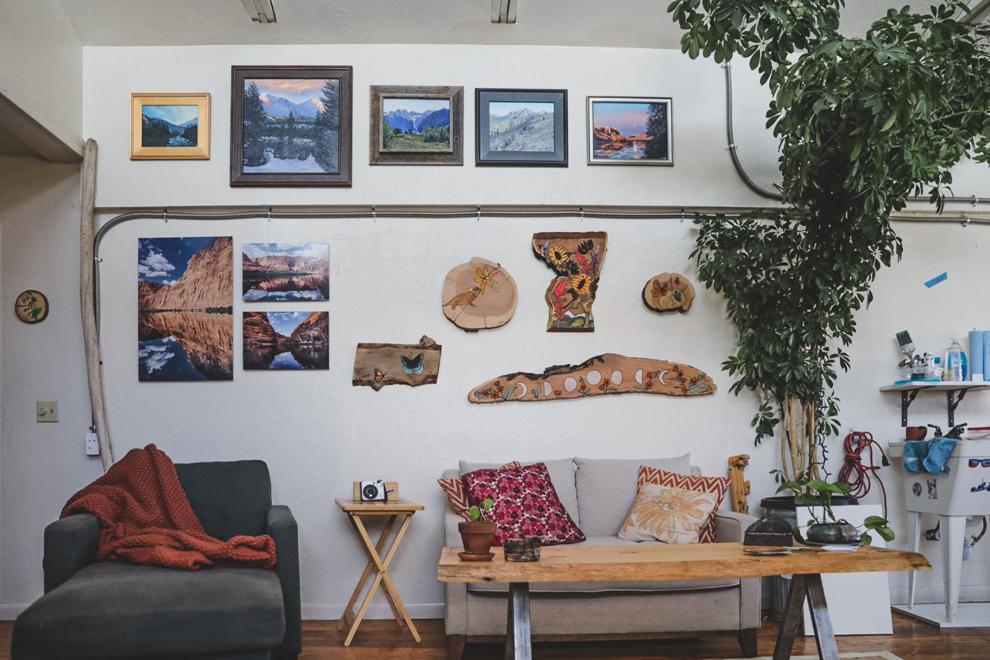 The ebullient Matelski, seemingly always creating and scheming, quickly outgrew the Aspen Lofts studio she shared with a friend. She wanted to do more outreach, have a community gathering space large enough to hold more than a couple people at a time and host classes in addition to resident artists. So the moment the loft — formerly home to the Yoga Experience and a salon — opened, she was there.
The work of local artists now covers almost every inch of open wall space. Haircutting stations have been replaced by large tables for Art Loft's free, weekly Kids Class, salon chairs and blow dryers substituted for sculptures, canvas, and scaffolding, chisels and paintbrushes. The workstations of fellow resident artists, painter and art education extraordinaire Jeff Urdang and ceramicist Haley Jacoby also fill the large windowed space overlooking downtown; an old freight elevator original to the building serve as its own display in the northwestern corner.
Matelski still swoons over the space months after taking over the lease. She celebrated the grand opening during the August Art Walk. Since then, the Kids Class increase in size and popularity with every session, as does the longstanding Small Business Study Hall — meant as an idea-sharing and brainstorming forum as well as a space to help small business owners or those hoping to start their own business. The space has been full to the brim with visitors every First Friday since Art Loft opened. Urdang, Jacoby and Matelski hope to offer more adult classes and workshops in the future as well.
"It's gaining a lot of traction," Matelski said.
The influx of community members is exactly what she hoped for. Not only so people could interact with the space and its events, but so that artists of all backgrounds could get a foot in the door.
"It can be really intimidating," she said.
Matelski herself came to art in an informal way. She's entirely self-taught and remembers craving art instruction as a kid, wanting nothing more than to be an artist when she grew up. She also remembers the initial fear in approaching galleries about displaying art years later.
"The hardest thing about being an artist is putting yourself out there and having a safe space where there are people to see your art and someone to facilitate that," Matelski said. "I had one artist approach me and say, 'I don't know if I'm good enough,' and I said, 'Yes of course you are.' I want a space where anybody feels welcome and open to show."