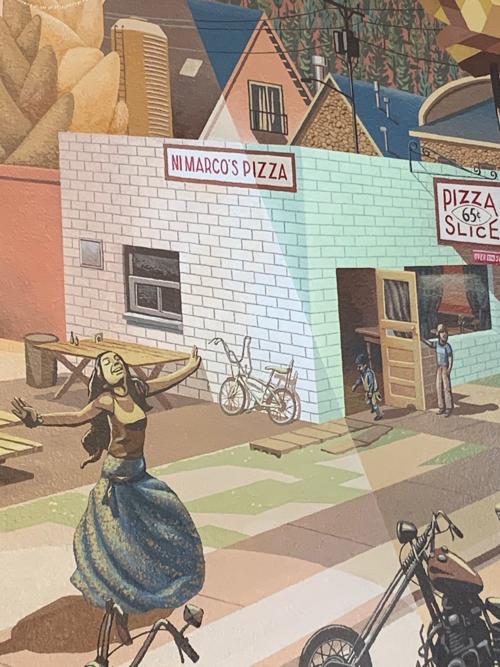 When dine-in operations at restaurants throughout Flagstaff and statewide halted to slow the spread of COVID-19, many owners took it as an opportunity to renovate.
NiMarco's Pizza has been part of the rich fabric of Flagstaff since the 1970s. Once a take-out pizza shop in a nondescript brick building on Beaver Street offering 65-cent slices, NiMarco's now serves the community out of three locations—downtown, on the west side near Northern Arizona University and on the east side—with the downtown shop recently receiving a makeover.
"We opened our east side store about six months ago and we did some things decoration-wise that we really liked, so we wanted to make the downtown store kind of match that," owner Dave Ledbetter explains.
He and business partner Tommy Glenn reached out to the Mural Mice, made up of R.E. Wall and Margaret Dewar, who had contributed several small murals to their east side location. Although the pair are well-known around town for their ubiquitous work, they certainly weren't immune to the impact the pandemic has had on the arts. But while many projects were canceled, the Mural Mice continued work on others, with Dewar drawing up plans following input from the community for a mural at the East Flagstaff Community Library while Wall focused on the NiMarco's project.
"It slowed down, but there's still a demand for murals, surprisingly—we're still getting requests," Wall says. "It's not totally dead, it's just the pulse is a little lower.
"People value art," he adds. "The businesses are struggling, but have a chance to renovate their businesses and put the love into them. And that sometimes includes painting murals."
The vision Ledbetter presented to the Mural Mice involved stepping back in time to when NiMarco's first opened.
"We have old-school Flagstaff residents who come in all the time and say, 'I remember when this place was a little shack on the corner,'" he says. 
Ledbetter, who has owned NiMarco's for more than 20 years, tracked down the original owner who had a grainy picture of the shop as it was circa 1979, which served as a reference for the mural.
"I wanted to pay homage to this side of town," Ledbetter says. "It's rich in history, the Southside's got a lot of fond memories and there's still a lot of residents—I have a lady who works for me who's in her 70's and has lived two doors down since she was born. We just wanted to pay some respect to that generation and the history that's there."
When it came down to choosing who to hire for the project, Wall was a quick choice. The artist moved to Flagstaff as a 20-year-old in 1990, and recalls the town during that time as a place that drew Deadheads and various other travelers who would often sleep in their RVs and converted school buses in the parking lot north of NiMarco's. In trying to imagine the Flagstaff of 1979, Wall spoke to longtime residents and researched the history of the predominantly Black and Hispanic Southside neighborhood.
"When you ask somebody to paint a scene of what Flagstaff likely looked like 40 years ago, it's nice to have somebody who's been around," Ledbetter says. "If I brought someone in from Phoenix, let's say, or somewhere else, they wouldn't necessarily have that connection to the community to draw from, which he did."
The result is an earth-toned scene depicting travelers in homemade clothes piling out of vans and joyfully dancing outside the restaurant.
"I was really trying to find the spirit of early Flagstaff and recreate that for people to see," Wall says. "1979 Flagstaff was a whole 'nother place."
The return of dine-in brings with it new safety measures like implementing social distancing measures and required hand washing every 30 minutes for NiMarco's staff, an increase in sanitization of commonly touched surfaces and a plexiglass shield at the front counter. Wall and Ledbetter look forward to the public's reaction to the mural, and the latter adds he and his staff have missed the social aspect of dine-in.
"That's what we're looking forward to most, getting back to interacting with our customers, and not just making a sale," he says.
Even if the restaurant has to temporarily close again, Ledbetter isn't discouraged.
"The future's bright," he says. "We've always been a takeout and delivery operation, so that's something that we can always continue to do out of necessity. Between [the increase of] minimum wage and coronavirus and the availability of our groceries—that has been a challenge for us too, just getting ahold of product—all of these challenges are making it really hard on our industry, but the strong survive. You gotta keep your head up and just keep marching forward."
All three NiMarco's Pizza locations are currently open for dine-in. The Mural Mice's new mural at the downtown shop, 101 S. Beaver St., will be unveiled today, Thursday, June 18, at 5:30 p.m. Visit www.nimarcospizza.com and www.muralmice.com for more information, or find the businesses on Facebook.
Be the first to know
Get local news delivered to your inbox!