Several years ago, The Knockabouts veered from the typical late night pub shows. They agreed to play at a rugby party and things got a little weird when a naked man jumped on stage with them.
"Apparently if you score your first goal in rugby you have to get naked and do some chant," says John McGregor, one-fifth of the band. "They didn't tell us this."
The Knockabouts got their start 15 years ago when they played during a St. Patrick's Day celebration for the Irish Foundation, now the Northern Arizona Celtic Heritage Society, and have plenty of stories about the various shenanigans they seem to attract.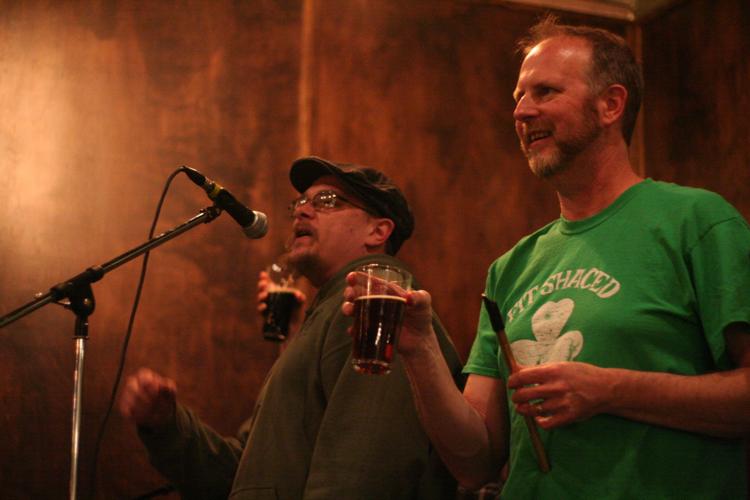 "Our claim to fame is they had to shore up the mezzanine here [at the Weatherford Hotel] because of our fans," says Jacquie McGregor, singer and flutist. "We were playing the Zane Grey [ballroom], and they were jumping up and down as we were playing 'cause they were just trashed, and the bar manager had to make us stop because the floor was sagging."
Though known to have a good time, traditions also play an important role for the local Celtic band.
"We've always stuck to being very traditional," John says. "A lot of Irish and Celtic bands would start adding electric this, electric that. My philosophy was that everything goes back around and a lot of people still want traditional sounds."
John and Jacquie had just barely started dating when they formed the band and their shared passion for music helped bring them together.
"I wooed her with my penny whistle," he says.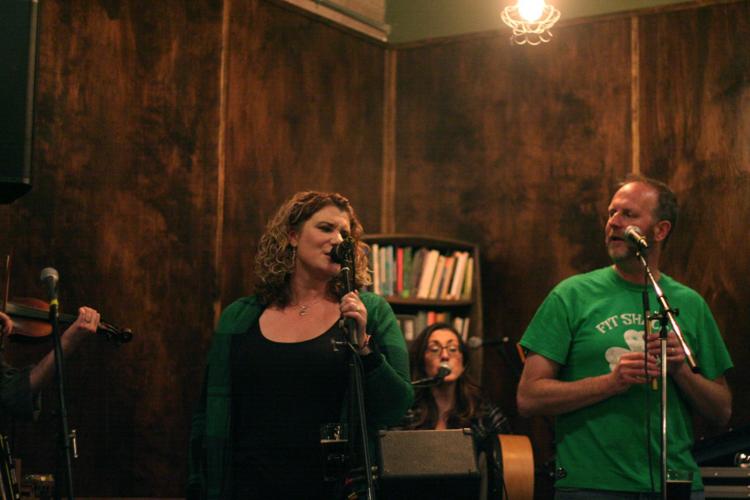 The successful wooing led to a marriage and two sons—five-year-old Jackson and two-year-old Jacob who have been raised within the tightknit musical community.
"They've grown up with it, it's part of their culture, and they wanna play the instruments," John says. "Jackson's in the band of course."
"He'll jump up on stage and he's the first one dancing," Jacquie says.
Being involved in their parents' creative world has given the children an appreciation for music and a comfortable familiarity with Charly's Pub & Grill where they've attended a lot of shows.
"In Irish culture the kids do everything," says Jude McKenzie, the heritage society's business manager. "In Ireland, a pub is where people gather because people don't have homes big enough to have a party and bring friends over. It becomes a very important place socially for your friends and family to gather. The babies, the grandmas, everybody."
Irish is the second most common heritage cited by Americans, either fully or partially, according to the 2013 Census, and Flagstaff was settled, in part, with the help of Irish immigrants like the Riordans. But perhaps it doesn't really matter where anyone came from this weekend, because, as the saying goes, everybody's Irish on St. Patrick's Day.
While The Knockabouts have gained and lost members over the years, the McGregors have remained the core members. The current lineup for the past four years consists of John on penny whistle, Jacquie on flute, Craig Yarbrough on guitar, Hannah Prizznick on fiddle and Jacquie's youngest sister Julianne Layton providing percussion with a bodhran (a traditional Celtic frame drum) and a djembe (a skin-covered goblet drum), while everyone contributes their vocal talents to the band.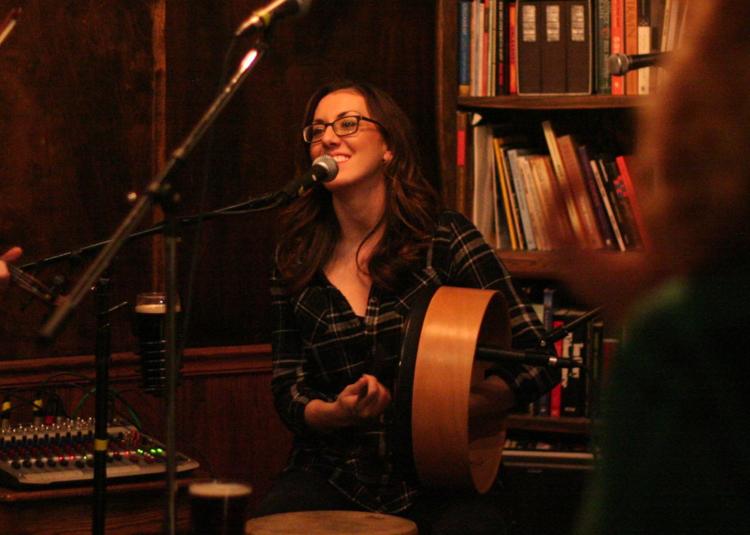 To celebrate the band's crystal anniversary, they will be playing a St. Patrick's Day party this Saturday at the Orpheum Theater as a benefit for the Northern Arizona Celtic Heritage Society.
During the afternoon, The Knockabouts plan to rent a pedal bike and stop by bars with their instruments—a guerilla marketing tactic to get people excited about St. Patrick's Day.
Kids are welcome to the Orpheum party, where they can enjoy coloring, a photo booth and more for a few hours before the party gets completely underway.
"Really what's important is that idea that it's a gathering of all the ages and all the people," McKenzie says. "Where you are in that space and time becomes a community, and that's kind of that Irish feeling. Where you are is where you need to be."
So whether revelers are looking for an authentic St. Patrick's Day feel or simply an excuse to wear green and drink beer all day, The Knockabouts have them covered.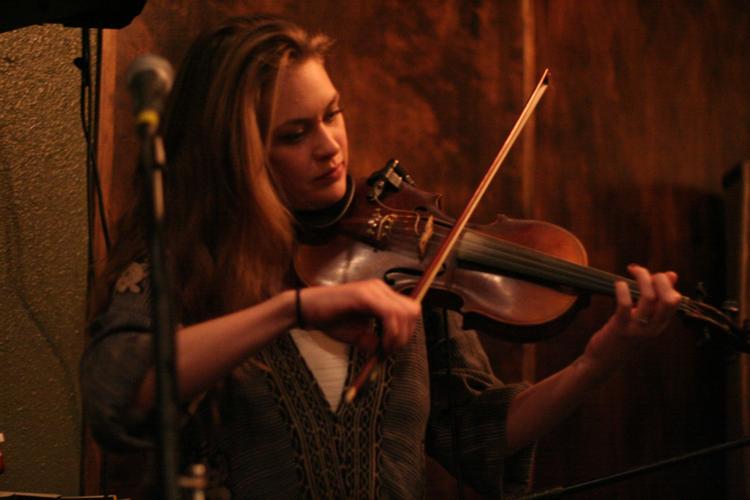 The band has played regularly at Charly's, Uptown Pubhouse and Collins Irish Pub & Grill for the occasional First Friday ArtWalk, and they look forward to the homecoming vibes of the Celtic Festival each year.
"You never see more hugs than at a Celtic event," says McKenzie of the importance of celebrating heritage with events like the festival. "That's what's so wonderful; it creates a sense of community."
The Knockabouts have also brought their music to solemn events such as funerals, allowing them to reach out to people across generations who remain connected through traditional songs even in the most unlikely of places.
After a performance at a farmers market years ago, a woman left the band a note describing how much their music meant to her. She wrote that she had brought her mother, who was in the late stages of kidney disease, to one of their shows and they got the opportunity to dance together one last time.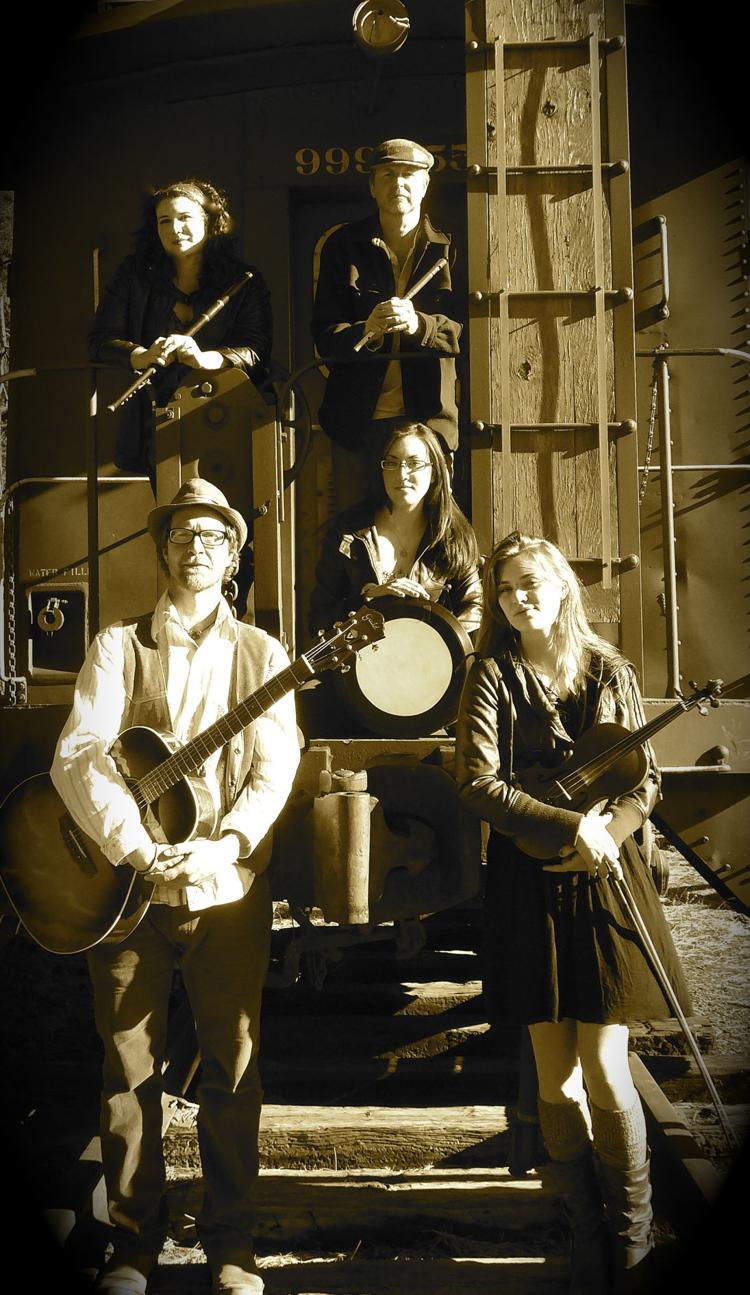 Jacquie recalls the note saying, "I want to let you know that was the last best memory she had. She talked about that until she died."
"I think that's where our music is a little different than a lot of music," John says. "We get that type of feedback and those types of memories. The rowdiness is all great fun and everything like that, but having people say, 'Wow, this meant so much,' is really special. And, you know, your accountant doesn't get that type of feedback. Musicians do."
Between the five current members, there are nine music-related college degrees, setting a strong foundation for beautifully-crafted songs that speak to heavy or simply drunk hearts. The chance to do what they love for the past 15 years has given them many treasured memories and connections to the community.
"We even have children of our fans who are coming out to see us now and that's been kind of fun to watch," John says.
Music and tradition provide a way to find meaning and belonging within this large world.
"It's what makes us human whether its cultural traditions or family traditions," says McKenzie.
And on that note, The Knockabouts and the McGregors don't see themselves slowing down anytime soon.
"If people want to come out and see me sing bawdy Irish songs with grey hair [then we'll keep on playing]," Jacquie says. "It's such an integral part of who we are. I don't know if we'll ever give it up."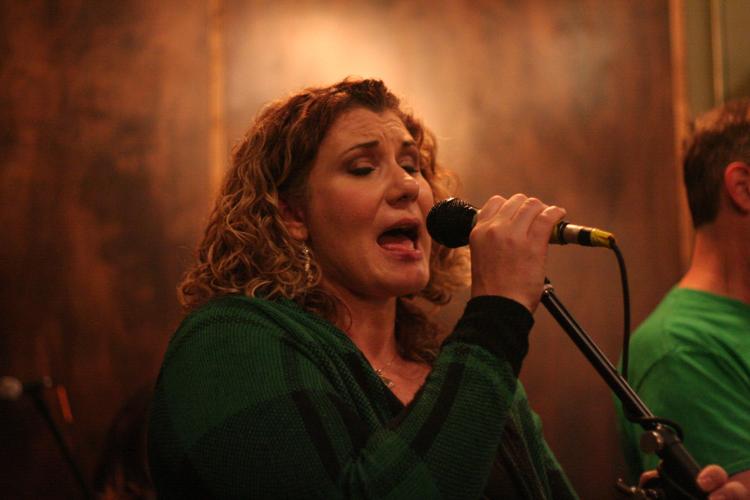 The Knockabouts will be headlining the Orpheum's St. Paddy's Day celebration on Saturday, March 17, beginning at 7 p.m. with kid's activities until 9 p.m. Tickets are $11, $6 for youth and children under five get in free. There will be a separate Scotch whisky tasting and education seminar at 4 p.m. prior to the concert. Tickets are $27 and include several Scotch whiskies accompanied by an Irish cheese platter and a Scottish gin. Visit www.orpheumflagstaff.com for more information.