"To be honest I was totally unprepared for the impact of the experience, both to myself and to the students," admits NAU professor and local musician Robert Neustadt. We're discussing his first time in Nogales observing the humanitarian crisis on the militarized U.S.-Mexico border. Sharply juxtaposing our cushy place in a Flagstaff café, Neustadt paints the picture.
In 2010, Neustadt took a group of students south of Tucson to speak with No Más Muertes (No More Deaths). For this humanitarian aid organization, the cause is in the name. NMM aims to reduce human death and suffering on the border, full stop. Staffing soup kitchens, placing water drops in the desert and constantly defending their actions in court, NMM operates under the slogan "Humanitarian Aid is Never a Crime."
And in Nogales, the need for aid is immediate. Hundreds of men, women and children attempting to enter the U.S. legally sleep on sidewalks. Fresh deportees amass in under-resourced shelters. Outside town, would-be migrants brave dehydration, exposure and potentially lethal apprehension by Border Patrol in order to cross covertly. Many die trying.
"It was so intense to be there and see with your own eyes this raw human suffering," Neustadt remembers.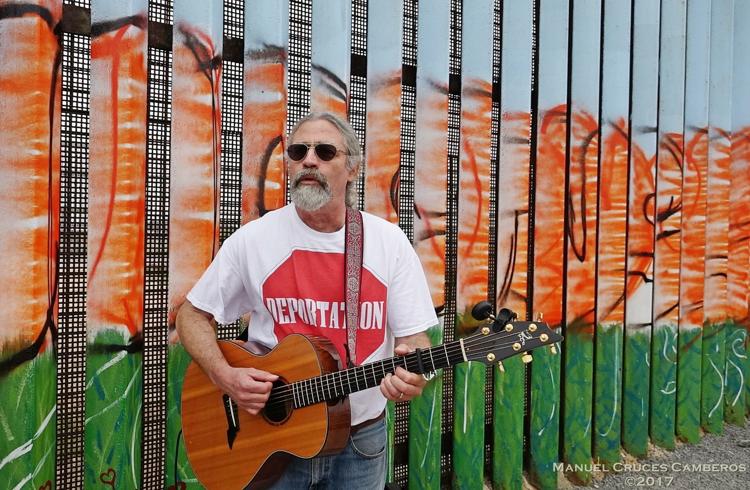 Through NMM, Neustadt and his students got the opportunity to speak with people who had survived the crossing.
"You can read about it…statistics numbers, and then you're there and somebody's telling you what they've been through," he says. "They've left their five kids with a neighbor in Oaxaca, they were running in the desert for four days, they were put in a cell and only given a cup of juice and two packages of crackers after four days of not eating…it just hit me so hard."
They also had the opportunity to witness immigration court proceedings, characterized at that time by the mass trials of Operation Streamline.
"[The courts] would try around 70 people a day," Neustadt says. "They try them as a group, they'd all be wearing handcuffs and ankle shackles, chained to their waist… wearing the clothes they were detained in, some of them still have grass in their hair…there's an odor of sweat." He brings details forth slowly, as if remembering a nightmare. "The judge reads through this script and has them answer in chorus… in a couple hours they've all plead guilty and are sentenced to time in for-profit prisons…it's all really sad and demeaning… sometimes students will just cry. I had one student who had to leave, she felt sick."
Chains are far from the worst fate that can befall border crossers. According to U.S. Customs and Border Protection, 7,216 people died trying to cross between 1998 and 2017. California non-profit Border Angels estimates that number closer to 10,000. It's difficult to be certain; the vast Sonoran Desert hides many bodies.
Despite the risks, the irresistible pressure to immigrate stems from a sordid history in which our own government is culpable. In the 1970s, many Central American countries erupted into civil war as the people attempted to oust oppressive regimes. In the throes of Cold War paranoia, the U.S. government financially and militarily supported incumbent dictatorships and terrorist groups throughout Central America to silence revolutions suspected of socialism.  
The Nicaraguan Revolution is a well-known example. In 1979, the Sandinista National Liberation Front (FSLN) attempted to overthrow the Somoza dictatorship and install a democratic government. Fearing that a democratic Nicaragua would adopt socialism, the U.S. government backed Somoza and funded the Contras, an organization that suppressed the FLSN through over 1,300 documented acts of civilian-targeted terrorism.
Nicaragua was not unique. Throughout the last half of the 20th century, U.S. policy supported gratuitous use of puppet politicians, terrorism and trade "agreements" such as NAFTA to ensure that Central American governments were receptive and submissive to U.S. influence and capitalist corporate presence.
Reverberations from this U.S. imperialism continue to wreak havoc on Central American communities. Violence reigns. A lasting tug-of-war between militant, authoritarian governments and anti-government gangs and cartels spells constant danger for everyday citizens. Fleeing, Central American refugees arrive at our border.
"The vast majority of people that cross the border are doing so because they want to take care of their families, because their children are hungry, or their children are sick or their spouses or parents are fleeing awful gang violence," Neustadt explains. "I'm a father and I would do anything to take care of my children and my family… to me, someone who is risking their life in order to take care of their family is doing the right thing. They're not a criminal. They're a hero."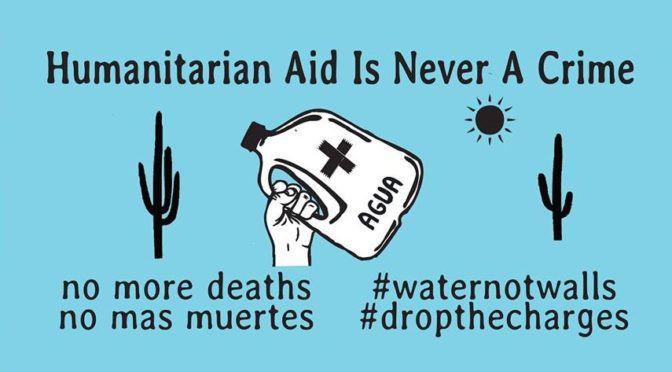 Heroes or not, the point is moot. These are people who need help. Still, border crossers emerge from the desert to a frosty reception. Rifle-toting Border Patrol, drones, dogs, motions sensors and, of course, the wall, all stand in hostile opposition to the tired, poor, huddled masses yearning to breathe free.
Horrified by the dehumanizing treatment of border crossers, Neustadt and his students returned from their 2010 visit emotionally exhausted, "like zombies," he reports.
Nonetheless, Neustadt was not deterred from volunteering with No Más Muertes. "I continue to do this every semester," he says.
As a musician, Neustadt found his personal coping mechanism could also be put to service, saying, "I came back from that trip and I wrote a song called 'Voluntary Return.'"
Sharing this song with friends, he became inspired by the suggestion of a fellow musician to assemble and sell an album of immigration-centric songs as a fundraiser for No Más Muertes. Financed by "begging," friends and family, Neustadt compiled Border Songs, released Oct. 12, 2012. Featuring songs from Pete Seeger, Calexico, Michael Franti and more, Border Songs possessed Neustadt.
"I became a parody of myself," he laughs. "I couldn't get on an airplane without trying to sell the person next to me a CD…I was like a cartoon character."
Insanity paid off. Without any kind of marketing team, Neustadt and a handful of collaborators were able to sell around 5,000 CDs, turning roughly $7,000 of investment into a $100,000 donation to No Más Muertes.
"It was a lesson in how you can make something work if you're really committed to it," Neustadt affirms.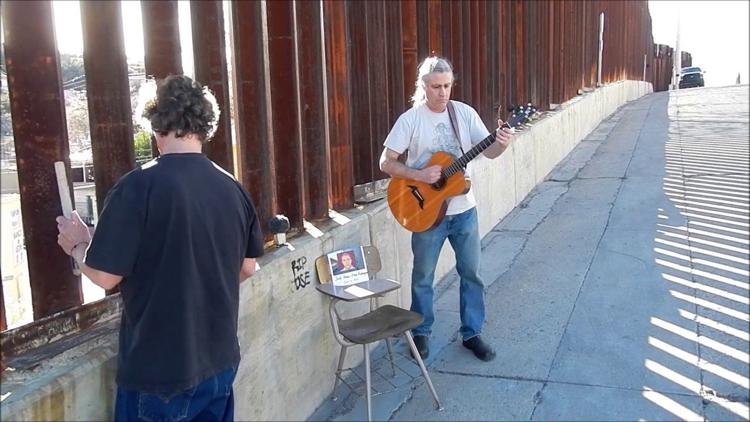 Now, Neustadt is at it again. He just finished recording a second album, Voluntary Return, for similar fundraising purposes. Completed at Mudshark Studios, Voluntary Return is an introspective, personal collection of music based on Neustadt's continued experiences with No Más Muertes and a recent tour of the European Union.
"I spent a month this summer travelling along the southern border of the E.U. visiting refugee camps and trying to understand the situation there," he says, noting similarities between the U.S.-Mexico Border and the E.U. southern border.
"On the one hand, the details are different in that there, people are trying to cross an ocean or a sea to reach safety, and there you have people fleeing open war in Syria, Afghanistan and Iraq, as compared to the analogous situation in Honduras and Guatemala or El Salvador where the violence is gang instigated and grew out of previous wars…but the overall situation, I see it as more and more similar."
With simpering exasperation, Neustadt hazards a summary of the humanitarian crises in both hemispheres. "Basically, what we have, and in some ways this seems like a silly reduction, but relatively wealthy white people that don't want to share resources with dark people from the global south."
Recognizing that the complex, pandemic issues of immigration may illicit the defensive response of paralyzed apathy, Neustadt kicks through the quagmire.
"The numbness and the frustration don't go away," he states. Neither does the sense of responsibility. "Once I saw it, I had two choices… I could turn away or face it dead on and do everything I could to improve the situation."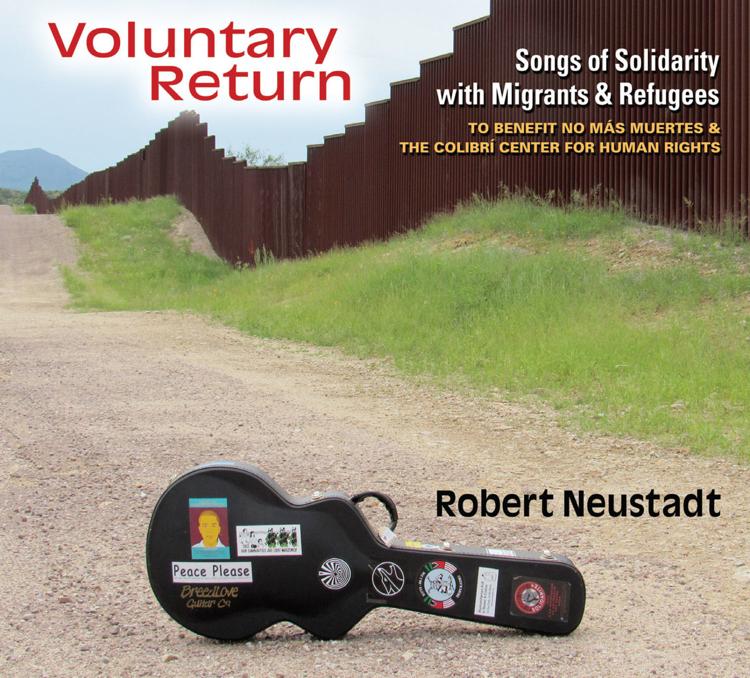 On Voluntary Return, Neustadt responds by telling stories from the world's borders while wrestling with the anguish of bearing witness. He remains hopeful that if his music "can reach some people that aren't really aware of the issue then it may make them think on these things, ponder them...and actually do something."
Aside from raising awareness, Neustadt also hopes Voluntary Return may serve as medicine. "I don't want to be presumptuous...but I think what's possible is that it may help people feel a little better in knowing that there are others of us that are sharing this knowledge and the emotional load. People can say, I'm not just feeling this alone, there is a movement of people, and there is a power in that."
Musically, Voluntary Return sits squarely in the Johnny Cash/Bob Dylan tradition of folk and blues. Stand-out tracks include "Seven Bullets," which features a recording of the wall being played percussively and recounts the tale of 16-year-old José Antonio Elena Rodriguez.
As Neustadt tells it, "he was on the Mexican side of the wall, and a border patrol agent shot him through the wall. The officer says that the boy was throwing rocks, but he was shot eight times through the back and twice in the head…he [the agent] was on a 15-foot embankment, shooting through a 25-foot steel wall…there's no way this kid could have caused damage to this guy… and even if he could have, [the agent] could've retreated instead of shooting at him."
There's also "On Our Way," the harrowing tale of 14-year-old Josseline Hernández, whose body was discovered in the Sonoran by a No Más Muertes volunteer. Best evidence suggests she was separated from her group and succumbed to hypothermia.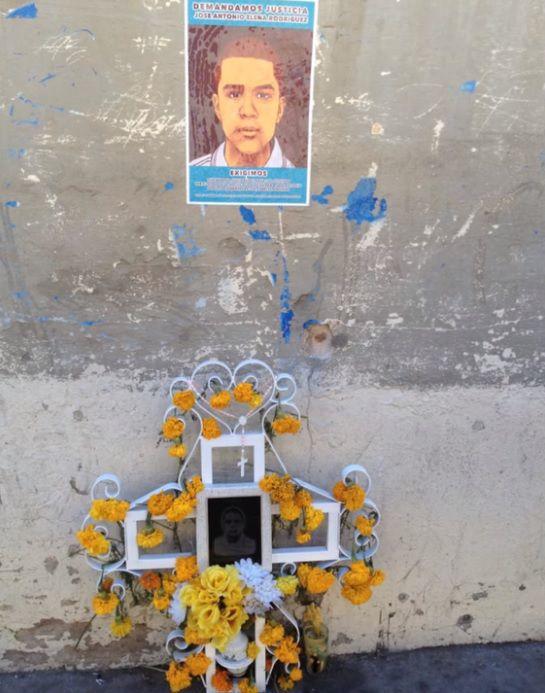 In generating attention, emotional solidarity and funds to directly support nonprofit humanitarian aids, Voluntary Return is just one way that Neustadt is using his energy and creativity to assist refugees south of the border. He also works alongside Keep Flagstaff Together, a local organization that offers legal assistance to families in danger of losing members to I.C.E deportations. Furthermore, in December he intends to premier a play with Theatrikos Theatre Company that will depict stories from the border. 
Not all of us can be as prolific and well-intended as Neustadt. Thankfully, the nature of his projects provides a means for the rest of us to engage the problem with nominal investment. At bare minimum, attend the release show for Voluntary Return next Thursday. Get your hands on a copy of Border Songs. Look out for Neustadt's play in December.
Or take a step further. Reach out to Keep Flagstaff Together or No Más Muertes, or any number of humanitarian nonprofits and inquire about service. Educate yourself on the immigration policies of your politicians and vote accordingly.
But at the end of the day, remember that this is not about politics. There are people dying on our doorstep. Basic humanity demands that we help. Reject indifference. Get involved. Show up. Neustadt will see you there.
Robert Neustadt will hold a release show for Voluntary Return at the Coconino Center for the Arts, 2300 N. Fort Valley Rd., on Oct. 25 at 7:30 p.m. Tickets are $7 in advance and $10 at the door. Proceeds benefit No Más Muertes and Colibrí Center for Human Rights.