The wind is a mangy, rabid dog that bites.
Boots on sand, I inch to the edge of Canyon Diablo, and, to me, the buildings I see are skeletons, the bones left to bleach and to be picked over by scavengers. The hiss of wheels on the interstate fights with the lonely howls of wind winding through abandoned stone, wood and steel. A train rumbles far away. No birds sing. No children play.
Pen in hand, I rub down the raised hairs on my neck, the goosebumps on my arms, before I write. My camera heavy, I gaze through the lens and trust the sense of distance the viewfinder gives. The air, strange, smells off and sweetly sour – like the air in a cemetery, or in a hospital, or in an autopsy room. The greens and browns of the juniper, the rabbitbrush and the desert grass, covered in dust, lack vibrance and move in and out of shadows from the bloated clouds. The wind kicks grit into my eyes and mouth. Eyes burn. I taste rust and spit out the bitterness.
I stand in a ghost town with a ghost highway running past it, left to slowly wash away in the flood of time. Time never, ever loses. The rabid dog bites and bites.
I am in Two Guns, a grim and dark place bathed in sunlight and blood.
---
People who want to know about Two Guns, Canyon Diablo and the Apache Death Cave invariably come across the name of Gladwell "Toney" Richardson.
He apparently loved to write, and he most certainly was a packrat who refused to toss any of his research when he was done with it. He lived from 1903 to 1980, and in that time, according to the Arizona Historical Society, he wrote novels, magazine articles and more, "totaling an estimated 60 million published words." 
When he died, his Flagstaff-based family donated 106 linear feet of research material to the Arizona Historical Society, and they are currently housed at NAU's Cline Library Special Collections and Archives.
 He also must have thought he was too prolific because he wrote under more than 20 pen names. Richardson did all this writing while also serving at least 10 years in the U.S. Navy (which included World War II and Korean War) and working at trading posts throughout northern Arizona – including Two Guns. He also had time to raise two daughters with his wife, Millicent.
Under the pen name Maurice Kildare in the December 1967 issue of Big West: True Stories of the Western Frontier, Richardson wrote a deeply researched piece, complete with photographs, about the Apache Death Cave at the eastern end of Canyon Diablo, where the ruins of Two Guns continue to fight time and somehow bewitch travelers to stop.
The story is not a pretty one: Apache raiders traveled north into Navajo territory in June 1878, killing and plundering. Navajo fighting men eventually discovered the Apache raiders hiding in a cave in Canyon Diablo. The Navajo warriors started a fire at the mouth of the cave and burned and suffocated all 42 Apaches hiding inside with their horses.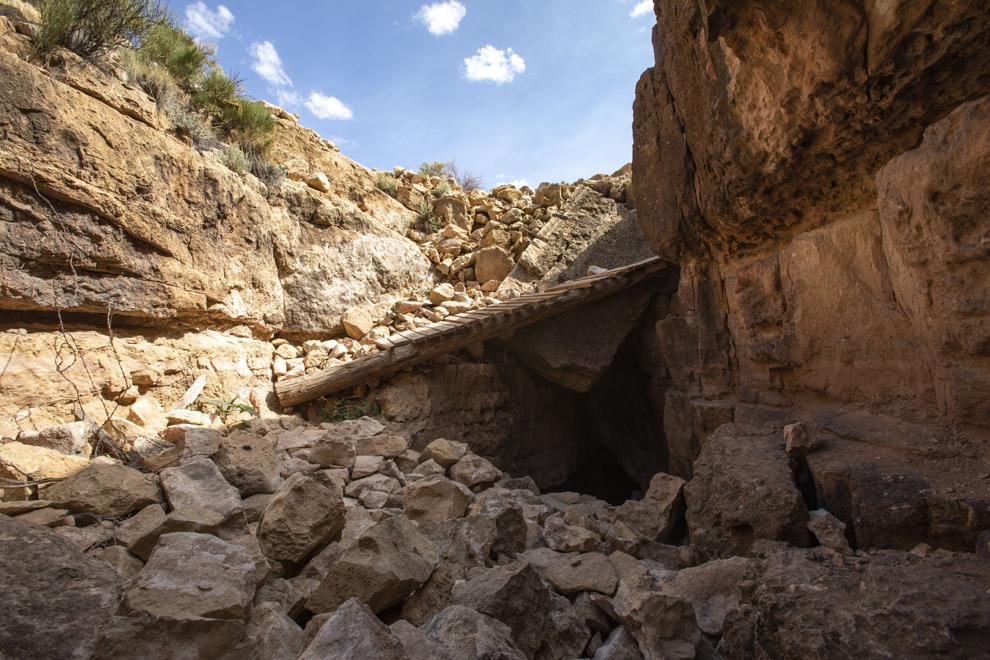 "How news of the awful disaster to the raiders reached Apaches farther south was never known," states the article. "But it did. In succeeding years when venturing onto the great northern Coconino Plateau, they avoided that part of Canyon Diablo as cursed by sprits where ghosts abided."
---
The rabid-dog wind slices at my face, my arms, my legs.
An old sandstone building, tattooed in modern, multicolored graffiti, squats above a wide fissure that sinks deep into the landscape. Loose gravel and ankle-breaking rock force me to pay attention as I make my way down. I'm alone with dark thoughts. What if I …? How long would it be before …? A makeshift bridge, with relatively new boards, makes the trip much less sketchy.
Out of the wind, I sit on the rocks and gaze into the cave. The hole seems to plead, to beg for new meat. The mad dog pushes cool air, the smell of urine and smoke, into my face. Moans and groans rise, fall back and fill the space. I think of angry ghosts as my sight moves from light, to shadow, to dark, to black.
I take a deep breath, turn on my headlamp, set the camera to low light, pocket a good dose of fright and scramble down into the darkness.
I shake out crawly, tingly feelings in fingers and hands as eyesight adjusts. Heart pounds hard on the ribs. Dust from the mangy wind hangs and flows in the specter light cast from cracks above.
I imagine screaming, fire, terrified horses, lung-searing smoke. Not a good way to die.
---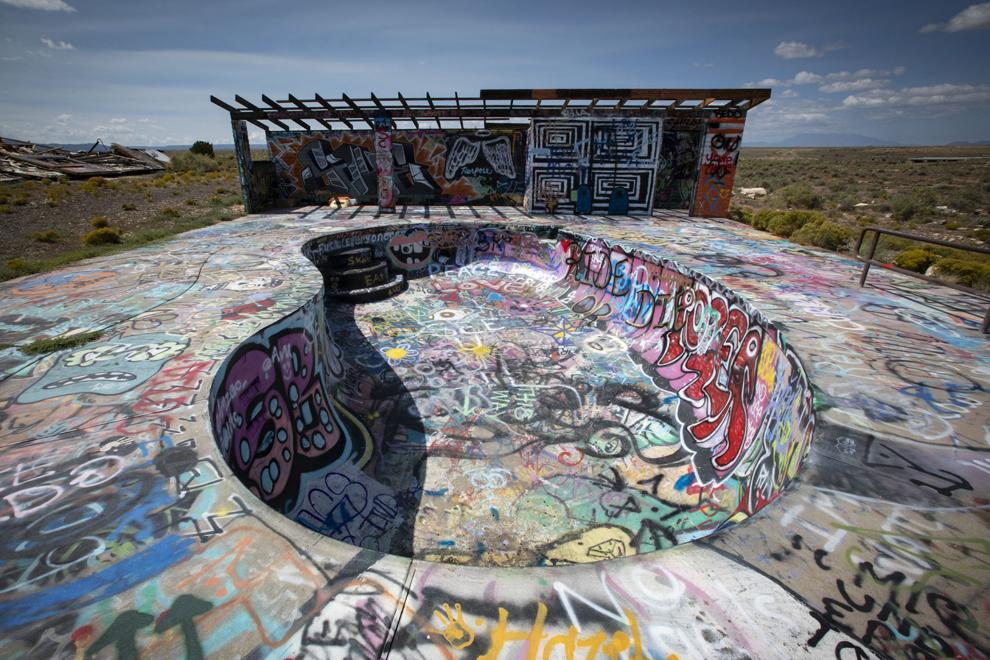 Writing as Gladwell Richardson, he told the story of Canyon Diablo and Two Guns in a multi-chapter, multi-century, wide-ranging essay, called, simply, "Two Guns, Arizona." He goes from how Canyon Diablo got its name (from Spanish explorers in the 1500s), to the founding of the town of Canyon Diablo first, then Two Guns and the storied history they suffered before they died.
Again, the story is not a pretty one: A railroad was coming through in the 1880s. As the railroad came, so did rough people with a lawless attitude bent on dangerous work and dangerous leisure time. The town of Canyon Diablo, the remnants of which are up on the rim of the canyon further north, "roared day and night."
According to the essay, "For a brief span of its vicious life, more famous places like Abilene, Virginia City and Tombstone could not hold a candle to the evil of this end-of-the-railroad's depravity. Murder on the street was common. Holdups were almost hourly occurrences, newcomers being slugged on mere suspicion that they carried valuables."
Businessmen in Flagstaff and Prescott who weren't keen on losing merchandise traveling through Canyon Diablo by rail tried hiring several people to be lawmen for the lawless town. It was a tough gig, and they typically were gunned down, sometimes within hours of being on the job.
From Richardson's writings, it appears the first buildings in Two Guns came along in about 1914 when a road was built to cross the canyon at Two Guns. Traders, ranchers and prospectors were the first residents. As automobile traffic became more widespread and tourism became an industry came, including curios shops, a restaurant, post office, gas station, RV park, a pool, even a zoo. Murder still floated on the air. Over the years, businesses went bust, buildings caught fire, and finally, an interstate came through and sealed the fate of the rough little town.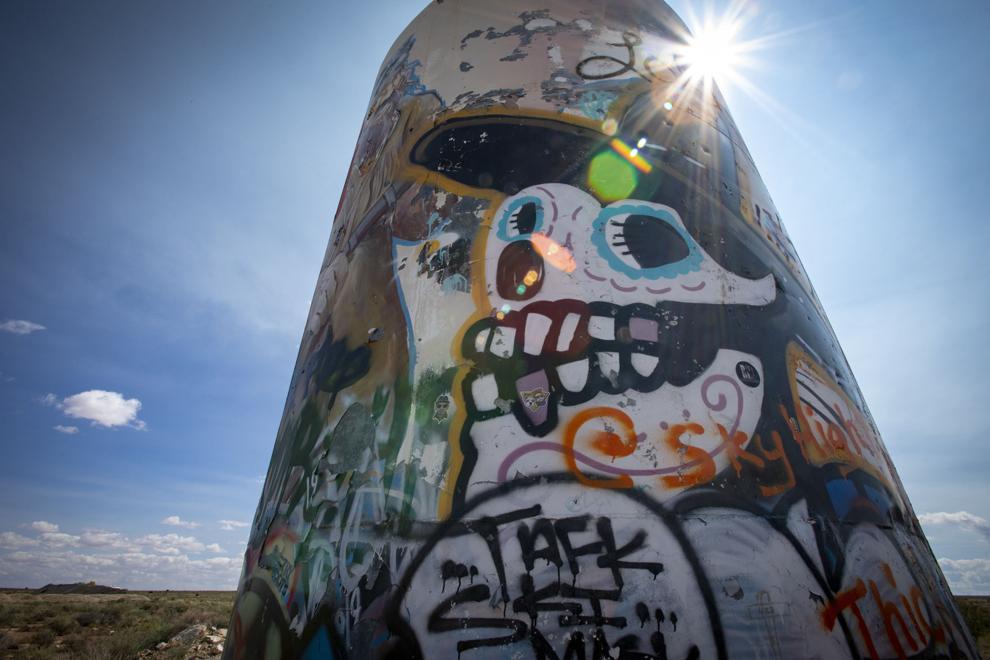 In the end, Richardson couldn't claim with any certainty how or when the town of Two Guns got its name.
Richardson's references list at the end of the piece includes dozens and dozens of books, articles, newspapers, legal records and personal statements of people Richardson interviewed over his incredible career. The guy was a researcher, through and through.
---
The rabid, snarling wind bites and bites. I drink water to wash away the sour, the grit.
To the east, the bodies of the dead are more recent – concrete, metal and wood. The few lingering carcasses so tattooed with graffiti that there's color on color – purple, yellow, black, white, orange, red and blue – the spectrum fully spent. Buildings once standing a season ago are now rubble. An empty pool for drunken spray-paint philosophers, a gas station that gazes sadly at the interstate with glassless-window eyes.
Travelers and revelers from across the globe make a stop, leave a mark – sometimes deep and personally meaningful, sometimes shallow and prurient.
"... Peace, love and hand grenades ... I made myself from love you no longer wanted ... Living Not Dying ... Learn my flaws and love me anyway ... Lauren ... Cody ... Jessica ... Jack ... California ... Texas ... North Carolina ... Florida ... Care for others ... Rooms for rent ..."
Behind the distance of my camera's viewfinder, the colors offer an attitude of life in death, like flowers on a grave, colorful baubles in the dusty flow of cruel and merciless time.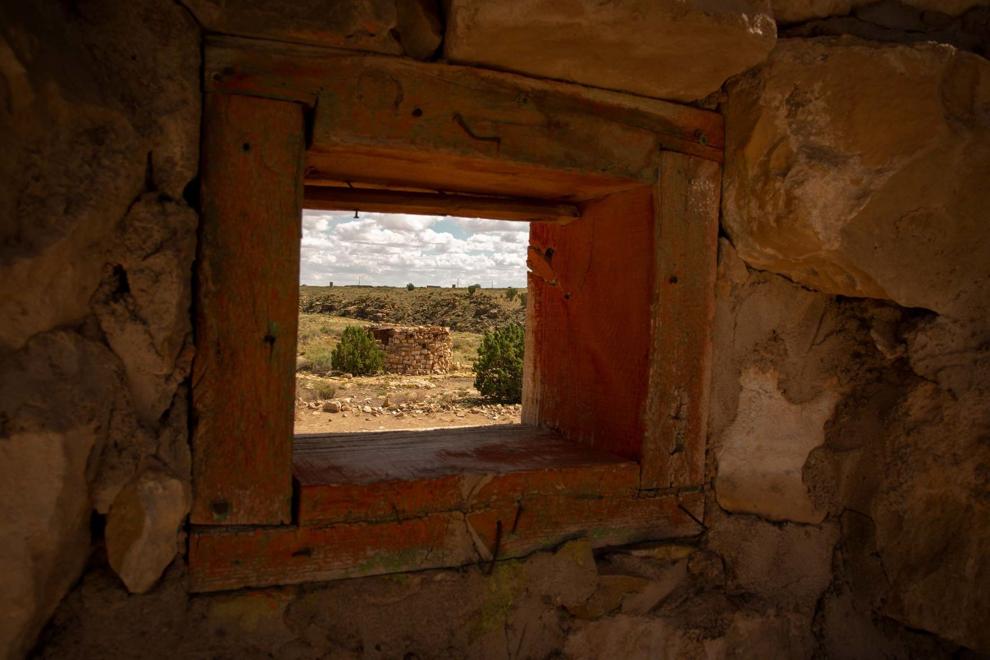 ---
Gladwell Richardson's writing career spanned more than 50 years, and he wrote dozens and dozens of pulp fiction novels about the Old West, with names like Cattle Annie, the Gun Drifters, Incident at Pistol Creek, Lasso, and The Willcox Double Robbery. In 1955 alone, he wrote 14 books.
When he wasn't writing fiction novels, he was writing nonfiction about Arizona history for magazines and other publications.
Like Two Guns, Richardson is no more. And, like Two Guns, much of his work and experiences are now lost to time. Ghostly images and whisps of what once was are all that remain. Haunting and fascinating, his career calls through the ages with a message to all who struggle to document human stories: