"Where do we record the passing of wildlife? Who mourns the silent deaths of the small?"
For the past 15 years, Flagstaff artist Frederica Hall has held an art show each year to bring awareness to the plight of endangered and threatened species around the world. The result is 45 paintings made from a vibrant palette in warm shades of red to represent the International Union for Conservation of Nature's Red List of Threatened Species.
Owls, jackrabbits, deer, frogs and primates are captured on canvas, their eyes imploring the viewer to stand up for them, to be a voice for the voiceless.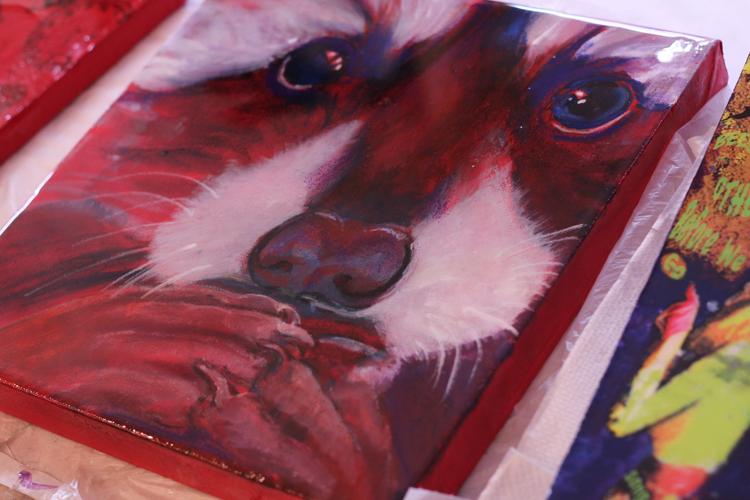 "I want people to have a gut response to the human side because I figure that's the only way maybe they can be a little more active or a little more curious even to find out what's going on with the animals, who they are," Hall says.
She feels, since beginning the project, the state of the environment is worse, especially with federal protections being rolled back under the Trump administration.
CYCLES OF NATURE
"Nothing is more priceless and more worthy of preservation than the rich array of animal life with which our country has been blessed."
President Donald Trump has made the argument that the country's economy will be strengthened by supporting the fossil fuel industry while defending his decisions to reverse Obama-era environmental protections against greenhouse gas emissions and other issues.
Since taking office, Trump has removed the requirement for oil and gas companies to report methane emissions, approved construction of the Keystone XL pipeline and overturned a ban on the use of lead ammunition on federal lands, effectively reversing protections for wildlife that have been in place for over 40 years.
A strong proponent for environmental issues, President Richard Nixon was called to action following a serious oil spill off the coast of California at the beginning of his first term in 1969. He went on to sign the Endangered Species Act into law in 1973 as well as the Clean Air Act and the Clean Water Act. Nixon also created the Environmental Protection Agency.
An analysis from researchers at Harvard University last year estimated the current administration's combined rollbacks could bring about at least 80,000 more deaths of U.S. residents each decade, and it could be worse for wildlife.
The same environmental issues that impact our health also affect animals. They include an increased use of pesticides, which have decimated insect populations important to balanced ecosystems.
"If we don't stop, we won't survive either," Hall says.
When she installs her upcoming show at Criollo Latin Kitchen this month, she will debut eight new paintings of animals that have been affected by humans, whether by habitat loss or overhunting, and one depicting a diminished Earth, where ice caps have melted and the Doomsday Clock ticks closer to midnight.
Among the new paintings is one of a European garter snake, an addition to the endangered species list that surprised Hall.
"I used to catch snakes when I was a kid, and garter snakes were the best to catch. They were always everywhere," she says. "You would see them going across the lawn and in the morning you'd hear the hum of bees, which you hardly ever hear anymore."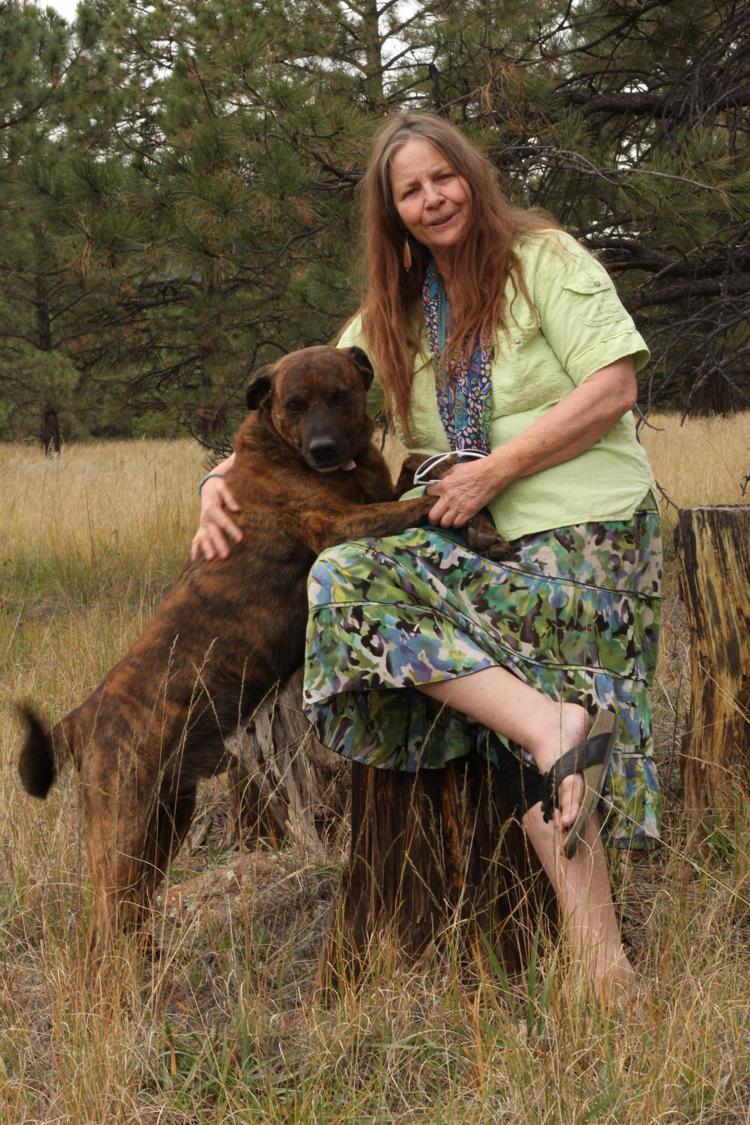 She also wanted to focus more on aquatic animals like amphibians and fish, saying their habitats were more susceptible to environmental changes. The International Union for Conservation of Nature has more than 70 salamander species on its critically endangered list and, locally, Apache trout have been fished to the point of being critically endangered.
Hall says water species are like the canaries; "they go first."
Human development becomes the coal mine in this scenario with pollution from mining and oil pipelines winding up in water sources. Subsequent habitat loss disrupts fragile ecosystems.
According to the IUCN, more than 26,000 species of plants and animals currently face the threat of extinction. While measures are being taken to grow populations of species like black-footed ferrets and Mexican gray wolves in the Southwest, it can be just as easy to not think about things that seem to unrelated to day-to-day life.
They say ignorance is bliss, but the loss of these species will still have an impact on the planet whether we're paying attention or not, so Hall hopes to draw attention to it in the hopes that change will be made before it's too late.
"If we never get to look at them, we never contemplate them, then we lose a part of our own soul," she says of these creatures. "I think the balance has really been broken. If anything's broken you have to look at the brokenness of it, you have to look at the wound so you can heal it. You can't ignore it."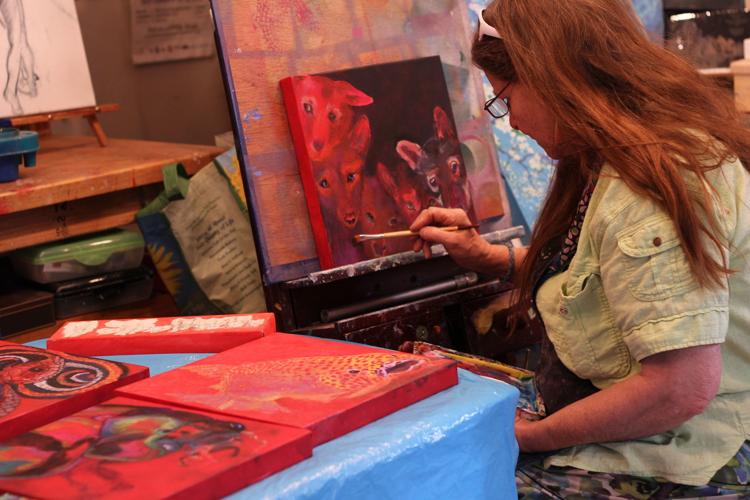 Before painting endangered animals, Hall says she learns as much as possible about what is happening to their populations and how that impacts other animals. She also looks through hundreds of photos to study each subject's anatomy before even touching the canvas.
A new series she has been working on, titled "Safe in their dens?" is made up of three red-hued paintings depicting bear cubs and coyote and wolf pups peering out from their homes. She created these in response to a proposal by the Trump administration this past summer to lift the ban on extreme hunting tactics in Alaska such as luring animals with bait or shooting them in their dens. Like the rest of her pieces, Hall works to bring emotion to the animals' eyes. Why are they being hunted in places where they expected to find refuge from the outside world?
"When I can get that question in their eyes, it's kind of hard to paint them sometimes, but I do it anyway," she says.
FEAR OF THE UNKNOWN
"If we can teach people about wildlife, they will be touched. Share my wildlife with me. Because humans want to save things that they love."
As cities have grown and popular forms of entertainment have transitioned from the outdoors, Hall says people have experienced a disconnect from nature.
"We've gotten so removed from that which gives us life," she says, noting that a nature deficit has been suggested to be linked to depression and obesity in children, something first described in author Richard Louv's 2005 book Last Child in the Woods.
Unfamiliarity also tends to lead to fear. Fear of what might be found in nature can cause people to avoid walking through the woods without some form of protection, like a gun, but attacks by animals on humans are unlikely. Statistics from the North American Bear Center show the 750,000 black bears living in the country kill, on average, less than one person per year.  
Hall admits she does have some apprehensions about specific fauna—she has a fear of spiders and works to keep the mouse population down in her studio and home with traps and her calico cat's appetite.
"Just because I love animals and because I dedicate myself to these things doesn't mean that I'm not assailed with the same fear, of prejudices, of hatreds," she says. "Those things arise whether I want them to or not, but it's my choice whether to act upon them in my inner self."
"I think it's a learned perspective, that we become frightened of the very earth that we need to survive," Hall adds. "To be able to reconnect, you have to go through the gates of fear."
A DOMINO EFFECT
"Come into the world again, wild bees, wild bees!"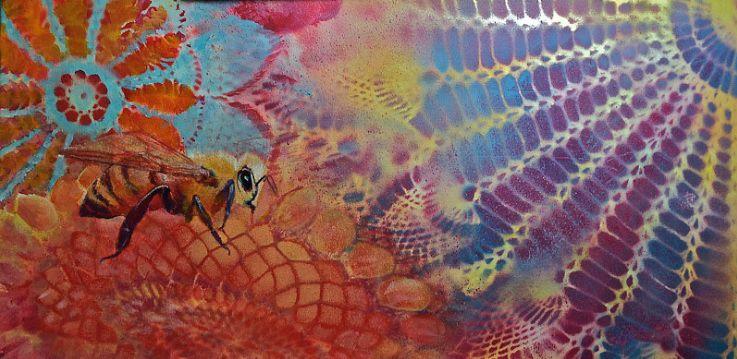 A balanced ecosystem contains a wide variety of plant and animal species in the push and pulls of growth and decay. Predators need prey to survive and keep populations in check, and nearly a quarter of all ocean life relies on coral reefs to make their home. Still many species continue to decline.
Blueberry and cherry crops are 90 percent dependent on honey bee pollination, according to the American Beekeeping Federation, and almond crops are almost entirely reliant on them, but commercial honey bee populations have experienced a decline over the years due to pesticide use. The rusty patched bumblebee made headlines last year when it became the first species to receive protection under the Endangered Species Act.
Hall's series of bee paintings explore the pollination process with abstract geometric designs adding a burst of color on hexagonal wood blocks in what she imagines a bee's perspective to be. Kaleidoscopes in vibrant hues of yellow, orange and purple combine with subtle brushstrokes to create the fuzzy bees as they happily gather pollen inside their fleeting floral home.
"I love flowers, but just to be immersed in a flower [when you're] the size of a bee, that must be beautiful," she says.
Whether small insects like the Tahoe stonefly or large mammals like the blue whale, Hall believes the first step to making a difference in the status of any endangered animal population is to admit wrong.
"It takes a huge amount of courage—more than most of us have—to say we're wrong and turn around even though we're at the cliff," she says. "Are you going to go forward or will you say, 'I'm wrong. This is the wrong direction.'"
Frederica Hall's endangered species series is on display at Criollo Latin Kitchen, 16 N. San Francisco St., through November. It opens Nov. 2 during First Friday ArtWalk. Visit www.fredericahallarts.com for more information.