On a recent morning, just days after COVID-19 cases on the Navajo Nation eclipsed the country's previously highest per-capita hot spots, Amy Yeung woke up with the sun. It's a habit the founder of up-cycled clothing label Orenda Tribe developed since moving back to New Mexico, leaving her career as a fashion executive and consultant in Los Angeles to return at age 56 to her Diné roots, elders, sisters, aunts, friends. The rest of her day was dedicated to critical aid.
"I wake up always at dawn," Yeung, who normally runs Orenda Tribe out of a small space in historic old town Albuquerque, says. "I didn't use to but since the pandemic started the earth wakes me up every morning. It's a really quiet time and you totally set your intentions for the rest of the day. Now that we're in a pandemic it's become a time of daily rituals and saying prayers."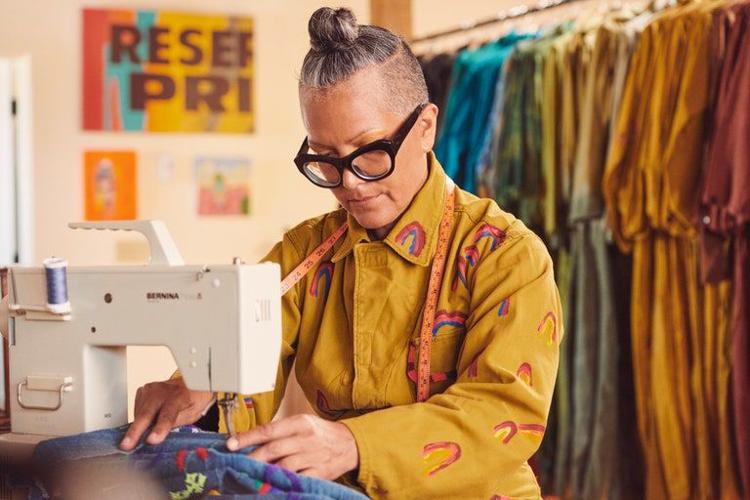 The quiet of an early morning doesn't last but a moment as phone calls start coming in, masks, personal protective equipment and food boxes need delivering and the network of care that Orenda Tribe has become part of sets its gears into motion.
Full days are a reality when it comes to this work. The pandemic knows no rest as it continues to tear through the largest reservation in the United States, exposing longstanding healthcare disparities, lack of access to running water (sources like the Colorado River are redirected to majority-white cities), food deserts with only a handful of grocery stores, lack of federal funding for things like infrastructure—all direct results of settler colonialism. On Tuesday officials recorded 55 new cases on Navajo, bringing the total to 7,045 and 335 deaths.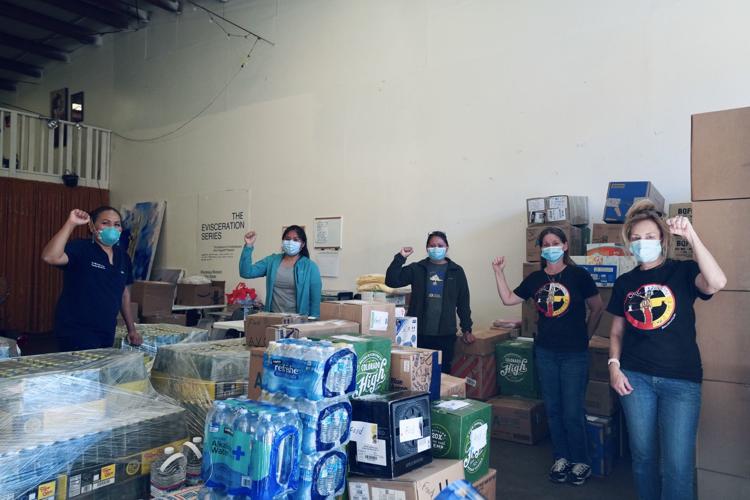 Orenda Tribe has many permutations, from selling up-cycled, re-colored clothing, dyed and altered by Yeung herself and sourcing and selling precious vintage items, to serving as a platform for Indigenous artists, weavers, silversmiths to sell their work. Yeung moved to Albuquerque not long before the pandemic started, planning a collaboration with NDN Collective, which works to build Indigenous power through activism, movement building narrative change, grant making and more. Their joint efforts were set to culminate in a skate park and a garden in To'Hajiilee, New Mexico to boost food sovereignty and for young people to come together. In the blink of an eye, however, priorities shifted and NDN has since become one of the major collaborators when it comes to Orenda's COVID-19 aid work.
As of two weeks ago, Orenda Tribe had distributed 22,472 masks and had 13,000 in production. 1,810 gallons of hand sanitizer had been sent out to families and clinics and 4 tons of shelf stable, nutrient and protein dense foods had been delivered in the form of 20,676 individual food packs totaling 65,580 servings. All the funds to facilitate the above have come through donations, the purchase of Orenda's SPREAD LOVE + SHINE LIGHT auction items and private funds.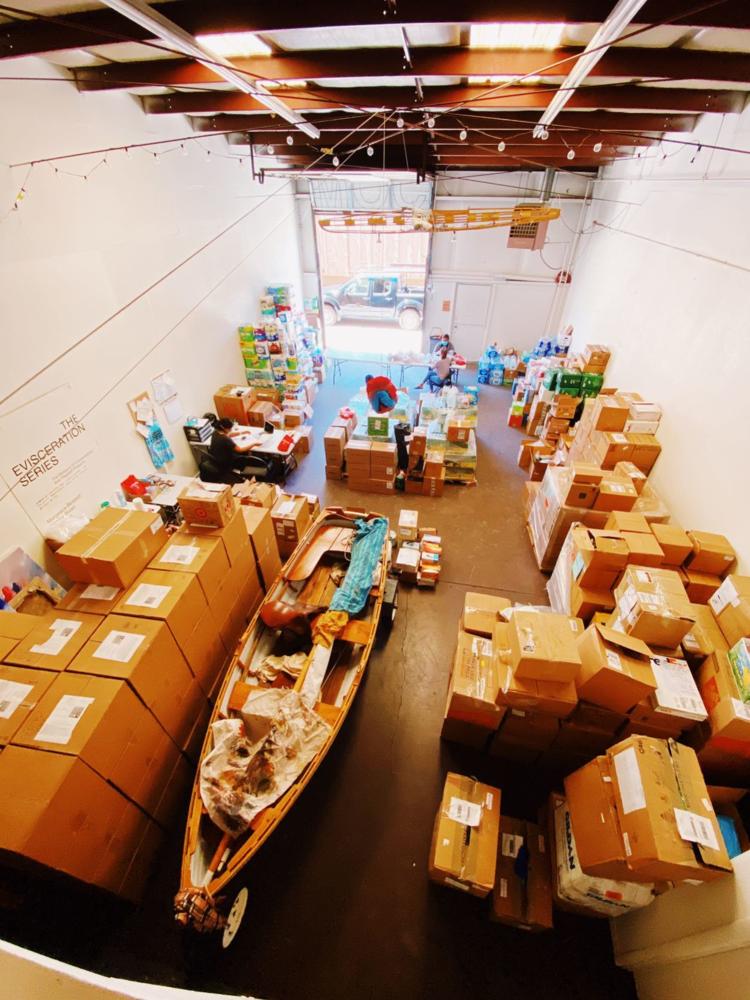 While Yeung is the face behind Orenda, she is quick to emphasize that her role during the coronavirus pandemic is but one of many.
"The work is looking like amazing sisterhood," she says. "I think we're all a little disheartened by the lack of critical aid being delivered by Navajo Nation because so many people are in need. Simple things like masks and hand sanitizer, things that are needed now, that would stop the spread, are not getting to the people who need them. We are still seeing numbers increase as well as cluster outbreaks. As a woman of the tribe I just know that we need to get things out there now. So that is where my mind is at."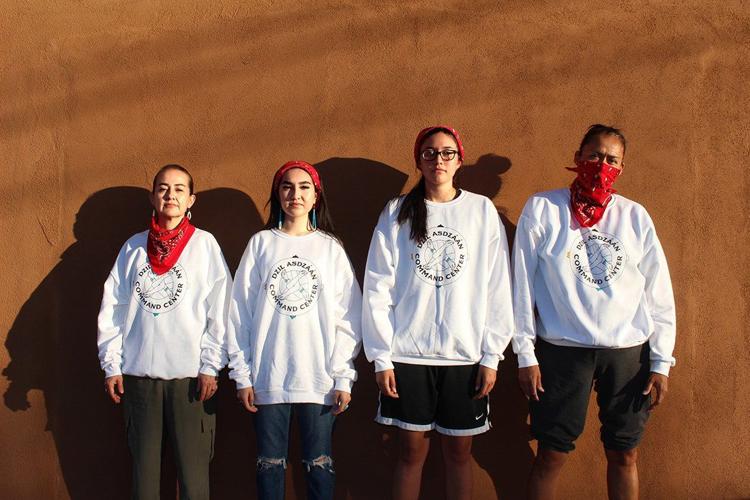 Among the many friends, neighbors and partners who have mobilized alongside Orenda Tribe are fashion designer Bethany Yellowtail, musician Radmilla Cody (with whom Orenda Tribe recently partnered to get much needed funds to Chinle, Arizona-based domestic violence and sexual assault crisis program Amá doo Alchíní Bighan), Jade Begay of NDN Collective and Dr. Michelle Tom, a physician who has been on the frontlines of the pandemic on Navajo and connects Orenda Tribe to doctors, clinics and families in need of assistance.
Yeung is Diné and the aid work and return to New Mexico are personal and communal all in one. She was adopted out at birth and grew up in Los Angeles, where she would live and work for the majority of her life.
"I just wanted to come back to my ancestral lands," Yeung says. "I grew up in a non-native home, a really loving non-native home. In the final chapter of my life I want to learn to be Diné, I'm the equivalent of an 11-month-old baby as I learn the language but it's great. I have many aunties and grandmothers and sisters here, it's a reintegration into my culture and it's the most powerful thing I've ever experienced. It's absolutely joyful."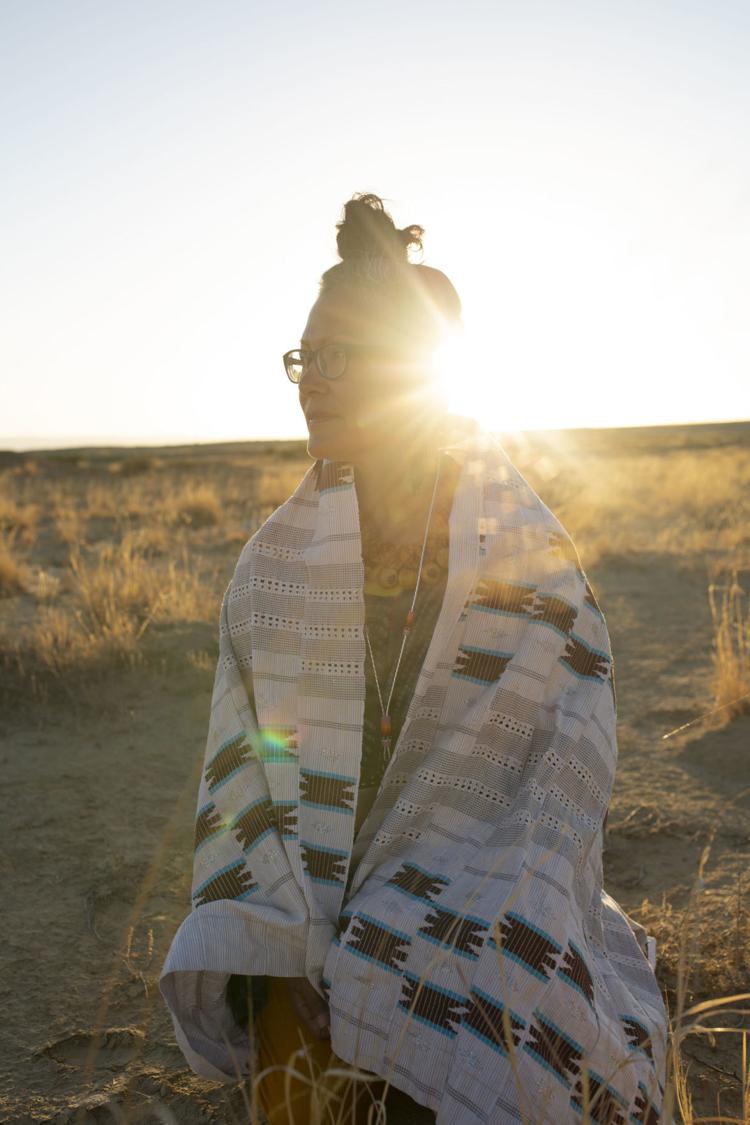 Her joy is militant in that it also translates to Yeung's push to keep Orenda part of the growing network of Indigenous-led aid organizations battling the coronavirus.
It is by no means a given that brands be part of grassroots action, but to call Orenda simply a brand would be a miscategorization to say the least. For Yeung direct action isn't an anomaly in enterprise, or something that occurs apart from an organization, but rather work that must be woven into its very fabric.
"It's about protecting. It shouldn't be unique. People often tell me that, but I moved back to Navajo just to be of service," she says. "I've done everything else I wanted to do. I raised a daughter, she's going to be 20. This is a skillset I have and I'm grateful for that, that I can be here for the tribe. It's hard to do this but it's what I've been trained to do, anybody that is part of our tribe, we all need to be good ancestors right now, we need to make a better place for our children and grandchildren to be safe, what I am doing is not unique from the way a tribe should be. This is the most important thing we do. It's something we can do."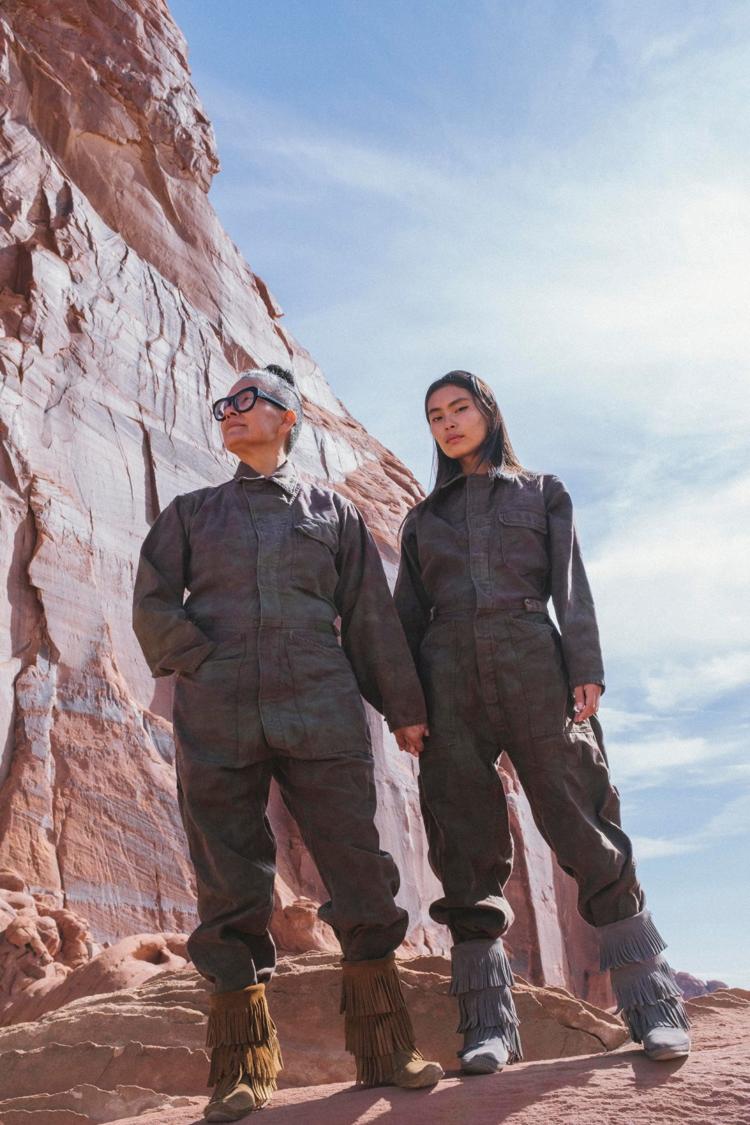 Her years in the fashion industry, whose pitfalls of mass production, lack of sustainability and fast fashion eventually lead Yeung to start Orenda, have also given her the skillsets she is now using to help the Navajo Nation, including working with suppliers for mask materials, and partnering with food distributors that supply Orenda tribe's food boxes with non-GMO and organic goods as well as foods that don't require large amounts of already scarce water.
"Because I have all those years of apparel experience, I knew fundraising, I knew it didn't matter if I didn't have good vendor, or supply chain sourcing. We've found the most amazing vendor for hand sanitizer, a nonperishable food vendor, quick-turn production in LA," Yeung says.
Dr. Michelle, as Yeung fondly refers to her physician friend, is also a crucial part of the aid work, including her role in a recently opened operations center in Flagstaff. Orenda Tribe needed an outpost in northern Arizona to help get supplies out quicker and more efficiently. Yeung emailed an acquaintance in Flagstaff who then connected her with Jacques Cazaubon Seronde, a founder and member of the Museum of Contemporary Art Flagstaff team who volunteered the space. For the last several weeks the MOCAF warehouse, which normally hosts gallery openings, music shows and poetry readings, has been transformed into a supply cache and staging base for PPE. Filling the Plaza Vieja neighborhood space are now masks, gloves, bottled water and more, piled en mass but in constant need of replenishment.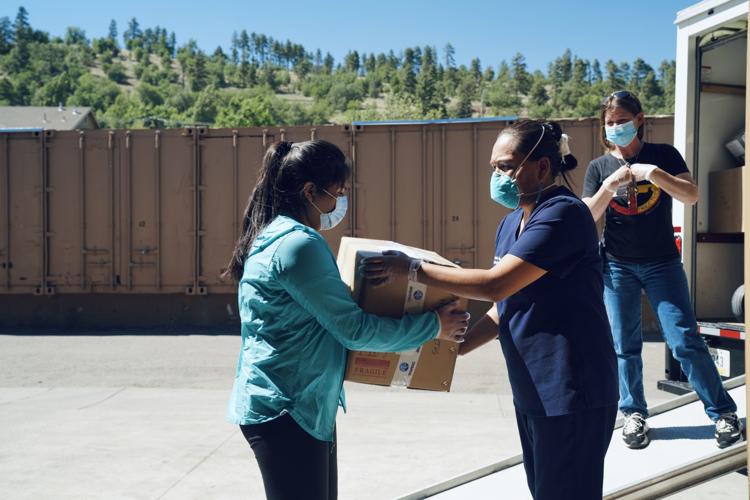 What Dr. Tom and many helping hands gather at MOCAF goes out to any area experiencing hot spots, to Indigenous elders, families, to clinics, to COVID-19 positive families and individuals. Tom devises a list of needs based upon information relayed via fellow doctors, and Orenda responds.
"That's become our main hub in the area," Yeung says.
And the work, she says, is ongoing. Eventually Orenda will return to their initial mission of youth outreach initiatives and bolstering Indigenous artists full time. For now though, Orenda's work is providing necessary life-saving aid, and continuous collaboration with organizations like NDN Collective, Navajo & Hopi Families COVID-19 Relief, artists, friends, family, and, very importantly to Yeung, mothers, whose labor makes it all happen, day in and day out.
"It's the "unity" in community, the unity of our tribe right now," she says. "Unity is coming in the form of the matriarchs for me, they started early on. We're moms. We had that immediate reaction to protect to do what we're good at."
To learn more about Orenda Tribe or make a donation to support its life-saving critical aid work, visit www.orendatribe.com/
Be the first to know
Get local news delivered to your inbox!