In a brightly lit studio connected to Hozhoni Art Gallery, Miranda Delgai works meticulously with a needle and thread to embroider an alligator on a blue piece of fabric. When she's completed with it, she'll sew it to another alligator and turn it into a pillow, entitled "Alligators on a Swing."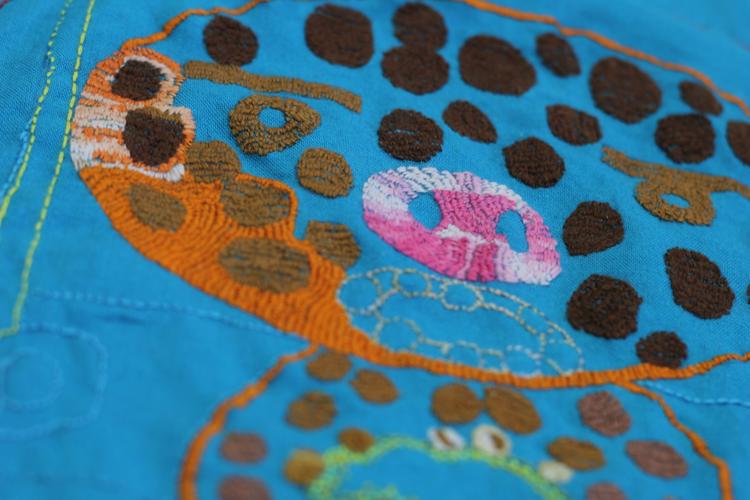 "You can see she was inspired by her old piece that was bigger, a purse-shaped pillow, so she's going to put this together and there will be a handle here," says art instructor Eriko Okugawa Starley.
"You really like those purse pillows, huh?" gallery manager Parker Ashley asks Delgai.
"Yeah, pretty cool," Delgai says in a soft voice with a laugh.
She, along with many other artists within the Hozhoni Foundation's art program, is preparing for the upcoming Texture and Textiles show. Adults with developmental, intellectual and physical disabilities have been assisted by the foundation for almost 50 years, and the art gallery provides them a platform to exhibit and sell their various works.
Texture and Textiles will be part of the monthly EastSide Art Xperience, which hosted its inaugural event this past November and has continued to highlight various businesses and galleries on the east side of town each third Friday of the month.
"Mayor [Coral] Evans and I have been talking for years about how the east side, especially the Fourth Street corridor and beyond, is up-and-coming," says Mike Frankel, executive director of the Artists' Coalition of Flagstaff. "Finally this last summer I called her up and said, 'Let's do this.'"
Mayor Evans is also executive director of the Sunnyside Neighborhood Association. She and Frankel felt there was more for people to explore outside of the downtown area.
"We have not done a big campaign to bring in the business, we'll do that in the warmer months, but it's been growing just on its own without any nurturing," Frankel says.
Some of the organizations and businesses that have been involved so far include Wanderlust Brewing Company, Tynkertopia, White Dove Coffee and Flagstaff School of Music. Hozhoni was one of the first to get on board.
"We are good pals with the Artists' Coalition of Flagstaff, they've been awesome, and so Mike brought us into that pretty quick," Ashley says. "It's brought in different people than we would normally see which is really nice for us, we love that, and it's given us more opportunities, not only to advocate for ourselves but to give back to the community."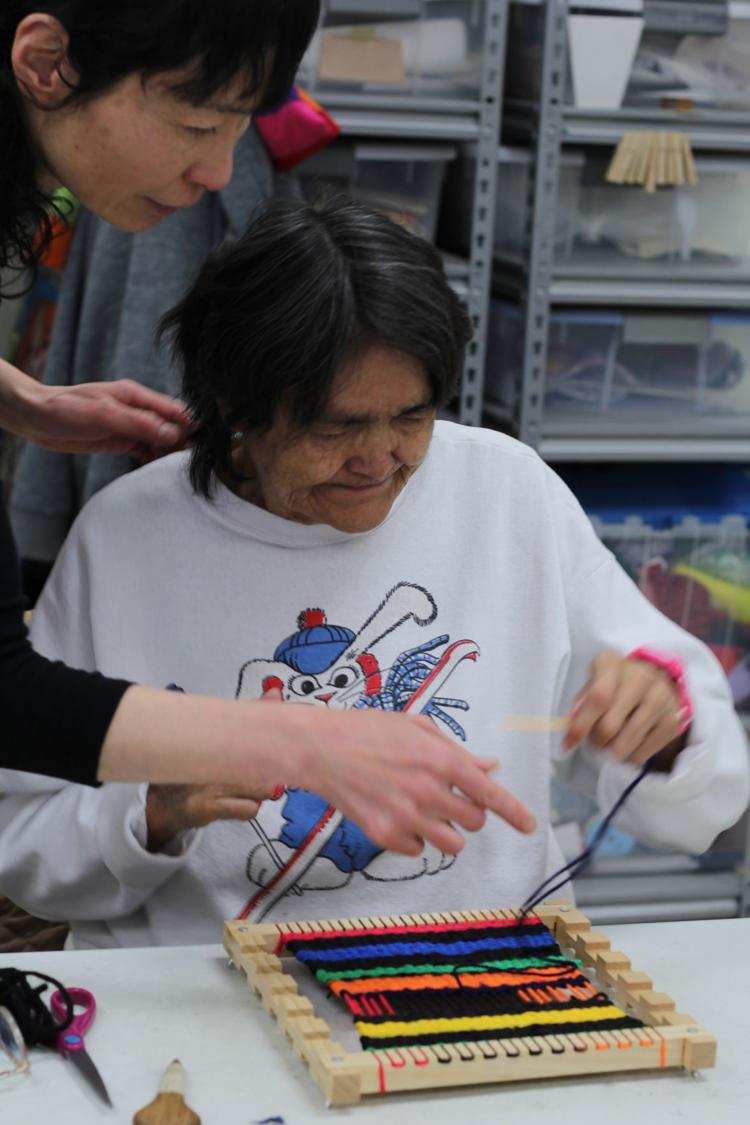 The artists there have also regularly participated in the coalition's annual Recycled Art Exhibition, earning an honorable mention for their "Trash Band" submission this year.
As part of the EastSide Art Xperience, Hozhoni offers refreshments and free workshops for attendees. This month's focus is on botanical egg dyeing techniques using plants from their garden and vegetables sourced from other local businesses. Beets provide deep red tones, cabbage lends a purple tint and turmeric's golden hue makes designs pop, allowing visitors and clients alike to participate in the Easter-themed festivities without using artificial materials.
"We have a horticulture class that we teach as well, so we're going to try to tie that in," Ashley says. "It's nice to kind of teach little bits of science and nature. It's fun for them. It's fun for us, too."
Nature is prevalent in the artists' work as it provides concrete themes for them to explore.
Lorraine Attakai recently began incorporating animals into her bright woven works, experimenting with a puppy and cow before her current in-progress piece featuring a giraffe. She says she likes art because it's something to do.
Morgan Blackgoat chimes in from across the table with, "It keeps me out of trouble," as he looks up from his own colorful woven fiber project.
The artists represented in Texture and Textiles come from several facilities around town that are involved in Hozhoni's Art Van program. Clients from Strides 2 Thrive, Quality Connections, LOU Corporation and Tungland Corporation contribute their skills to gallery shows at Hozhoni and participate in various workshops. No less than 20 artists from these five organizations will be sharing their work in this show.
"Being part of this community, there's quite a bit of isolation, so we want to give them the opportunity to not only be seen, but to be seen as successful and accomplished artists and persons," Ashley says. "That's part of what this gallery's about, positive affirmation."
The artists further develop their skills through a partnership with ArtWorks, an art studio based out of the University of Arizona in Tucson that shares a similar vision with Hozhoni. Several Hozhoni clients attended the opening reception for Dreams, a joint exhibit with artists from the two facilities, this past weekend. Others attended the Durango International Film Festival in Colorado for the premiere of their short film, Monday Blues, earlier this year.
Gennevie Parrish returned from the festival with a Durango sweatshirt, hat and red yo-yo, along with many great memories of seeing the Colorado snow and enjoying new restaurants. For the Texture and Textiles exhibit, she is working on one of several collaborative pieces with Art Van participants in which artists took turns weaving on a circular metal grill cover. Wide, striped ribbons overlap the fuzzy texture of pink, orange and green yarn, each section representing the individual style of different artists while coming together to create something new. Parrish will also have solo pieces on display such as a canvas which she embroidered with yarn and then drew a nature scene with colored pencils.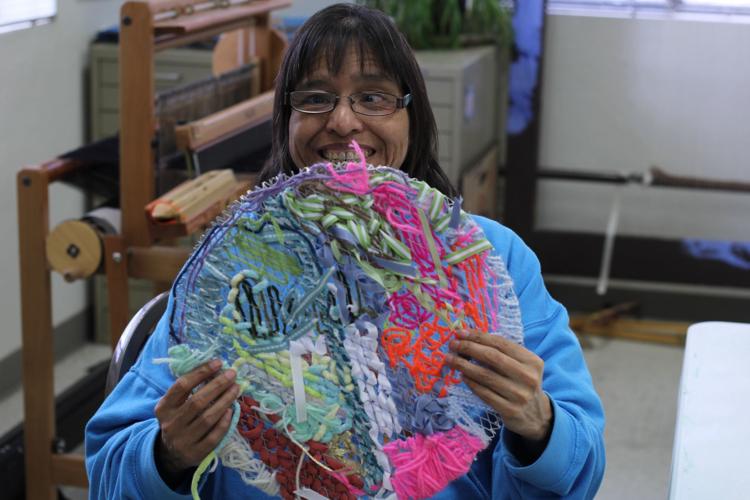 "It makes me happy and I like the steady focus, staying busy," she says.
Ashley works with the artists to price their pieces with the time they spent on an individual project and materials used in mind, helping them learn to advocate for themselves and their work.
The artists earn 60 percent of sales from their work, with the other 40 percent going back to support the art program. Ashley began working with the program about three years ago following her previous position as senior accountant in finance for a beauty company.
"Art had always been my passion, but getting to teach, it turns out, is really what I enjoy the most," she says. "These guys really keep you on your toes as far as getting creative, being flexible and learning better ways to do things, and I think that's one of the coolest things. You're constantly adapting to their needs and what is going to make this the best experience possible."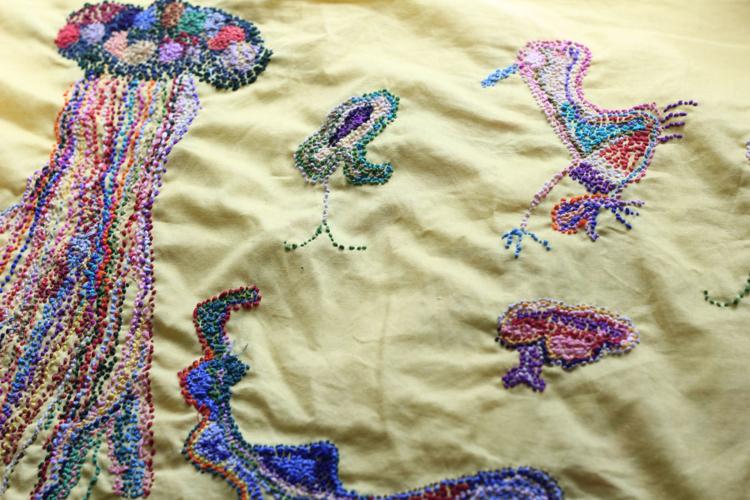 Some of the artists come with a clean slate while others have prior experience with some form of art before they enter the program, such as Delgai who comes from a family of weavers.
"She already had that background when she came in, and it was kind of like, 'What would you like to do?' [She said,] 'Weave,' and then she taught us stuff, you know," Ashley says. "There are quite a few people who do come from the reservation, so they have been a part of traditional weaving, and they know a lot more things than we do, to be honest."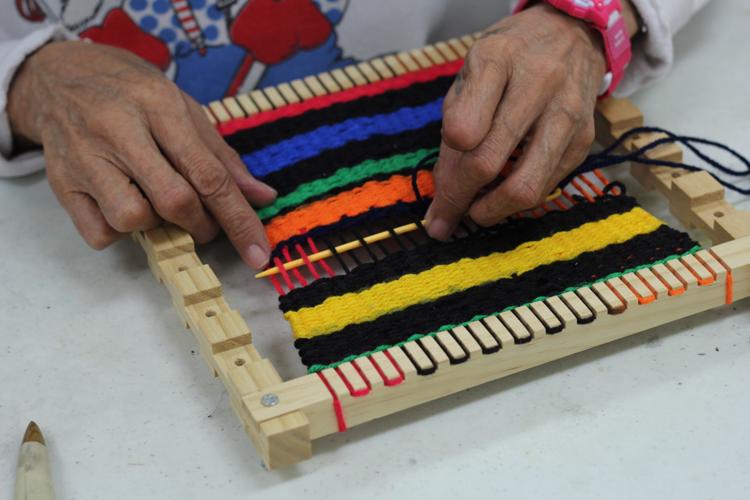 Delgai has had her work shipped as far as Brooklyn, and Ashley says she's excelled at every type of medium they've given her in class from printmaking and illustration to ceramics and batik. Another artist, Ardelis Rogers, had her work featured at the Museum of Contemporary Art Flagstaff for its grand opening last summer.
As the artists involved have big plans, so does the EastSide Art Xperience. Frankel says he plans to really market the event as more businesses jump on board and the crisp spring weather gives way to warmer evenings, drawing people out to appreciate the various artists and venues outside of their typical stops.
"That's the big thing, just showing people that the east side has its own personality," Frankel says. "It's long overdue, as the mayor and I both felt, and we're glad it's growing."
The EastSide Art Xperience happens Friday, April 19, from 5-8 p.m. Hozhoni Art Gallery is located at 2133 N. Walgreen Blvd. A free botanical egg dyeing workshop will be held from 5-6 p.m. Texture and Textiles will remain up following the Art Xperience. Regular gallery hours are Monday-Friday from 8:30 a.m.-3:30 p.m. Visit www.hozhoniartists.org or EastSide Art Xperience on Facebook for more information and the full list of locations.