When Gerardo Alvarado was a boy, his father told him not to go to America.
"[He'd say,] 'It's not true, the story of America,' but when I was 15 I say, 'I want to see America,'" he says. "So I got lucky. I got my visa and work here."
Born in Puerto Peñasco, Sonora, Alvarado says his grandfather, father and many of his friends immigrated to the United States and share similar stories about traversing through borderlands to find a better life. Now 32 and a permanent resident of Flagstaff's eastside, Alvarado works construction to provide for him and his 3-year-old boy. In between construction gigs and being a parent, Alvaro uses the stories of his father and friends to give meaning to his artwork.
"I want to do something with my art, not just something pretty. I want to show the way I see my friends' stories. I want to tell those stories in a way people start to ask questions, open the conversation," Alvarado says.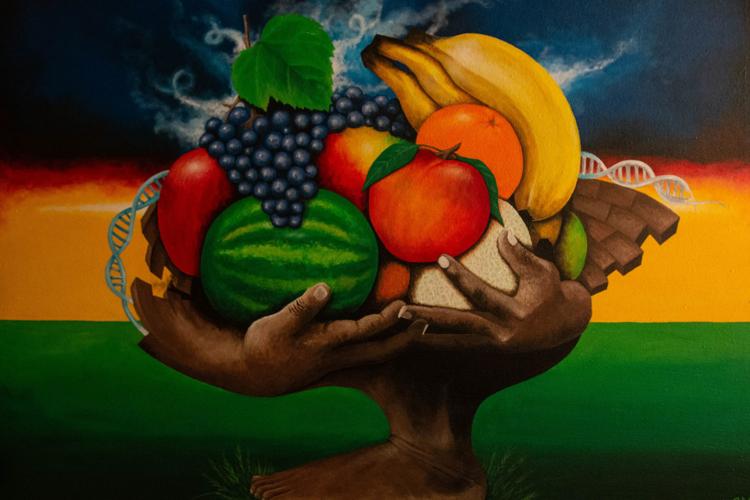 He started painting when he was 9 but started working with acrylic only a few years ago. (Alvarado says he only drew with one pencil in Mexico, discovering different shapes, points, sizes and colors when he moved to America.) He uses leftover material from his construction gigs to build canvases on which he layers paint and meaning: portraits of a woman (a mother in the likeness of the Virgin Mary) cradling a child, a basket (formed with hands and feet) of fruit, a landscape that moves from desert to farmlands showing an immigrant building a ladder for his friends and family.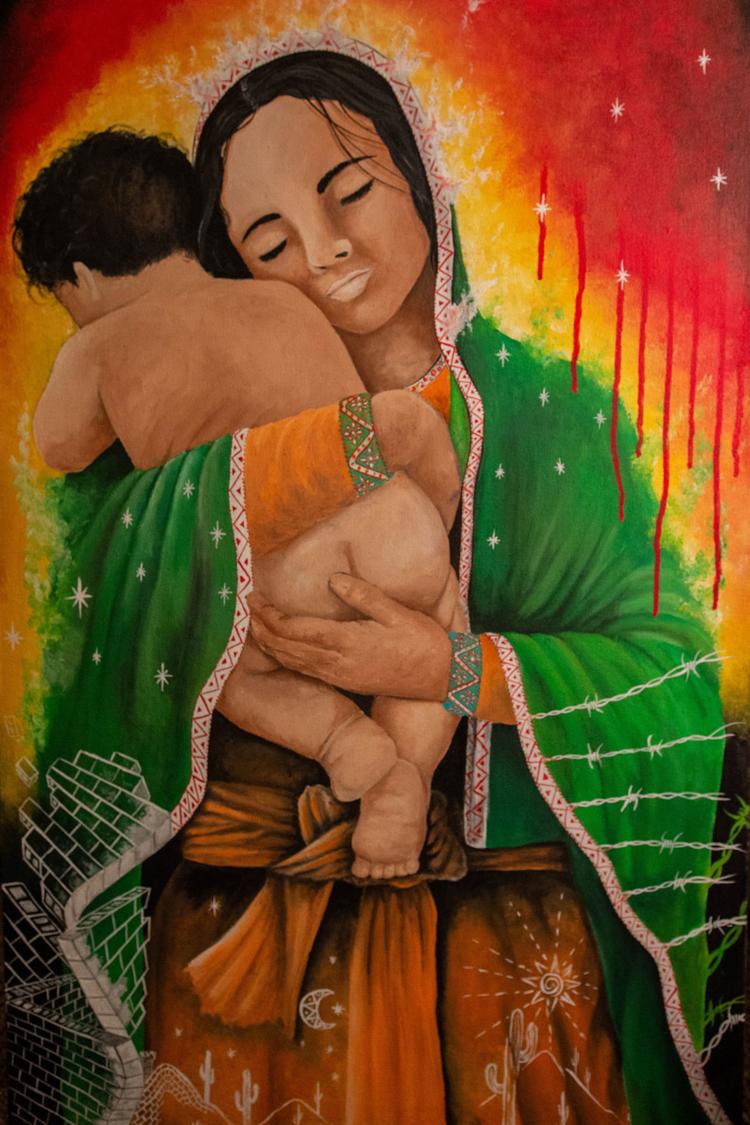 In one piece, Alvarado envisions a cross-carrying man, in the likeness of Jesus Christ, with a backpack and a plastic water jug. Alvarado isn't quite religious, finding himself battling with his faith, but uses the figure of Jesus Christ to elicit compassion.
"A lot of people say, 'I'm a good person, I go to church, I want to help people,' but a lot of people don't see undocumented people like something good or someone who you want to help," he says. "But imagine if one of those people is Jesus Christ. Are you going to help them?"
When U.S. Immigration and Customs Enforcement agents arrested José Guadalupe Montelongo-Morales, who is undocumented, on April 19 outside of a trailer in Sedona, Alvarado says it struck fear in his community.
Montelongo-Morales had previously been arrested by Flagstaff police on Dec. 28, 2018, for failing to appear in court after he did not pay fines from a 2016 misdemeanor drunk driving conviction. He was deported following his DUI, re-entered the United States and was stopped for speeding in Flagstaff and arrested for failing to appear in court. He was released from custody on Feb. 14. When ICE agents arrested Montelongo-Morales two months later, they used tactics some lawyers say amount to extortion. ICE agents told Montelongo-Morales' sister, who is also undocumented, that if she persuaded the property owner of the trailer to agree to a search, she would be released from immigration custody.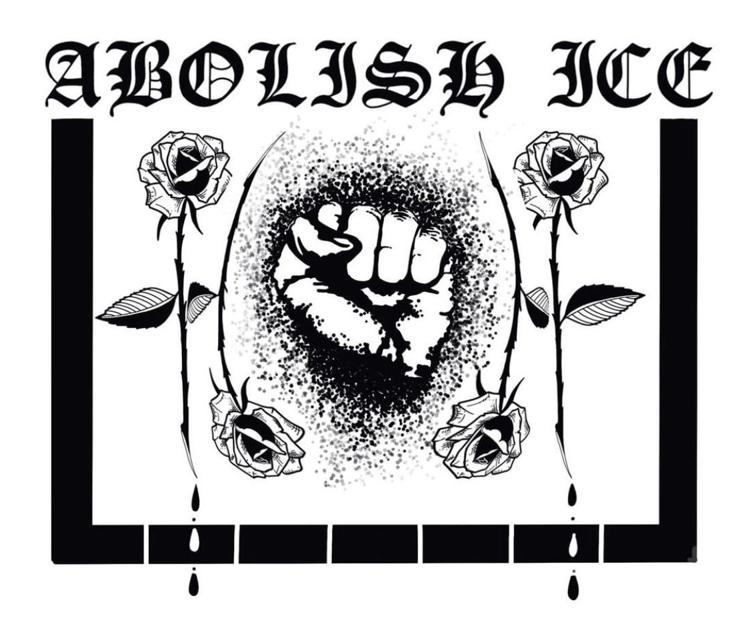 Prior to that, in August 2018, ICE agents arrested 78 immigrants in Phoenix, Yuma and Flagstaff. According to Cory Runge, spokesperson for the Flagstaff Police Department, ICE is not required to inform the department of its activity in their jurisdiction. While Flagstaff police did not directly assist ICE with its arrests, the department's lack of response has sparked protest from organizations like Repeal Coalition Arizona. The group opposes ICE activity in Flagstaff and is working to fund the release of Montelongo-Morales. Through various events and a GoFundMe campaign, Repeal Coalition has raised more than $7,000 to go toward Montelongo-Morales' bond of $20,000.
As well as a political response, the local incident has prompted many artists to create artistic responses to the national discussion of immigration at the U.S.-Mexico border and the continued operations of ICE. T-shirt designs and artwork by Francisco Saucedo take a simple, bold stance with a black-and-white image of a fist with bleeding roses and the words "ABOLISH ICE." Patchwork by Luna Südekum-Thompson shows Montelongo-Morales with his family and the words, "Stop deporting our community! Justice for José." Repeal Coalition also often features Alvarado's work.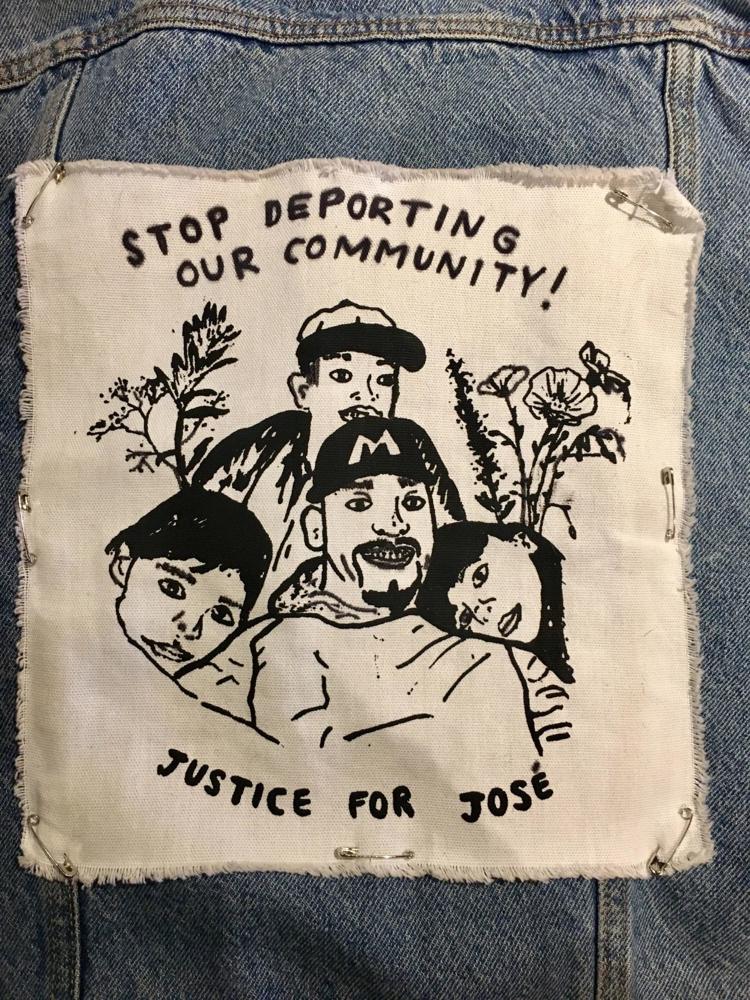 "People rationalize and minimize police activity and ICE presence in Flagstaff," Alvarado says, emphasizing that his friends, some of whom are undocumented, are fearful of deportation. 
Although 7,000 feet above sea level, Flagstaff is only about 400 miles from the border. And while issues at the border and of immigration seem to only affect border towns, Flagstaff has its own community of undocumented immigrants. If ICE activity in Flagstaff and northern Arizona alluded to that community, Amy Martin's exhibit, Todos Dignos: Voices from our Undocumented Immigrant Community, highlighted it.
Using photographs by Martin of local undocumented immigrants and translations from Vanessa Savel, Todos Dignos, which was on display at Firecreek Coffee Company in February, underlined their stories using their words.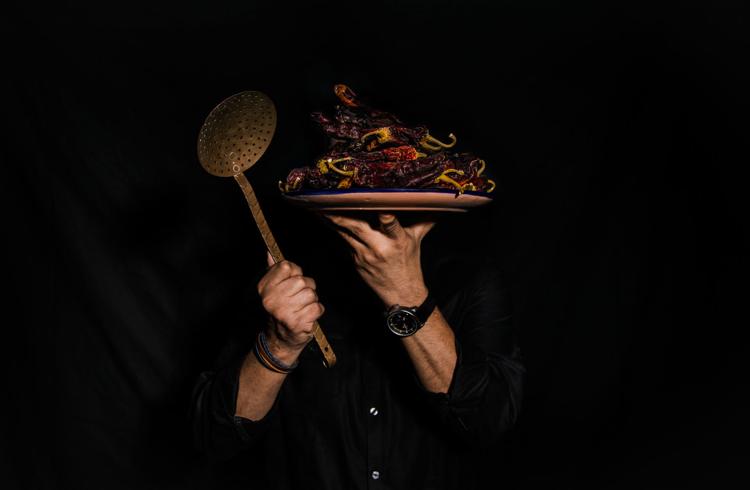 "The truth is, as I have seen it, even in our affluent mountain community, undocumented workers are providing building blocks for our economy, and they are doing it invisibly," Martin said in February. "When the space is created for sharing perspectives and listening, we can connect to others in our community that have been marginalized and we can encourage a more informed, cohesive and kind community. Hopefully then, we can take this knowledge and understanding to the polls to change unjust policies."
The people of Todos Dignos—construction workers, house cleaners, DACA students, children—were photographed in front of a black backdrop as they held up objects that covered their face. The subjects were asked to choose something they felt best represented their personal contributions to Flagstaff, with objects ranging from cleaning supplies and construction tools to a guitar and a ceramic heart.
Now Martin's photography is on display at Border+Crossroads, an Art in Action exhibit at the Episcopal Church of the Epiphany curated by photographer Raechel Running. The exhibit features art and photography by Martin and Running, as well as Alvaro Enciso, Stefan Falke, Ricardo Santos Hernández, Alisa Zaira Reznick and Ammi Robles to share the stories of the people and lives affected at the border.
A stunning and morbid reminder of the human cost of immigration is Enciso's project, Donde Mueren Los Sueños (Where Dreams Die), on display with Border+Crossroads. Since 2001, Enciso, using County Medical Examiner data provided to him and his volunteers, has traversed borderlands to locations where human remains of those attempting to cross the border have been found. There, he places a cross in remembrance. According to the U.S. Customs and Border Protection, 7,216 people have died crossing the U.S–Mexico border between 1998 and 2017.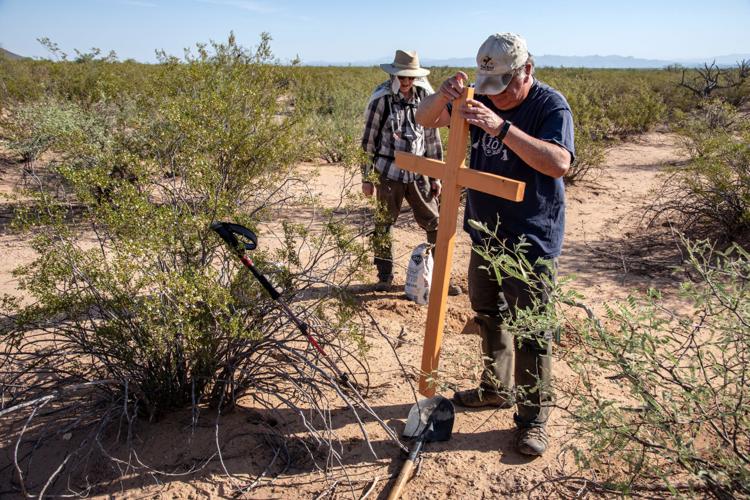 For Running, the exhibit is an attempt to cultivate empathy and encourage education among youth so they can help where others are not.
"It's about having humane policies. Why are we traumatizing generations of children? People are making a lot of money on the fear-based issue," Running says. "When we look at these issues with a human perspective we can learn empathy, and through the empathy we will start to heal and make a better, safer world for our children and for the future."
With help from the Sierra Club Borderlands, a grassroots organization that protects and restores the U.S.-Mexico border wild lands, wildlife and communities, Running has brought a traveling exhibit, Lens on the Border, to Flagstaff High School where it is currently on display. Featuring work from eight photographers, the exhibit shows vivid and beautiful images of the people, wildlife and waterways of the México-U.S. borderlands.
Campaign coordinator for the Sierra Club Dan Millis says the traveling exhibit is a reality check against bigotry and hatred.
"We want the exhibit to travel because, unfortunately, hate, fear and lies about the borderlands also travel. We need people to read these pictures worth a thousand words, and come to their senses regarding the cities, towns and wild places located here," Millis says.
Flagstaff, he says, "is all out of excuses not to pay attention to the borderlands. Over the last decade and a half, the community has woken up to the fact that what happens at our state's southern edge, and what people say about it, impacts everyone, not just in Flagstaff but in the entire world."
In Flagstaff and Arizona, down to our southern border and across the country, artists, photographers and storytellers are using their work to address immigration with a critical eye, questioning policy and rhetoric with the stroke of a brush or the click of a lens. The story of America is a complicated and complex narrative, but it's one Running, Martin, Alvarado and others are trying to tell. 
"One painting can tell so many stories," Alvarado says. "It's the way I can help."
Gerardo Alvarado's work can be found on the Repeal Coalition Arizona Facebook. Photography from Todos Dignos: Voices from our Undocumented Immigrant Community is on display at Border+Crossroads at the Episcopal Church of the Epiphany, 423 N. Beaver St., until June 8. Lens on the Border is at Flagstaff High School and available for online viewing at www.issuu.com/raechelrunning/docs/lens_on_the_border_8_visions