In 2012, textile artist Darcy Falk wrote an essay for Flagstaff Live! about a potential project called the Kevlar Kimono. In the essay, Falk details her and her sisters' reproductive experiences including miscarriages, false positives and successful births.
She also describes her own abortion.
"It was five years after Roe v. Wade. Abortion was legal, but still not easy to arrange. A girlfriend drove me to a clinic an hour away. The procedure was painful and – it seemed to me – deliberately engineered to humiliate," she wrote in that essay. "I wish I didn't feel compelled to tell this story; it's not anyone else's business. But there are people who feel certain they can make that very personal decision for every single female human of childbearing age in this country. (How many of the people who support a complete ban on abortion are men, for whom there is not one even remotely equivalent experience?)"
After Flagstaff Live! published the essay, Falk says she received an outpouring of responses from women (and men) who wanted to share their stories and support for women's reproductive decisions.
That outpouring revealed to Falk that this was no longer her story but everyone's, and from that she created the Kevlar Kimono, a 7-foot, bullet-proof kimono decorated with dozens of unique black-and-white collages made with photographs of individuals who support a woman's right to choose.
The Kevlar Kimono, deliberately imposing and inspired by Japanese larger-than-life statues that stand before entrances to temples, is arguably what paved the way for Falk's new exhibit, Ultraviolet. But in the Episcopal Church of the Epiphany, where Ultraviolet will be on display until early September, it stands above the viewer at the end of their journey through the exhibit, a stunning metaphorical safe space for the women, doctors and healthcare workers who have died or have been in danger for their reproductive decisions.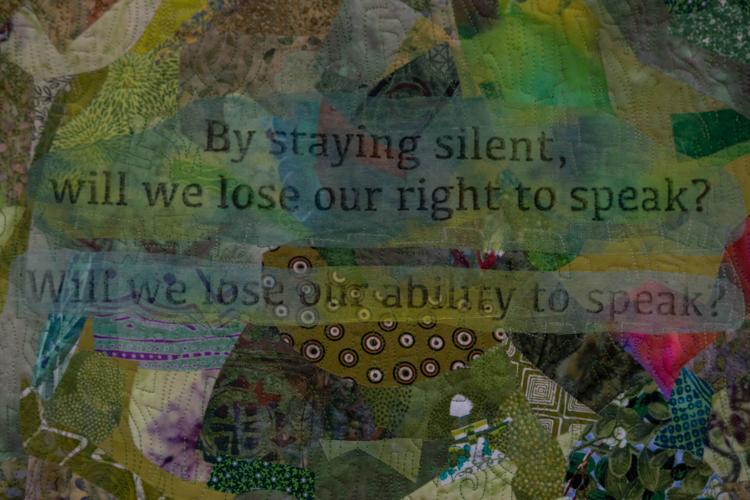 "Maybe that's what ties all of this work together ­– metaphor," says Falk. "Some people are metaphysical. I'm metaphorical."
Ultraviolet begins at the turn of the century during the suffrage movement, and it begins with a quote from suffragist and women's rights advocate Lucy Burns: "I am so nervous, I cannot eat or sleep. I am such a coward. I should have been a village seamstress instead of a woman's party organizer."
Working mostly in textile, Falk says the quote seemed an especially poignant starting point for her exhibit.
"That just hit me so hard. I mean, to think that the work that she was doing wasn't important, but she kept doing it. And I think that is a theme for a lot of us. We keep doing it even when it's not comfortable," says Falk. "I certainly don't consider myself a seamstress, but just the fact that I work primarily in fabric, I think there's a connection there. I felt like that was a story worth telling."
While in prison for leading organized protests outside of the White House in 1917, Burns endured several acts of torture and torment. Burns was stripped naked and chained to a pipe with her hands above her head for extended amounts of time. She and others partook in a hunger strike and were subsequently force-fed through a feeding tube shoved into their nostrils. All this for standing up for equal rights.
Falk's opening piece Suffragist acts as an homage to Burns with the quote and a portrait of Burns, 101 stiches to represent the years passed since the horrendous abuse. This image paints a disturbing picture of human injustice and, 101 years later, is a reminder of what barbaric and primitive ideologies guided America's political and social institutions.
But even with all the progress, Falk says it's still surprising "to think that I'm only the third generation to have the right to vote," leading her to the firm belief that more can be done.
Where Ultraviolet derives its name is from the hidden messages within five of the seven fabrics on display. Using invisible acrylic paint, Falk has painted hidden messages that appear when the viewer observes the textiles under a provided ultraviolet light, often revealing a stark contrast from what's clearly visible.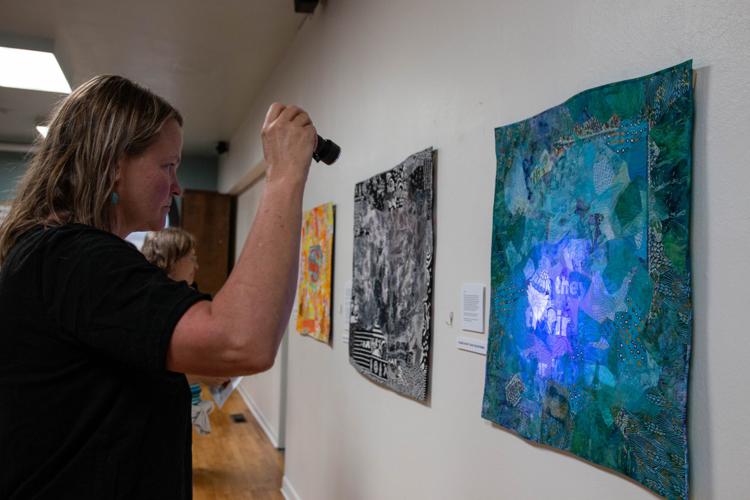 Take Conversation. On its surface it is an innocuous and softly colored piece that evokes a cool sense of safety, but beneath the calm blue are harsh words from American abolitionist and writer Sarah Grimké: "I ask no favors for my sex. All I ask of our brethren is that they take their feet off of our necks."
"I just think that's emblematic of women having to justify our existence and our right to speak," says Falk. "So many times it's not even about the issue itself. Sometimes it's just about the right to speak."
Other pieces are more direct in their message, such as Courage, which examines domestic violence and sexual assault and harassment. Created with leftover fabric from the Kevlar Kimono, Falk says working on the piece and learning statistics like one in five women will be sexually assaulted in their life overwhelmed her and showed her the importance of speaking up.
"It's pretty staggering, and the silence about it has been ubiquitous, so it's not just about the assault. It's also about the silence, to be able to speak up about it and then be supported for speaking up. That's what I hope is changing now."
Like Ultraviolet, the shows presented at the Episcopal Church of the Epiphany during its series of month-long Art in Action exhibitions are advocacy-based, and the art it has chosen thus far strays from the commercial art one might expect elsewhere. Sue Norris with the church says the art is meant to invoke thought, to make the public aware of important issues affecting not only Flagstaff, but everyone.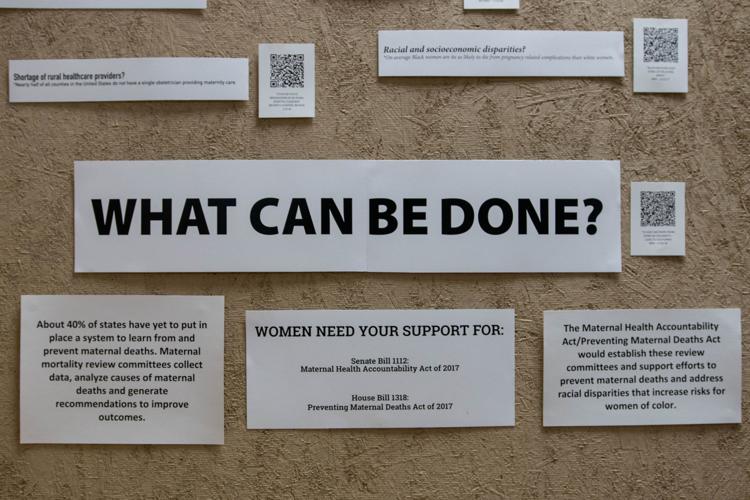 "Women's needs and voices have often been hidden, have not been seen clearly, so I think finding the messages there is the voices of women coming to light," says Norris. "People might get upset, and if they get upset they get upset, but we are trying to bring awareness. That's the purpose of the gallery. People take a stand or they don't, but the point is when you become aware, perhaps you'll do something about it."
"If we don't speak up," adds Falk, "who controls the conversation?"
For Falk, that's the essence of Ultraviolet: adding to the conversation. Letting voices be heard without someone talking over or condescending, allowing them to speak up against injustice. She's even hesitant to see her exhibit in the scope of the #MeToo movement, saying though the movement is a component to her textiles, the work is with larger regard to the current Trump administration and what she says are "serious assaults on our human rights."
Through metaphor, Falk has created a work that is delicate and daring, both interactive and interpersonal. Ultraviolet is a stunning and important exhibit that speaks on behalf of more than just women's rights, but human rights.  
Ultraviolet is on display at the Episcopal Church of the Epiphany, 423 N. Beaver St., now through Sept. 11. You can view the exhibit Tuesday through Friday, 9 a.m. to 4 p.m. and Sundays 8 a.m. to 12:30 p.m. An artist reception will be held on Friday, Aug. 17, from 6-8 p.m., with presentations by Darcy Falk and local nonprofit organizations. More information at www.darcyfalk.com