When a show is over, there comes a husking: the unlacing of a corset maybe, hair to be unpinned, makeup to be dissolved and swirled down the sink. Legs are tired, emotional and physical energies are at once aflame and depleted after being stored up for a night on stage. Drag is a craft, one that sees its artists give themselves to performance and audience with near-palpable fire. 
While shows like RuPaul's Drag Race have done their part in bringing the art into the public eye, polished in popping colors and television lights, it remains—especially in its DIY origins, think Paris is Burning or The Queen, Stonewall—mutable and radical, indefinable and saccharine, boundary-pushing and kind, exploratory, political and so much more.
"One of the stances I take now is that everything is drag," 22-year-old Revelucien says. "I love that it can be anything that you want it to be. You can make it spoken word or theater, or storytelling to kids or online performance art, or you could make it a birthday karaoke party. This garb, these costumes and makeup give a lot of people confidence but it also gives us a way to do what we want to do. It's whatever art you want it to be. It's anything and it's everything."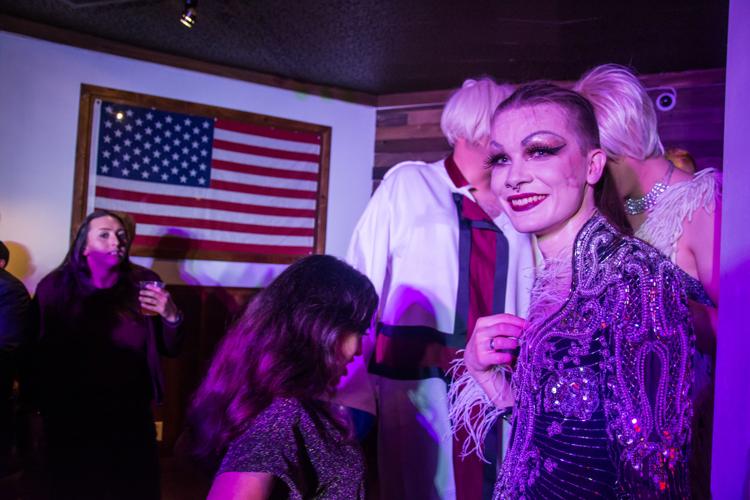 Revelucien, who hosts shows all around Flagstaff, began performing regularly in drag while studying at Northern Arizona University, though honing the art started earlier, as in, every summer at gay camp since the age of 14. Revel points to a love of theater throughout elementary and high school, the early realization that only wearing boy's clothes was deeply limiting, the love of a grandma with a treasure trove closet to raid and the unfaltering support of sister and father. And of course, the loving nudge from drag mom Jackie Daniels.
"I did my first show in drag at NAU, and then wanted to do more. Jackie Daniels showed me the ropes and I just said, 'This is it,'" Revelucien says.
At the time that meant an NAU PRISM drag show once a semester, dressing up to go to parties or performing at friends' houses.  
"But I started to think, 'I really want to do this and I want to do this now and often, I want to put my little foot in the doorway,'" Revel says. "I think this is the golden age of drag and I'm lucky I found my footing in it."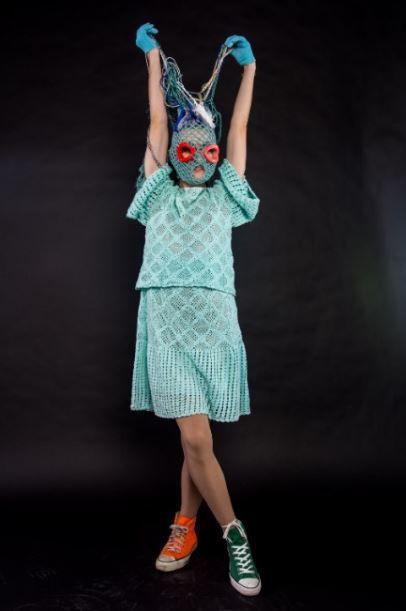 After a couple years hosting in local bars while barely breaking even, Revel was recently able to turn a profit and pay performing drag kings and queens. There were big plans in the works for the summer. Then, the coronavirus pandemic hit. 
"This year was supposed to be about me becoming financially stable and being able to support myself with my art," Revel says. "I still can, but it's a lot harder."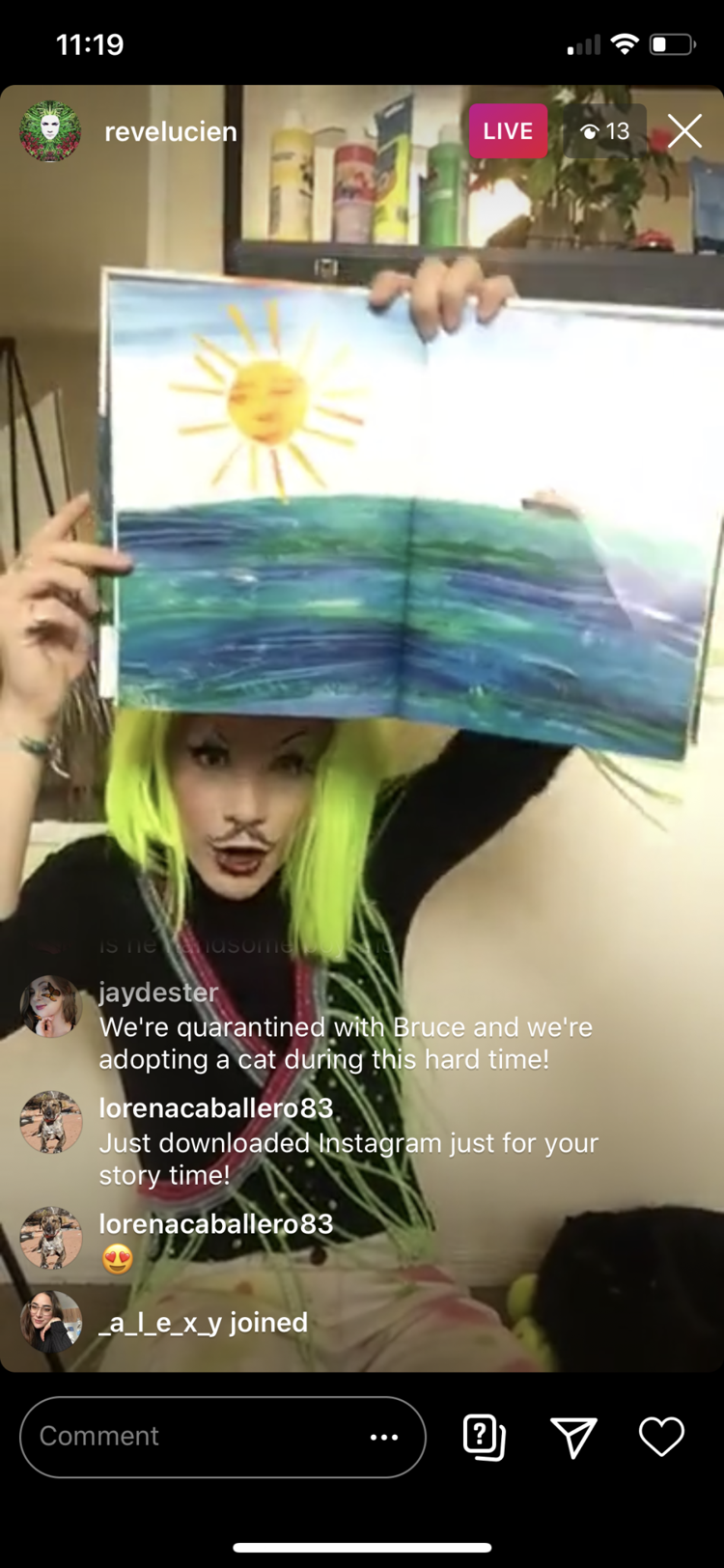 So Revelucien has gone digital—for live drag shows as well as the beloved Drag Queen Story Time. Normally a monthly event at Bookmans Entertainment Exchange, story time now broadcasts independently of the bookstore, every Sunday via Revelucien's Facebook and Instagram with a suggested donation of a dollar here and there for those who are able.  
"I feel almost guilty for being like, 'Tip me.' I have it good compared to others," Revel says.  "It's so hard to be happy and spread happiness right now."
But because drag has never strayed away from the political or the humorous, queens have faced the pandemic head on. The ever-funny side that is so quintessential to drag has seen queens and kings take to task toilet paper shortages in lip-synchs in addition to the more serious inequalities being exposed by the pandemic.
"Drag is always about talking about the current moment and it's inherently political so our art is sharing that a lot of times," Revel says. "Drag doesn't have to be anything, but because it's so focused on that and a lot of us are empathetic and absorb stuff life a sponge, I've seen my friends create a darker art lately, too."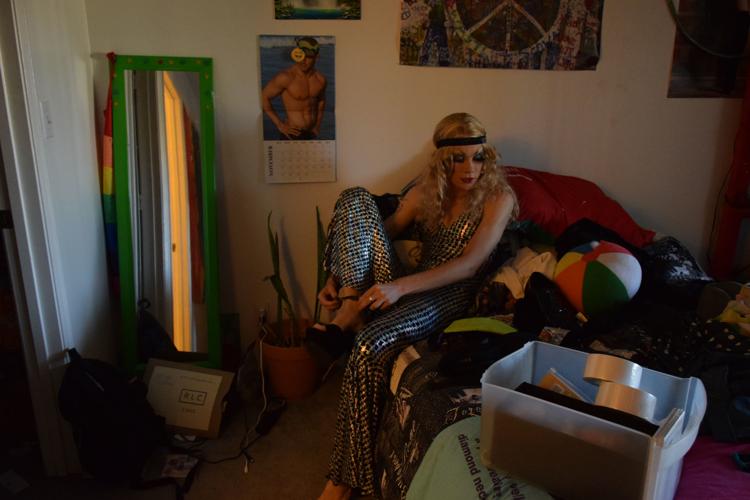 The continuation of drag queen story time also came in response to COVID-19, the goal being to continue broadcasting to families that came every Sunday while giving parents a little structured fun at home.  
"I also missed it," Revelucien says. "I just love kids, I love being able to teach them for a little bit, we all get to be silly and we can also get this message  of acceptance across. To be able to connect with them just means the absolute world and I know they look forward to it every week. It makes me feel important. I don't want to say it gives me purpose, but it feels even more special that my drag is supported by a 4-year-old."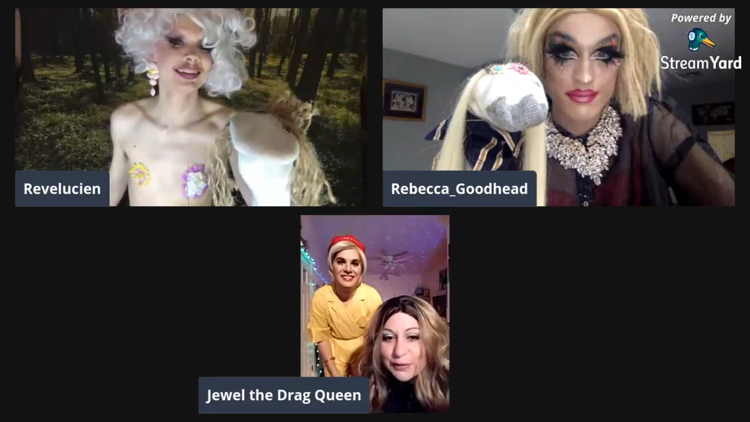 The Bookmans Drag Queen Story Time takes its cue from national nonprofit Drag Queen Story Hour, which originated in San Francisco about five years ago and has since connected queens with public libraries and community centers across the nation. Flagstaff does not have an official branch at the moment. Instead, Bookmans approached Revelucien about the readings, which almost always include at least one song as well as the chance to "shake your wiggles out," and have been a Bookmans mainstay for almost a year.
The story times, often thematically linking Revel and co-reader Jewel's outfits with the books being read, typically see kids ages 5-9 but are rarely without the enthusiastic grandparent or teenager in the mix.  
Story time, like the drag shows, creates space, Revel says. For all, queer people, trans folks both in and out of drag—when done right, drag is at its core inclusive. As sobering as the pandemic is, Revelucien's goal in hosting shows remains to safely making room for discussion while offering a means to support the art and artists. 
"It makes me think back to the years before, when we weren't making any money and doing it just because we loved it. And it's reminding me about what the art is about, expressing yourself and connecting with people and spreading the gay agenda," Revel says with a laugh.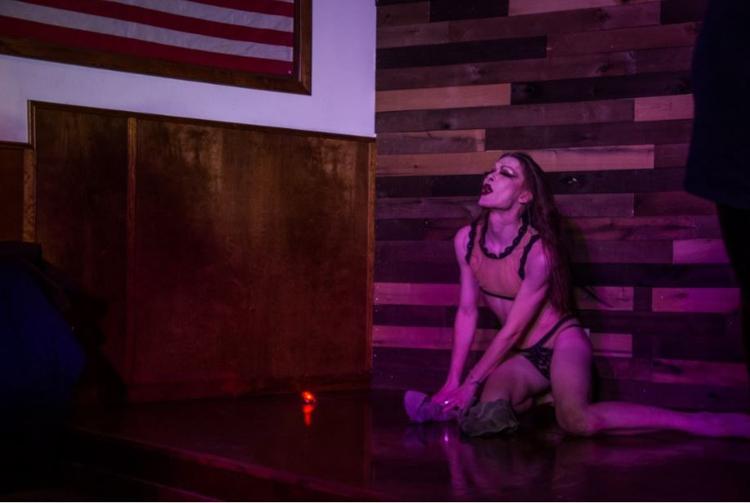 "I want to bring people in and show them that drag is not a big scary thing, but I also want to make platforms for my friends to talk about things that are big and scary. When I say the gay agenda I mean spreading love and positivity. At the end of a number someone might find offensive, I would explain and discuss—like I do with the kid's books I read. That's part of my responsibility as a host, to stand my ground. You're going to hear different viewpoints and opinions and we can talk through them, I'm just glad we have the space to do it. "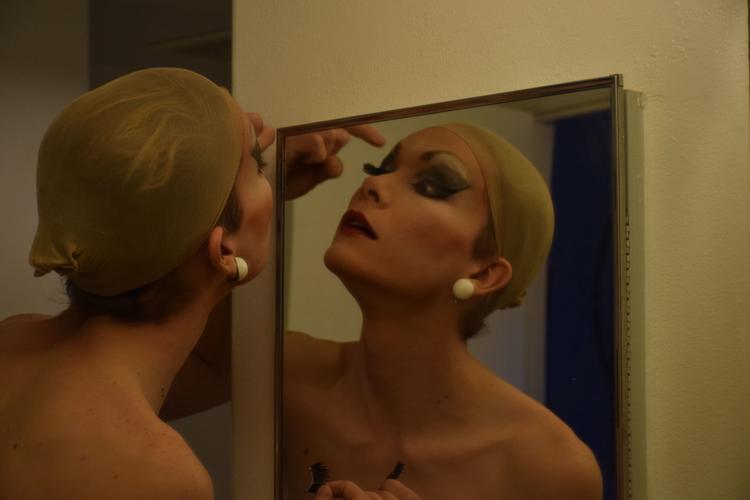 The recent 4/20 online drag show saw Revelucien holding up makeshift signs with Venmo, CashApp and Paypal usernames so that all participating drag queens and kings could get compensated.. A total of about 200 people tuned in, some 40 staying on for the entirety of the show. The following day was reserved for rest, Revel says—the same is true of the Sunday story times, which, like the drag shows, leave clothes, tape, hairpins and other tools of the trade, strewn across Revel's room. First, a good stretch and plenty of water was in order; the room could wait. 
Be the first to know
Get local news delivered to your inbox!