On a wall of Rodrigo de Toledo's home, plastic toy legs dangle out of an old wooden frame with multiple compartments. The gold and red of the Flash, the red and blue of Spider-Man and blue and silver of some sort of giant robot. A closer look reveals bottle caps, a Che Guevera button, a photograph of Toledo's son, humanoid-alien creatures, toy cars and plastic soldiers and more, lined up like little trophies of the past. More than simply a wall of stuff, the frame is full of inspiration and metaphor, and each object within it a symbol, symbols we might recognize as archetypes of our collective unconsciousness: the child, the superman, the mother.
Toledo's latest illustrative book Chronicles of Entanglement: The Broken Mandala Whispers draws from Jungian psychology to tell a story of purpose, art and the subconscious existence.
Carl Gustav Jung, the Swiss psychoanalyst whose theories of the inner life have shaped our current understandings of consciousness and symbolism, believes there are two forms of thinking: direct thinking, or conscious speech working toward the goal of communication, and dream or phantasy thinking, or our unconscious inner world of symbols and myths, personal and shared. In Chronicles of Entanglement, an unnamed Seeker finds himself suddenly immersed in the vastness of his unconscious realm. The worlds he visits are fantastic and disturbing, rich with color and childlike drawings of portals, bridges, trees, eyes, symbols, self-governing in their behavior, existing as their own entities inside the subliminal mind of the Seeker, blending fantasy and psychology.
"I've always been interested in fantasy and psychology. My work has been a little bit surreal, a little bit pop surrealism. So it was a natural progression to get involved with Jung, creative imagination, collective unconsciousness," says Toledo, who teaches visual communication and graphic design at Northern Arizona University.
Part graphic novel, part artistic biography and part illustrative fiction, Chronicles of Entanglement features scenes from the real life, or the present, in Flagstaff, particularly the Rendezvous at the Monte Vista Hotel. The Seeker watches life in Flagstaff through the glass windows of the Aquarium, as it's referenced to in the book.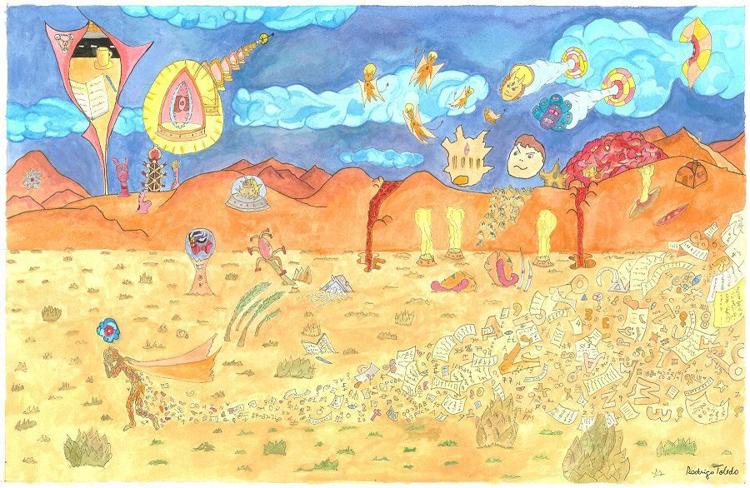 Because his studio was nearby the bar, Toledo says he figured he would use that as the setting for the book. While the Seeker enjoys a drink, a distorted vapor from a manhole manifests itself, projecting him into various mythical worlds such as The Desert, the Valley of the Muse and the Boy's Realm.
"When I look at my own subconscious, that's what comes out. I have a personality that is artistic and intuitive and imaginative, but at the same time I'm quite logical. So this mythology aspect I think comes into play because it's a structure. I feel the need to put structure into my imagination. It's a self-knowing, growth, spiritual type of process. It's a drive of knowing myself."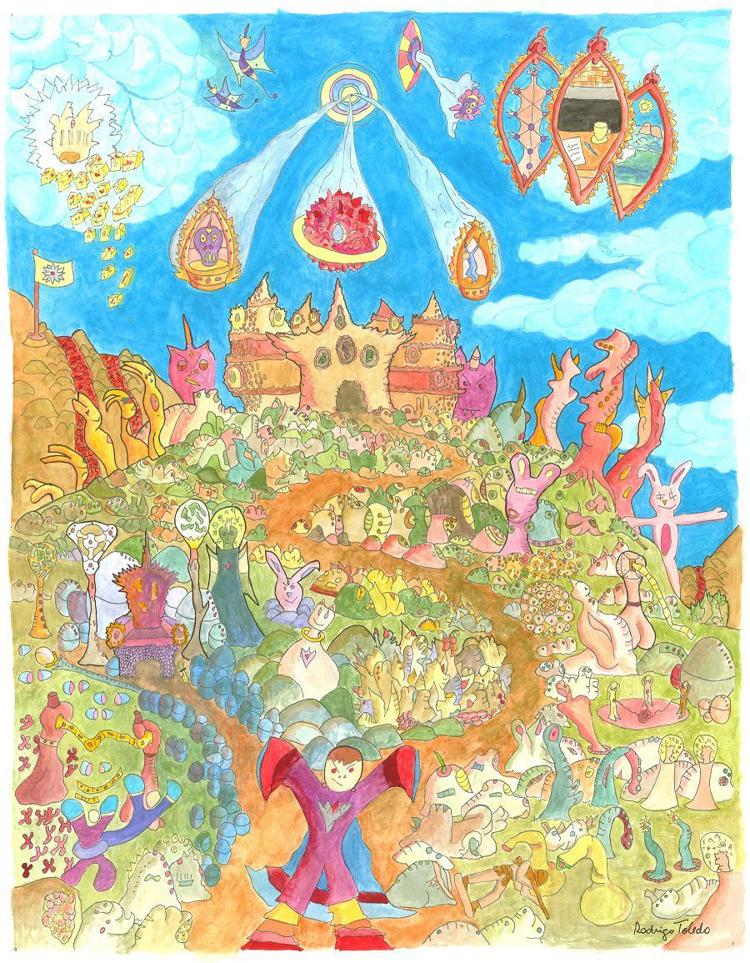 Despite his desire to explore his subconscious existence, Toledo is content with not fully understanding it.
"I try to structure it, say it's a mythology and try to connect the symbols, but at the same time I don't know exactly what it means. It's unconscious. It's there, but I don't try to fully interpret it. It represents my inner life, my imagination," says the artist. "I'm OK with not knowing what it all means at a certain level, because I think how people will see this and understand this or see me or the work is up to them."
 In Chronicles of Entanglement, there is plenty to see and interpret and analyze. Along with the written narrative of the book, Toledo has created a series of paintings and prints made with gouache and ink on watercolor paper called Mythological Entanglement. Inspired by Tibetan artwork and the Dutch painter Hieronymus Bosch, as well as comics, cartoons and Japanese manga, Toledo's paintings are busy landscapes of an anxious inner mind where not even the smallest detail is overlooked.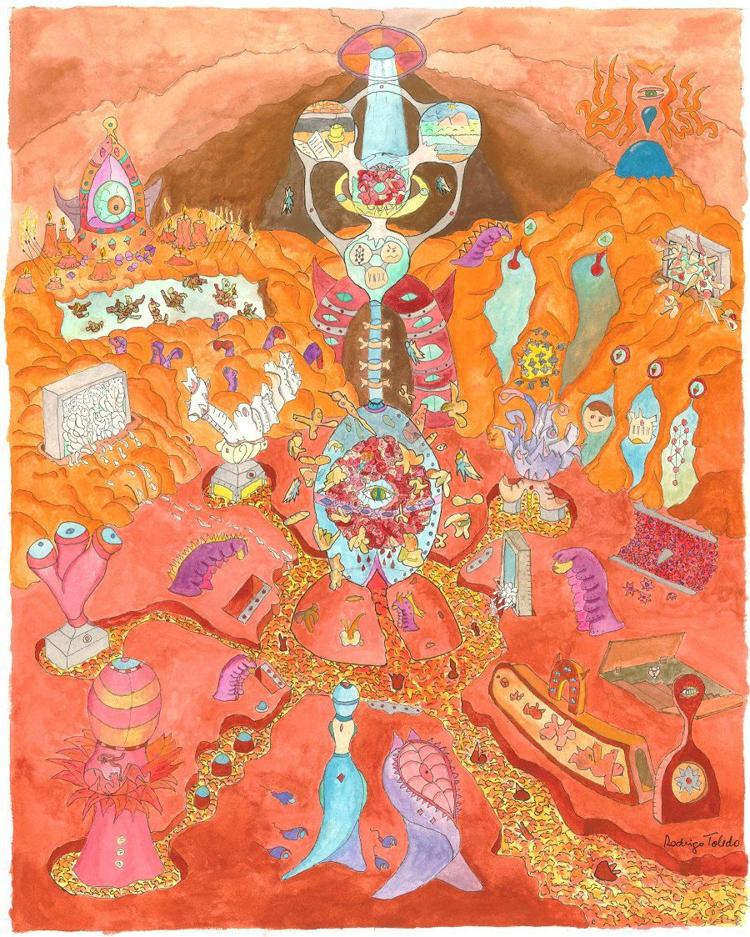 "It's funny looking back because I think it all started when I got some new glasses," says Toledo with a laugh. "I said, 'Oh wow, man. I'm doing so well.' It was really rewarding to work on the small details."
From the many details in Chronicles of Entanglement, one of the main symbols of Toledo's universe, which will be featured as the center piece for the Flagstaff Modern and Contemporary Gallery Exhibit of the same name, is the Knot, a visceral pink, organic structure in the shape of an eye, a representation of our own internal, psychic life.
Like the internal life, Toledo imagines the Knot as a constantly fluctuating animated structure with an autonomous existence.
"[The Knot is] our internal shifting process of happiness and unhappiness and trying to untie these complications and thoughts and things that go on forever," he says. "That's kind of how I pictured my internal knot. I can never get to the bottom of it. It's always shifting."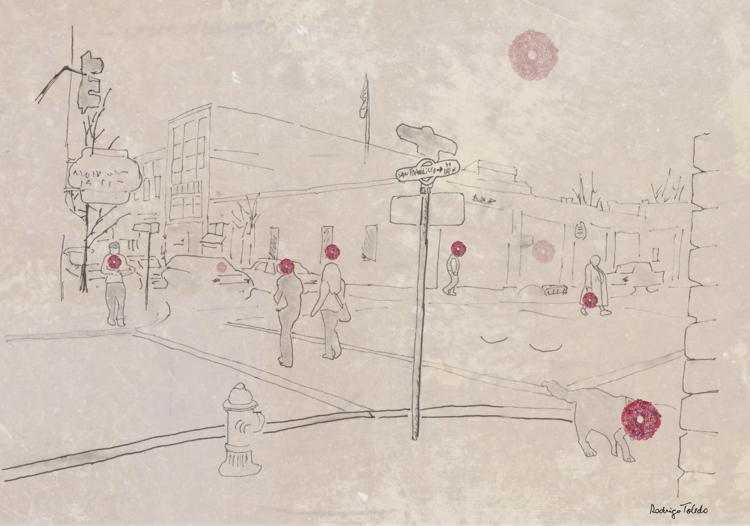 Toledo envisions the waking life in Flagstaff in black and white images, but the mythological world juxtaposes this with imagination and vibrancy, at first glance innocent and childlike, then upon further observation is unsettling and wrought with strange imagery. The reoccurring symbol of the boy and themes of childhood lead us to believe the book is something for a child, but the ideas presented in Chronicles of Entanglement bridge on deep understanding of our unconscious selves—unconscious selves that are primal and animalistic.
Though not wholly about childhood, Toledo says the artwork and the book draw from the effect that period of existence has on our subconscious for the rest of our lives.
"Childhood is, psychologically speaking, a very powerful source of inspiration. In working with that inner material, childhood memories, it opens up a lot of inspiration and creativity," Toledo says. "I'm dealing more with how one's mental, psychological landscape is formed or is represented, and childhood is a strong element to this."
What would Jung say about Toledo's wall of toys and his desire to keep and display the remnants of his past? Toledo laughs, agreeing it's "almost like a serial killer or something," but it's all symbolic.
Everything means something to Toledo. Whether those meanings are conscious or unconscious, we are motivated by them to act in certain ways and say certain things. We behave in the way that we do because of these symbols and archetypes presented in the subliminal mind. In seeking to understand that seemingly autonomous and enigmatic world, Toledo seeks to better understand his spiritual life, to give structure to a fluid and pliable entity that is inherently without a structure, to discover and explore his psychological landscape.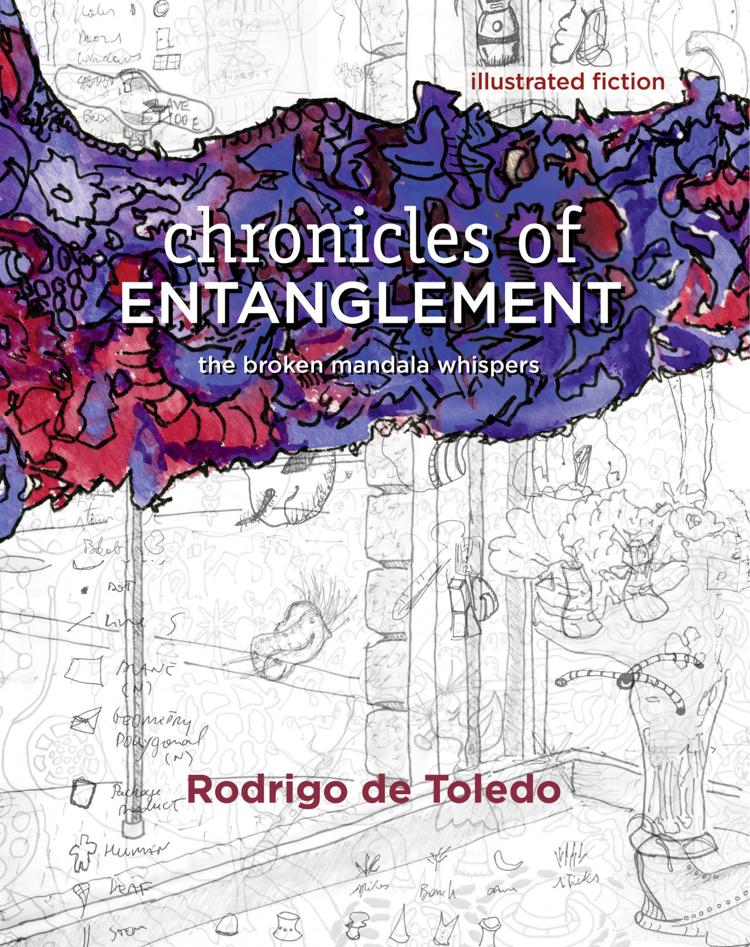 "It's all metaphorical. To me, art and spirituality are connected. It's a way to really grow, evolve, spiritually, and I believe that's by knowing yourself," says Toledo.
The Chronicles of Entanglement exhibit will be on display at the Flagstaff Modern and Contemporary Gallery, 215 S. San Francisco Street, from April 6-28, with an opening reception on April 6 from 5-9 p.m. Chronicles of Entanglement: The Broken Mandala Whispers is available online and through Studio Neurondiva. For more information, visit www.neurondiva.com.