Terrence Moore was 9 years old when he first traveled along Route 66.
He grew up in Minnesota, and when Moore's family decided to settle in Claremont, California, they took the iconic road to get to their new home.
"I remember going through [Rancho] Cucamonga, and I remember seeing the eucalyptus trees lining the road and citrus groves, and I thought I died and gone to heaven. I had never seen anything like it," he says.
In his new book, 66 on 66: A Photographer's Journey, Moore has compiled 66 of his favorite photographs from his 50-year career documenting the legendary road. Through his photographs, many of which were shot in the 1970s and '80s, Moore highlights his love of highway travel and how much The Mother Road has changed by showing us what is no longer there.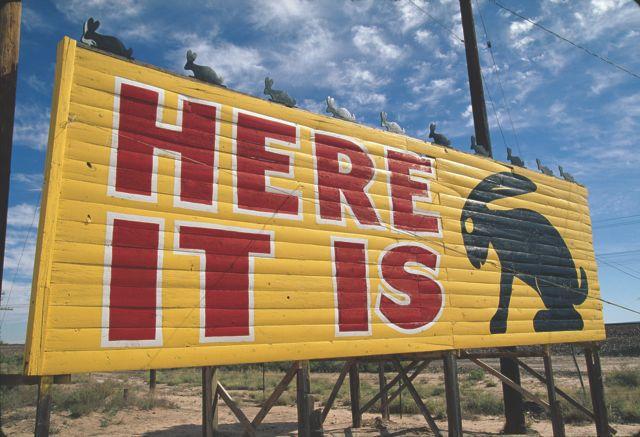 When his family found their home in Claremont, Moore says he was surrounded by photographers and creative people. At age 12, a neighbor who had spent their life exploring the world and documenting their travels through still images introduced Moore to the art of photography, opening his eyes to the power of documentary studies.
"Initially I wanted to do documentary studies. I wanted to see the world and go to exotic places and all of that. It wasn't an in thing," Moore says. "People cared about it, but it wasn't like today where people can so easily travel all around the world."
He says he fell out of photography for a little while during his college years, but when he moved to Albuquerque in 1969, he committed himself to becoming a photographer. His focus: the open road.
"I just kind of jumped into the lifestyle of New Mexico and started photographing things left and right, and that just kind of blossomed, and I just became a real photographer that year and that was the same year I started documenting 66," he says.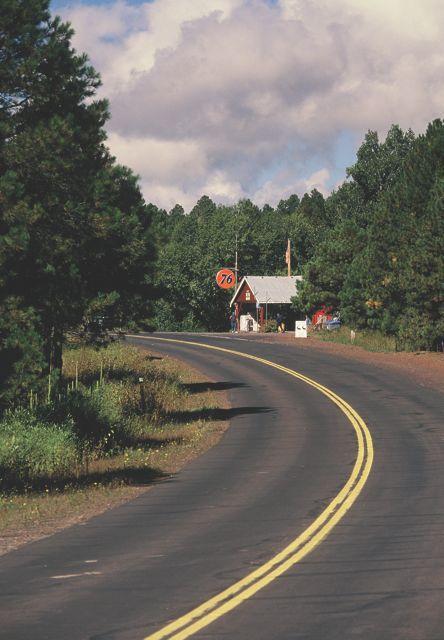 It wasn't just that he had an interest in the history of travel along Route 66, but that the road was slowly becoming less and less regarded.
"When I got to New Mexico and I saw a lot of the old highway that is disappearing, literally just going back into the earth and nobody was photographing them, I just decided I wanted to save some memories of the old highway."
A Navajo Motel neon sign in Holbrook and a Star 6 Motel neon sign in Kingman are among the many monuments that no longer exist, which makes Moore's book uniquely relevant, highlighting Route 66's changing landscape. And with most of the photography on 35 mm cameras from the 1970s on up, Moore says it adds a different perspective not often seen today.
"The film is what has maintained over all of these years. It also had this really saturated, really rich color," he says. "A lot of digital photography now, to me, is washed out and the color is all weird. It just isn't real. Or somebody puts [it] in Photoshop and makes it totally unreal by zapping the colors to some dimension that isn't real. In our book we strove not to do that. Basically, those photos are not manipulated."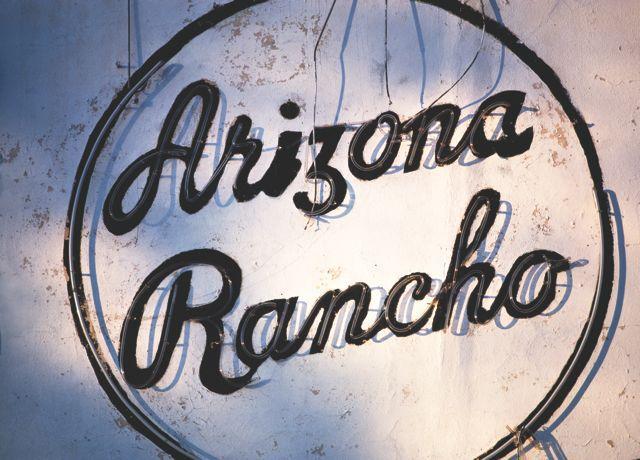 Oddly enough, while most people imagine cars, semi-trucks and freewheeling motorcyclists when thinking about Route 66, America's highway owes its existence to the bicycle.
When the first all-metal bicycle made its debut in 1870, travel by horse was the primary mode of transportation. A combination of negative public perception and the poor state of America's roads led to the birth of the National League of Good Roads in 1893, an organization which helped lay the groundwork for what would become Route 66. Championed by Cyrus Avery and John Woodruff, Route 66 was established in 1927.
After its establishment, Route 66 became iconic, spanning more than 2,000 miles across seven states—Illinois, Missouri, Oklahoma, Texas, New Mexico, Arizona and California. In Arizona, Route 66 covered 400 miles.
Sean Evans is an archivist at Cline Library on the Northern Arizona University campus and a self-professed "Route 66 geek." A representative to the National Park Service's Research Route 66 program, Evans says part of the allure of Route 66 stems from its view into the past, of a rural America that was fun, tacky and stunning.
"66 was largely mom-and-pop and especially in the deeply rural areas where people would put up the darndest things alongside the road to get you to stop. I think people kind of miss that," Evans says. "I mean, it was tacky. Some of it was just god awful, but it was god awful in the most stunning scenery in the West. Once you fell out of the high plains of Texas and started to see the red rock in New Mexico, I think that set people on fire. I know it did us."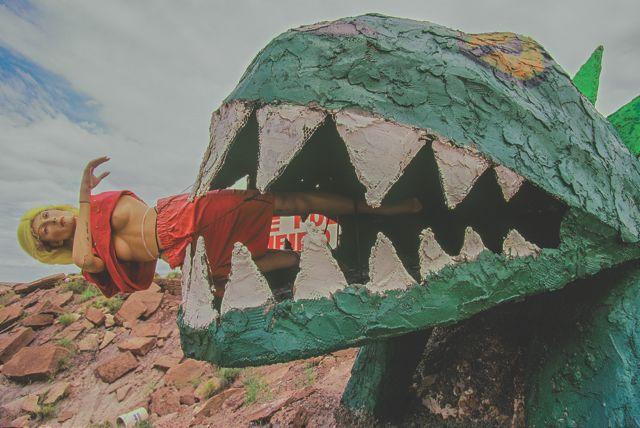 In addition, Evans says because the highway joined the East and West it allowed for a cross-cultural blending that America hadn't quite seen before. From new landscapes to curious cuisines, Route 66 opened the country to experience itself.
"If you dared to get out of your car and go mingle with people in the town square you just met people from all over. If you did that in New York, all you met were more New Yorkers," he says with a laugh. "It really connected two interesting points on the map and it kind of drained the East Coast south and west, and it pulled the West Coast east. So between that scenery and the climate came this great melding of products and people and ideas."
During the '30s and '40s, Route 66 served as a primary route for travel, introducing a new economy and birthing a sense of freedom from the open road, popularized by songs, television shows and Nobel Prize-winning novels. But as time moved on and the highway underwent various improvements and realignments, Route 66 was eventually bypassed by the new Interstate Highway System. By 1985 it was officially decommissioned and removed from the United States Highway System. 
For Route 66, it appeared to be the end of the road. 
"We all thought the road was kind of just going to disappear from people's memory and that would be the end of it. But the opposite happened," says Moore. "It's the main street of America. It will continue. It's become such a landmark at this point. I mean it always has been, but since the road was officially decommissioned, there was this resurgence."
After its decommission, numerous Route 66 associations were founded, and various sections of the road have been placed on the National Register of Historic Places. In 2017, Representative Darin LaHood of Illinois introduced the Route 66 National Historic Trail Designation Act, which, if signed into law, would designate Route 66 as a National Historic Trail and could breathe new life and funding into the road.
Moore says he hopes the bill passes, but even if it doesn't, Route 66 will never die, because our desire to travel and experience new things never will, and what better way to see the country than on America's main street.
"For all of us, when we travel, it's to be inquisitive, to slow down, to meet new people and experience new things," says Moore. "If I had 50 years ahead of me and unlimited funds I'd set out to document every U.S. highway if I could."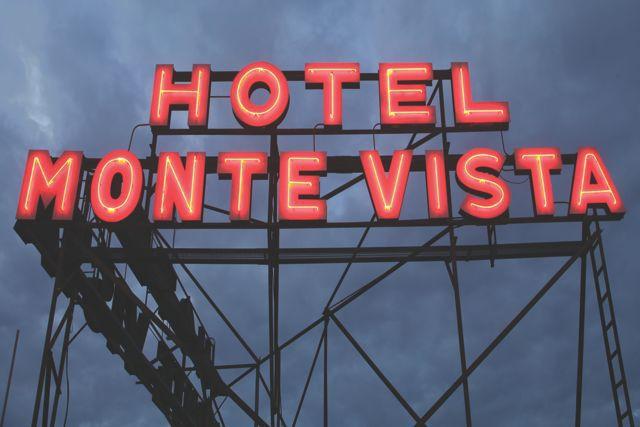 66 on 66: A Photographer's Journey is available at Bright Side Bookshop and through Schaffner Press. Terrence Moore will host a presentation and book signing at Bright Side, 18 N. San Francisco St., on Jan. 5 from 5:30-7 p.m. The event is free and open to the public.