The onstage presence of The Living Deads, a duo consisting of Symphony Tidwell and Randee McKnight, resembles the enduring love found between Gomez and Morticia Addams. While the deeds of the Deads are ghoulish, there's a romantic passion between them, the kind of synergy perfect for song titles such as "Everything is Broke But Our Love." 
There's a good deal of humor between the two as well. It's a self-deprecating funny, the kind of routine where, due to the apparent lack of a guitar player, the stand-up bass and drum duo would regularly recruit a guitarist from town to town, and then present the kidnapped player on stage with a burlap sack over their head before pulling off the shroud to reveal the special guest and forcing them to play.
"We used to employ many different guitar players. However, for the past three years we have been performing as a duo," Tidwell says. "The duo is a much more aggressive show. We have toured Europe three times as a duo and Japan once. We try to keep it interesting and constantly evolving the live show."
Another key component of their creative output includes a lot about how they live on the road. Especially in their music videos, a key character is the recreational vehicle they have been traveling in for eight straight years. The Living Deads are in the truest sense nomads, and the RV is their only real home. One of their two albums is called, naturally, Home is Where We Park It.
"We live everywhere," Tidwell says. "We are full-time RV. That's our only sense of normal."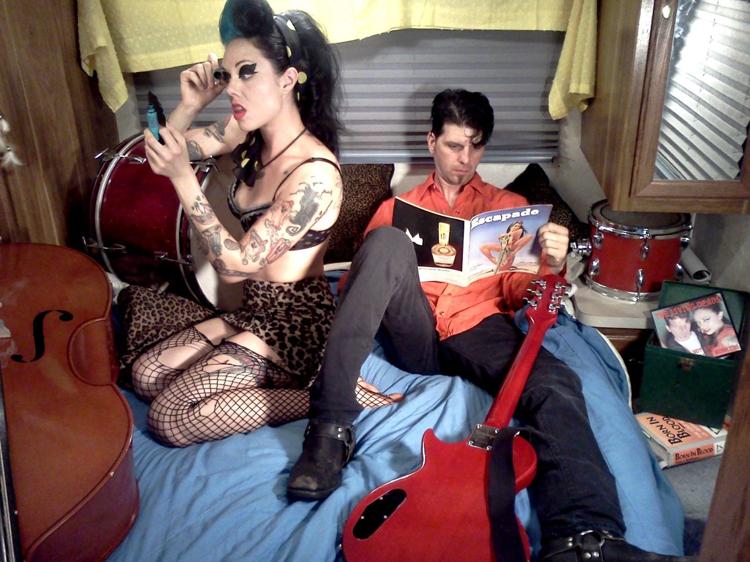 But they don't do KOA campgrounds, she adds. "We just find secret places off the road."
They do an average of 200 shows a year, performing across the U.S., Canada, the United Kingdom and other countries in Europe.
Tidwell is a telegenic vixen with her stand-up bass and sense of fashion which could be described as goth meets Victoria's Secret meets Breaking Bad, while McKnight, on drums, sports a more traditional cowboy shirt, a style of desert rocker going back as far as the Byrds and Jerry Reed. It's the rockabilly purist look. While McKnight provides the foundation on the skins, Tidwell whacks the bass as she makes wild facial gestures, thus providing key visual stimulants.  
"Music and fashion, just like art and fashion, have always gone hand in hand," Tidwell says. "Most of what we wear is customized thrift store finds. Randee always has his eye out for vintage Western shirts, and I wish I had more time to design and sew one-of-a-kind pieces. I have an art degree and fashion is obviously another avenue for the visual arts. In my opinion, it is a very important aspect of the live show. You have to give your audience some interesting visual stimulation to go with the music."
The duo has mixed origins, starting out as a couple after McKnight, from Ohio, met Tidwell, from Florida, at a concert in the latter. They formed The Living Deads in 2009, and then a year later bought an RV to become full-time performers.
"We have been equally everywhere and nowhere since," Tidwell says.
The lone wagon on the trail is the couple's answer to the problems facing most musicians in the post big-label era, when doing it yourself is the approach.
As McKnight puts it, "There's not a lot of record company support anymore. So we asked ourselves, do we want to have an apartment and get part-time jobs and play, or do we want to take off the gloves and do it this way. There's the added benefit of when we put an album out, you don't have to answer to anybody, you just put the record out. Pretty much what we see through the windshield becomes the subject of each song."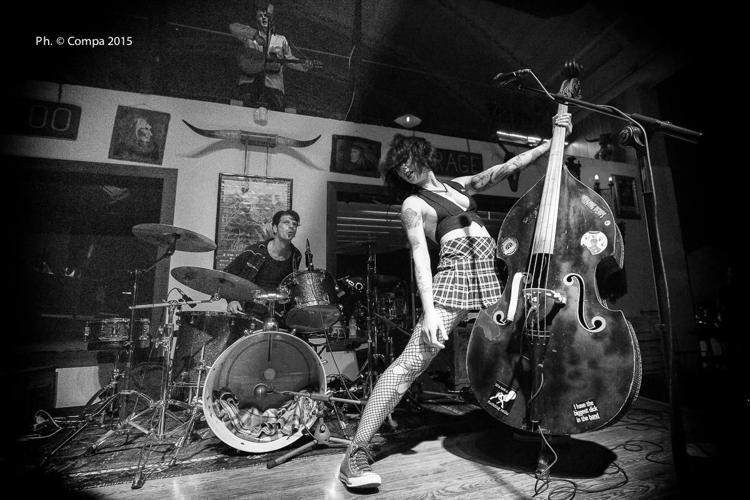 That includes the down-pace nugget, "Truck Stop Snacks." It's a song about finding comfort and sustenance on the road at the price of, well, healthy eating.
"I have been known to put down a donut or two," McKnight says, adding that his sense of humor in music is inspired by Ray Stevens, especially the album Shriner's Convention. "We wrote that song after Symphony noticed I was eating a lot of junk food."
"If you call that food," Tidwell says with a laugh.
What about their key rockabilly influences?
"The Hillbilly Hellcats would be an influence on us as far as rockabilly goes," Tidwell says. "But really we have more punk influences and avant garde artists like Tom Waits and Devo. The Cramps, The Ramones, Screamin' Jay Hawkins, Hasil Adkins are also strong influences. Randee, coming from Akron, Ohio, [is influenced by] such a weird mixture of music that originated from the area."
They say Akron is as much of a home for the band as anywhere. Since McKnight came from the town, and they have a large circle of friends there, they always do a lot of shows in the area.
He says, "I don't know if it was the rubber in the air or the lake that used to catch on fire, or the families migrating from West Virginia, but there's something definitely there that produced some of the most unique artists, Devo, Lux Interior of The Cramps, The Rubber City Rebels, The Waitresses."
Of course, they are a natural on Halloween, but they have made every show an All Hallows' Eve event.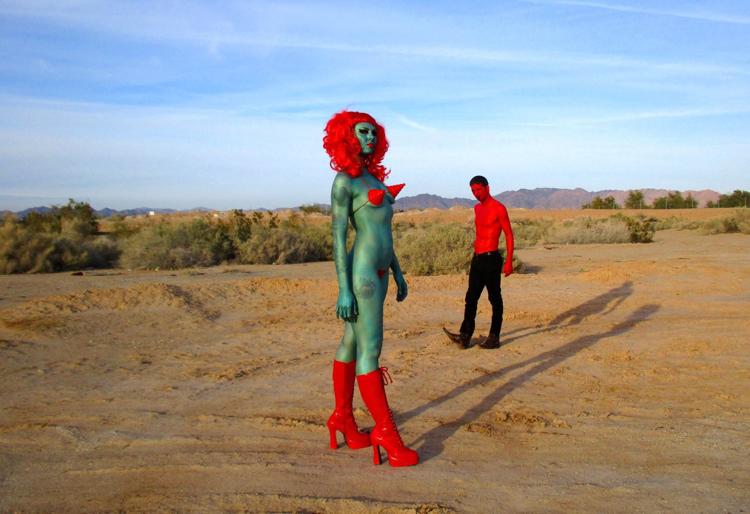 "We have an annual Living Deads Halloween Ball which we move around the world," Tidwell says. "Last year it was in Milton Keynes, U.K. A few years before that it was in Strasbourg, France. We held one in Orlando, Florida, all over the place."
And they get all over the place in their vintage 1983 Holiday Rambler.
"It gets us where we need to be," Tidwell says.
"Well, not always," McKnight says, referring to the RV's tendency to break down often enough to inspire songs and videos.
To which Tidwell adds, "We always eventually get there."
The Living Deads will be playing at the Green Room, 15 N. Agassiz St., on Tuesday, Jan. 15, with GRIMM, The Blissins and The Wolfskin Killers. Doors open at 8 p.m. Tickets for the 21-and-up show are $8 in advance, $10 at the door. Visit www.thelivingdeads.com for more information.