In anticipation of the November holiday that has both a fractured and complicated history and a delicious mode of celebration, Flagstaff Live! asked three local chefs and bakers to divulge their favorite recipes.
Chef Tony Cosentino has owned Josephine's American Bistro for more than a decade, Nancy Wiechec has spent much of her career as a journalist writing about food and the people who connect to it, and Max Motter and Alicia Pacheco fell in love through food and now operate Ofélia Bake Shop out of Criollo Latin Kitchen, crafting delicate and handmade baked goods.
Each of these individuals has a special connection to food, and what better way to capture that than by discussing the dishes they love and associate with Thanksgiving meals and traditions.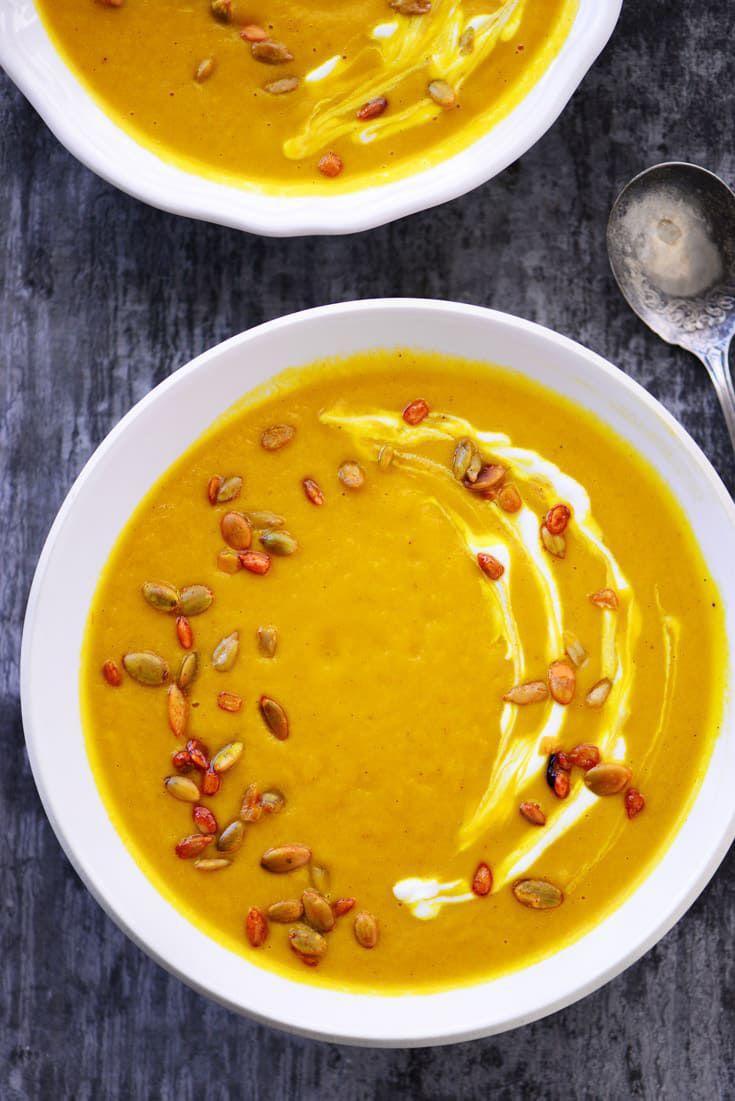 Hearty autumn classic with a twist
This butternut squash soup with a dash of something different is Chef Tony Cosentino's take on a classic fall soup. With poblano peppers and a couple squeezes of lime, it's a dish that at once conjures the Southwest and the cozy winters of its higher elevations.
"I like it because it is easy, fairly healthy, has a bit of an Arizona twist with the poblanos and pepitas, and will stick to the ribs on a cold winter day," Cosentino says.
2 seeded poblanos, roasted and peeled
1 tablespoon of minced garlic
1 tablespoon finely minced rosemary, fresh preferred
2 seeded butternut squashes, roasted and peeled
Cut butternut squash in half (carefully as to keep all of your fingers intact) and scoop out seeds. Place face down on a sheet pan with a little water and roast at 400 degrees until tender, 20 to 30 minutes. Let cool until it is easy to handle and peel off skin.
In a stock pot heat olive oil and add onion, garlic and rosemary. Sauté until soft.
Add chicken stock and bring to a boil. Add honey, cream cheese and poblanos, and puree, preferably with a submersion mixer. Salt and pepper to taste.
Serve with a lime wedge for a fresh bit of zing and toasted pepitas for a little texture.
Thanksgiving dish celebrates Arizona ingredients
This stuffing, or dressing, recipe features ingredients from Arizona—medjool dates from the southern part of the state, pecans from the Verde Valley, kale from the winter garden and sourdough bread from the local Sprouts market.
Looking for a gluten-free option? This dish also works well with gluten-free cornbread as a substitute for the sourdough. Slice the cornbread into 1-inch cubes and toast them using the same instructions below. For a vegetarian option, omit the sausage, use vegetable stock in place of chicken stock, and add another ½ cup of pecans and a few more dates.
Thanksgiving Stuffing with Sausage, Kale and Dates
1 large or 2 small loaves of sourdough bread (about 1 pound total)
1 pound sweet Italian sausage, casings removed
1 stick of butter, separated into 5 and 3 tablespoons
1 bunch of lacinato (Tuscan) kale, ribs removed and chopped
1 cup chopped fresh Italian parsley
12 pitted dates, cut into quarters lengthwise
1 teaspoon fresh ground pepper
Heat oven to 375 degrees. Tear the bread into bite-size pieces and spread the pieces in one layer on baking sheets. Toast in the oven—tossing the bread a few times—until the pieces are dry on the outside, about 15 minutes. Transfer the bread pieces to a large bowl. Put the pecans on the baking sheet and toast for 5 minutes in the oven. Transfer the nuts to the bread bowl.
Heat a skillet over medium heat and melt 5 tablespoons of butter. Add the celery and onion and sauté 5 minutes until the vegetables are soft. Add the kale, parsley, sage, salt and pepper and cook until the kale leaves have wilted. Remove the skillet from the heat and cool. Place a deep skillet over medium-high heat. Add the sausage and sauté until brown, about 8 minutes. Break up the meat with a wooden spoon as it cooks. Set aside and cool. Do not drain the grease.
Place a medium saucepan over medium-high heat, add the sherry and cook until reduced by half, about 5-7 minutes. Add the rest of the butter—3 tablespoons—the chicken stock and dates to the sherry. Cook until the liquid begins to bubble and turn off the heat. Let cool for 10 minutes.
Add the sautéed veggies, sausage, the liquid and dates to the bread and pecans and mix until all is well combined and the bread has soaked up the liquid. If bread still seems a bit dry, add a little more chicken stock to the mix.
Transfer the stuffing to a buttered heavy pot or casserole dish. Cover and bake at 375 degrees for 15-20 minutes. Uncover the dish, and bake for another 15 minutes until top is golden. Transfer stuffing to a serving dish, or serve warm from the casserole.
Nancy is a journalist, photographer and home cook from Parks, Arizona.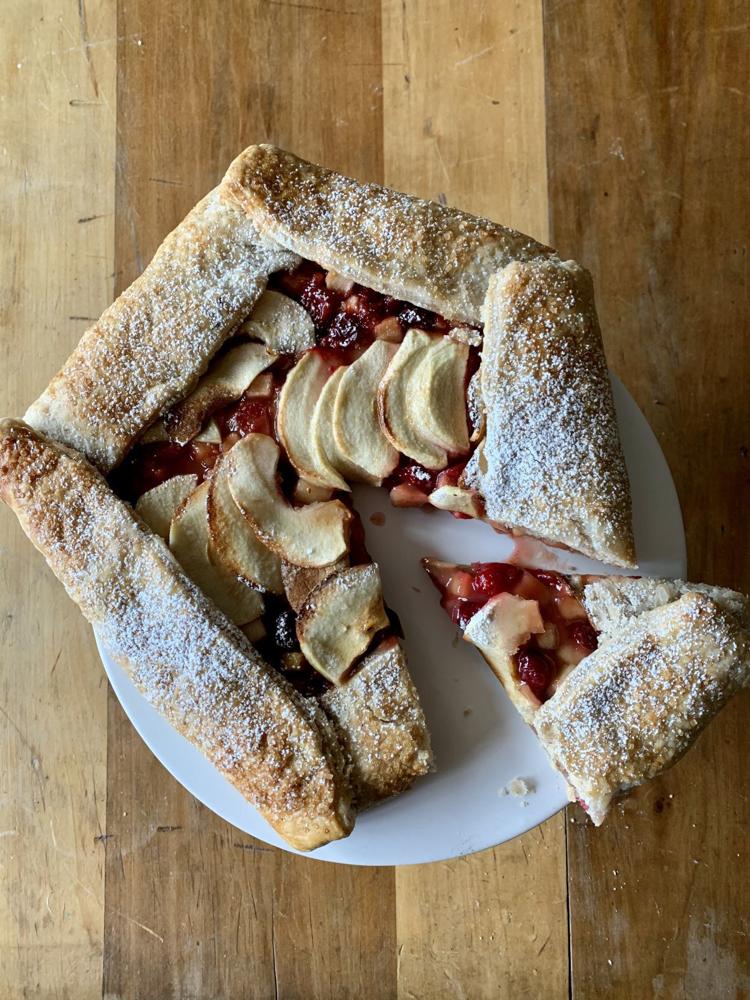 By Alicia Pacheco and Max Motter, Ofélia Bake Shop
The holidays are busy. Between work, parties, family and friend gatherings, there's not a lot of time to spare. We're the type of people that no matter how busy everything may get, we think it's still nice to make tasty treats for friends and family.
One of our favorite ways to do this is the humble galette. It's essentially a pie without a pan. The dough is folded around the filling, forming its own structure as it bakes.
We love galettes because they are versatile and can be applied to just about any season (hello, tomatoes?!).  The spiced, buttery dough against the tart cranberries and sweet apples in this recipe makes us feel all fuzzy like a warm sweater.
Cranberry-Apple Galette with spiced crust
1 ¾  cups all-purpose flour
¾  cups (1 ½ sticks) butter, chilled and cubed
1/8 teaspoon ground clove
¼  teaspoon ground nutmeg
¼ teaspoon ground cinnamon
5-6 tablespoons cold water
2 granny smith apples, peeled, cored and diced
1 granny smith apple, peeled, cored and sliced
1 cup cranberries, fresh or frozen
Zest and juice of 1 orange
2 tablespoons all-purpose flour
Mix flour, salt, sugar and spices in a large mixing bowl. Add the cold butter and toss until coated. Using your fingers, work the butter into smaller, irregular, flat pieces, about pea size. Add the cold water and incorporate in bowl until dough starts to hold together.
Turn dough out onto work surface and smash together with the heel of your hand to bring dough together.  You should still have some large pieces of butter throughout.  Be careful not to overwork; overworking will lead to tough dough.
Form into a flat disk and wrap and chill for 1 hour. Dough can be held for up to four days.
In a medium-sized saucepan, mix diced apples, brown sugar, salt, orange zest and juice and flour. Cook on medium heat, mixing frequently with a rubber spatula. The cranberries will start to release their juices and will start to thicken. When the sauce can coat the back of a spoon, it is finished.  The apples should be slightly soft but still have a crunch.
Transfer onto a sheet tray and let cool completely.
Preheat oven to 375 degrees. Once the dough is chilled, roll out on floured surface to a 12" circle. Transfer to lined sheet tray. Add cooled filling to center of crust, leaving a 2" border around the edge. Place sliced apples on top of fruit mixture. Fold the edge of the dough up over the filling, overlapping the dough as you go around, making five or six folds. Beat the egg with 1 tablespoon of water and brush the crust.
Bake for 35-40 minutes or until golden brown.
Be the first to know
Get local news delivered to your inbox!