In October of 1979, Dr. Frank Kells, an employee of the Rehabilitation Services of the Arizona Department of Economic Security, and a small team assisted in the on-air debut of Sun Sounds of Arizona, a non-profit radio station whose mission was to provide audio access and information to individuals who, because of a disability, could not otherwise access or read print media. Now, Sun Sounds has a listenership of more than 32,000, more than 500 volunteers and three satellite stations in Tucson, Yuma and Flagstaff, each with the focus of providing access to those with disabilities.
Through online streaming or special radios which share the harmonic frequencies of KNAU, Sun Sounds in Flagstaff broadcasts programming geared toward reading local, regional and national news and magazines such as the Arizona Daily Sun, the Wall Street Journal and the New Yorker. Volunteer readers also read short fiction on air, with hours dedicated to romance, westerns and mysteries.
Starting in January, Sun Sounds is opening their Flagstaff studio to the community for those interested in creating their own podcasts, audio stories and creative audio projects.
Gina Byars, who has been station manager at the Flagstaff location since 2013, says Sun Sounds and its decision to open its studio is all about community and accessibility.  
"[Sun Sounds is] a service that I really think could be at the forefront of how we make communities not only accessible but how we take down barriers for participating in the community."
Byars began volunteering for Sun Sounds in 2002, initially reading grocery ads and the community calendar, as well as assisting with organizing Made in the Shade, an annual beer tasting festival sponsored by Sun Sounds.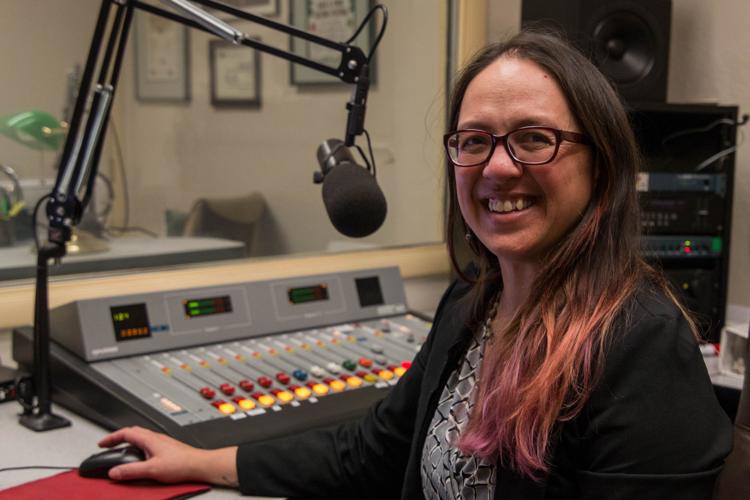 With the Made in the Shade Festival providing most of the funding for the non-profit, Sun Sounds sought a stronger, more reliable means of income. In opening up their studio, for a modest pricing of about $20/hour and an additional $25/hour for engineering and staff assistance, Byars hopes to garner public interest in the studio and its mission.
"The decision [to open up the studio] really revolves around the fact that, one: we have professional equipment that isn't used a lot. We produce 19 shows a week, but other than that it isn't really used a lot," says Byars. "And two: how do we utilize the space more and how can we have some small funds coming in as some support to what we're doing?"
Sharon Tweksbury-Bloom, who used to work for Sun Sounds as a marketing and outreach coordinator, has been the "biggest advocate in getting this rolling," says Byars. "The interest is there, but it hasn't fully moved over into action."
"I think it's still on the early end of the podcast boom," adds Tewksbury-Bloom. "The podcast boom has hit areas like New York and Los Angeles, but I think because a lot of people lack the equipment and resources there might be people who have piqued their interest but had no idea it might be possible for them."
Tewksbury-Bloom's podcast, Do Good, Be Good, which she records out of Sun Sounds studio in Flagstaff, focuses on the challenges individuals face in trying to help others. As someone who works in public service, volunteering at the Doris Harper-White Community Playhouse and the Museum of Northern Arizona, she had always felt the lives of people who volunteered and worked in service wasn't always portrayed accurately in the media. Now Tewksbury-Bloom uses her background in communication and leadership to help businesses with issues within their organization, and she uses her podcast as way to both promote her business and explore the lives of those who try to do good.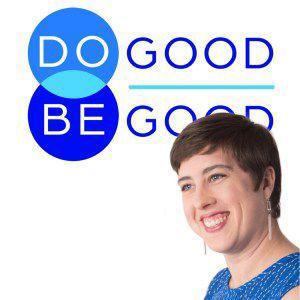 "When there are stories about volunteerism they're often overly sappy and overly positive. Having worked in the field I knew that it was always more complicated than that and that a lot of people who were trying to do good were frustrated and were struggling with it internally," she says. "The kind of people who dedicate their lives to making their community better are often people who want to make sure they're doing the right thing and sometimes those things get hard."
In season one of Do Good, Be Good,  Tewksbury-Bloom interviews Maggie Twomey, a volunteer coordinator for the City of Flagstaff, Dan Maurer and Anthony Mancini of Elevate Nepal, who will be featured in a bonus episode before her season two premier, and even Byars. The stories told and the conversations had on her show are at one point uplifting and funny, and devastating and somber the next.
"I keep being told I need to have a clear niche, both in my business and in my podcast, and I feel like I know what it is. It's people who are committing their lives to trying to do good for other people," she says. "What I found that's really fascinating about that is that it doesn't really fit one bucket. I don't want to just say that all of [Do Good, Be Good] is about how hard it is or how complicated or challenging. Sometimes it's just funny."
From recording readings of stories and poetry with her friends on a Talkboy to listening to books on tape, Tewksbury-Bloom at a young age had been interested in audio.
"I didn't like to read as a kid. I only liked audio books. The true predictor of my current life is that my father, who was an engineer but had been moved up to management, had to go to this management seminar and learn about leadership and communication. So he went to this seminar and they gave him all these tapes to take home to listen. I was only in third grade, but I asked him, 'Can I listen to your tapes?'" she recalls with a laugh. "And that's basically what I do now: leadership training and host a podcast."
According to Edison Research, more than 110 million Americans have listened to a podcast, a number 11 percent higher than in 2016. And, according to the same article, podcast listening growth is on a steady incline with "the year-over-year growth rates for podcast listening" amounting to "10 to 20 percent increases each year."
A quick Google search for 'podcasts in Flagstaff' will pull up results for The Commons, Christ's Church of Flagstaff and KINGDOMHEIRS Flagstaff, all faith-based podcasts, typically covering sermons and topics on religion and spirituality, though many travel podcasts feature stories from Flagstaff, and Dark Sky Brewing Company keeps with Flagstaff's reputation as a beer town with its podcast, Brew Trails Podcast.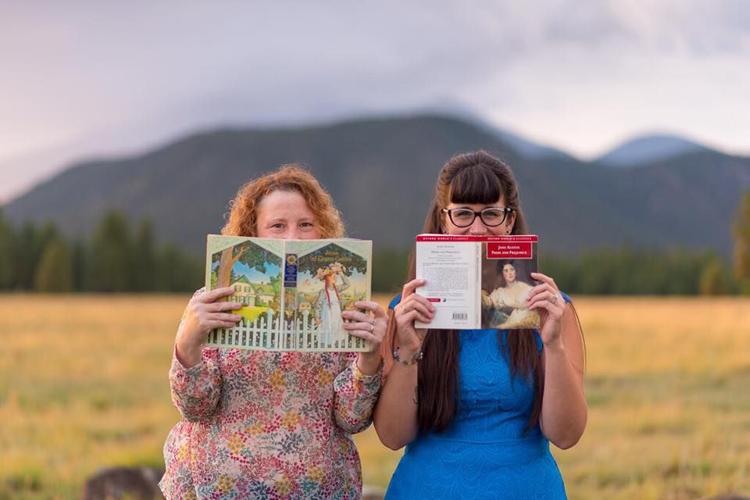 The Flagstaff podcast Books and Tea Podcast,hosted by Kyrie Fry and Cori Cusker, features conversations of literature while the hosts sip local and national teas. Fry and Cusker, who record in Cusker's home with a Yeti microphone and a modest set up, say one of the harder aspects of podcasting come down to technicality, finding good equipment and understanding the ins and outs of audio editing, but with an engineer friend, they don't have to worry about that. Instead they worry about marketability and promoting their show to the point where they no longer need to work full-time jobs.
"A lot of people have problems finding a place to listen to the podcast," says Cusker. "But I think with technology it's getting easier and easier to do so."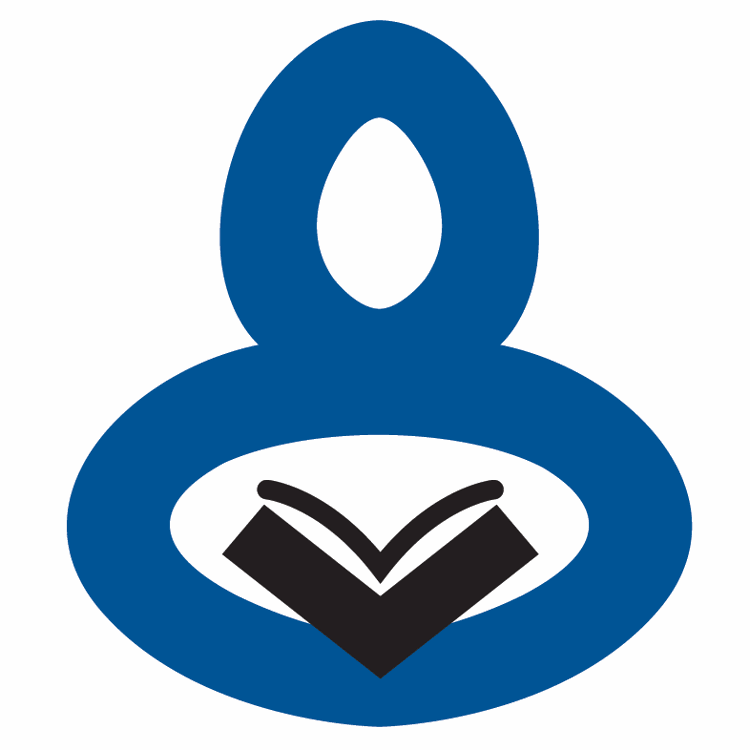 Podcasts provide something traditional new outlets can't: a voice, someone there to be with you to help feel things out and explore new ideas.
"It feels very intimate when you listen to podcasts," says Tewksbury Bloom. "It's like there is someone there with me telling me their story. You end up feeling like you know the hosts."
"It's about being able to say I want to hear this versus traditional media saying, 'You should listen to this.' People are saying, 'But I want to explore,'" adds Byars. "I truly believe that, at our basic human level, what makes us human is our ability to share stories. More and more people are looking to connect versus just be told stuff."
With Tewksbury-Bloom spearheading the podcast movement in Flagstaff and Byars opening up Sun Sounds' studio to hopeful podcasters and audio engineers, they seek to bring to light the growing interest in the expanding and engaging art form.