Long before the craft beer revolution, mead and cider reigned among the lands. While its history is full of speculation, mead is considered to be the ancestor of all alcohol and was likely discovered by accident when ancient hunter-gatherers stumbled across a beehive full of rainwater that had been sitting long enough to allow the honey inside to ferment. Cider, too, was popular in America as far back as the 1600s because it was cheap, easy and safer to drink than water. William Henry Harrison even made cider a part of his presidential campaign in 1840.
When the first annual Arizona Mead and Cider Festival arrives at the Pioneer Museum this weekend, attendees can expect an afternoon of tastings, workshops, Viking games and more, all in celebration of the history and science behind these libations.
The seed for the event was planted a year ago when the three Arizona meaderies—Drinking Horn Meadery in Flagstaff, Superstition Meadery in Prescott and Arizona Mead Company in Chandler—first considered putting on a mead festival. When plans fell through, Drinking Horn owners Evan Anderson and wife Kelly Czarnecki reached out to independent event organizer Eva Rupert for help.
"I kind of brought the cider side of things in because I thought they just work so well together," explains Rupert. "They're both very connected to agriculture and environmental issues. Cider is dependent on good farming practices. It's dependent on pollinators, so it's really essential that we have a healthy environment to make both of these things."
According to the American Beekeeping Federation, crops such as blueberries and cherries are 90 percent dependent on honey bee pollination with almond crops completely reliant on them.
Workshops scheduled throughout the day add an educational component to the tasting event where people can learn about the basics of the fermentation process, backyard beekeeping, the history of mead and how to brew mead and cider at home.
"Every aspect of building an event has its own challenges and doing something that is so comprehensive, it's almost like doing multiple events all in one," Rupert says. "It's been a fun challenge. I really want the whole festival to kind of hinge on this sense of earthiness, wellness, with the fun of drinking and tasting thrown in there."
Alcohol vendors will include independent brewers as well as national brands such as Woodchuck, Angry Orchard and Smith & Forge ciders from Legacy Beverage. Each general admission ticket comes with a souvenir glass and 10 drink tickets for attendees to sample various meads and ciders and compare the subtle differences between mass-produced recipes and those created in smaller batches, a perspective Rupert says is important to have.
Arizona Sake Company will also be on hand with samples, making the festival's drink offerings completely gluten free.
DRINK LIKE A VIKING
Flagstaff's Drinking Horn Meadery began when Anderson and Czarnecki brewed some mead for their wedding. An overwhelmingly positive reaction and help from friends at Dark Sky Brewing Company led them to try their hand at a business. They began distributing out of a warehouse on North Grant Street in February 2017 before opening up a small tasting room at the front which is decorated with Norse runes on the menu board and drinking horns on tables to fit the Viking theme.
Though Drinking Horn's distribution range stretches across the country, everything is brewed and bottled in house by their modest staff of five.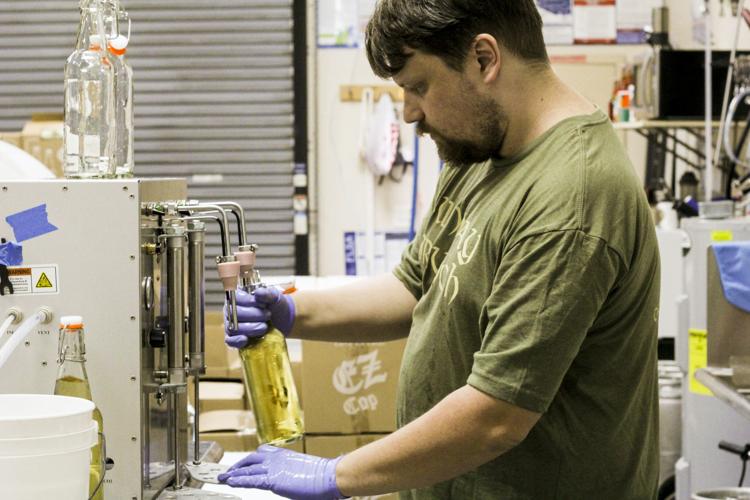 The brewing process starts out simple enough. Local Flagstaff honey from Mountain Top Honey Co. is combined with water and yeast in a recipe adapted from a traditional 500-year-old monk recipe Anderson found in a book. Many of the ancient recipes refer to a magic paddle used to mix the honey with water during the process. Modern brewers know now this paddle had yeast growing on it which worked its magic powers by turning the fructose and glucose sugars in the honey into alcohol. Drinking Horn prefers to stick mostly to tried-and-true techniques during the brewing process, and they use as much local and organic fruit as they can with no added sulfites as a preservative.
"We kind of wanted to keep it pure and they've made mead for hundreds of thousands of years possibly without ever having to use chemicals or anything like that," Anderson says. "There's no reason that we can't produce something commercially that's the same way."
Rather than using chemicals, Anderson and his employees developed a cold filtration process which strips the yeast out of the mead following fermentation and stabilizes the temperature enough to ship.
BUSY BEES
It typically takes about three pounds of honey to make one gallon of mead and about two million trips to a flower for bees to create one pound of honey. The unique pollen used to make honey adds floral or fruity notes to complement the flavors Drinking Horn brews. Most of their recipes use subtle wildflower and honey blossom honeys paired with fruits, but their coffee mead benefits from a complexity added by almond honey's deep, slightly bitter flavor.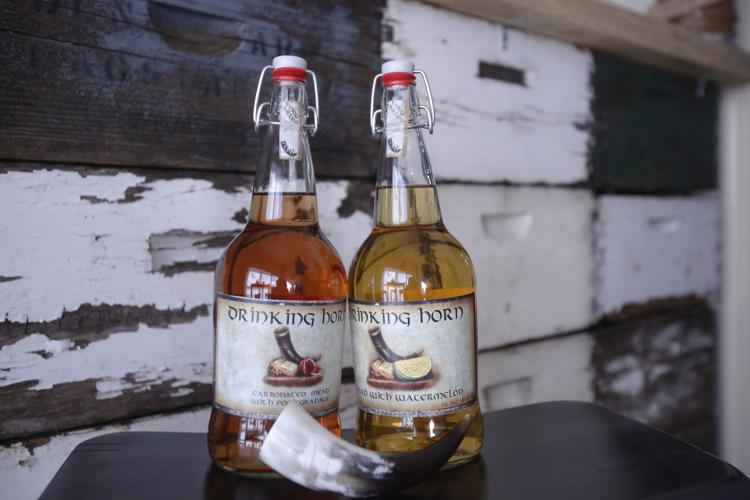 Drinking Horn's back room contains several 150-gallon tanks in various stages of carbonation and aging as well as a table full of five-gallon carboys full of experimental brews. These batches allow Anderson to play around with different ratios of honey to water and test different techniques before committing to selling a full batch.
One of these carboys has been fermenting for about a year. Food Network's Guy Fieri stopped by the meadery as part of Guy's Family Road Trip last summer to contribute a batch. Notes on the information sheet next to it suggest the cloudiness that has remained after the long fermentation is a sign the batch may have been contaminated. Unanticipated results aside, these experiments offer Anderson a chance to improve on the ways in which they brew mead.
"We learn every day around here," Anderson says. "Some people call those bad days, I call them learning days."
LOOKING TO THE FUTURE
As for the festival, organizers are looking forward to spending the afternoon sharing their passions with attendees and enjoying live music from Camino Alto, Slugs from Space, St. Range and The Land Lubbers. Period re-enactors from the Society for Creative Anachronism, Inc., will also be on hand to demonstrate Viking games, and food will be available for purchase from local food trucks Wil's Grill and Square Root Burger.
With the mead and cider industries' rapid growth, Anderson says he feels Drinking Horn got in the game at just the right moment and hopes the forward momentum will continue.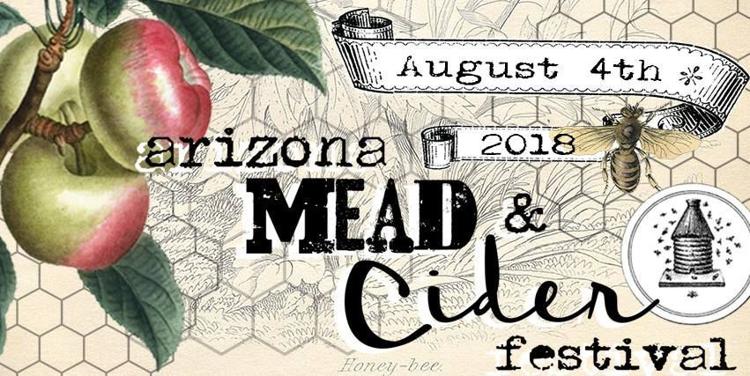 "We want this to be not just Arizona's mead festival, but the best mead fest in the west," says Anderson.
"This is hopefully the first of many years," Rupert adds. "I would really like to see this event become one of the cornerstones in the mead and cider industry in America. We'll get there."
The inaugural Arizona Mead and Cider Festival will be held Saturday, Aug. 4, at the Pioneer Museum, 2340 N. Fort Valley Road, from 1-5 p.m. If you were hoping for the VIP treatment with food pairings, early entry at noon and extra drink tickets, you missed the boat on that; VIP tickets sold out last month. As of press time, general admission tickets just sold out too and people have been placed on a waiting list. Next year's event is already being planned for Aug. 3, 2019. Find Arizona Mead and Cider Festival on Facebook for more information.