Northern Arizona teems with limitless possibilities to experience beauty and adventure, from wind-swept alpine escarpments to stunning canyon vistas to emerald creeks bubbling through verdant gorges. This isn't about any of that. This is a hiking guide for people who don't have a car, or who think nature is stupid, or who simply prefer the option of stopping mid-trail for a hamburger and a shot of whiskey—in other words, the urban hiker.  
We've strategically located the start of this route in the vicinity of Macy's, Biff's and Altitudes, for what we hope are obvious reasons. For fresh arrivals who don't drink booze in the morning: Macy's roasts their own coffee and it's delicious, but you have to wade through a literal sea of hipsters to get it. It is worth the struggle, but if struggle isn't your bag in the early morning the coffee at Biff's is also good, plus it comes with the friendly stares of more than 1,000 dead dogs. Bring cash.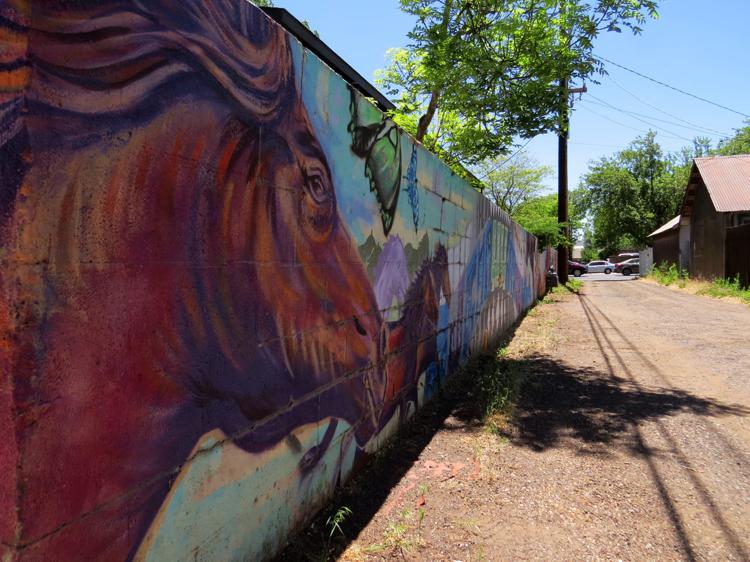 After you've filled up on whatever liquids and comestibles you prefer, head south for two blocks to your first destination: an untitled piece [1] created by the California/New York-based Trust Your Struggle and Alaska-based Native Movement Art Collectives in 2008. The approach to this first panel involves a seasonal water crossing in the form of a fan sprinkler with a devastating range and unpredictable swing. Given that the panel is dedicated to Native voices and experiences, it is fittingly hidden away from downtown Flagstaff's primary thoroughfares.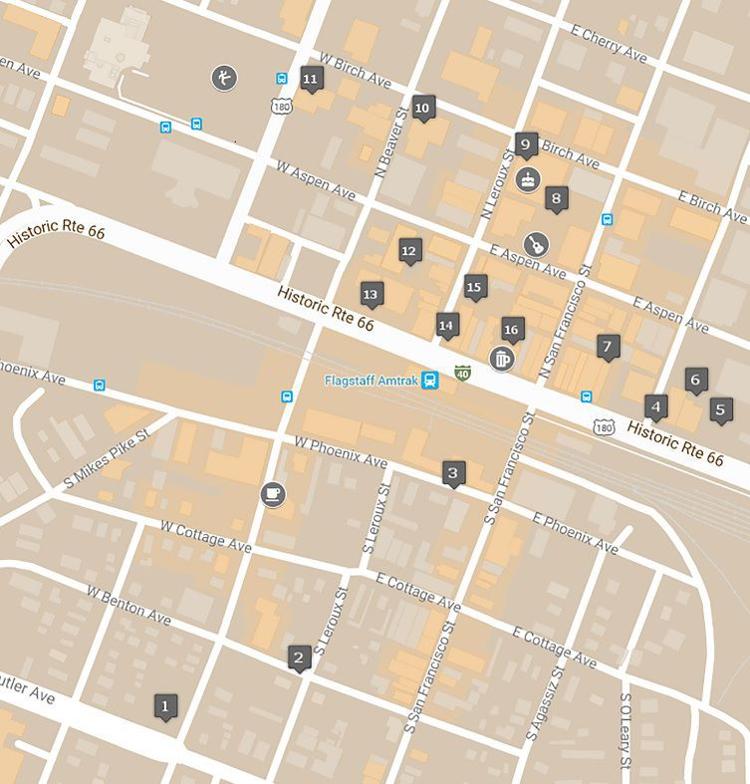 From there, proceed around the corner to Leroux and a curious piece titled simply Leroux Street Mural [2]. Painted by the Black Sheep Art Collective in 2008, it depicts a lovely juxtaposition of elements of human diversity, including the types of trees, trucks, buildings and even a flowing river that one might find in New York City with a subtle hint of desert aesthetic in the background.
Continue northward up South Leroux for two more blocks until you more-or-less walk straight into an enormous series of panels [3]. Titled Mother Myth of Route 66, it was painted in 2013 by the Mural Mice, consisting of R.E. Wall and Maggie Dewar. It depicts the 60-year history of Route 66 in roughly 10-year intervals, with each of the six panels displaying the major theme from that particular decade. These include westward expansion and "settlement," the All-Indian Pow Wow that brought thousands of people to Flagstaff every Independence Day, the cultural upheavals of the '60s and '70s, and the demise of Route 66 in the '80s. Satirical little Easter eggs abound.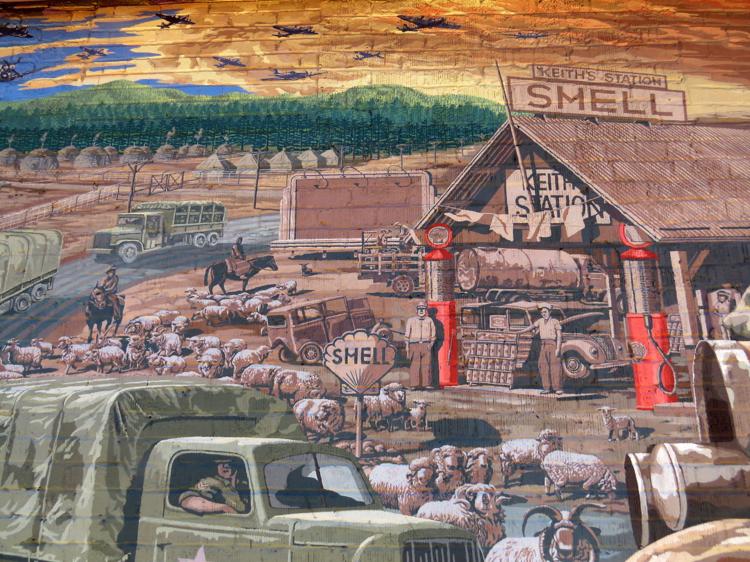 After musing overmuch, and undoubtedly parched by the dual forces of sunshine and gentrification, head north on South San Francisco across the perilous gauntlet of the tracks. Since you will almost certainly have to wait for a train, keep your eyes peeled for transient murals painted on the sides of the cars.
One block east of the crossing is one of the biggest and most beloved of local panels, playfully titled All From a Moment Alive [4]. It was painted by local artist Lyle Motley in 2007 and is so large that it may be easier to view from the Arizona Music Pro parking lot. This is a profoundly cute mural, infused with such childlike sweetness that you almost don't notice the mastery of its execution and the sly detail. The mural is so fluid it almost appears to be moving as the central cyclist wobbles along with his eyes closed, oblivious to an observer peeping out from a nearby car.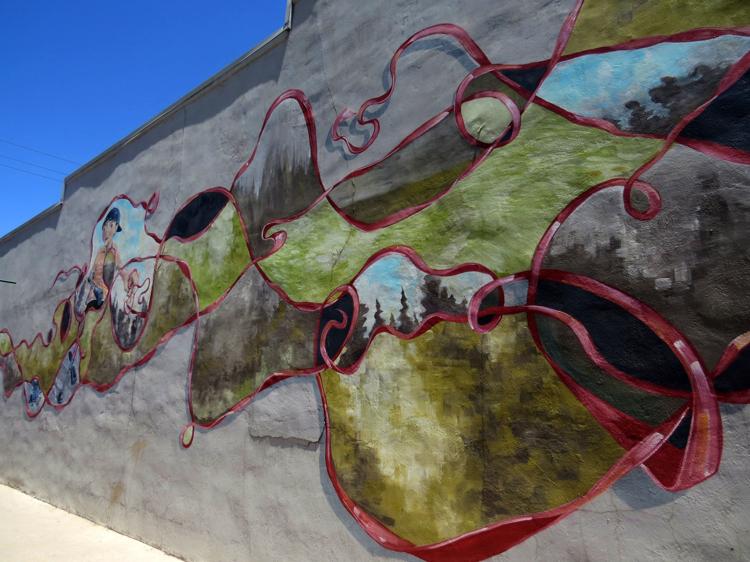 If you head around the corner to the northeast, you'll first pass by a neat little piece that's called simply The Runners' Mural [5], painted in 2013 by Kate DeCiccio. It graces the back of Run Flagstaff and is one of precious few modern paintings that demonstrate diversity without being heavy-handed about it.
Keep walking past this piece and around the corner, and you'll find a jungle of automobiles—as well as an enormous and eye-catching mural by Sean Griffin of Oakland, California, called Among the Trees [6]. Careful eyes will notice an unexplained set of initials painted in the lower right-hand corner. These commemorate the passing of an employee at the adjacent Babbitt Ford, a longstanding Flagstaff business. Legend has it the employee succumbed to a heart attack in the building and haunts it still. 
From here, head across North Agassiz and down the alleyway beside The Green Room to the center of that block. This is "mural alley," [7] so-called because the businesses surrounding it curate and encourage the artwork that festoons the walls. There are at least seven major panels here—Green Car Company, by Kory B.; Aspen Machine Murals, by Black Sheep Collective; two major untitled pieces by Gilbert Parra and Kayley Monster; and a major piece installed within the last two weeks by Chip Thomas (aka Jetsonorama, who was featured in a PBS special in June that everyone should watch)—as well as a smattering of smaller elements.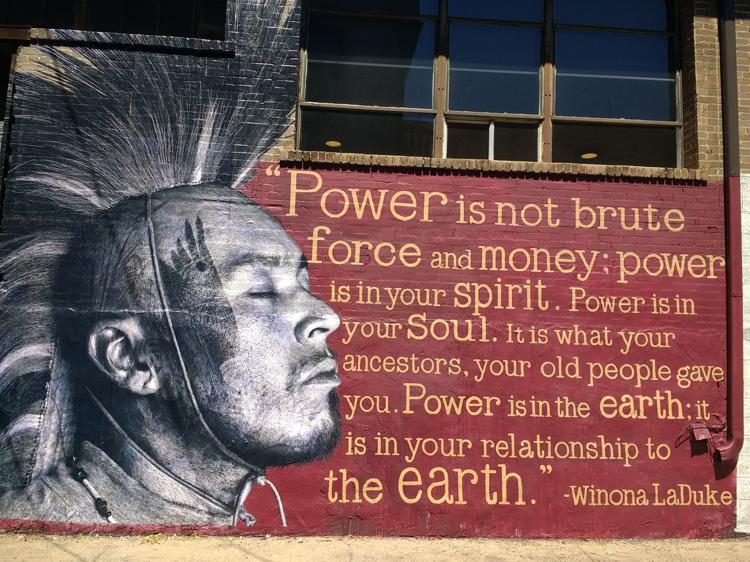 Hopefully you've worked up an appetite, as you are now entering Flagstaff's main artery for eateries. Head north for a block and then across Heritage Square at a roughly northwest-trending angle. You will most likely be asked to sign a petition, 30 or 40 times. Nestled in the northwest corner of the Square you'll find a curiously designed, bizarrely tiny shopping mall that includes a variety of food outlets, book-ended on the southeast and northwest ends by a pair of murals by famed artist Joe Sorren. There are literal books devoted to Sorren and his work, so all we'll say about the man himself is that he's almost alarmingly nice and can play a mean stand-up bass. The painting on the northwest end [9], painted in 1992 when Sorren was about 20 and before he developed his distinctive style, is called The History of Flagstaff. If a high school textbook could paint a mural, it would look like this one. By contrast, the other panel, painted almost a decade later and known as The Veridic Gardens of Effie Leroux [8]—with no relation to the historic Leroux for which the street is named or, indeed, any relation to what could generously be called "reality"—shows Sorren at his absolute best.
The next stop [10] is another piece by Sean Griffin, displaying yet another small window into the sylvan paradise you were probably expecting when you saw the words "hiking guide." Like Among the Trees, it is often obstructed by cars, but if you catch a sweet spot when neither the tattoo shop nor the Indian restaurant is busy you might be able to take in most of its graceful sweep. This mural seems to invite the viewer to walk right through it into another world, like Alice with her looking-glass, although if you try that here you'll likely be cited for public intoxication.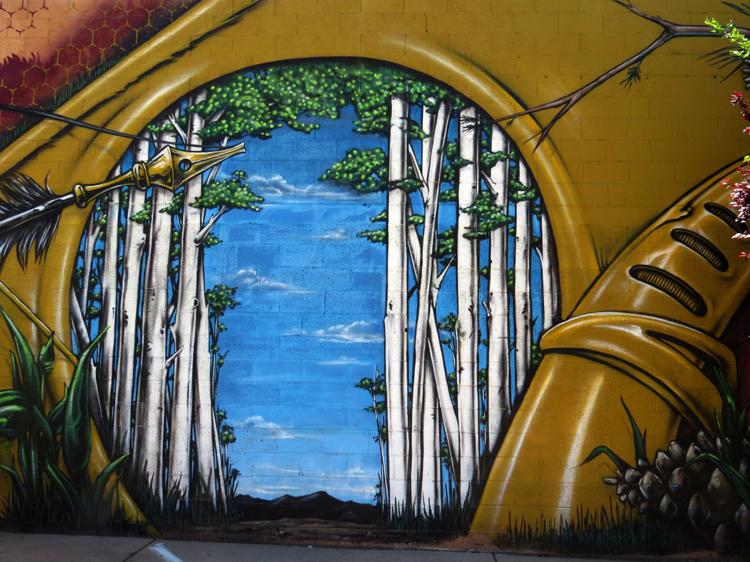 Just on the other side of this building is Sky Black's recent addition to the downtown scene, Learning to Fly [11]. Painted entirely with a brush and palette, it depicts a young girl, modeled by the artist's sister, seeming to rise up and out of the street below. Though mostly obscured by her hair, her face wears a bright and knowing smile. Birds and geometric patterns form a rainbow across the panel, while a solar eclipse is traced just behind her. It was financed by a Beautification and Action Grant just last year. 
Speaking of flight: on the east-facing exterior wall of the Orpheum Theater is an enormous panel entitled The Sound of Flight [12], although you'll also hear it called The Orpheum Mural and occasionally That One With Michelangelo's David But With A Bird Over His Junk. This is currently the largest mural in Arizona, coming in at a robust 4,500 square feet. It was envisioned and painted by Sky Black with help from The Mural Mice. It shares the same disconcerting psychedelic detail as Learning to Fly, casually transitioning from the Grand Canyon to what looks like an Absurdist checkerboard dance floor. Like most of the Mice's work, The Sound of Flight includes its own bevy of Easter eggs, including a flying squirrel, a hot air balloon ride gone wrong and some very elusive ladybugs.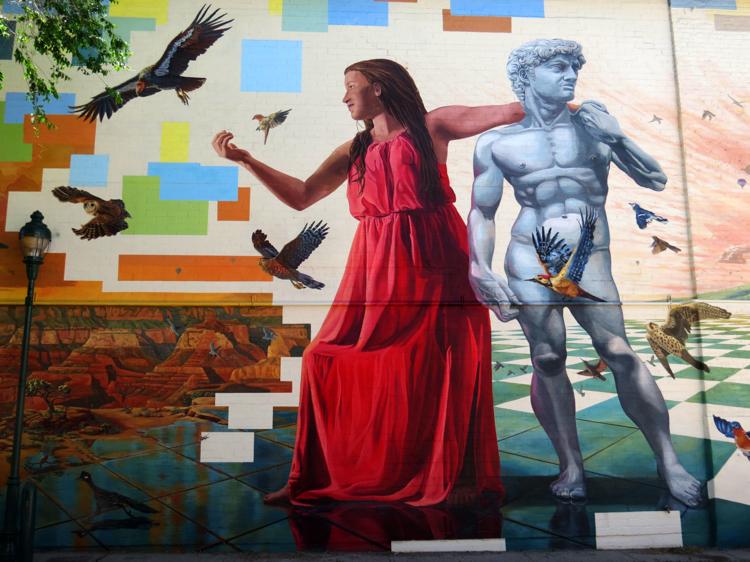 Not far from this is Mancuso's Boots [13], which some may consider visiting before the paint peels off for good. This mural was painted by local artist David Grandon on behalf of the German International Adventure Society in 2002 to honor photographer and river guide George Lamont Mancuso. However, if standing in an awkward space between two parking lots on a hot summer day doesn't sound appealing, you can always visit it the way many people visit the Grand Canyon: by glancing at it from within a car.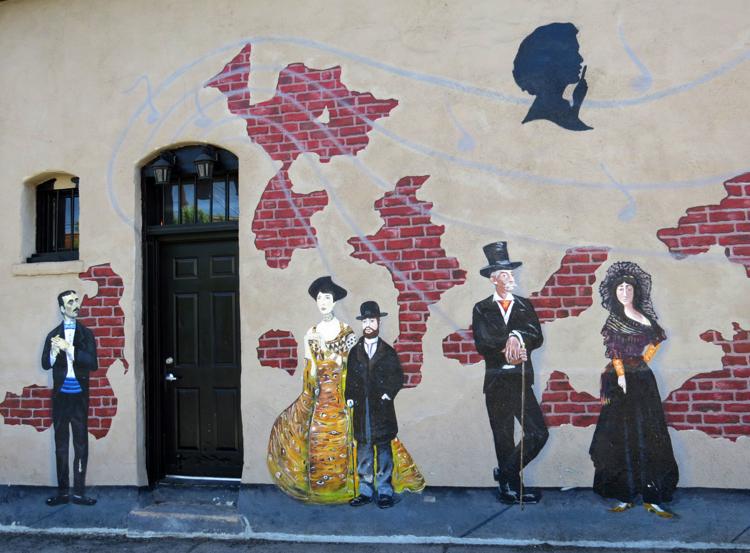 Heading toward your ultimate goal, you will pass the Piano Room mural [14]. Painted on the back of what used to be the Speakeasy Bar in 2010 by Ricco DiStefano, the mural depicts an assortment of delightfully anachronistic characters leaning together while a shadowy cameo gives a sultry "shhhh…" above them. The angle of the painted floor versus that of the real world might throw you off-balance, so keep your distance. Directly across from this delightfully stylized depiction of a bygone era is the True Blue NAU panel [15], painted by "Mural Joe" Cornelius in 2008—presumably on commission.
Angle through the converging alleyways before you, and you'll arrive at your final destination: an unnamed stage mural [16] on the patio at Flagstaff Brewing Company. A delightfully psychedelic piece, it was live-painted during a concert in 2012 by Furtherrr Collective artists Damon Soule, Oliver Vernon and Mars-1. Check out some of Furtherrr's other creations on their website if you have the time and aren't on heavy medication.
You can make the hike into a loop by returning to your starting point, but we recommend lingering there instead—especially if you're keen on observing local wildlife. With the passing of Mia's and The Mogollon, Flag Brew has become the de facto watering hole for many downtown types. Be respectful of them and their dwindling habitat.