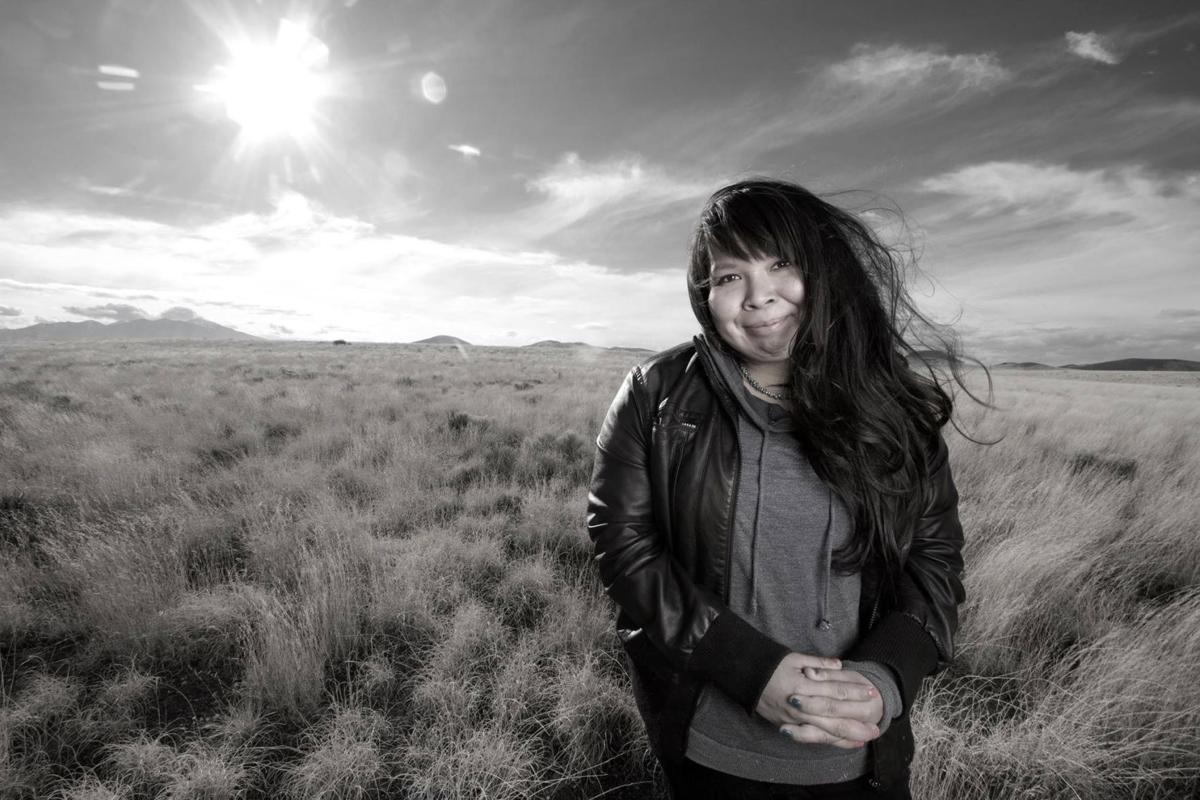 "Logic will take you from A to B. Imagination will take you everywhere." This Albert Einstein quote begins the film Imagine, directed by local filmmaker Deidra Peaches in 2007 for the National Museum of the American Indian's showcase "Thanksgiving Revisited: New Views by Young Filmmakers."
Deidra Peaches is a director, producer, editor and co-founder of Paper Rocket Productions LLC. She is a self-taught, full-time Diné filmmaker. Born in Flagstaff, she is of Todích'íí'nii (Bitter Water) born for Lók'aa' dine'é (Reed People).
"That was the first film that I directed and produced and put together. I had different kids exhibiting their imagination through props," Peaches says. "What I was thankful for was imagination. If you can dream it, you can make it happen. That's always what's captivated me and allowed me to pursue telling stories."
Imagination spans more than just the arts. It is a constant, it enables our existence and challenges us to continue creating. Peaches finds that imagination is also fed by others, allowing collaboration to be a key part in the creative process.
Peaches says, "I like hearing ideas of the people as passionate as you are and talking stories out. Throwing out ideas and building from there. It does take a person to be a catalyst for it—when you act upon it, it's a whole different perspective than to just talk about it. I like being a catalyst for that art. I like asking questions on how to get it to happen."
Not only does Peaches see the need for acting upon it, she also hopes to dismantle the idea of hierarchy in filmmaking. No role is smaller than the other—everyone is important to the production of a film.
"Between giving people different positions like gaffer or director, what I want to do is create an even, creative playing field where no one's higher than the other person. That's kind of deconstructing that central hierarchy that's been embroidered in it for a long time."
Peaches facilitates youth workshops, much like the kind she had found herself participating in such as Outta Your Backpack Media, an Indigenous youth workshop and resource distribution. She encourages experimentation in people's work, whether that is with equipment or storytelling through teamwork.
"Communication and teamwork is a big component to filmmaking that I appreciate and love being a part of. As artists starting out, it's always good to have the ability to explore other regions that could be interesting. That strengthens your own work. Experimentation is crucial for imagination."
Peaches and Paper Rocket Productions have tackled topics ranging from parental abandonment to water rights to representation of Indigeneity to COVID-19. Being an independent filmmaker doesn't limit her passions. Peaches says it's about community and connection to her own community that has led her to her passion.
"As cheesy as it sounds, I use my gut and heart. It's all coming from a place of love and hurt. With artists, that's where our energy and inspiration comes from—our emotions."
During her time spent filming, the importance of environmental issues and social injustices resonates for Peaches.
"These are factors that are impacting people whose voices aren't being heard. Filmmaking harnesses that ability to hear people's voices and project it," she says.
The rapid rate in which digital storytelling can be communicated through social media and other online platforms allows Peaches to look backwards to move forward. There's been so much change that filmmaking has allowed her to capture different moments and movements in time. She's trying to enact change by showing others her time capsules. This has always been a progression.
"These are little capsules of time. It [the film subject] existed within this time, but it's a time capsule you can refer back to. There's a lot of power in that ability to show time on that scale," she says. "In a span of 10-plus years, there's been an evolution of people speaking Navajo and the depletion of people speaking in Navajo. I just want people to have a glimpse of how people were interacting at that moment. You can see a difference in the past four years in administration and in the prior administration."
In creating a believable, life-like landscape and atmosphere, it takes a lot of teamwork and collaboration to create one reality.
"Filmmaking is an art, from the color palette to sound. As a filmmaker, you can have all this pre-planning with narratives and with documentary, [but] the art itself is being there with the subject," Peaches says.
The feeling of community while on set is a special experience for filmmaker. Peaches found this experience in Alaska as families and community members came out to dance, as well as during filming with different tribes in Bears Ears.
"Being in spaces that felt sacred, you could feel that there was a vibe that everyone was tapped into and resonating in that space. Being able to witness life in its most pure form—seeing the clouds, landscape, the lighting and the people—watching it all work together and being in that space with those people. Those are the spaces where I feel like it's really good to be alive and here and documenting."
For those wanting to become filmmakers, Peaches suggests starting with anything that can record, which includes a cell phone camera or even an iPod Touch. Finding what you want to film is important to your style of filmmaking. From there, you can move onto learning fundamentals.
Peaches says, "Ask questions. There are a lot of resources online available. Reach out to people like me and others. There's a lot of people that have done this work for a while and are willing to communicate and educate others."
Margarita Cruz holds an MFA in Creative Writing from Northern Arizona University. She serves on the Northern Arizona Book Festival board and as editor-in-chief for Thin Air Magazine. Her work has been featured in The Tunnels and Susquehanna Review, among others.