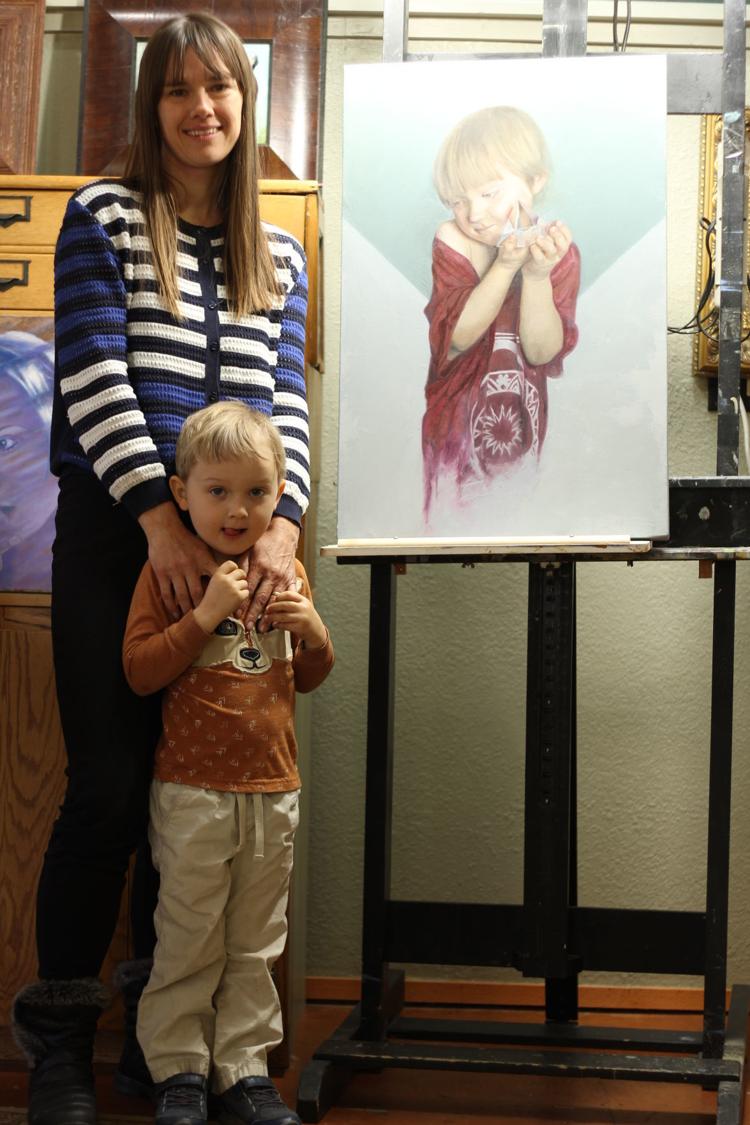 Living in the midst of the largest contiguous ponderosa pine forest in the country, Flagstaff artists are anything but short of natural inspiration. This is most evident in works of wildlife artist David Lash and his oldest daughter Rayonna. They both speak modestly of their paintings yet with a clear passion for the craft at the same time.
After making the switch from abstract to realism three years ago, Rayonna aims to convey the beauty of the world and how childhood can represent the loss of innocence, with her 5-year-old son Rapha the subject of many of her pieces.
"I think it's very interesting that he has no frame of reference when he looks at the paintings of himself," says Rayonna. "His sense of beauty is so simple and in the present moment and it doesn't come, thankfully, with that sense of loss or pain, making him medicine for the adult in me, but it's that kind of beauty, the beauty that comes with knowledge of the world, that I want to express and connect to in my paintings."
In What's Essential is Invisible, Rapha is frozen in time with his hands raised to his mouth and a sense of wonder in his eyes. Rayonna uses these portraits to note the preciousness of time and the tendency to not realize that until it has passed.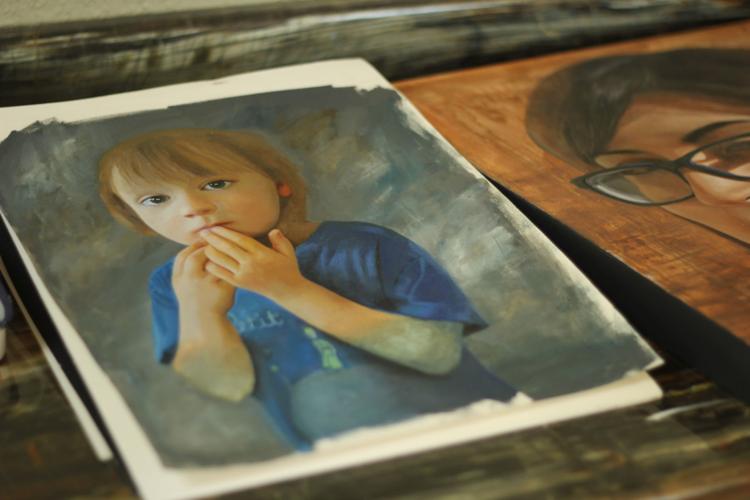 "I think when you get to be a parent and kind of relive your own childhood, but from a different perspective, you really see it," Rayonna says. "When you're a kid you're just in it."
"If you look at our art that way, our art is our children," David adds. "We create this stuff but then other people come with a fresh pair of eyes to look at it and, therein, that is the double-edged sword because I know what I want people to see. Do they see it? I have no idea."
As ideas are put out into the world, they no longer belong solely to the creator and become open to critique and analysis from outsiders. Others use their own unique experiences and perspective to create meanings, and while those interpretations shift with each observer, there's still the hope that strangers can connect with the desired message.
In David's painting Conspiracy of the Game, two wolves emerge from the woods as the forest floor transforms into a large chessboard taking up the foreground. A rusted trap is strewn in front of them.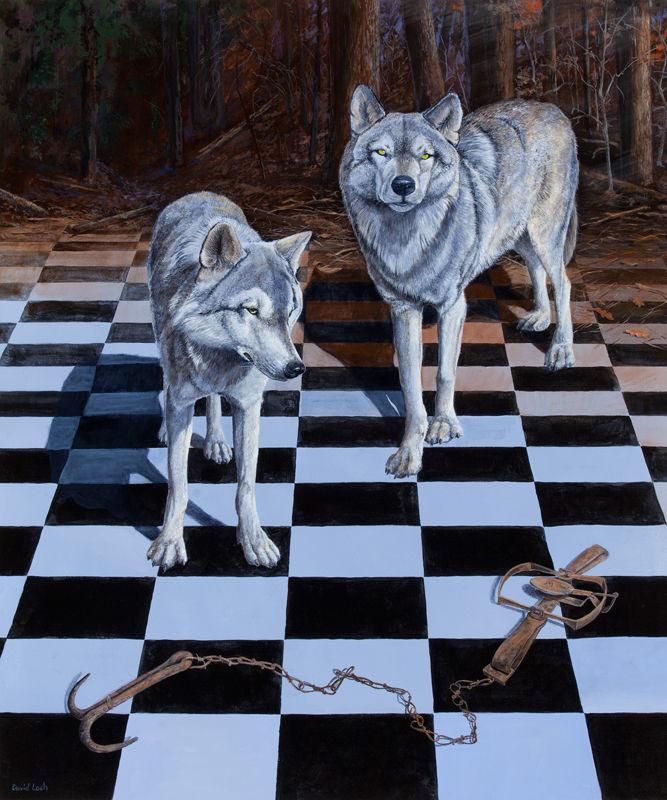 "A lot of people look at that and say 'That's so negative,' but in the background there's this fence that's been destroyed because the forest is taking over this foolish game that we play," he explains. "Everything's so black and white, and it causes us to be so polarized. It's just foolish."
Many of David's pieces ask why our capacity for empathy shouldn't also extend to animals.
In his Shareholders series, he depicts animals in a camaraderie generally not seen in nature. One of the paintings shows a mountain lion with a barn owl perched on its back, a yellow swallowtail butterfly and desert hare resting on a rock with a hummingbird flitting through the air.
While he tends to focus on realistic wildlife paintings, David is quick to say he doesn't limit himself to that realm. He experiments with abstract and contemporary styles within his career. For many years he was also a high school art teacher and taught Rayonna in one of his  classes, instilling in her the skills necessary to be successful in a competitive field.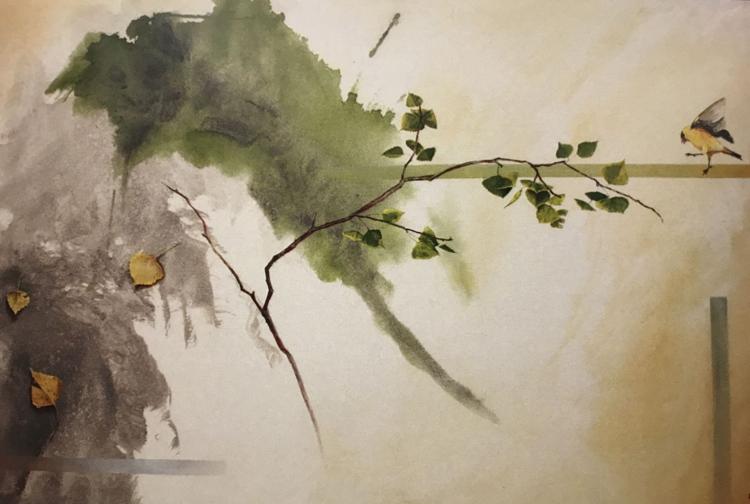 "Her mother is a painter, her sister is as well, but I don't believe it's genetic as much as it is nurtured," David says. "I have no talent whatsoever. Both of us have very strong work ethics though, and art is the hardest of work.
"I've tried teaching adults, and I'm a miserable failure at it. They want to learn how to draw, but they will not put in all the hard work it takes to learn how to draw. They try it a couple times and then say they can't even draw a straight line. Well, I can cure that right now," he says, walking over to a nearby table in his studio and picking up a ruler.
Rayonna says she paints a minimum of four hours each day, although, as the mother of a young child, her amount of free time can vary.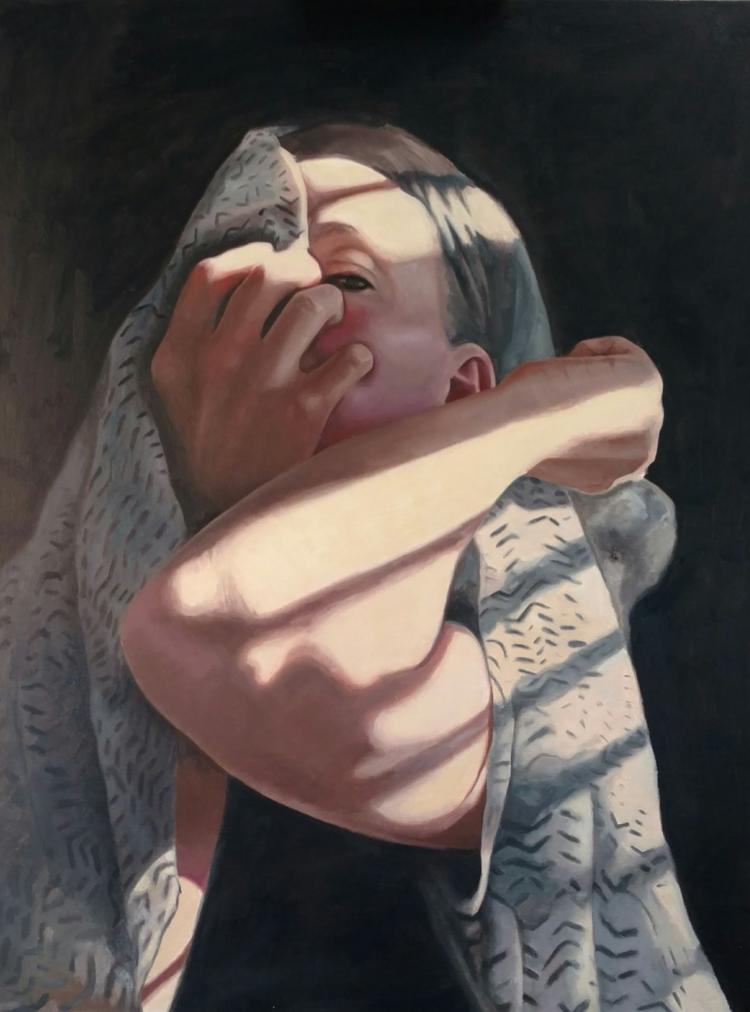 A recent addition to her home near Mount Elden is a small art studio she helped her dad build two summers ago. She had previously been working out of a makeshift studio in her upstairs master bathroom because of the soft natural lighting and ease of cleaning, but she says having a separate space dedicated to painting has been very inspiring for her creative process.
"My dad has things he wants to accomplish, he puts a lot into his painting career, so to ask him to take several weeks off in the summer," she says, trailing off. "It was an amazing gift from him."
The studio out of which David works next to his home in Mountainaire is also self-built. It features large windows facing the surrounding woods where squirrels peer inside and birds meet at their wooden houses to feast on seeds. Deer skulls and various other animal bones on the window sills and outside the door are reminders of his former self when he pursued bow hunting as a hobby, one he gave up at the age of 23 when he killed his final deer after five years of being a vegetarian.
"I looked at that buck with an arrow in its heart, desert gravel in its mouth, and I thought, 'I am doing this for recreation,'" he says. "I don't need the meat. I always gave the meat away, but that didn't justify it."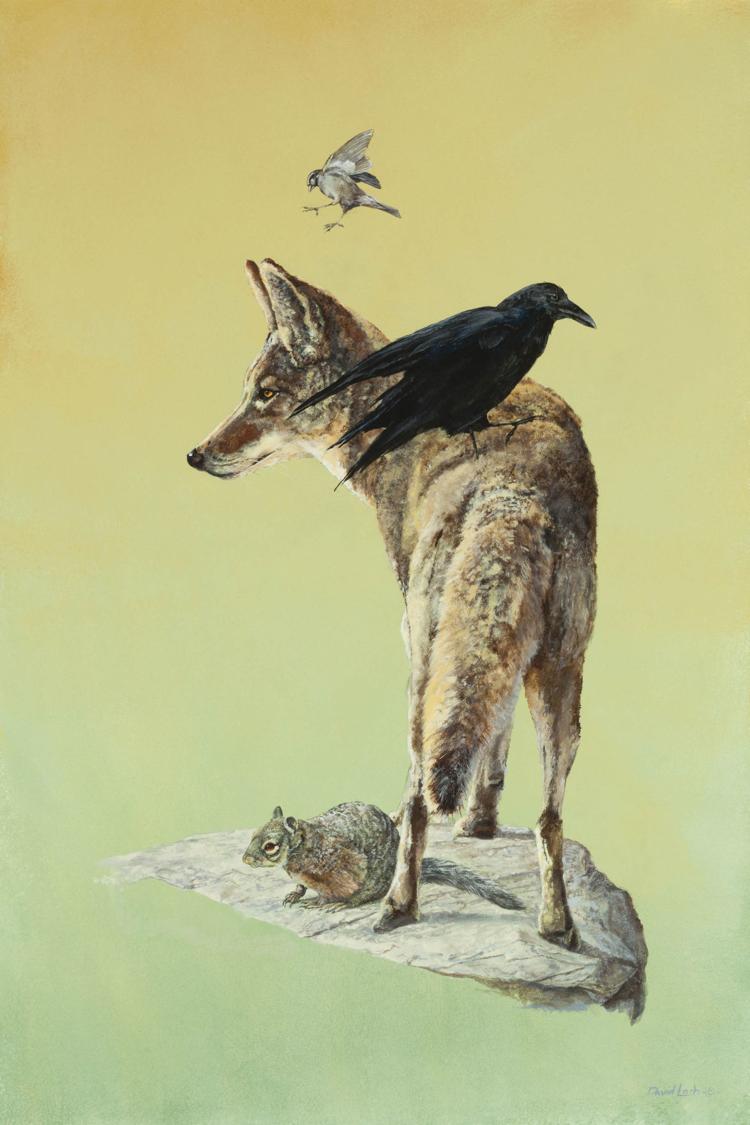 Vacillating between following a vegetarian and vegan diet for the past 50 years, David instead prefers to paint the wildlife he encounters, saying, "I don't paint animals I don't know."
David has raised his children with that same love and appreciation for the quiet nobleness he found in nature years ago when he traded in his bow for a camera.
"I am a student of mindfulness and meditation, and I think my first teacher was my dad," Rayonna says. "I can distinctly remember him getting me up while camping at 5 a.m., and we would stalk deer simply as a way to appreciate life. I felt so alive, and I felt such a sense of stillness and belonging."
She continues to seek out that stillness in her art. Painting becomes a sort of meditative state as she is absorbed in the brushstrokes and blending of colors while listening to lessons on self-awareness and meditation from teachers such as Gil Fronsdal and Joseph Goldstein.
"It's so different," she says of working with oils compared to quick-drying acrylics. "It still is so vivid and rich and beautiful, but it's slow, and I think that's what I like about painting."
Like father, like daughter—the reason to create comes back to understanding nature and being one with the world.
David recounts a story in which he got lost during a bicycling trip along 600 miles of back roads from Flagstaff to Steamboat Springs, Colorado, to visit his stepdaughter. He got lost twice; once on Black Mesa in the Navajo Nation and once on the Book Cliffs in western Colorado.
"It was a wonderful feeling," he says. "I was having an adventure; I was an animal again."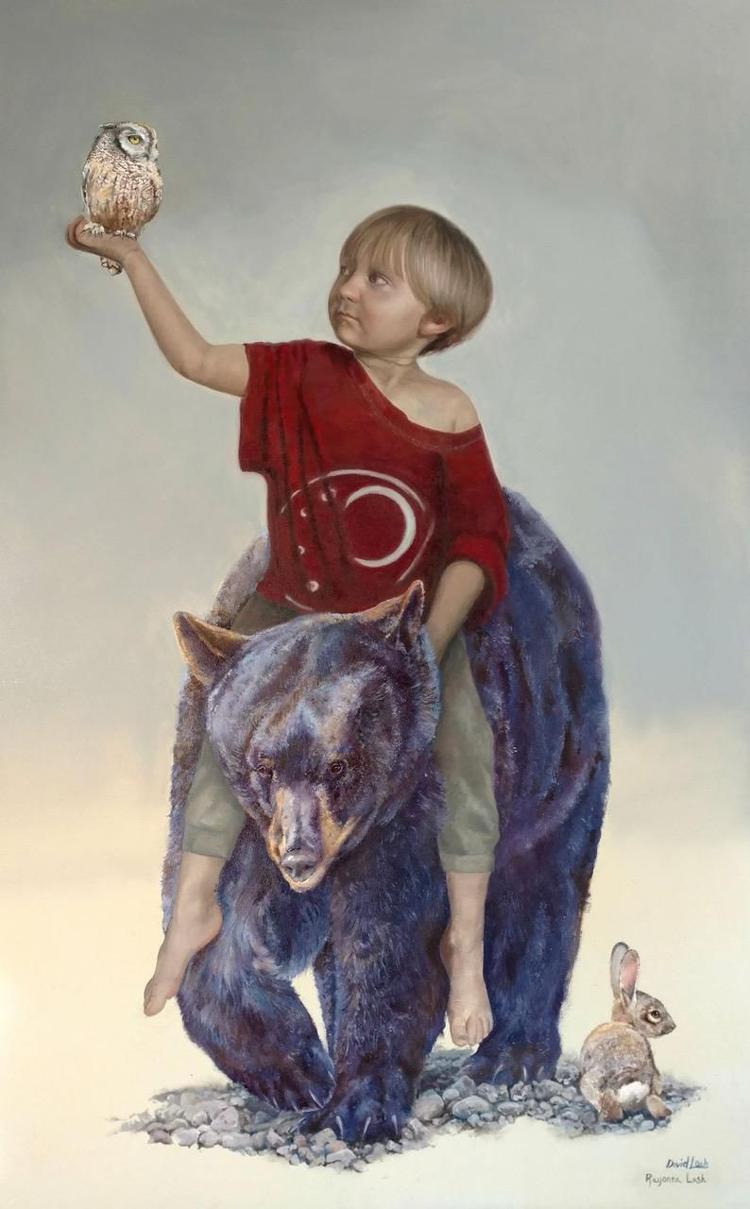 His love for animals is translated into light brush strokes to create the texture of fur and feathers, and he argues there's beauty in every creature; even though humans may struggle with a deep-seated fear of snakes or coyotes, they still deserve respect.
In combining their passions for their upcoming art show, David and Rayonna celebrate all forms of life. They will be showing their individual artwork and debuting a collaborative piece featuring Rapha riding a black bear to demonstrate the oneness of humans and nature.
David and Rayonna Lash's joint art show, Blood, Paint and Tears, will be on display at Criollo Latin Kitchen, 16 N. San Francisco St., through the month of May. It opens Friday, May 4, as part of the First Friday ArtWalk. Visit www.rlashdesign.com and www.davidlash.com for more information about each of the artists.