"I hate when people tell me anything is possible," Erik Weihenmayer says. "The barriers are real. They're real things with real substance that actually hurt a lot."
On a rocky beach at the bottom of the Grand Canyon, Weihenmayer sits in a kayak and reaches to the side to find his helmet. He misses at first but then feels it behind his hand. Although he's blind and can't see the path of the river, he sets off on a journey to kayak the Colorado River with a team, taking on its world-renowned whitewater rapids as every barrier, every twist and turn is presented to viewers in The Weight of Water.
"This is one of those projects that comes along and becomes so much more than just a job," says Harlan Taney, local river guide and founder of film production company 4 Corner Film Logistics.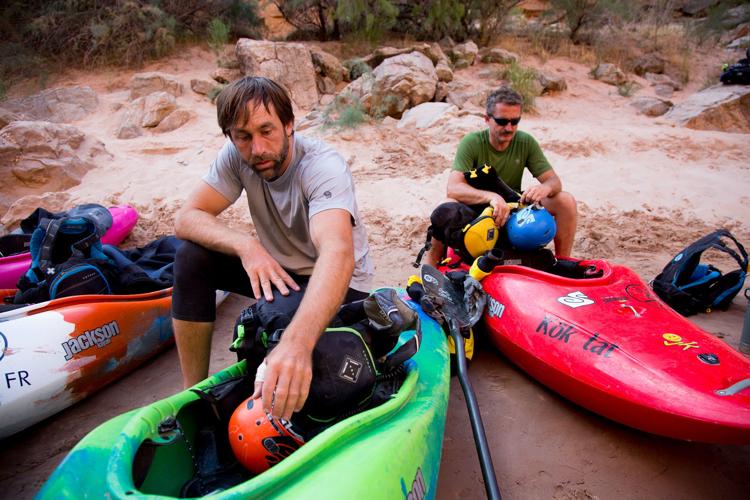 Directed by Emmy Award-winning filmmaker Michael Brown with help from river guides and a film crew that became family through the process, The Weight of Water is an adventure documentary that looks at bigger themes than those of athletes accomplishing extreme feats and the overwhelming grandeur of nature.
"What Michael Brown has done is he stepped away from another film that's not just another extraordinary person doing something extraordinary, it's tapping into the vulnerabilities of the characters in the film," Taney says. "These are real people with real problems they've had to overcome in their lives, and I think that's a relatable element of the film that people can tap into."
At the age of 4, Weihenmayer was diagnosed with a rare eye condition called retinoschisis in which the retina separates into two layers. Between one in 5,000 and one in 25,000 children are affected by this and, because of the risks, he wasn't allowed to play high-contact sports or do other activities that might result in a head injury that could cause him to lose his sight faster.
By his freshman year of high school, Weihenmayer was fully blind. Instead of being petrified by the darkness though, he took it as an opportunity.
"The gloves were off and I could do anything," he says.
He joined his high school wrestling team and soon discovered rock climbing, an activity which offered a static surface for him to explore. In 2001, Weihenmayer became the first blind person to summit Mount Everest, and, by 2008, he had completed the Seven Summits, climbing the highest mountain in each continent and wrapping up a journey that began in 1995 when he summited Denali. When he turned to conquer the challenge of kayaking in his 40s, he says it presented a significant learning curve.
"You're like a rag doll, you just have to figure out how to react, and how well you react determines how you get through that section," he says. "You have to actually paddle aggressively, work with the force."
While other sports like skiing had presented him with a change from the rather stationary environment of rock climbing, kayaking was even more disorientating. Crashing waves would buffet him on the river and there was the all-too-real possibility of his kayak being flipped upside down. Although he had traversed the full length of the Colorado several times before, this would be his first time in a solo kayak.
"Kayaking is, for me, as much about letting go," Weihenmayer says. "Harlan would be like, 'You have to trust the river, not see it as this energy that's trying to slam you into the wall.'"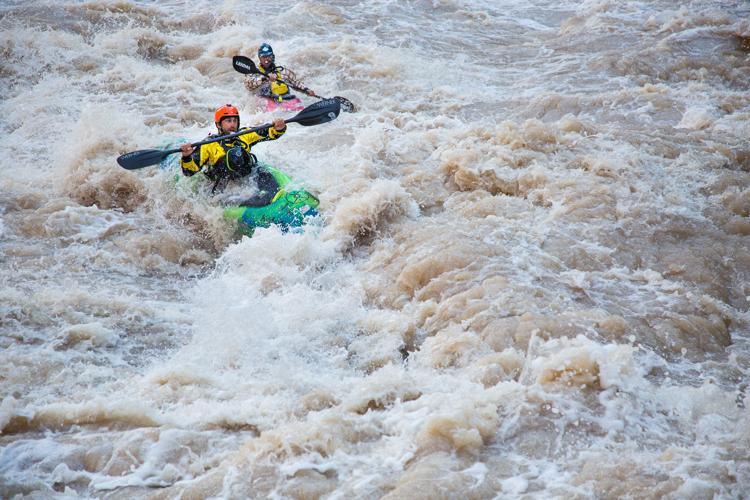 "Any kayaker that has done enough will tell you kayaking is largely a mental game," Taney says. "It's really easy to be intimidated, influenced and then you lock up and you stop. But you have to surrender your place to some degree in the rivers, find peace and just kind of focus in on the moment that you're in. That was probably one of the biggest things that I saw with Erik through the course of the journey, the struggle with just being OK with what was happening.
"I've kayaked all over the world and experienced a lot of my life through my paddle strokes," he continues. "But I think at this point in my life, paddling in this sort of scenario with somebody like Erik, it completely removes you from your paddling and you're so focused just on their well-being and where they're at in the river and what's about to come their way."
You have free articles remaining.
When approaching whitewater rapids with the roar of waves waiting to knock one off course, a little fear is expected, but Weihenmayer was eventually able to overcome that and let the river lead him as it may.
"A lot of times you're so wired and don't even remember the rapids," he says. "The fear would sort of get pushed to the peripheries, time slows down and you're really connected to the river."
Outside of the heart-pounding rapids, however, the peace and beauty of the river were conveyed to him as well, providing him with a vivid sense of place during the 21-day expedition. Taney served as Weihenmayer's eyes, paddling just off his stern during the rough areas and giving him directions.
"I spent a lot of time with Erik communicating through our headsets when we weren't on the rapids, telling him how the light was bouncing off the water and the glow of the orange walls was reflecting through the small ripples in the water, explaining to him the different geologies we were going through and taking the time to stop so he could feel it," Taney says.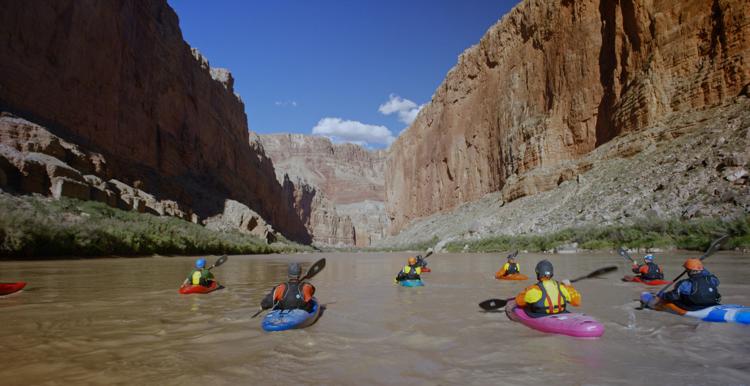 Born and raised in Flagstaff, Taney says he's proud of and hopes to connect to the community through the outdoor opportunities the area offers.
"The talent that is in this town is phenomenal to me," he says. "From the impressive elite athletes to artists to aerials, there are just so many people with incredible, exceptional skill sets, so I like to be able to tap into that."
He handpicked the river team to join Weihenmayer and some of his own crew and worked closely with Arizona Raft Adventures to make sure the guides involved were flexible to the nuances of the river trip as well as the filming and editing process. Each participant brought a varied skill set to the expedition to ensure any emergency troubleshooting would be possible with limited resources. And that's part of what 4 Corner Film Logistics was built on, with most projects based in remote locations like the Grand Canyon or Vermillion Cliffs or in underground caves.
Taney has been a Grand Canyon river guide for almost 20 years and says when he realized the power of film to shine a light on environmental issues, he set out to inspire others to care about these outdoor spaces as much as he did.
"As artists you, through the lens, capture a place in such a way that people feel connected to it, they feel invested in it, and hopefully you can create armchair conservationists," he says. "Even if they will never be there or experience it themselves, they understand the importance of place."
In between adventures, Weihenmayer is a motivational speaker, and that's at the heart of why he takes on these challenges, why he understands that barriers are real but so is his determination.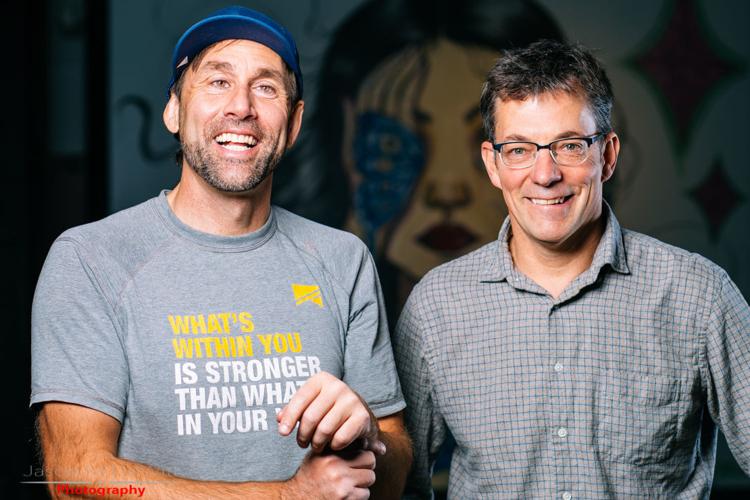 "If this film can plant a seed in one or two or a hundred individuals that might get them to be inspired to do something they've always wanted to do, [that's the goal]," Taney says. "And it could be anything from exercising and getting fit to wanting to climb Mount Everest. The scale is really not important, the important thing is to just see that it's possible, and it's within all of us."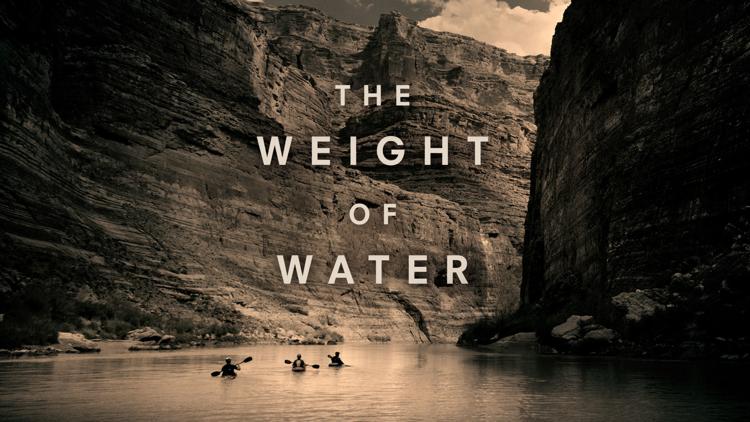 The Weight of Water will screen at the Orpheum Theater, 15 W. Aspen Ave., on Saturday, Feb. 16, at 8 p.m. as part of the 2019 Flagstaff Mountain Film Festival, which runs from Thursday, Feb. 14, to Sunday, Feb. 17. Passes are $40 for the general public and $25 for students. Session tickets are $13, $10 for students, $5 for ages 12 and under. There will also be a free talk at Bright Side Bookshop, 18 N. San Francisco St., Saturday morning from 9:30-11 a.m. with director Michael Brown and members of his team including Harlan Taney. Visit www.flagstaffmountainfilms.org for the full festival program.