"Each of us is more than the worst thing we've ever done."
—Bryan Stevenson, Just Mercy: A Story of Justice and Redemption
Affixed to fencing and barbed wire on the north wall of the Episcopal Church of the Epiphany, artwork by current and past inmates gives us a glimpse into the lives of human beings beyond their circumstances: "Although I'm in the prison system, I'm not of the prison system," one artist writes. In the newest Open Doors: Art in Action exhibit, Locked up: Pain and Resilience, inmates are given a voice not often heard despite being relatable to many who have experienced sentencing themselves or who have a loved one in the system.
The United States has the highest incarceration rate in the world, and it's largely the individual states that are burdened with the cost of accommodating these growing populations. State expenditures on corrections grew from 6.7 billion in 1985 to 59.8 billion in 2017, according to the National Association of State Budget Officers. Even for those who make it to release, recidivism rates nationwide show 76.6 percent of people returning to state prisons within five years as outlined in a study from the Bureau of Justice Statistics.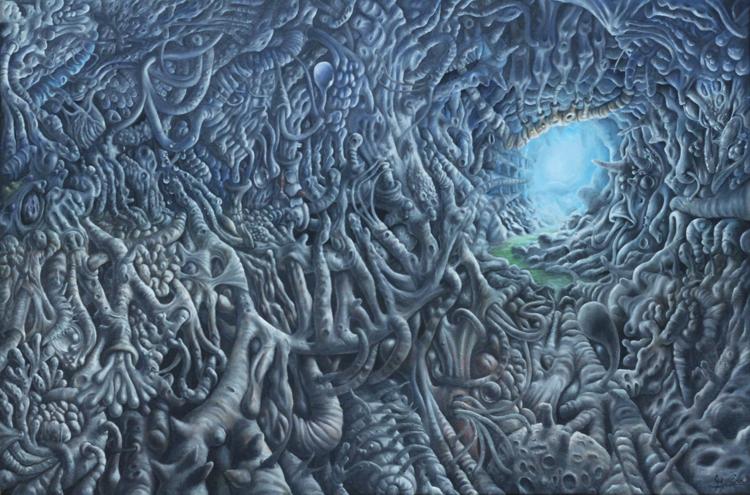 This is an issue close to Art in Action organizer and committee chair Sue Norris, whose late son Aaron served time in various facilities before being released around five years ago.
"It brought a lot of it back," she says. "He was in five different yards, moved around a lot, and, you know what's interesting is when they're short-timers like that, they don't give them programs. It's just locking them away, especially if they have a mental health issue."
Norris reached out to Wendy Jason of Washington, D.C.-based nonprofit Justice Arts Coalition to send out a call for artists to participate in the exhibit. Inmates from five states are represented in Locked Up, along with statements about their art and their regrets.
Prison reform has been a growing focus nationwide, but many inmates are still not receiving the help they need, which can lead to more issues. The exhibit is dedicated to Norris' son who died Oct. 10, 2018. Lyrics from his song "Homecoming" are on display and describe some of the feelings left in the wake of his incarceration: "I still battle demons there/ those monsters day and nightlong/ Now all that's left is memories/ and all I've got is this song."
"I really feel like it was the nail in the coffin for Aaron. I think he just kind of gave up and didn't believe that society had a place for him anymore," Norris says. "He did his music the best he could, he did a little writing, but basically he just didn't believe that he could make it. If he would have gone to the Recovery Court or the Mental Health Court the first time, it would have been a whole different situation."
In Coconino County, resources like Recovery Court and Mental Health Court provide persons charged with criminal offenses access to support groups, pro-social activities, intensive probation oversight and more that can help them integrate back into society following their probationary period. Recovery Court has served 816 people since 2001 with a 78 percent graduation rate, and, in 2016, 17 percent of new participants had jobs upon entrance to the program. When the class graduated roughly a year later, that percentage had risen to 89.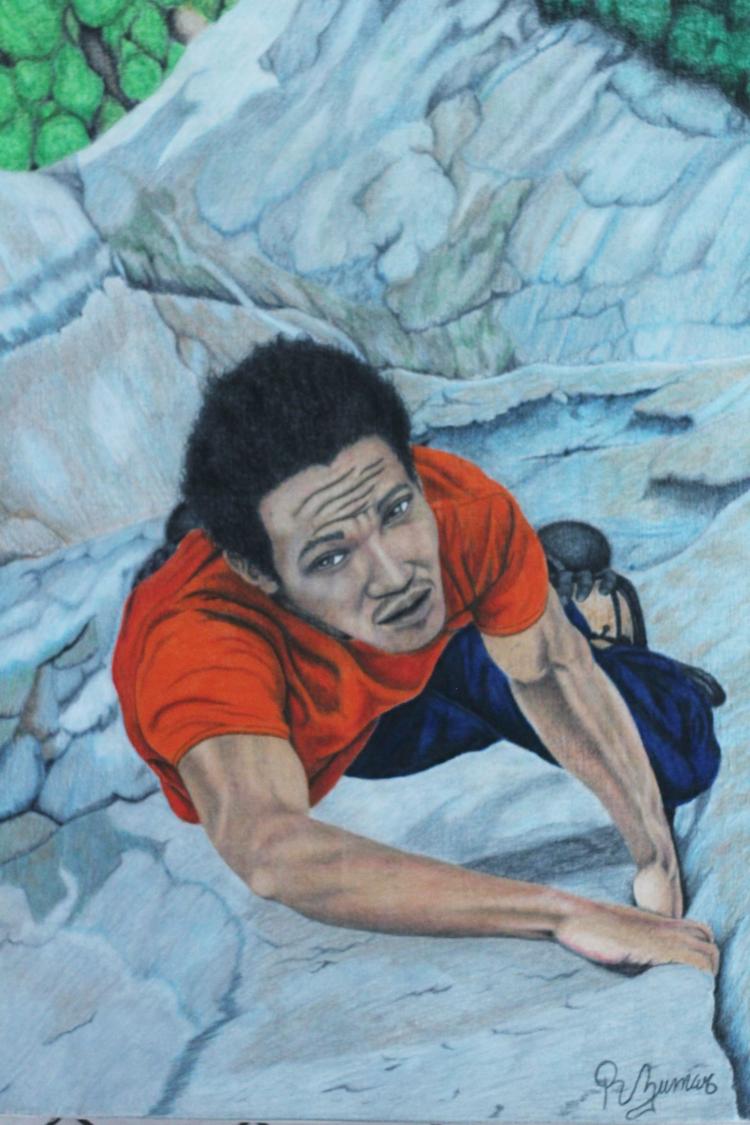 Inmates dealing with addiction can also receive help through the in-house alcohol and drug treatment program Exodus, and Fresh Start teaches life skills for re-entry into society. Classes have been taught by volunteers from The Literacy Center since 2012, covering topics like writing successful cover letters and studying literature and poetry.
"It's been shown to greatly reduce recidivism. That's been our motivation for doing that and hopefully giving them information so they can improve their circumstance when they're released," says executive director Dianna Sanchez.
In one testimony on display in Locked Up, 34-year-old Hector explains he grew up in a good home, but the neighborhood was full of violence and drugs. Quality education, he says, was a pipe dream for many.
"Re-entry has given me the time to read the very first book of my life," he writes.
You have free articles remaining.
Register for more free articles
Stay logged in to skip the surveys
"If the support is there and offered, they're able to reach these goals and achieve these things that weren't possible before," Sanchez says. "When we're at the jail, we really encourage inmates to come to the Literacy Center when they're released. They'll be on probation and continue to come to the Literacy Center to do amazing things like get their GED and find employment.
"It's something we really believe in and we're really proud of," she continues. "We're grateful for the program directors in the jail to allow us to do this. Education is a powerful thing to be able to offer populations who haven't had the privilege or access to it in the past."
Fresh Start also offers cognitive-behavior therapy and a direct link to the Goodwill Career Center on East Route 66, which helps released inmates find jobs and housing.
"Our jail is really a leader in the state with positive programs," Norris says. "There's a lot of junk that goes on too, but you can see that there is an effort."
From January 2018 to September 2019, 329 inmates completed the voluntary seven-week program, with 39 returning to the jail on new charges. A report from the Coconino County Sheriff's Office further outlines the benefits, with 80 individuals receiving assistance from Goodwill upon release, 56 gaining employment, 63 receiving assistance with clothing and 127 being given bus passes.
While people remain locked up, however, making art is a form of escape and they learn to work with what they have to create something beautiful, whether it's making Prismacolor pencils pop with oil worked on a bed sheet or using toothpaste to glue curled up pieces of paper together in quilling projects. Brian Hindson reimagines his mundane surroundings in Yazoo City, Mississippi—a stark prison yard, a toilet used for washing clothes or making hooch—as vibrant paintings, shades of blue, yellow and red taking the place of bleak gray concrete.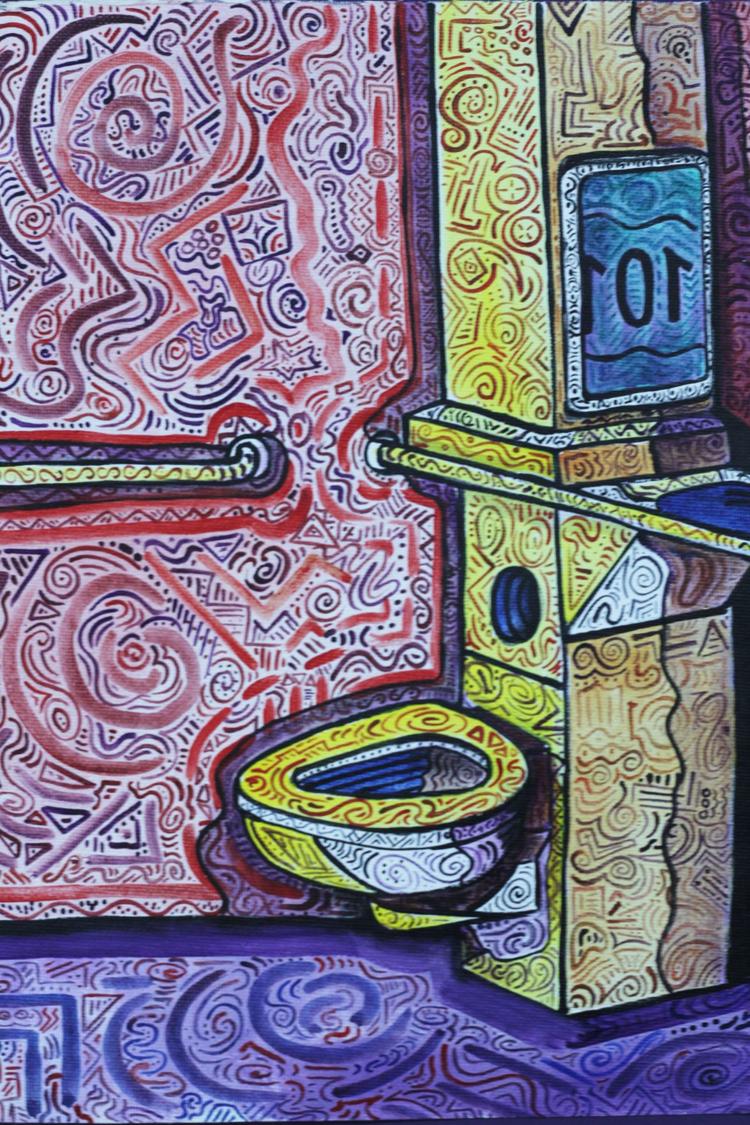 "Recently moved to a prison where there are no trees and no view but walls and concertina wire," Hindson writes in the description of "The Yard." "One must find beauty any way you can."
Many of the works in the exhibit are available for purchase, with money from sales going to the inmates' family members to help pay for legal fees or be added to commissary accounts.
A new addition to Art in Action exhibits is a community book club that provides an extra layer of meaning to the art on display. As a complement to Locked Up, Bryan Stevenson's 2014 memoir Just Mercy: A Story of Justice and Redemption describes the events that led him to found the Equal Justice Initiative, a nonprofit that provides legal representation to those who may have been wrongly convicted of crimes, in 1989. The power of this sort of advocacy to encourage second chances cannot be overstated.
"A lot of these people up on the wall, they're in for 30, 35 years, but their art is not really dark," Norris says. "I think what we're seeing is the resilience of the human spirit, we're seeing change and positivity that's coming out of a very negative experience."
In one section of the exhibit, 3D art is displayed in a glass case with soap carvings, weavings and more created as credit toward community service hours for those on probation. Misty Rivera-Carter teaches arts and crafts to fellow inmates in Arizona State Prison Complex - Perryville's Santa Cruz yard.
"It helps keep me positive," she says. "My end date is 2031 and I hope to continue teaching quilling, drawing, painting, etc. when I am released."
Still, there can be no denying the lasting impact prison can have on those for whom the light has yet to appear at the end of the tunnel. Gary Harrell is represented in the exhibit with a print titled "Grave Digger," in which a man steps on a shovel, driving it deep into dark soil. Currently incarcerated in San Quentin, California, most of Harrell's immediate family has passed away. His only surviving brother was diagnosed with cancer.  
"I haven't been there for any of them," he writes in his artist statement. "I have been locked up for 42 years, for giving some people a ride. I am 64 years young today and would never wish this on anyone. I always recall my mother saying, 'Son, prison is easy to get in, but hard to get out of.' No truer words have been spoken to me to this day."
Locked Up: Pain and Resilience is on display at the Episcopal Church of the Epiphany, 423 N. Beaver St., through Dec. 7. During the First Friday ArtWalk Nov. 1 from 6-8:30 p.m., Khalil Rushdan will present "People not Prisons," featuring stories by representatives of the ACLU Smart Justice Campaign, the Justice Project at ASU and Arizona Faith Network. There will also be live music by Brad and Deb and refreshments. Regular gallery hours are Tuesday-Friday, 9 a.m.-noon and 1-4 p.m., and Sunday from 8 a.m.-12:30 p.m. Call (928) 774-2911 for more information.