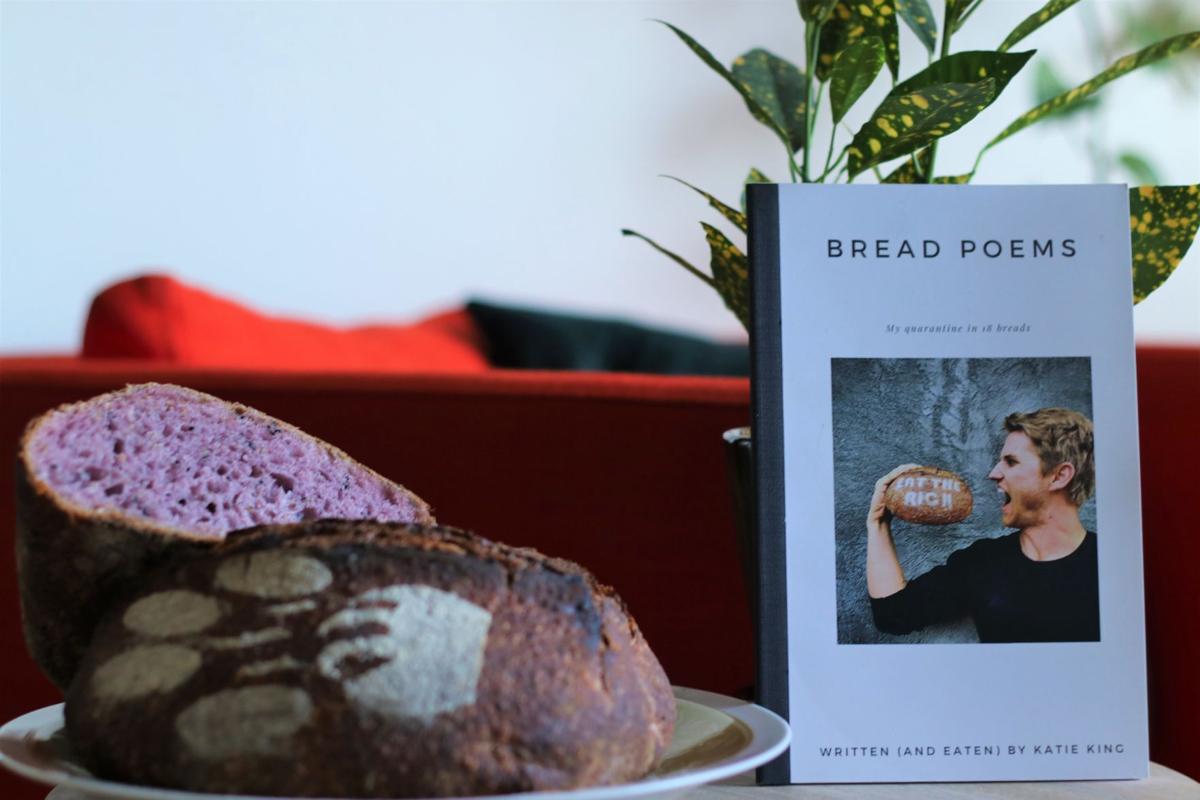 In the early days of the COVID-19 pandemic, many scrambled to find routine following abrupt cancellations of arts events and the temporary end of in-person shopping and dining. The humble loaf of bread provided a challenge for new home bakers as social media feeds were filled with complaints of flour and active dry yeast shortages, or photos of successful sourdough starters and rustic loaves.
But home baker Adam Neisen of A Dog's Walk Bakery has long perfected the art of baking unique sourdough loaves, crisp crust surrounding soft chewy insides. As routine was disrupted, writer Katie King turned to ordering new items from the bakery to find inspiration. The result is "Bread Poems: My quarantine in 18 breads." Although slim, the volume carries heavy emotions and epiphanies sparked by hearty ingredients that make up offerings like the Kalamata sourdough loaf or the lemon turmeric poppy seed scone. Flagstaff Live! talked to King about her inspirations.
Flagstaff Live!: As you note at the beginning of your chapbook, many people turned to baking bread to relieve stress during the early weeks of quarantine. What comfort do you feel bread provides, whether in baking or eating?
Katie King: Comfort is an art. The art of being able to comfort another person is a skill I've only really been able to find done well by my mother, and sometimes bread. I found more comfort in thinking and writing about the bread than the eating of it. I've always found it hard to simplify and bread helped me do that. In the poems I am a food critic, but one coming from an emotional perspective—talking about how the ingredients hit the senses more than the taste buds. Taste is complex and emotional. It is informed by experience and mood: where you eat, with whom, when. I wanted to talk about food by using life experiences instead. 
Imagine you were at a restaurant and you ordered, not by the menu, but how you wanted to feel. The waiter would take your statements like, "I feel like I need some confidence." "Take me back to my childhood." "Less Anxious," or, "In Love," and then they bring you something delicious and meaningful. I'd like to eat at a place like that. 
Bread is something that stays the same in a world of change. It has always represented stability and sustenance—and even spirituality. 
Rather than an eat-to-live perspective, I come from a write-to-live one. 
How did you decide to write a collection of poems surrounding A Dog's Walk Bakery?
I just had a lot to say about it. My partner was also a fan and we had a lot of conversations about it. Adam's menu gave us a fun way to share and connect rather than talking about COVID. He'd ask me, "What did you write about this one?" Which was fun because we have very different tastes. You know, it was either look at all the rising COVID numbers or, "Hey, what kind of bread do you want to order this week?"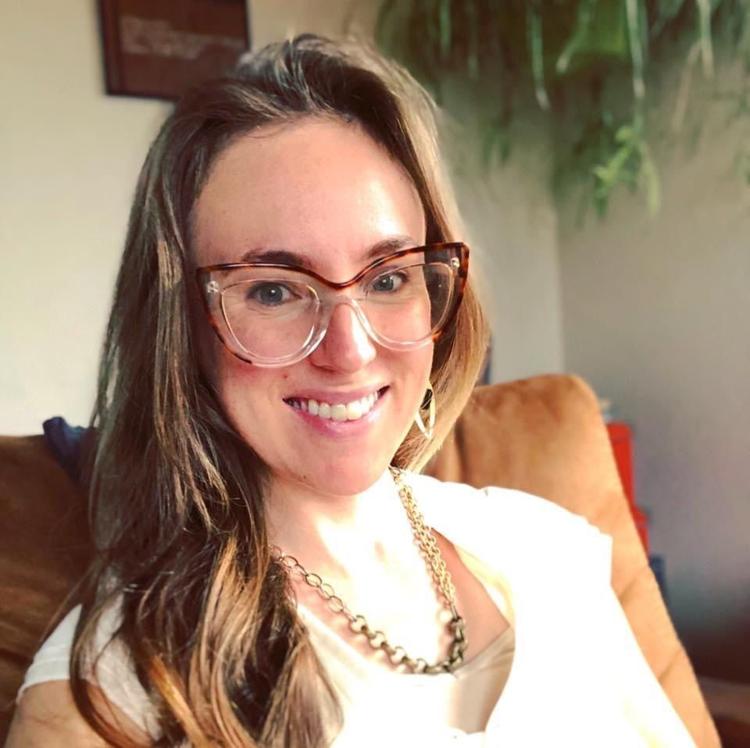 I also align with Adam politically and appreciate all he has done to donate to social causes and speak up, sometimes literally as his bread often speaks humanitarian sentiments with its crust. It gave me a form and structure. It helped me cheer up. 
I had heard about Good Boy: My Life in Seven Dogs by Jennifer Finney Boylan on NPR. I wondered what my seven dogs would be and then I found it in my 18 breads. 
I found the menu uplifting and inspiring, artistic in a way as it seemed like the bakery was sort of bursting at the seams to make unconventional combinations. I'm more into exploring new things I've never tasted before than repeating recipes or getting lost in nostalgia. It was instant content creation as the titles of the breads wrote themselves and remained my final draft titles.
I miss the NYC food scene and how you would hunt for unknown hole in the wall eats. When I first read about A Dog's Walk Bakery in Flag Live! last December it made me excited that Flagstaff was doing something that could provide me with that big city fix—as contradictory as that sounds being a home bakery—but NYC was like that, little homes and micro-communities all smooshed together, weird little haunts or experiences popping up all over the place. 
Can you recall the first time you tried one of Adam's loaves? What was that experience like?
My son was a picky eater at the time and I was just overjoyed to find something that delighted him. A 6-year-old with his own loaf of purple bread to devour at will is a big deal. It was something to look forward to when I picked him up from school. When I paid Adam via Venmo it was easy to have my son just walk out of the car to get the bread and feel special doing it (often getting an extra cookie or sweet from Adam when he did). I remember being surprised by the taste and texture of the bread. The ingredients sometimes sound hearty or intimidating but the loaves are humble and undemanding. Each one is so different. 
How has this routine of sampling the bakery's menu improved or otherwise shaped your quarantine?
With COVID, I didn't have my typical places to rush off to in my normal hyperactive lifestyle so I found that I was, along with many extroverts, uncomfortably still. All this big stuff was going on in the world and I thought, OK, this is a lot to handle. Think small—what do I have control over? The bread down the street seemed much more manageable. My brain could process that at least. And it got me out of the house. 
You have three poems dedicated to the white corn green chile loaf—what drew you to this one in particular?
Yes, I wanted to capture why it was familiar. It may be strange to say that this loaf reminded me of my mother but it does. She is from South Carolina and had cornbread at the table a lot growing up and then adding the green chile seemed to echo her choice to raise me in the Southwest as she moved to the area when she was 25. She loved Cajun spice and flavor, salt and butter, pepper and tabasco. I can see this bread going well with her black-eyed pea and ham hocks soup and wish I could share it with her. 
This line in particular from "Turmeric, Chai, Rye, and Pepita" stood out to me: "There isn't time for dabbling or dainty dances around your dreams, or walking around when you don't know where you are." It feels in some ways that the pandemic has shown people there's no time to be uncertain and allowed them to take more risks in their personal lives. How do you feel the pandemic has affected your world view?
Thank you. I've had that world view since my brother and mother died. It's possible the pandemic has shown people to use their time differently, I've certainly heard that—realizing that home may be more important than the workplace, looking deeper into the way they treat their families or finally beginning to explore their emotions at 40 because they are sort of forced to.
Also the question of what would "forever" look like if we actually had it to spend with the people we've chosen to live with? Would they want to spend it with us without all the breaks of pre-COVID life? What matters, what doesn't, etc. How do our children see us dealing with conflict? Depression? Because there are a lot less hiding places these days. Whether hiding was your workplace, your affair or even the ability to make a phone call without four people hearing it. My privacy is in my writing and I sort of stopped doing as much since March. I wasn't living with an artistic family so I felt judged and was embarrassed to sit down and put my thoughts on the page for hours. Which is exactly what I need to do as a writer.
But since we are still in the thick of a pandemic, I don't think I can tell how the pandemic has affected my world view until it's been a few years and I'm looking back on it. 
Where can people find your chapbook?
Brightside is carrying it! Bookmans too. I love their commitment to local literature. They really need our support so please thank them for all they have done to keep great books in the hands of locals during 2020! 
Be the first to know
Get local news delivered to your inbox!