In a small log cabin on the property of the Arizona Historical Society Pioneer Museum lean 21 panels, still in storage before being trucked to Flagstaff City Hall for their month-long stay as part of the Resilience: Women in Flagstaff's Past and Present exhibit. On these 6-foot tall rectangles are both text and image, chronicling the lives of 21 women and non-binary people who were either born in Flagstaff or once called it home. Their lived experiences, condensed into black-and-white photographs, ephemera from high school years, a ring, a bible, a majorette outfit, span more than a century. What ties each individual together is struggle and perseverance; though their stories differ, the shared thread of adversity faced connects each person featured in Resilience, forming a large and complex web between them.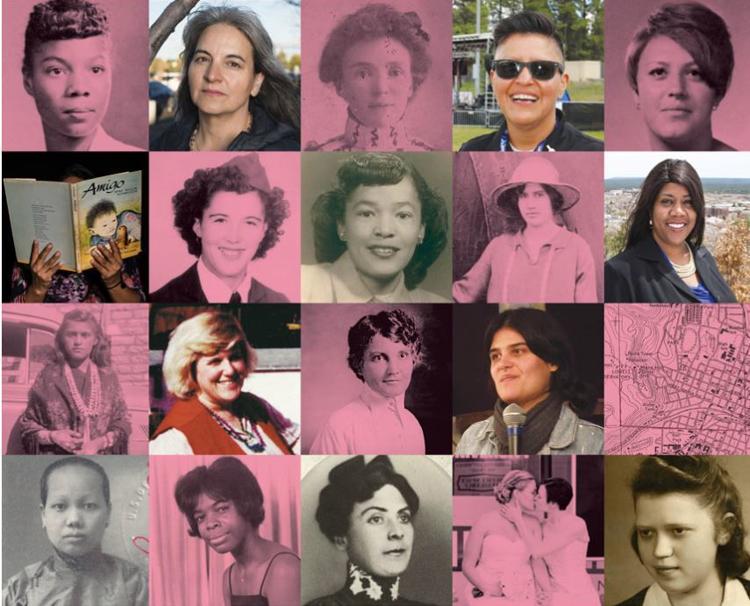 "We decided resilience would be the theme and we wondered what that would look like here [in Flagstaff]," says Bill Peterson, vice president of collections and education at the museum.
The exhibit was born, as many things are, with a question—one that can be traced back to Mount Elden Middle School in 2014.
"Do you have anything about me?" a young Latina student asked Peterson that year. The question brings forth issues that cultural institutions across the globe are reckoning with. That is, who is represented in a museum, who writes that history and what populations are being left out of the narrative? Often the answer is people of color and women, who are repeatedly and continuously pushed to the sidelines of history. 
"Resilience is part of that initiative we started in 2014 to make sure that everyone in Flagstaff could see themselves in the historical narrative," Peterson says.
The exhibit was still an idea a little over a year ago when Peterson approached Northern Arizona University's Martin-Springer Institute. Björn Krondorfer is the director of Martin-Springer, which organizes educational programming on the Holocaust and current situations of social injustice, and saw the idea as fitting with its mission. The two organizations put their proverbial heads together and decided the exhibit should in-part be student-led. That translated to opening an application to NAU students interested in helping to compile the project. For two semesters, a handful of them conducted oral history interviews and dove into research about Flagstaff's women, past and present.
"Museums and exhibitions are slowly coming to terms with the fact that for decades the stories of only a small sample of the population were collected, archived and displayed. Curating 'hidden voices' and 'difficult knowledge' is now a larger trend in the public mandate of museums," Krondorfer says. "It is only in the last years, for example, that nation-wide we have created a museum of the African American experience [in Washington D.C.] and the harsh history of lynchings in Montgomery. Women have always been part of the social and political fabric of the Southwest—it is about time to bring them into light."
"Clearly, many more women deserve to be in this exhibit, and we have collected a longer list of other names," he adds.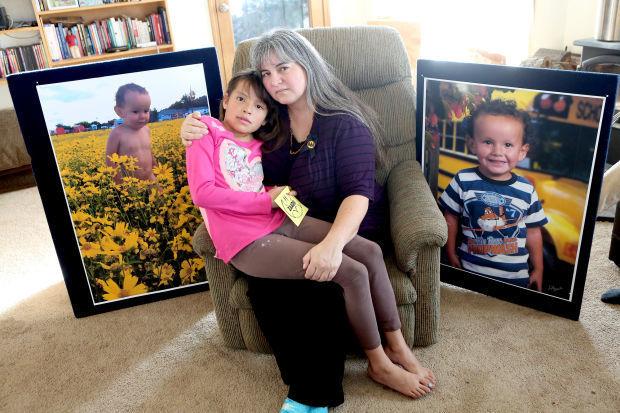 The list of the final 21 includes civil rights activists, radio broadcasters, mothers, politicians. Dew Yu Wong (1892-1948) immigrated from Canton, China, during the Chinese Exclusion Act of 1882 and operated a laundry on the corner of San Francisco Street and Phoenix Avenue; Annie Watkins (1929-2013) helped register black voters in Flagstaff's Southside neighborhood in the 1950s; Eunice Nicks (born 1935) was the first Hopi student to attend Flagstaff High School; Natalie and Meagan Metz were denied a marriage license as a gay couple and their case went all the way to federal courts, helping pave the way for marriage equality in Arizona; Coral Evans is the current mayor of Flagstaff.
Joan Dorsey, the first black flight attendant for American Airlines, is also in the exhibit. She answers the phone at her San Francisco home with a cheerful "Hello." Dorsey grew up in Flagstaff's historically black Southside neighborhood in the '40s, in the family home on O'Leary Street where her niece, Evans, also grew up. Dorsey's mother was homemaker and her father, like many other early black residents of Flagstaff, worked at the Southwest Lumber Mill, which formerly stood on West Route 66.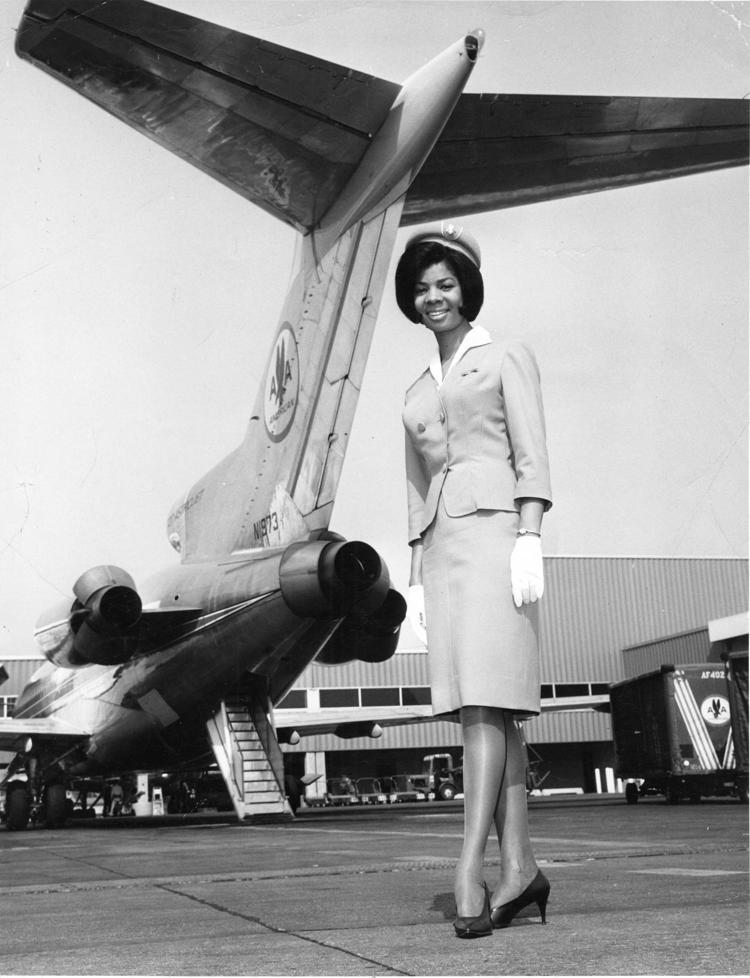 Life for Dorsey, she says, was "wonderful" growing up in a neighborhood she remembers as diverse, safe and community-oriented. Dorsey attended the segregated Dunbar School, now the Murdoch Community Center, which Evans helped save from demolition. Dorsey later studied at the University of Arizona, graduating in 1962 and deciding she'd give it a shot as a flight attendant.
Not only was Dorsey the first black flight attendant for American, she was also the first in a supervisory role with the company. In the days when air travel was decidedly more glamorous but also more sexist, Dorsey stepped into a field where none before her had tread, and getting the job, she says, was far from easy.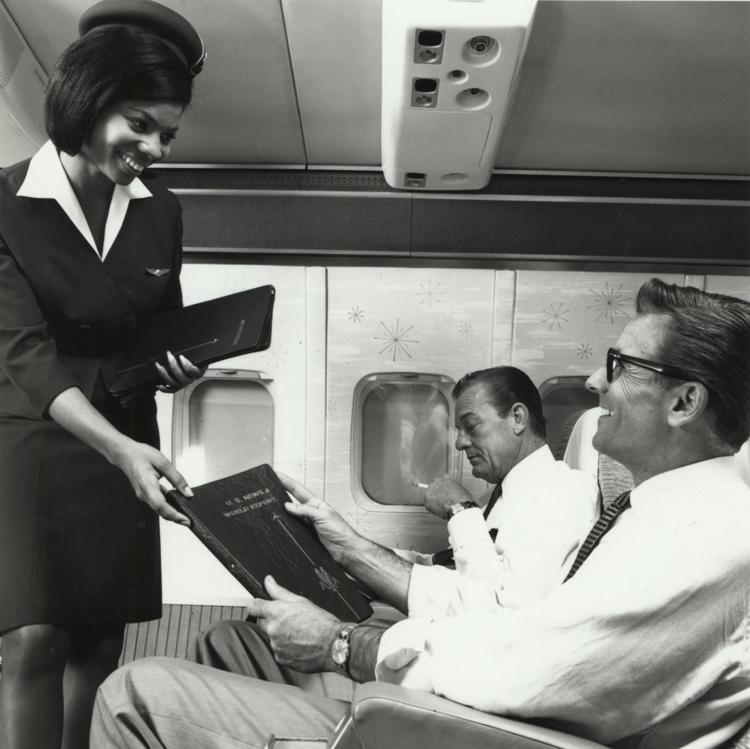 "I was interviewed five times," Dorsey says. "You know no one else had to go back that often. But I kept coming back and coming back. I think it was just courage. I think also when you're that young you just want to do what you think you should do and just get on with it.
"I've always enjoyed a good life, living a good life and doing what I want to do and making sure I do it with pride, energy and I don't hurt anyone along the way. You have to be resilient, I think, growing up as an African American woman, and eventually deciding what you want to do in life."
Dorsey's job took her around the world. To Vietnam, flying with soldiers, to Kenya—one of her favorite places—and across the United States. One particular job had her working on the charter flight for Hubert Humphrey, Lyndon Johnson's vice president to-be, for an entire campaign season. She and other flight attendants sat down with Johnson at his ranch, where she told him about her work.
Humphrey was one of the main authors of the Civil Rights Act, something that was constantly in the back of Dorsey's mind during her time flying with him.
"It was fighting for equality, which was what the message was. And equality was a big issue and I was right there also pursuing equality for everyone," she says.
Dorsey dedicated much of her time helping people understand that skin color didn't change what people wanted from life, didn't make them any less human.
"We are all the same, we all want the same thing in life," Dorsey says.
Resilience is a word not taken lightly in the exhibit, and curators and students alike parsed through the term carefully and keenly.
"When we started to work on the exhibit, we had lively debates on what 'resilience' really means and how to apply it to the history of Flagstaff, from the 1880s to today," Krondorfer says. "Eventually, we narrowed it to 'women and resilience,' with a focus on communities underrepresented in the archives and museums, which was the best choice we could have made. The women we chose faced some adversity, hardship or challenges in their lives, but that did not stop them to contribute to and care for the community, large and small."
Martha Martinez, who is entering her junior year studying sociology at NAU, is among the students who helped research and conduct interviews for the exhibit.
"I didn't really know what resilience meant until I started this," Martinez says. "I think now resilience is having the strength to be able to bounce back through hardships no matter what."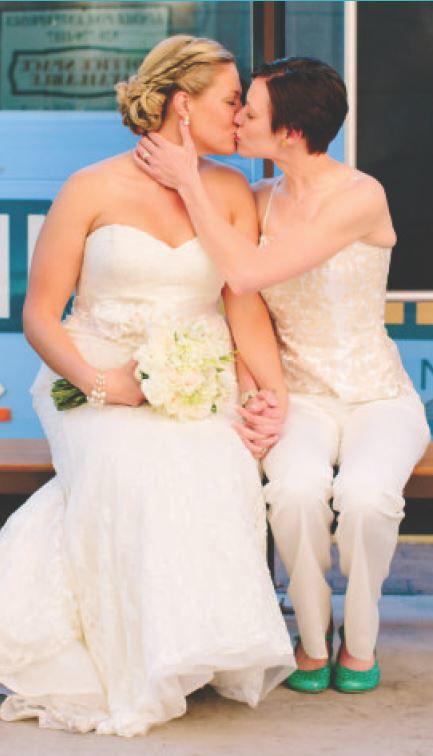 Martinez focused on Mary Costigan (1879-1960), the first female radio broadcaster in Flagstaff who also helped run the Orpheum for many years, Mayor Coral Evans and the Metz's, with whom she ended up finding a lot in common as a member of the LGBTQIA community herself.
"It was really easy to empathize with [Costigan] and her situation because she was a business woman and she was so strong but she had a lot of hardships in her life. I almost felt bad for her. I wanted to comfort her," Martinez says. "And then Meagan and Natalie [Metz], they're big pinnacle figures in the LGBTQ community here; we talked a lot about their court case and fighting for marriage equality. It was really easy for me to connect with them, it was like talking to friends."
Since the exhibit is comprised of women who have died as well as those still living, the research methods differed greatly. For those who have passed, Krondorfer says NAU's Cline Library archives were a crucial resource. For those still living, museum staff helped students to conduct oral history interviews.
Among the women and gender nonconforming people featured as part of Resilience are ones who have faced personal struggles in the forms of sexual violence, racism and gender-based discrimination. What Resilience perhaps demonstrates is that many of the struggles are far from over, but have morphed, taken different forms in the context of the present and are something being fought against continuously.
"Between the missions of the Pioneer Museum (focusing on history) and the Martin-Springer Institute (focusing on values such as justice and reconciliation, and as such always keep the present in mind), we realized the potential in our collaboration: Research the past, but also show continuities into the present through a set of particular social values. We wanted to show continuity and change, from Flagstaff's early days as a lumber town to today's challenges and opportunities," Krondorfer says.
Resilience: Women in Flagstaff's Past and Present will open at Flagstaff City Hall, 211 W. Aspen St., Friday, Aug. 23, 4-6 p.m. After Resilience is shown at City Hall, it will travel to the Murdoch Community Center, then to NAU. Afterward, its organizers hope to bring it to libraries, community centers and schools in Flagstaff and across the state. For more information, visit www.arizonahistoricalsociety.org/museum/pioneer-museum/
Be the first to know
Get local news delivered to your inbox!