At nearly 238,900 miles away from the Earth, the moon remains a bit of enigma, yet its gravitational pull is strong enough to control our ocean tides, and its influence hits a little closer to home to us here in Flagstaff as well.
Every astronaut who walked on the moon, from Neil Armstrong to Eugene Cernan, prepared for their journey in northern Arizona. From the rocky depths of the Grand Canyon to cosmic views from Flagstaff's dark skies, the area proved to be an ideal place to lunar buggy testing, geology training, mission simulations and moon mapping.
Beginning Friday, July 20, and continuing through the end of 2019, Flagstaff will pay tribute to its part in America's achievements in moon exploration by marking the 50th anniversary of the Apollo 11 mission, which put humans on the moon for the first time July 20, 1969.
---
LET'S GET THIS PARTY STARTED
Start your anniversary celebrations off right with an evening of live music from two local bands, Lucky Lenny and Planet Sandwich. Bluegrass outfit Lucky Lenny will perform their take on Pink Floyd's Dark Side of the Moon before delving into a set full of original tracks, and Planet Sandwich will debut their new album, Yo Pluto! The evening will also include a presentation by space historians on the impacts of the Apollo missions and demonstrations by local organizations like the Flagstaff Festival of Science, Dark Skies Coalition and more beginning at 5:30 p.m. on Friday, July 20. This event is free and open to lunar enthusiasts of all ages. www.orpheumflagstaff.com
Visionary director Stanley Kubrick tested the limits of cinema in 1968 with his film 2001: A Space Odyssey, an audial and visual trip which used minimal dialogue to tell the story of the events that unfold after humans discover a featureless monolith buried on the moon four million years ago and travel to space for answers. If you haven't already seen the classic film which has been confounding audiences for the past 50 years, now is your chance. Movies on the Square, presented by the Flagstaff Downtown Business Alliance, will screen 2001 for free on Saturday, July 21, to audiences at Heritage Square underneath a blanket of stars, a fitting environment for an otherworldly experience. The movie may be postponed in the case of rain; find Movies on the Square on Facebook or at www.downtownflagstaff.org/events/movies-on-the-square for up-to-date information.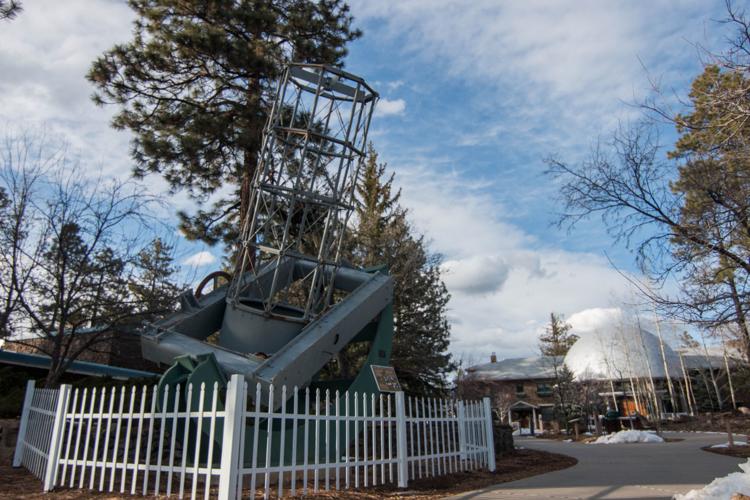 When it comes to celebrating Flagstaff's lunar legacy, there is perhaps no better place to look than Lowell Observatory, where, in 1961, the Aeronautical Chart and Information Center, a branch of the U.S. Air Force, established an office to map the moon. Lowell Observatory and northern Arizona acted effectively as a training ground for the astronauts who would eventually walk on the moon and the breeding ground for the scientists who assisted at Mission Control in Houston, Texas, when Neil Armstrong took those famous first steps in 1969.
To celebrate one of humanity's most monumental feats, Lowell Observatory has put together a few exhibits and events for lunar lovers.
Lowell's Lunar Legacy Exhibit
Lunar mapping and astronaut training at Lowell in the 1960s. June 2018-July 2019, regular hours and admission.
Online Moon Mapping Exhibit
Moon mapping efforts at Lowell in the 1960s. July 2018-December 2020.
Presentation and tour of facilities used for moon mapping and astronaut training at Lowell Observatory. June 1, 2018-July 2019
Presentation and Book Signing
Kevin Schindler and Bill Sheehan will speak and sign copies of their book, Northern Arizona Space Training. Lowell Observatory, 1400 W. Mars Hill Road. 233-3211. www.lowell.edu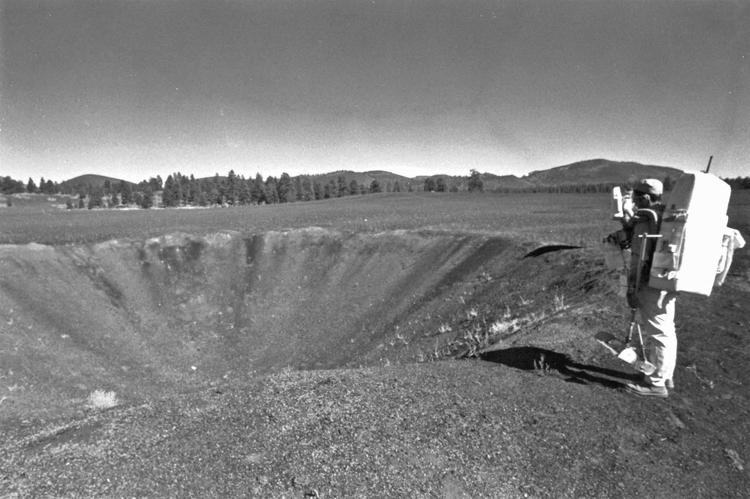 Before venturing into the cold vacuum of space, Apollo astronauts trained at several sites in northern Arizona that were thought to be similar to what they might encounter on the moon. The Cinder Lake crater fields were created specifically for these missions. In the early 1960s, the new Flagstaff-based USGS Astrogeology Branch worked with NASA to blast hundreds of craters in the site to simulate a section of the moon in the Sea of Tranquility, Mare Tranquillitatis. They served as a comparable moon surface to test astronaut skills and instruments in collecting rock samples to bring back for study. Sunset Crater also served as an important landscape to help astronauts understand and identify topographical features on the moon's volcanic surface. For dates and times of guided hikes at Cinder Lake, visit fs.usda.gov/coconino and nps.gov/sucr for guided hikes at Sunset Crater.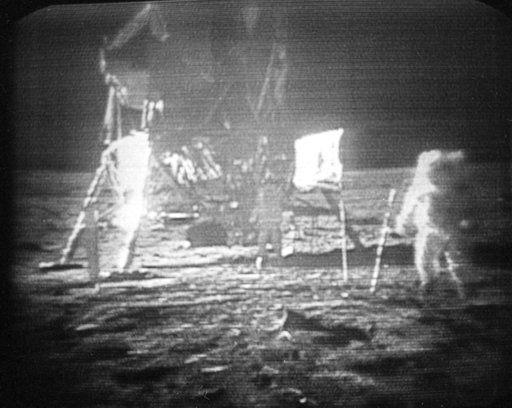 Celebrate Flagstaff's lunar legacy through the arts. With special exhibits, lectures, presentations and art from local artists, historians and photographers, see the impact space exploration has had on the creative minds in northern Arizona and beyond. Here are a few events and exhibits to (tele)scope out.
Astronaut Photography Exhibit
Astronaut training as well as historic and modern moon research in northern Arizona. November 2018-September 2019. Cline Library at Northern Arizona University, 1001 S. Knoles Drive. 523-2173. www.nau.edu/library
Lecture series presented by the Flagstaff Festival of Science providing a year and a half of insights into the historical impact of the Apollo missions, Flagstaff's role in supporting the pioneering endeavors and the continued world-class space research occurring in Arizona. Held the second Wednesday of each month at Coconino Community College's Lone Tree campus. In its first lecture on Aug. 8, 2018, Lowell Observatory historian Kevin Schindler will share the story of the Apollo astronauts' training trip to Flagstaff. scifest.org.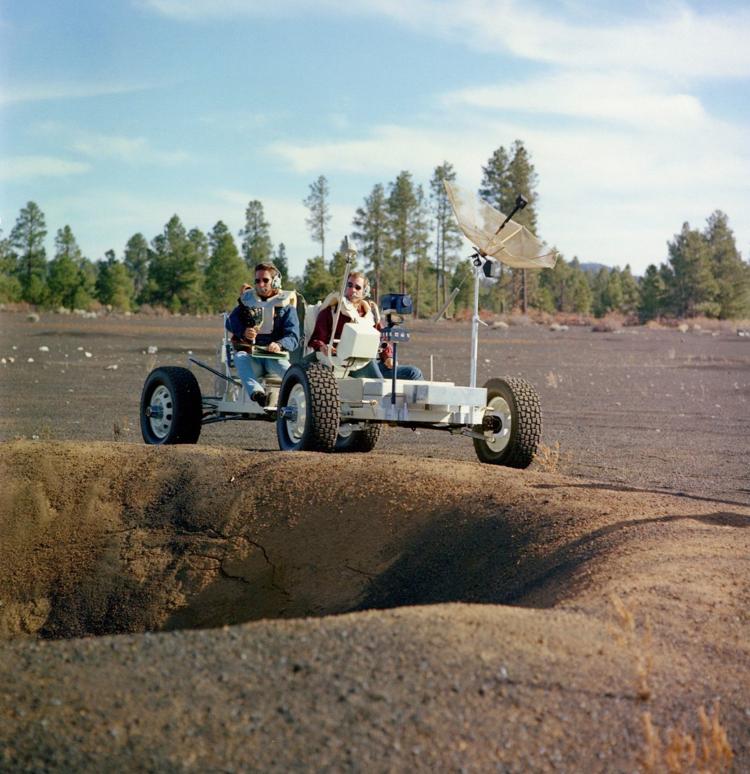 Lunar Station Photo Exhibit
Banners, lunar videos, kids programs—make a papier mache moon. July 2018-2019. Flagstaff City-Coconino County Public Library Main. 300 W. Aspen Avenue. www.flagstaffpubliclibrary.org
See how space exploration is shaping the minds and expanding the imagination of our youth with moon art by local elementary and secondary school students. Brandy's Restaurant, 1500 E. Cedar Avenue.
Hold the moon in the palm of your hand with glasswork by Flagstaff artist George Averbeck at Arizona Handmade Gallery, 12 N. San Francisco Street, Suite 100. 779-37900. azhandmade.com
Speaking of (tele)scoping things out, all year long, experience special telescope viewing opportunities at these Flagstaff observatories and observation sites.
FUSD Walker Observatory at DeMiguel Elementary School
Built by educator and avid amateur astronomer Kenneth Walker, the Walker Observatory at DeMiguel Elementary School hosts star parties all year long. Catch a view of the moon and the cosmos through its 14-inch Newtonian reflector or through its many portable telescopes and solar filters. www.fusd.org/page/806
Established in 1894 by astronomer Percival Lowell and designated a National Historic Landmark in 1965, Lowell Observatory is among the oldest observatories in the United States. From the moon to Pluto, some of the most important facts of our solar system were discovered here. www.lowell.edu
While public nights are open to all, the Barry Lutz Telescope at the Atmospheric Research Observatory is available to NAU students and faculty. More information on Facebook at NAU Observatory or visit www.physics.nau.edu
Experience solar viewings, star parties and meteor showers at this cinder cone located in one of only three volcanic sites in northern Arizona. www.nps.gov/sucr
Lowell Observatory has teamed up with Flagstaff's most creative brewers over at Dark Sky Brewing to host a fundraiser throughout the yearlong lunar landing anniversary celebration. Each month, the brewery will pick a brew and donate 10 percent of proceeds from its sales to support Lowell Observatory's mission of pursuing the study of astronomy and maintaining quality public education and outreach programs to bring the results of astronomical research to the general public. Visit Dark Sky at 117 N. Beaver Street or give them a call at 235-4525 for more information.