Since the early 1970s, getting a first notice in Rolling Stone magazine has been a moment of arrival for any band, and such is the case for The Way Down Wanderers. With a rolling snowball of press lately, as well as the payoff of steady touring for several years, the newgrass quintet from Peoria, Illinois, has experienced a major breakout since getting a write-up in the iconic magazine early this year. The January mention came after touring like road hogs in a van and building an audience through the keen use of social media.
"We feel more energized than ever," says guitarist and vocalist Austin Krause-Thompson. "It has been a natural, organic climb. There has been a steady trajectory since the release of our new record. Rolling Stone was a huge milestone for the band. We feel blessed for that."
After the band's 150-show tour in U.S. and Europe, co-songwriter Collin Krause adds, "Our job has gotten a little easier."
They came out in 2016 as a bluegrass band with several differences from the typical genre outfit, the chief of those including a drum kit player, not a traditional element.
The second studio album for The Way Down Wanderers, Illusions, finds the band expanding into arenas of pop, rock, reggae and jazz after their first record fed off rollicking bluegrass jams. The new record, with its themes on the cyclical nature of love and loss, features signature fast bluegrass instrumentals and soaring harmonies with Krause on mandolin and guitar, Travis Kowalsky on banjo and fiddle, John Williams on upright bass and John Merikoski on drums.
Krause and Krause-Thompson (the latter married the former's sister) share a brotherhood in vocal range. They are both gifted tenors who met six years ago, with Krause having sung in a country band and Krause-Thompson having a background in spoken word and hip-hop. And if there's such a thing as the Midwestern sound, then The Way Down Wanderers are a mix of everything bolted down to a sense of bluegrass fundamentals. Coming from a small music scene in Peoria, then connecting to Chicago after living there for a couple of years, they are a part of a wave of newgrass (or "nugrass") bands coming out of the region.
"Newgrass, it's a big net," Krause says. "The genre is changing so much. Young people are taking bluegrass music and running with it. The Midwest is a kind of big melting pot. Influences from music from all corners of the U.S. come together there."
Illusions follows the band's 2016 debut album, a couple EPs and a live album. It was produced by Grammy Award-winning engineer David Schiffman, who introduced keyboard player Roger Manning, of Jellyfish and Beck fame, to the band, who added layering to the mix.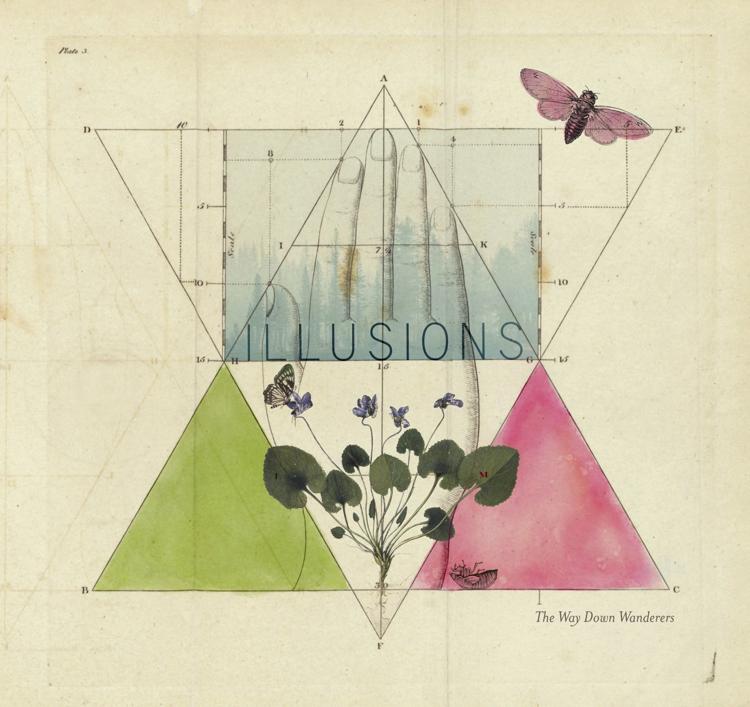 With a producer who worked with acts of such varying skills as Johnny Cash and Rage Against the Machine, they entered a recording environment conducive to experimentation.
"The producer was very hands-off, and that let us come up with songs organically," Krause says. "Going into the studio, we didn't have a clear-cut idea of what we were going to do, but I'm definitely happy we took the risks."
According to Krause-Thompson, "We definitely took some leaps from the first record, which was kind of spare. But this time around we added a lot more tones and a lot more electric guitar, quite frankly. We wanted to widen the range of our band a little bit, spread out with some depth sonically and fill some space. So there's more of a rock side than bluegrass, and we were really happy with the result."
Register for more free articles.
Stay logged in to skip the surveys.
A good example of these genre-busting forays is the song "All My Words." It starts with an easy rock beat, goes into a chorus underpinned by a reggae structure, then repeats this pattern until entering a hip-hop vocal phase before finally breaking out into a bluegrass jam led by an impertinent banjo blaze.
Krause says the song was originally very different from its final version. In fact, the whole process of the song was years in development.
"We didn't know if it fit at first with what we were doing, and then we added reggae," he says. "So we had that, then we added a wild breakdown at the end that is fast and really kind of crazy."
Says Krause-Thompson, "'All My Words' is one of the most collaborative songs on the record. It started out with just a piano, and I just had this part where I came in with the first verse. But we definitely feel like it encompasses the whole record with a strong sense of harmonies and a jam of rippin' banjo at the end."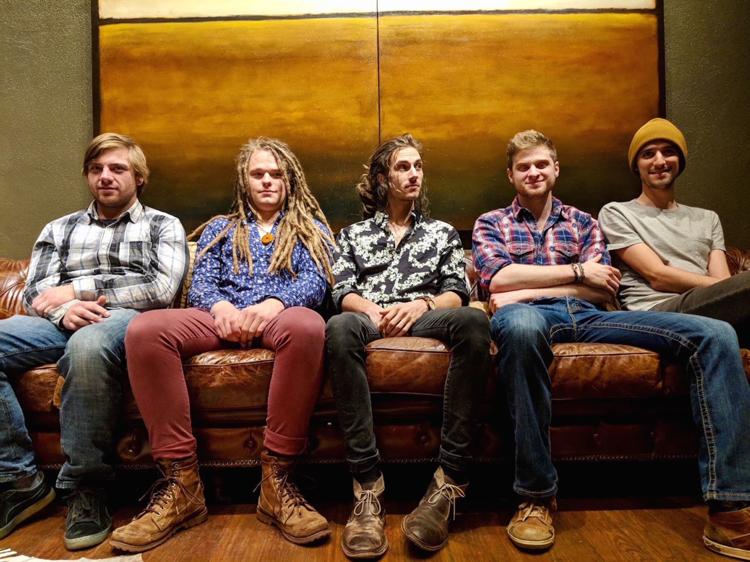 Another standout on the album is "Principles of Salt," the only song not written by the band. It plays as an elegy to the state of affairs in the U.S. as they sing, in the upper range, "Life is just one big cover-up/ America has given up, and overdosed on Adderall." Tinkling banjo percolates on "Frozen Through," which features a rippling guitar solo with vocals sung in two-part harmony. The title track is more atmospheric, with chiming jazz guitar lines and a kind of breezy effect. It makes one think of the way Trampled By Turtles would bust their main genre, vocalizing with a sweet elegance. "Moonglow Carolina" then snaps the listener back to the original programming, with layers of banjo and guitar, but it's still pretty wayward from pure bluegrass.
Anyone looking for pure bluegrass would have a hard time pinning The Way Down Wanderers down, especially since the songwriting duo of Krause and Krause-Thompson have roots in music that have very little to do with the traditional form.
"I come from two different spaces," Krause-Thompson says. "I was very influenced by hip-hop and Latin music, originally doing a lot of poetry and spoken word, which is very rhythmic, a lot of syncopated vocal rhythms."
He says the music scene in Peoria was mostly oriented to "heavier rock," but, in the time since building a local following in the central Illinois town, "we have cultivated a folk scene, and there's a big jam funk movement that we are trying to revitalize."
Though they have toured extensively, their current tour brings them to the Southwest for the first time. Their first and only show in Arizona will be in Flagstaff. More than anything else, Krause and Krause-Thompson say, a dedicated comfort to road life is what has most to do with their success in gaining a following.
The Way Down Wanderers will play at the Orpheum Theater, 15 W. Aspen Ave., on Saturday, April 13. The all-ages show begins at 8 p.m. with opener Jeremiah and the Red Eyes, and tickets are $10 in advance, plus fees. Visit www.thewaydownwanderers.com for more information.