The Northern Arizona Volunteer Medical Corp is a non-profit organization that was formed in 1995 following a trip to Armenia by Drs. Kelly Reber and Bert Mckinnon. Since then, the team has provided medical care in many countries including Haiti and Bolivia, as well as here in northern Arizona. Dr. John "Bull" Durham coordinates orthopedic surgical missions to Hospital Bernard Mevs in Port-au-Prince, Haiti, twice yearly. Additionally, NAVMC provides material support and funding for the education of the children of the nearby Remnen Orphanage, several of which are currently pursuing professional degrees.
Life in Port-au-Prince is hard. Haitians have seen many well-intentioned outsiders come and go since the terrible earthquake of 2010 and the destructive hurricane of 2016. Despite their efforts, poverty is still grinding, health care is spread thin and life on the streets remains a struggle for survival. The trip last December was Durham's 28th. He has not given up.
Michael Collier is a physician, geologist, premier aerial photographer and science writer whose award-winning work has been widely published and exhibited. Collier and Arizona Daily Sun photographer Jake Bacon have assembled an exhibit that provides a unique perspective in answering the question: Who are the Haitian people? Through the lens of their cameras, we see our Caribbean neighbors smiling, searching and staring, some wise, some weeping, patients and their relatives, the wounded, the weary. Who are the Haitian people? The title of the exhibit poignantly answers this question. They are 'My Brothers, Our Sisters,' who live with us on this same small planet we call Earth.
--Sue Norris, Episcopal Church of the Epiphany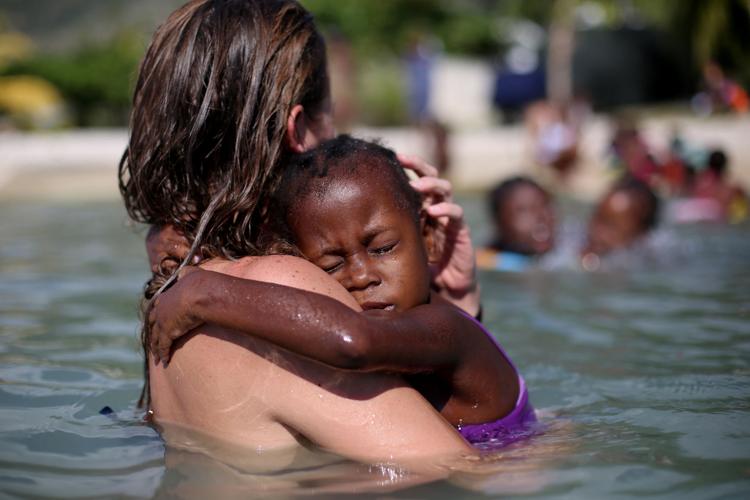 ---
There is scant access in Haiti to feminine hygiene products, and young women have little access to information about menstruation, the developmental changes in their bodies and the link between menstruation and the use of birth control.
During this past December's trip by the Northern Arizona Volunteer Medical Corps, nurse anesthetist Peter Brainard split from the main team to work on a side project inspired by his wife, Lindsey Brainard.
Lindsey had come across an organization called Days for Girls which, through the work of volunteer seamstresses, creates reusable feminine hygiene kits. The kits include soap to wash a set of soft cotton panty liners, a holder for the liners, plastic bags to store used and unused liners and a menstrual calendar so that menstruation can be both tracked and anticipated. Days for Girls has also developed a curriculum to be used when introducing the kits that explains menstruation, female development and pregnancy.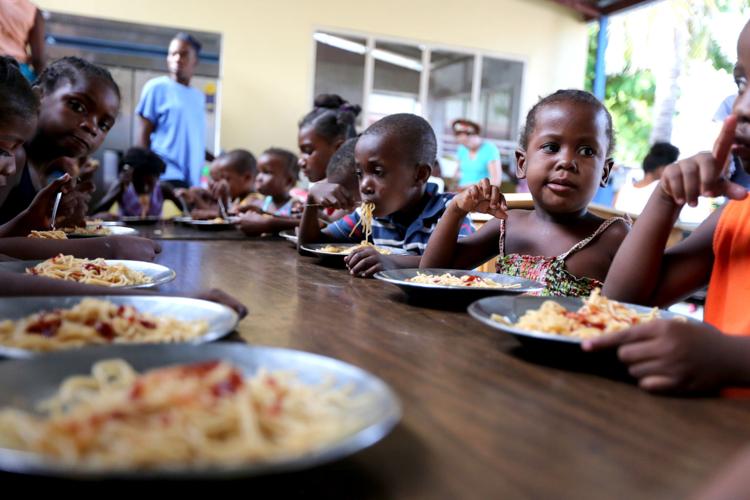 Brainard and his childhood friend Brett Morris arrived in Haiti with two duffle bags containing 80 of the kits. Their job was to teach two Haitian women the Days for Girls curriculum and how to share it with young women.
The first teacher was Maude Louis, an operating room nurse who the team had met last December at the Hospital Bernard Mevs where they work when in Haiti. The second teacher was Angel-Ben Gilot, an orphan from the Foyer Renmen orphanage, which the NAVMC organization supports. She is the first of 55 children at the orphanage to have graduated from post-secondary education with her nursing degree.
Once the two nurses had been trained in the Days for Girls curriculum, the team taught two classes. The first was for Angel's fellow orphans at Foyer Renmen. The second was at the Haitian American Caucus, a school run by an American charity on the outskirts of Port-au-Prince.
Without adequate access to feminine hygiene products, a vast number of Haitian women spend their menstrual period each month confined to their homes. That means they miss 25 percent of their job and schooling, if they are lucky enough to be enrolled in school.
Watching as the girls looked through the kits and were taught how to use the menstrual calendars, it was clear the girls understood they were not being simply given a product and some information, but also power and control.
After leaving the class the students' lives would be on a different course. The fact that the classes were being taught by professional Haitian women means that with a continued supply of the kits, the Days for Girls program will be sustainable in Haiti.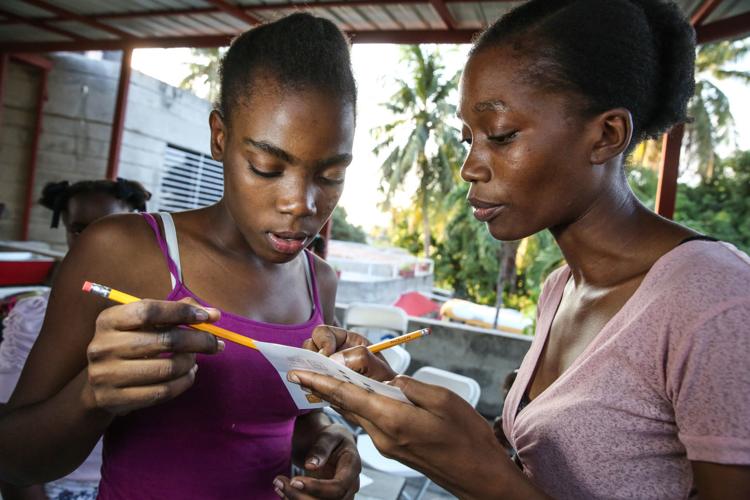 Brainard hopes to be able to expand the program in Haiti by training more local women to instruct girls on the use of the kits and by arranging to have more of the kits delivered to Haiti.
His passion for the project and the success it had in Haiti has encouraged a local group of seamstresses in Flagstaff led by Wendy Wetzel, a retired nurse practitioner. She had been looking for a volunteer project, so all it took was a Facebook post to inspire her to get involved in the lives of young women thousands of miles away through Days for Girls. After realizing the volume of kits needed and the amount of sewing that went into making the materials for each kit, Wetzel approached local organizations that she was involved with to get help.
She registered as an individual sewer to get the patterns and information needed to make the kits then contacted the Coconino Quilters Guild, of which she is a past president, to see if the board would get involved.
"The board unanimously voted to take the project on as a community service project. I also contacted the American Sewing Guild Flagstaff group and individuals I know who are sewers," she says.
But when Wetzel went to Joann Fabric and realized how much the materials for the project would cost, she reached out to the Eric M. Lehrman 2015 Trust for a grant. The trust was interested in the educational component of the Days for Girls program and gave her a $2,000 grant which was used to pay for fabric to make the liners and shields and to buy washcloths, soap, ribbon, panties and the waterproof lining material.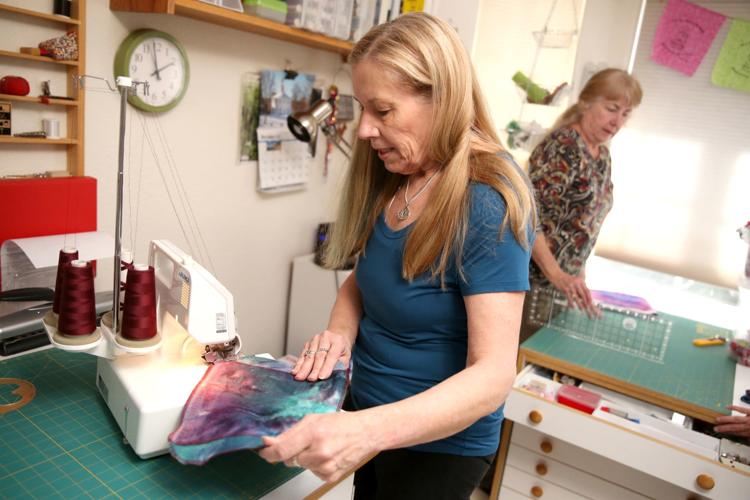 After getting the materials and funding for the project, Wetzel invited a group of women to her home sewing room to cut out materials for the kits in preparation for a community sewing day at the Odegaard Sewing Center on Fourth Street in February.
When the day came, more than 30 people showed up to sew panty liners. Girl Scouts from Troop1597 also were present to lend a hand with the project.
Since that first successful meeting, volunteers have continued to contribute to the cause during community sewing days focusing on a different component of the kits on the last Saturday of each month.
"Van Odegaard simply said, 'Put it on the calendar,'" Wetzel says. "He's been awesome with his support."
By the end of last month, volunteers had completed 180 kits, 120 of which they prepared to be sent to Haiti with NAVMS at their May 26 meeting.
"I thought it would take four hours but it took about 90 minutes," Wetzel says.
Flagstaff is now an official team within the Days for Girls International network with around 70 people on their mailing list willing and interested in helping out.
"People are coming out of the woodwork," Wetzel says. "We're drawing in people of all ages, from grandmothers to teenagers."
She adds, "Every time I think about the project the hairs on my neck stand on end. It's so fantastic to be able to help these young women in a way that will change lives, and to be able to see people in Flagstaff coming together to do work that is fantastic"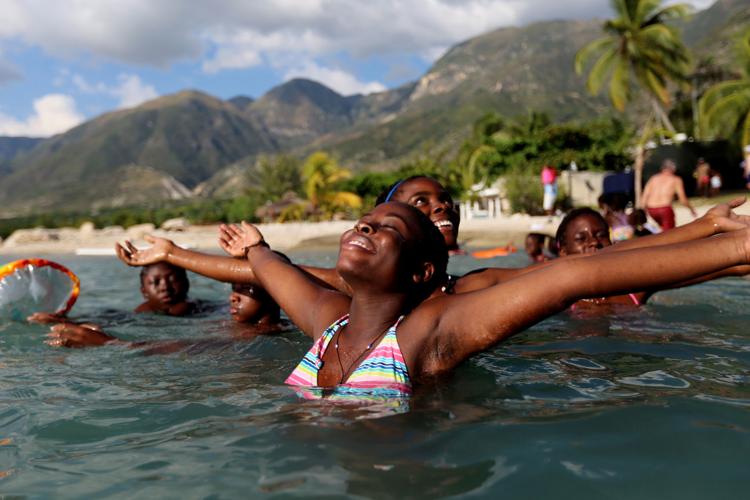 For those interested in helping, more information is available at www.daysforgirls.org and at Odegaard's Sewing Center on Fourth Street. The next community sewing day will be Saturday, July 28, from noon-5 p.m. Donations to the project can be made through the Northern Arizona Volunteer Medical Corps website at www.navmc.org
More photos from the Haiti trip by Jake Bacon and Dr. Michael Collier this past December will be on display at the Episcopal Church of the Epiphany through July 18 with a fundraising gala Friday, June 22, beginning at 6 p.m. Live entertainment will be provided by jazz duo The Flat Five and a light buffet will be served.