Tinia Witherspoon finds regeneration in going home. When the young filmmaker returns to the "vast and wide open space," that is Hardrock, Arizona, she helps her grandmother chop wood or tend to her garden, brings her medicine and groceries. 
Like many college students, Witherspoon occupies two worlds: home and school. But for Witherspoon and her indigenous peers the pull between places feels deeper than  the physical miles that separate them from their families. Three-hour drives or eight-hour train rides, muddy washes and sometimes impassable terrain are just a handful of barriers in maintaining tradition while attending higher education.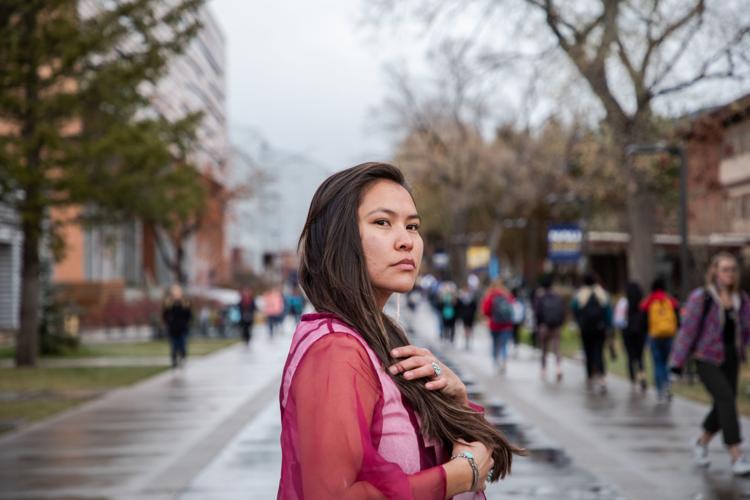 Witherspoon is Diné, 25 years old with striking wit and a propensity to full-belly laugh but revert to seriousness when topic demands. Tears fill her eyes when she talks about her brothers and sisters, the exhaustion that comes with being one of few Native Americans in her major, creative media & film, or the emotional toll of the distance between her and home. She's halfway through her senior year at Northern Arizona University and just finished her first short documentary, which saw its premiere at the Arizona Women's Film Festival in October. Medicine and Obligations spends 10 mesmerizing and difficult minutes exploring the lives of four NAU students, herself included, as they navigate college obligations while being continuously pulled away from family and culture. 
"You're told to choose: Do you want your Western knowledge or traditional knowledge," Witherspoon says, describing the crux of the film in one careful and succinct sweep of a sentence.
"You do have to make that choice, and having to make that choice is more than frustrating. It's dehumanizing. It's a lifetime of pushing up against the grain of what education is and how you should be as a person and not having room for what also fulfills you emotionally, spiritually and physically," she says.
Medicine and Obligations opens with a wide shot of construction at Arizona Snowbowl as drums usher in a distant sunset. The film then moves between interviews with Tyrrell Tapaha, a Navajo fiber artist and forestry major who discusses the lack of understanding among professors whenever he needs to miss class for a ceremony; Rebecca Chee, a graduate student in public health who talks about the joy of getting to go home to White Cone and see her grandmother; and Hawthorne Dukepoo, a Hopi student and dry farmer whose family often needs him to help with planting or harvesting.
"It can feel good when [my family] come out here, but it feels even better when I get back home. It's like medicine in some ways, both getting to see my family and being in my homestead," Witherspoon says between shots of her family shucking corn, green stalk after green stalk drifting to the floor like strands of silk.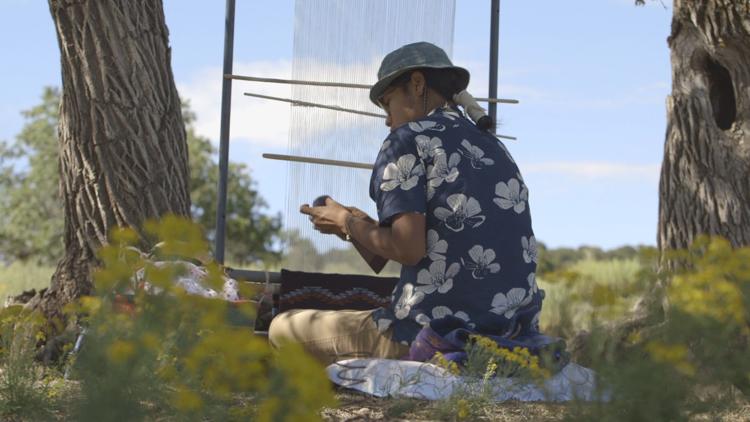 Witherspoon visited both Tapaha and Dukepoo at home for the documentary, following with the camera as the former weaves on his loom under a bright green clump of trees, or as Dukepoo turns earth before delicately placing seeds therein. Witherspoon layers interview and image, expertly painting a picture of life outside Flagstaff and school, carefully folding piece after piece of each subject as they move throughout the landscape of their home and NAU.
Witherspoon doesn't deny the importance of school in her life, but rather pairs it with a hefty dose of criticism and the observation that education comes not only in the form of an institution.
Witherspoon seeks to use documentary filmmaking as a tool of cultural preservation and storytelling as well as a means to become better acquainted with tradition. That's why she bears the sleepless nights and the missed Kinaaldas— so that she can use her skills to visualize that which might otherwise become invisible.
"I love documentary because it's an excuse to sit down with my elders and put it down for my community," Witherspoon says. "My goal isn't to go to Hollywood, it's to tell our stories for us and not for profit. I saw that with each elder that passes, you have entire dictionaries worth of information just gone and that to me was very scary. I don't want to see that stuff die out and that's certainly what drives me."
You have free articles remaining.
Register for more free articles
Stay logged in to skip the surveys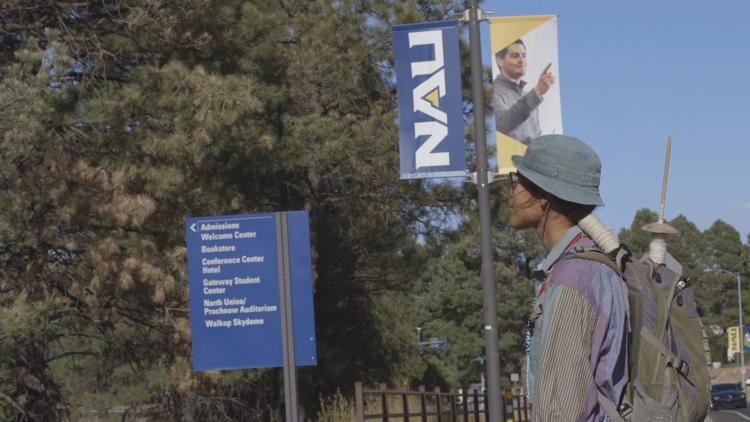 Medicine and Obligations started as a rumination on mud. Mud blocking unpaved roads and emergency vehicle access on the Navajo Nation, mud keeping Witherspoon from being able to drive back to Flagstaff. The project turned into something different after one particular trip to home to Hardrock, however. Witherspoon had just returned to Flagstaff, having spent time with her grandmother and aunts, and she'd reminded her professor that she would not have internet access that weekend. (Medicine and Obligations also draws attention to lack of internet, interviewing a telecommunications expert who explains that lack of copper wiring by major internet providers means even dial-up is hard to come by within the Navajo Nation). The professor ended up reprimanding her in front of the class for an incomplete group project. 
Witherspoon felt isolated, that something must be wrong with her. But when she began to approach Native American students about the issue, she found she was far from alone.
"I went into the Native American Cultural Center and asked who wanted to talk on the subject matter of how to juggle school and familial and cultural obligations, and every single person that I went up to said they experienced that," she said.
At this point the film delves into NAU's strategic plan: "Commitment to Native Americans" outlines goals to increase enrollment of Native American and indigenous students "while providing and unparalleled combination of academic and cultural support," among other things.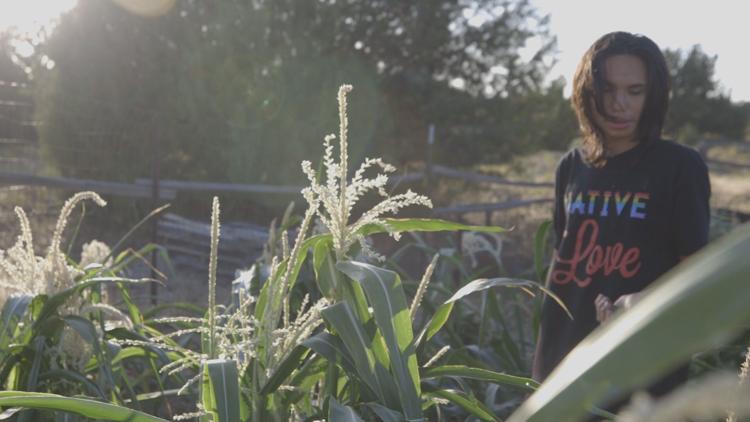 "They've made strides," Witherspoon says in response. "But there's a long way to go."
As per the NAU 2018/2019 Fact Book, the university's population consists of 56 percent white students and 3 percent Native American. That boils down to about 850 Native students as opposed to more than 17,000 white counterparts. Postsecondary National Policy Institute shows that, in the United States, between 2015 and 2017 enrollment of Native American students dropped from 23-19 percent. Between 2000 and 2017, the percentage of Native Americans with associate or bachelor degrees went from a slim 30 to 27 percent. Completion rates for Native American college students is 23 percent compared to 44 percent of white students. Even the data available is slim, but shows that just 10 percent of Native Americans overall attain bachelor degrees. 
Witherspoon scans the statistics, which she keeps saved on her phone and again wipes away tears.
As the film nears its end, Tapaha and Dukepoo underscore the importance of people of different ethnicities and cultures taking time to educate themselves on what life is like in Indian Country to being instrumental in cultural understanding. That cultural education is not secondary to institutional learning.
"We live on indigenous land but we don't interact with indigenous culture. A lot of things that I don't know in Navajo were lost because it was not in my school system," Witherspoon says.
The film is in part a way to reconnect with her education: The one that re-teaches her language, how to butcher sheep or other knowledge that was not prioritized when attending elementary and middle school in Flagstaff. It's a constant push, she says, but one she'll continue to make.                             
Medicine and Obligations will screen at the Indigenous Film Festival alongside films by other local filmmakers including Deidra Peaches and Keanu Jones. The festival will take place Thursday, Nov. 14, at 7 p.m. at the Orpheum Theater, 115 W. Aspen Ave. Tickets are $4.50 and proceeds go to Uplift, whose mission is to empower young leaders advocating for revolutionary unity to address climate change on the Colorado Plateau. For more information or to purchase tickets, visit orpheumflagstaff.com