"Without mathematics, there is no art." — Luca Pacioli
Michael Pierre Price is a numbers guy, a whiz with computations. He's a great admirer of nature and can see beauty right down to the molecular level. He's a scientist, a mathematician, a believer in divine force and an artist working from the depths of those identities.
Like Leonardo da Vinci and his contemporary, mathematician Luca Bartolomeo de Pacioli, Price is consumed with the connections between art, science, nature and divinity.
"I am very intrigued about the nexus of where physics, math, culture and spirituality come together," he says. "I express artistically what I know from the fundamental principles of science and math, and from what I know and experience from spiritual practice."
One might say Price is somewhat enigmatic. He chuckles a bit at that.
"I suppose I am rather complex. Our existence is much more than it appears to be."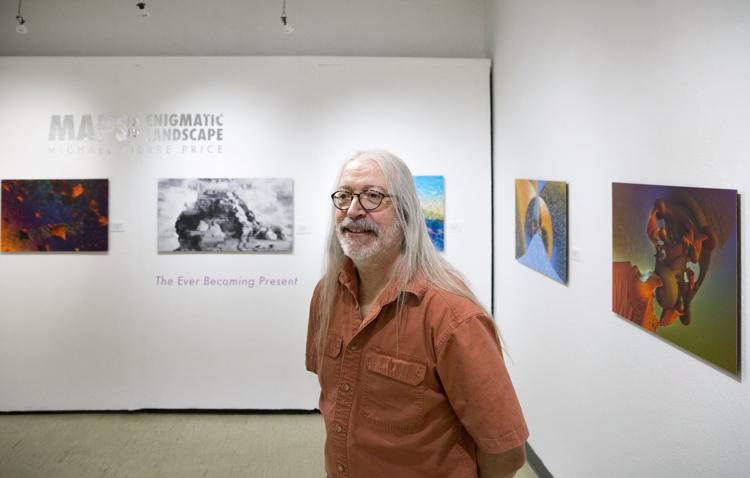 Enigma is the theme of his solo show at the Coconino Center for the Arts. Leading the exhibit is a piece entitled "Enigmatic Landscape." Its hazy, dreamlike setting gives the feeling of the aftermath of a holocaust-death and destruction. But in the scene, there are also notes of hope and life—an easel with an unfinished canvas, a soaring bird, a clock tower, a rodent and an artist's wooden mannequin that looks as though it is relaxing. The piece is mysterious, and it certainly has meaning for Price, yet he hesitates to give it an explanation.
"I want to know what people see in it," says the Arizona-based artist. "The viewer gives their own interpretation and meaning to each piece I create."
Nestled in the art center's Jewel Gallery the show has a futuristic air, which is fitting, because Price's work is based in fractal art, a modern form that developed with the digital revolution. Fractal art mimics the repeating shapes and colors of nature that humans find visually pleasing, such as the petals on a flower, leaves and branches on a tree, clouds and seashells.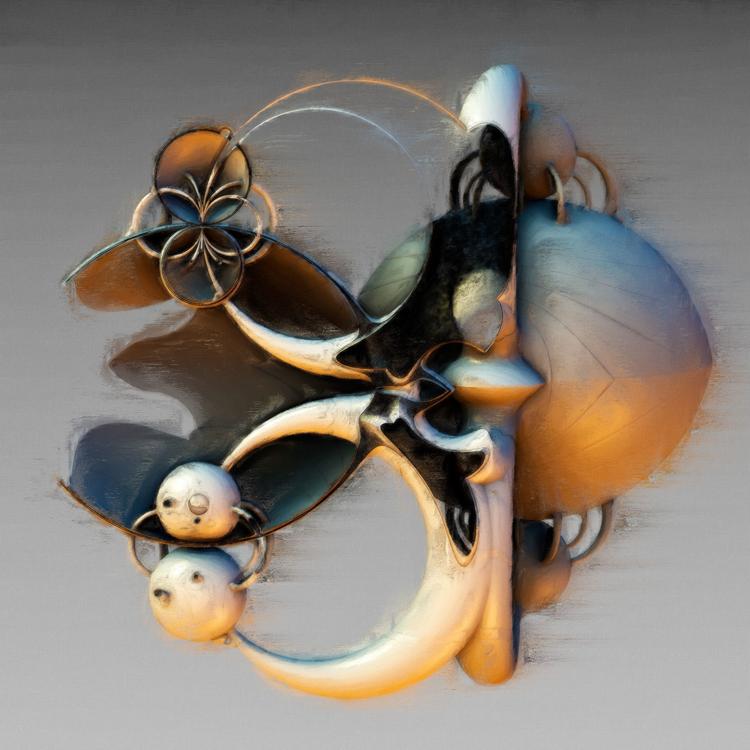 "Fractals are never-ending patterns that are self-similar across different scales," Price explains. "They are created by repeating a simple process over and over in an ongoing feedback loop."
Fractal art is generated by computer because it requires an extreme number of recursive calculations to produce imagery. It began appearing in crude forms in the mid-1980s and has matured alongside advancements in technology and digital printing. Because of its digital foundation, it's had quite a cult following on the web.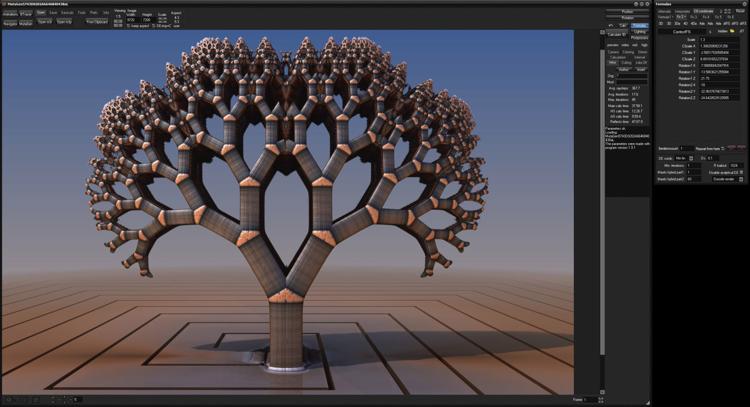 Although pixels are the medium of fractal images, Price's work goes beyond that. He often uses his own digital photography as a starting base, before he applies fractals and expands upon them. Some of his final pieces embrace surreal and abstract art, and he gives his virtual creations physical form by printing them onto fine art paper.
"Enigmatic Landscape" is the surreal piece in his show, and it leads the viewer to his other otherworldly compositions—expressions of the past, present and future that come from the subconscious, or possibly the soul, of the artist.
Price was born to a French mother and an American father in 1954. He grew up in northwest Indiana at a time when steel and oil industries dominated the area. Impressions of the industrial landscape of his childhood are evident in his work. Raised by his mother and grandmother, he absorbed their love for nature and art, but he also had a fondness for math and science, subjects that came easily to him. Price earned a bachelor's degree in physics and went on to graduate studies in theoretical astrophysics. After deciding not to pursue a career in academia, he began work as a designer for the company that made the fantasy role-playing game Dungeons and Dragons. He spent three decades developing classic toys, video games and even amusement park rides.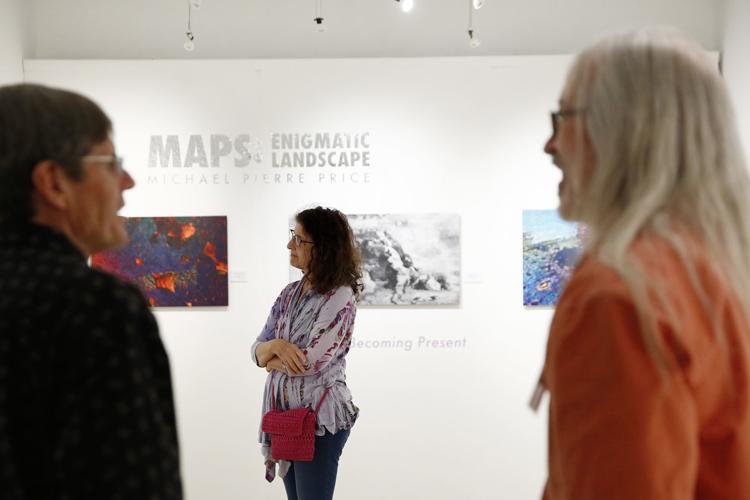 Making games is a creative endeavor, but Price wanted to delve more into individualistic expression. So he left the game world and began his life as an artist. Along the way, Price discovered Native American heritage in his lineage, a revelation that would bring him to embrace native spiritual traditions that "spoke a truth" about his place in the world, about being connected to the source of creation, about finding balance and accord in all. For inspiration he reaches to spiritual elders, physicists and modern artists from the past and present, including masters such as Albert Einstein, the Dalai Lama and Salvador Dali.
While some people may perceive contradictions between math and art, science and spirituality, Price sees harmony.
"My spiritual truths and my scientific truths have to be in harmony and that is reflected in my artwork," He says. These truths "come together in a confluence, where it makes sense to me."
So what does the future hold for his form of modern art?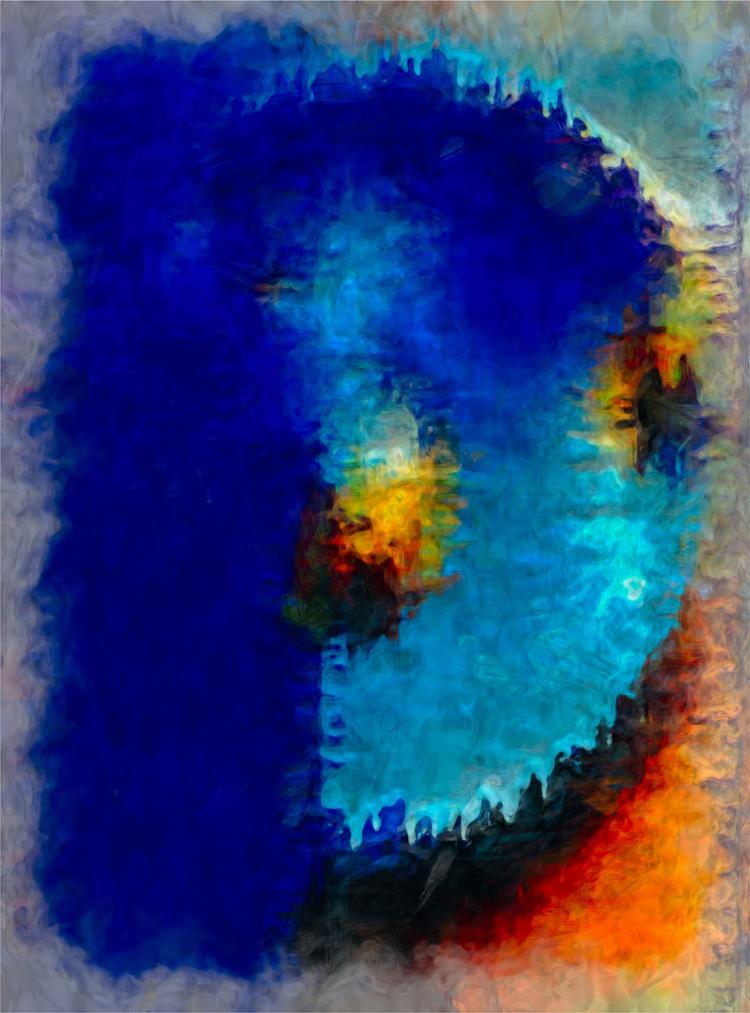 Price says he sees artists immersing viewers directly into art pieces.
"I can see virtual reality-based installations that provide viewers a direct experience of fractals and fractal landscapes that are unique from other types of art. Also, with the growing sophistication of 3D printing technology, I can see fractal sculptures becoming an exciting new dimension in 3D art."
As for his own work, he intends to continue pushing forward with the sophistication and size of his pieces.
"I want to blur further the boundaries between the technical creation of fractals and the artistic expression of my mathematically-inspired images."
Michael Pierre Price will appear during a happy hour reception and artist talk Friday, May 18, beginning at 4 p.m. at the Coconino Center for the Arts, 2300 N. Fort Valley Rd. His exhibit, MAPS: Enigmatic Landscape, is showing through June 9. Visit www.michaelpierreprice.com for more information on the artist.