It's a scary time: Schools, museums, movie theaters, restaurants, galleries and music venues are closing. Flagstaff is bracing itself for the worst of the coronavirus, implementing preventative measures and telling those who can to stay indoors. And yet, it begs the question, what do we owe each other? What do we owe Flagstaff artists, its service workers and grocery store employees, its unsheltered population? There is a long way to go in answering all these questions but we hope to give you a start in the realm of the arts.  Perhaps you're at home and in need of something to fill the day, maybe you want to send a friend something to keep their anxieties at bay or just engage with the arts in Flagstaff without crowding into a room of 10 or more people. Let us help. Here are some staff favorites in food, film, music and more to help get you through today, tomorrow and whatever else still to come.
WATCH (LOCAL) MOVIES
When it comes to film, Flagstaff holds its own. With local filmmakers making names for themselves here and around the globe, here are some movies, short and feature-length, to feast your eyes on during these first weeks of self-isolation, social distancing and quarantine.
Medicine and Obligations by Tinia Witherspoon
Medicine and Obligations spends 10 mesmerizing minutes exploring the lives of four indigenous students, Witherspoon included, as they navigate college obligations while being continuously pulled away from family and culture on the Navajo Nation and Hopi reservation.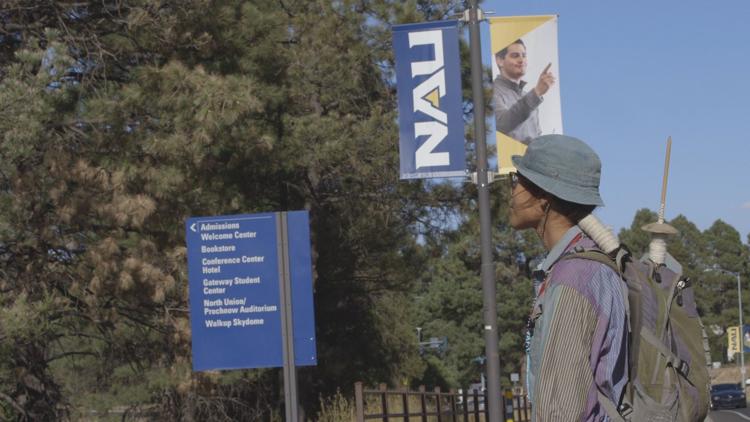 "You're told to choose: Do you want your Western knowledge or traditional knowledge," Witherspoon, who is Diné, says, describing the crux of the film.
Hear from the four subjects of this short documentary, learn about their daily lives and how they maintain tradition while at college. Though short in length, the topics discussed in this film are immense and far-reaching. Do some research on the topic afterward—what better time to expand your knowledge of local issues than now.
Alex & Jaime by Brian Flaccus
Brian Flaccus and his film partner Chadwick Hopson are from Flagstaff and, in many ways, their film Alex & Jaime is a reflection of a deep knowledge of the town so specific to those who grew up here. Alex & Jaime, which had its premiere at the Museum of Fine Arts in Boston at the Roxbury Film Festival last year, was not only shot in large part in Flagstaff but stars local legends Shonto Begay and Phyllis Hogan, who owns Winter Sun Trading Co. Playing to their natural skills, Begay portrays a painter, and Hogan a botanist. The feature-length indie film is experimental in structure—a lifelong love story between two people, set in seven acts, wherein the title characters are played by very different actors throughout.
"We chose to portray the same characters in the skin of all different types of humans, to play with the idea that love is the universal story, and that the physical trappings are interchangeable," Flaccus, who directed the film, says.
The film is available on Amazon Prime Video.
Tó éí 'iiná até (Water is Life) by Deidra Peaches
Deidra Peaches is nothing short of a household name in northern Arizona. The Diné filmmaker focuses primarily in documentary pieces, both short and feature-length, but often dips into music videos as well—among them several for local hip-hop duo An ILLustrated Mess.  
Watch Tó éí 'iiná até (Water is Life), a collaboration between Peaches and late co-director Jake Hoyungowa. The film explores "the sacredness of water and how the industrialization of the Navajo Nation continues to disrupt our traditional way of life," in a span of 52 minutes that will keep viewers glued to the screen.
MAKE/SUPPORT MUSIC
In these times of uncertainty, we must ask ourselves, when was the last time we did something simply for the joy of it? Not because it was going to make us money, or bring us closer to so-called fame, but because we wanted to build character and learn a new skill? Many people have some sort of musical instrument laying around their house. Maybe it's from their youth, maybe it was gifted to them. 
With so much time on our hands, now is the time to dust off that guitar, violin, harmonica or piano. UltimateGuitar.com is a great resource for chords and tablature to play almost any song you can imagine on guitar and bass. YouTube also offers many step-by-step tutorials for a multitude of instruments—no note-reading necessary. Then there are free downloadable apps from Moog (Minimoog Model D iOS app) and Korg (Koassilator, available for free through March 31 for iOS, March 20 for Android version) for those wanting to experiment with synthesizers but just have a smart phone or tablet.
Once you immerse yourself fully into creating, you'll likely have renewed appreciation for musicians whose livelihood depends on them practicing these skills. There are numerous local bands who are having to take a break from performing and thus losing out on paychecks. That doesn't mean all is lost, though; many still have online sales running for CDs and other merchandise, and you can stream full albums online.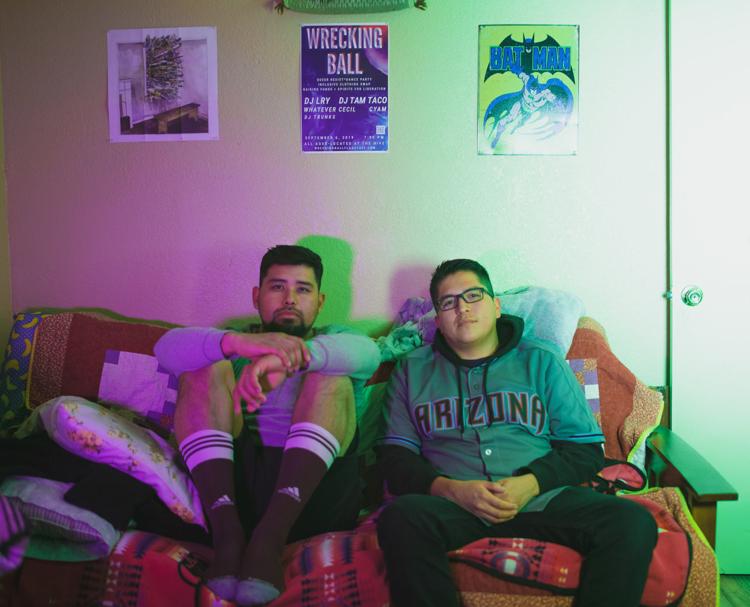 Bandcamp offers a slew of local albums for streaming and purchasing, recently announcing it will be waiving artist fees for one day, with 100 percent of revenue made from purchases on Friday, March 20, going toward artists. Take this opportunity to download albums from groups such as Reverend Gabe & His Priestly Duties' Happy Hour; Katie King's House of Straw, a collaboration featuring fellow Flagstaff musicians Antara Hunter and Steve Caldwell; Klee Benally's The Unsustainable Sessions; An ILLustrated Mess's Last Night, and All of Our Glorious Mishaps (a limited deluxe edition); and Boom Box Bros' Sophomore Class.
On Spotify, look up newcomers like WinterHaven or old-school legends like Le Trebuchet and Them Savages. See what all the fuss is about with Viola Award-nominated albums New Nostalgia by Tow'rs, A Cautionary Tale by The Canaries, Pray for Snakes by Tiny Bird and winner Endlessly Won't Last for Long by Donivan Berube.
You have free articles remaining.
TRY A NEW RECIPE
Sacred French toast with holy kumquat Riesling sauce. Could French toast preserve your sanity and boost morale? Yes. The answer is yes.
In college, Flag Live!'s Tim Taranto worked as a line cook at a posh brunch restaurant—this was back in the day when schools weren't closed and people could eat out. They were famous for their French toast. When the kitchen yelled "86 French toast," you'd hear an audible sigh and the occasional sound of people weeping from the front of house. The recipe for the restaurant's French toast was a solemn secret, but given the current circumstances, Taranto has resigned to sharing it with you here as there is no greater balm in the time of crisis than French toast with kumquat Riesling sauce.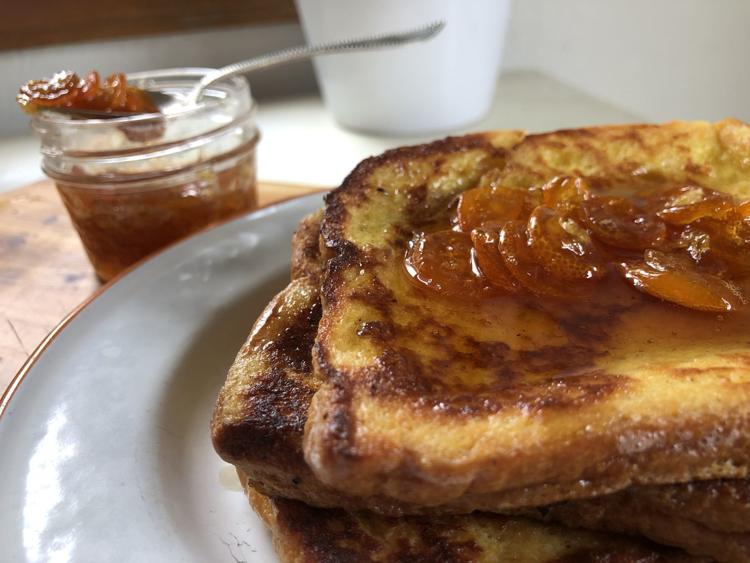 Ingredients: French toast
6 large eggs (the fresher the better)
½ cup half and half or heavy cream
½ cup or one stick of unsalted European-style butter (the good stuff)
1 teaspoon vanilla extract
20 oz. loaf of brioche bread (Safeway and Frys both carry traditional French brioche like Alfaros and St. Pierre)
Ingredients: Kumquat Riesling sauce
2 ½ cups Riesling (Sprouts has some good, dry Rieslings under $10)
⅔ cup Crockett honey (Arizona pride, baby)
½ teaspoon vanilla extract
2 ½ cups kumquats seeded and sliced thinly (with a few extra for snacking)
Preparation: French toast
Crack each egg individually into a small bowl then transfer together into a larger bowl. Whisk until all yokes are broken. Slowly pour in cream and continue to whisk. Mixture should be a rich yellow. Add vanilla and cinnamon. Over a medium to low heat, melt butter in a saucepan. Stir frequently to avoid browning and frothing. As soon as butter is totally melted, turn off the burner. Swiftly pour the melted butter into the egg and cream mixture, whisking vigorously all the while. If done right, you should have a handsome homogeneous mixture of French toast dredge. Get a deep pan or casserole dish and some parchment paper. Soak each slice of French toast in the bowl of dredge. Slices should be turgid but not so mushy that they disintegrate. If soaked slices do tear, that is okay, just place each slice in the pan as neatly as possible. Be sure to use parchment paper between layers so the slices do not stick together. The dredge mixture should accommodate ¾ of the total brioche loaf, approximately 10 slices. Once you have a full pan of moist French toast slices, cover with parchment paper and place in the refrigerator to cool.
In a large pot, combine the Riesling, water, honey, sugar, ginger and vanilla.  Stir gently and bring to a boil over high heat. Add the kumquats and reduce heat to medium low. Cook on medium low heat until kumquats are soft and translucent. Liquid should be syrupy. About 30 minutes. Set aside to cool.
Fry French toast slices on medium high heat on a cast iron griddle or in a non-stick pan. Cook until delicately browned, approximately 2 minutes per side. Serve hot with real warmed maple syrup and a generous scoop of kumquat Riesling sauce.
Be the first to know
Get local news delivered to your inbox!