Normally, the trajectory is the reverse: You scrape together the wherewithal to start something small, a stand at the local farmer's market maybe, or a booth somewhere. Perhaps you move to a food truck once business is good and operate within its confines until—fingers crossed—you've gathered the funds to open a brick-and-mortar restaurant.
For Brian Konefal, the cycle that led to the opening of food truck Square Root Burger played out much in reverse. He and his wife, Paola Fioravanti, opened Coppa Café to great fanfare in 2011 and have managed to make the "taste of Europe" restaurant one of Flagstaff's most coveted places to eat. Now, Konefal and his partners Jack Flaccus and Bryan Lubbehusen have opened a food truck selling burgers.
It may sound like things went the other way around—a time warp, a move away from delicacies such as Coppa's red wine-poached eggs or the beef tartare, when in fact, Square Root's vegan and vegetarian patties are crafted with equal deliberateness, finesse and a degree of attention to detail that your average burger does not receive.
The buns are made with local wheat and the burgers crafted from Square Root's farm-grown, core ingredients—beets, Swiss chard and carrots.
"And those are sourced entirely locally," says Konefal. "It was important to me that I find a ranch source for farm ingredients."
Enter Flaccus and Lubbehusen—the farmers and co-owners in the operation. The two Flagstaff locals have worked with Coppa Café for a number of years and run a farm south of Prescott that now provides almost all the ingredients for Square Root Burger.
"With a food truck, it's easier to be 100 percent local; with a full restaurant, that's almost impossible. We have the flexibility to source from local farms entirely," Konefal says.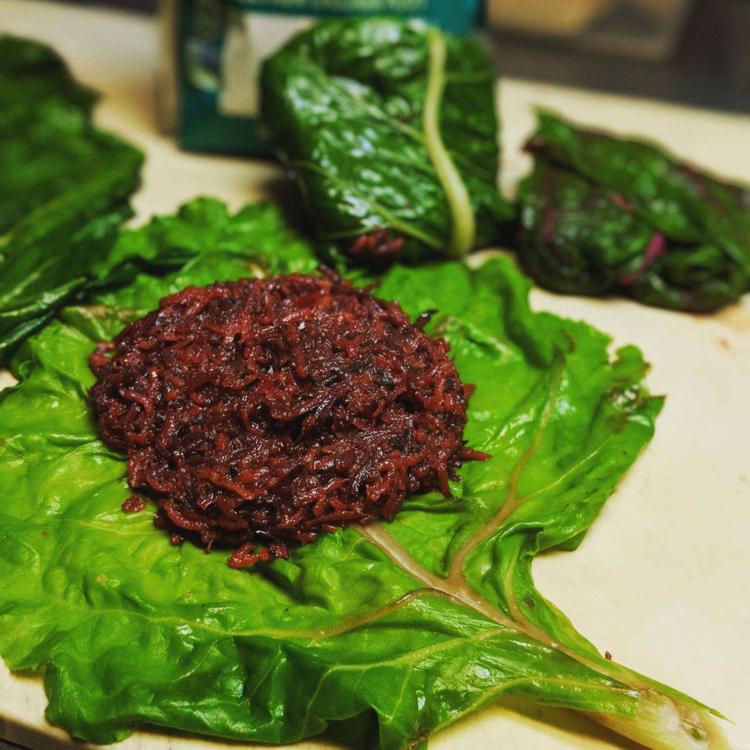 The beets, carrots and Swiss chard form the nexus of the menu and can be found in the patties themselves in addition to toppings. These three specifically were chosen for being cold-storage tolerant, drought hardy and cold-weather available, something Konefal says was important for the overall ethos of the food truck: Sustainability.
"It took a little trial and error but we found veggies that we could grow a good amount year-round," Konefal says. "[Jack and Bryan] were able to grow the stuff that we envisioned on the burger and make it fully sustainable in the sense that we don't have to outsource in winter."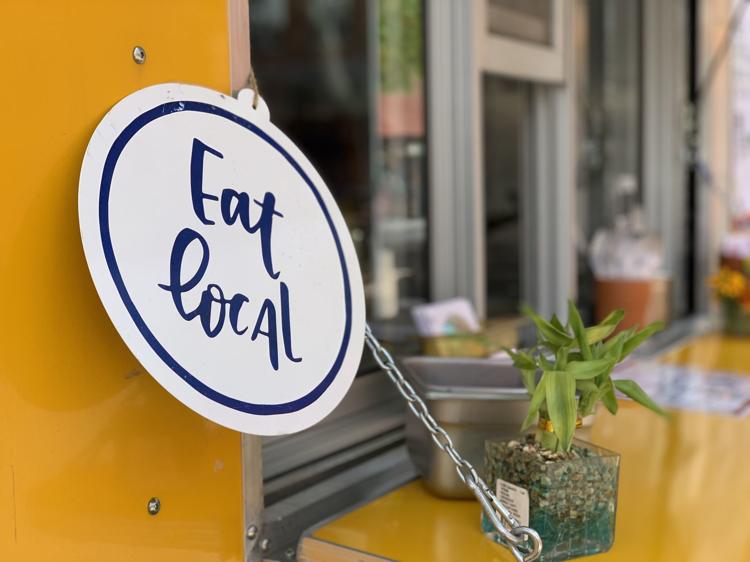 The ingredients shift alongside the seasons, with the farm growing perennial veggies like cucumbers during the summer and focusing their efforts on root vegetables in the winter.
And the cheeses that appear on the menu—smoked almond, feta and blue cheese— are each sourced from as close-by as possible.
"What we do when we need an ingredient we don't have ourselves is we just make wise decisions in sourcing," Konefal says. "That's our safety net of quality, that we keep things as local as we can. We stick with our mission statement of being healthy, sustainable and all those words that are important to us at the company."
Konefal, whose culinary school days situated him in Costigliole D'Asti, a small town in Italy's northwestern Piedmont region—then in Barcelona where he worked in one-, two- and three-Michelin-starred restaurants in exchange for room and board; then San Francisco, New York, Boston and finally Flagstaff—says it has long been a dream of his to open a burger restaurant. Years ago, he says, he made a veggie burger for the weekend Coppa Café menu that was so popular customers requested it long after it had been discontinued.  
"The feedback was phenomenal," he says.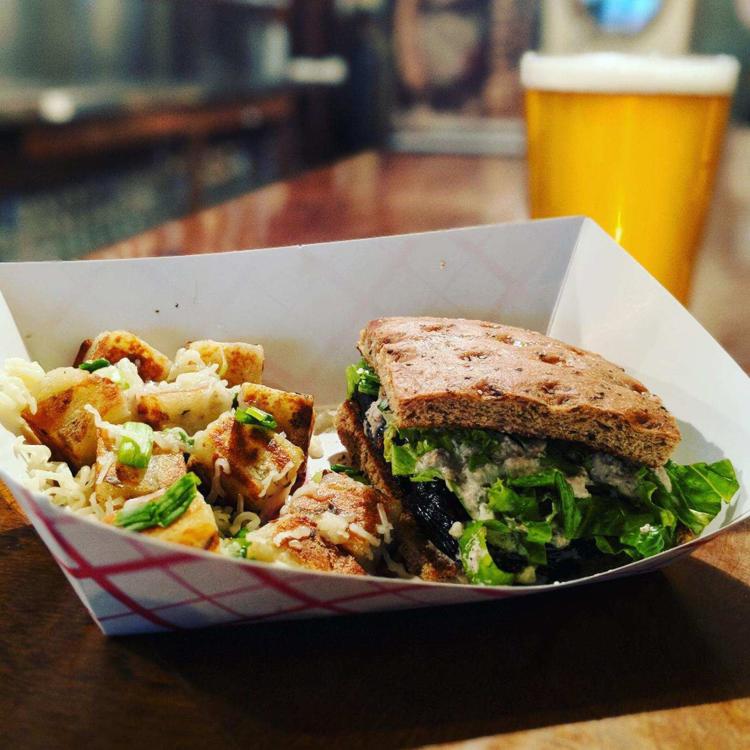 Now, Konefal has the opportunity to serve burgers once again. And one Square Root Burger item is never like the other: Konefal's personal favorite, The Mayan, features avocado, cilantro and RisingHy salsa. A close second, the Siddha Burger, references Indian flavors with curry mango chutney and mint raita (a yogurt-like sauce); the Decarte Burger comes with blue cheese and black pepper slaw.
Each creation offers the palate a delicate combination of flavors and extends, too, beyond burgers. Take for example the local lettuce salad with vegan Caesar or herbed vinaigrette or the haldi doodh, a spiced almond milk drink with turmeric and ginger.
"We also have our tater tots," Konefal says. "For those we boil russet potatoes and we make a very simple kind of puree with the skin, then we salt them, tie them into cubes and place them on a sheet tray. For the sauce we do a smoked beet-top gravy and add a smoked almond gravy."
Square Root Burger opened on July 4 of this year with a trial menu. According to Konefal, the team was experimenting with a large amount of flavors to see what people liked and have begun to figure that out. The next addition to the menu will be hatch chiles on a Southwestern-style cheeseburger.
"We're planning on adding bacon, really good local bacon," says Konefal. The bacon, he adds, will of course be made in a separate toaster oven so as not to detract from the truck's vegan pledge. And for the meat-eaters in the interim, Konefal says the burgers are purposefully made to be thick, hearty and dense.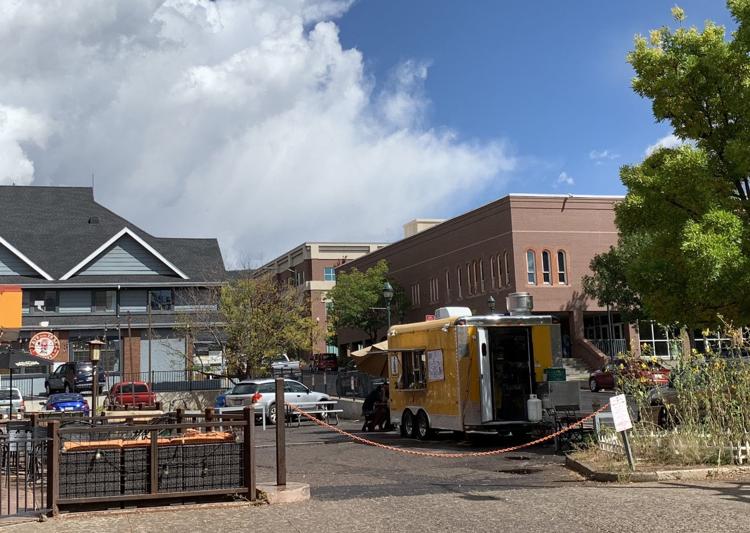 "So far we've had good repeat customers. The best way you can judge your potential success is if people are coming back," he says. "And we hope that continues."
Square Root's sunflower-yellow truck is hard to miss, parked at the corner of San Francisco Street and Birch Avenue in the parking lot Late for the Train shares with Vino Loco and Hops on Birch. It has quickly become a bright beacon on Flagstaff's culinary map.
Square Root Burger is open Tuesday, Wednesday and Sunday from 11 a.m. to 9 p.m. for lunch and dinner, Thursday from 11 a.m. to 10 p.m., Friday and Saturday from 11 a.m. to midnight. The truck is closed Mondays and only ever moves from its location for special events. For more information on the restaurant, or to see a full menu, visit www.squarerootburger.com.