From ambient, new age and noise, to escapist techno, filthy beats, unsettling humor and dirge emotionals—each are terms Vesica Piscis uses to describe themselves; the experimental noise-electronic duo which will be one of two local artists featured in the upcoming installation of experimental art platform the Interference Series. Formed in New York in 1991, the band, made up of Kendall and Carrie Ann Vesica Piscis, called Flagstaff home from 2000 until 2018. They recently moved to the Village of Oak Creek marking a new chapter for the couple both artistically and otherwise. 
The duo has over 33 releases under their own label, Shimmer Sounds, "plus whatever other recordings, remixes and other collaborations are drifting around randomly online," Kendall says.
The sounds of Vesica Piscis, often so ethereal they are just beyond the grasp of categorization, beg a different modus of listening. One must let go of expectations that the sounds will fall into an empirical pattern, that the notes will align by way of familiar harmonic relationships. As with other art that is experimental, it takes a relinquishing of what we know to let the music sit, gel and soak in—the industrial tones, galactic bleeps, bird samples, low droning, synth hums and the vast and complex tools and soundscapes that make up Vesica Piscis.
Ultimately, it seems the words of the artists themselves are most suitable to speak to the unique soundscapes they create.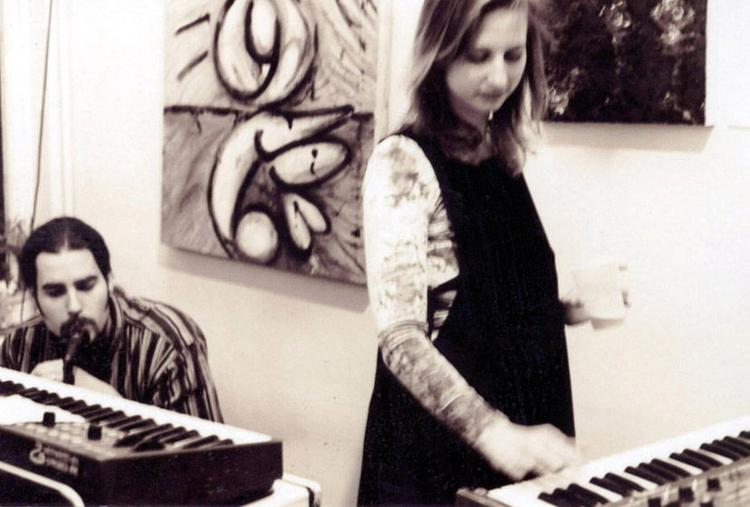 FLAG LIVE: How and when did Vesica Piscis form?
CARRIE ANN: We met in high school orchestra in New York in 1989. We had full orchestra and smaller team lessons together. We formed in 1991 during and after those orchestra experiences [and] the concept of Vesica Piscis predates any music released together or other art. We were each developing our own complete circle, our own selves.
KENDALL: We did very random, fun audio experiments off and on together since 1991. For a time, just Carrie Ann was playing and recording, using what we had on hand, encouraging me to join. We started to extensively collaborate on odd tape experiments around 1995. Every time we could borrow an effects pedal for a weekend, a new world opened and crystallized. From 1997 on, our works have been archived, edited, titled and shared. We still have boxes of random tapes from the early '90s, mostly unlabeled.
Where does the name Vesica Piscis have its origins?
C: Vesica Piscis is two complete circles converging at their centers.
K: The analogy is functional and beautiful on so many levels.
Tell me a little bit about how you came to work in the genre that you do. Why choose experimental electronic?
K: The excitement, new sounds equals new feelings and experience, attraction to the unexpected, always changing, defying expectations … love of sound, love of sound design—and the magic we create. It just keeps happening and I feel compelled to keep making it, recording some of it, then sharing some of that.
C: It's limitless. Like the potential lack of structure, then finding bird calls, finding patterns in chaos, realizing it is not all chaos. Playing things the way they're not supposed to be played, using non-instruments for music, exploring possibilities of making sounds and how we can do that together.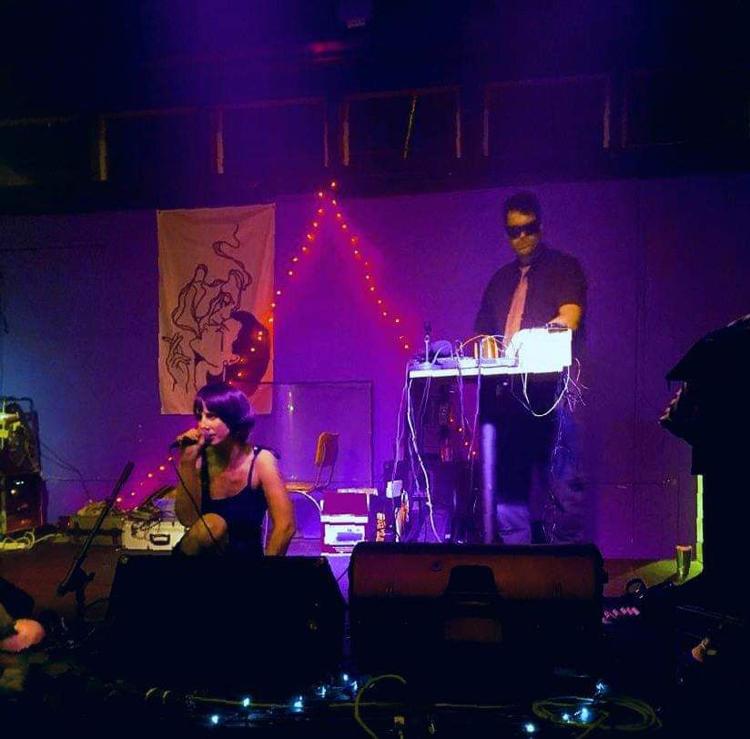 Do either of you have electronic music training, or are you self-taught?
K: I have a tiny bit of audio engineering and electrical engineering, but [I'm] mostly self-taught. My hobbies through audio led me to circuit-bending, synth building, then I became a journeyman electrician. I now work in construction, agriculture, manufacturing, medicine and laboratories as a facilities manager for a national company.
C: No electronic music training particularly, but I've been playing synths and samplers since I was in elementary school, and chanting even longer.
Going back to the time before the band, what did each of you do musically?
K: Before the band for us was essentially childhood: Casio synths, trumpet, bagpipes, upright bass, electric bass, school band, school orchestra, marching bands, punk bands, metal bands, experimental bands.
C: We were blessed to have music classes in public school since nursery school: xylophones, plastic recorders, glee clubs, et cetera. It was totally normal for all children to make music. Then we got to choose an instrument to focus on later in elementary school. I ended up starting with my focus on violin and vocal chorus. I wanted to play cello, but did not get to switch my focus to cello until high school.
What is your connection to Flagstaff?
K: We honeymooned in Flagstaff, Grand Canyon and Sedona in 1999. We lived in downtown Flagstaff from 2000 to 2018, and we both worked at local shops downtown. We were occasionally a part of various ebbing and flowing art and culture scenes downtown. We hosted international musicians and performance artists to perform in our house.
C: [Flagstaff] reminded us a bit of the show Twin Peaks, which we both adore and are inspired by. We decided we would move there as soon as we could. We lived there 18 and a half years until the end of this September.
What were the circumstances that led the band to form?
K: We were young and weird and in love.
C: Now, we're just a little bit older.
I'm curious how each of your albums come into being.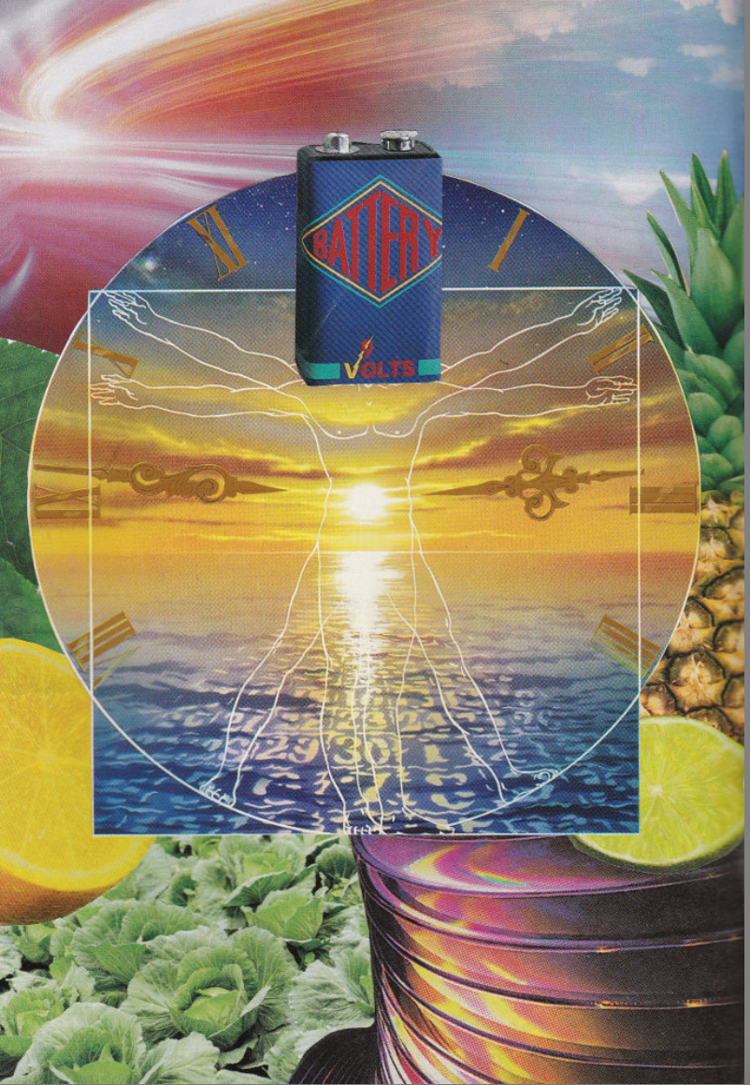 C: They all have their own process, there isn't any one process for us to make an album. For lyrical content, we do like to sit and pass a notebook back and forth, writing together, what comes to us as we talk and drink or eat, then return to the works later and edit for vocalizing. Some sounds are planned and come out as planned, right through us, others surprise us and we don't understand where they necessarily originated. Our recent noisy pop dance stuff seems to be developing as we keep performing the pieces live over the past few years, so we keep refining those.
Talk to me a little bit about your machinery.
K: Once I was circuit-bending for a bit, my hobbies branched out into other hobby electronics and synthesizer building. My first synth kits were PAiA, Blacet and Cat Girl Synth. I had the modular synth bug severely starting in 2003. I built as many synth module kits I could afford, then started building modules from scratch, messing around with and modifying schematics. Over time: toys, cheap acoustics, cassettes, borrowed effects pedals, cellos, bent toys, real pianos, treated pianos, hand built synthesizers, computer recording and mixing, off-the-shelf analog and digital synths, hammer dulcimers, plus anything we could find that made a sound. We're still using modules I built over a decade ago.
What about the samples that make up your sound?
C: The past few years, we've incorporated a looper into most of our shows, using our own field-recorded acoustics and object sounds, non-instrument stuff. We haven't sampled the works of others for over a decade. We sample fruit bowls, rocks, marbles on concrete, metal slides, signs and railings, kitchen utensils, duct tape is a personal favorite, ducks, crickets, birds, dogs, cats, some of our own synth sounds, singing bowl, hammer dulcimer, cello, rubber string bass, various hand percussion, wind instruments, kalimbas, windchimes, hand cymbals, piano elements, e-bowed oddities and objects versus instruments.
What are some noteworthy (to you) places where you've done field recordings?
K: Lake Mary. Oak Creek. Flowing water. Nature. Walking around. Us talking. Us jamming in hotel rooms. Japan.
C: Francis Short Pond, Flagstaff. Downtown Flagstaff. School playground across the street from our old house, children screaming—then contact mics on the playground equipment after it was abandoned.
Your album Incandescent Birthday Party was recorded at the Visica Piscis Cathedral. Tell me about this Cathedral.
K: Vesica Piscis Cathedral was our old home and recording studio in downtown Flagstaff. We were there over 17 years and even held a few performances there by touring artists from around the world.
C: At the time, there were no venues for artists like that in Flagstaff, so we made that space at our home.
How does visual art play into Vesica Piscis?
K: Just like the audio, it comes naturally and it is just what we do together. We've also collaborated on videos to accompany our videos for live performances and online—we grew up in the music video era.
C: We make nearly all of our cover art ourselves. We love photography, collage and painting, and often collaborate together to create these pieces. We have also worked with Eric York on a couple of album covers. His art and his understanding of what we do has led to brilliant collaboration.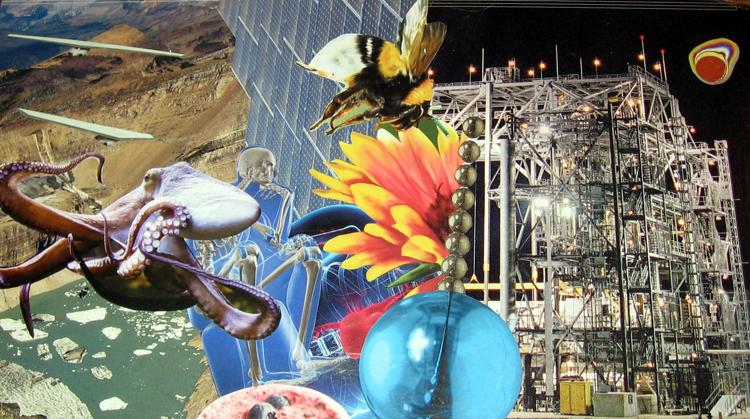 What are you planning for the Interference Series this Friday?
K: Psychic magick, full loop, void expansion, something old, something new. It will be fully improv and we've placed no expectations or limitations on each other.
C: A catharsis, our return since moving from Flagstaff. Emotions processing through the experience. Therapy through music for the group and community. Largely improv. We know what equipment we'll be using, we have intention, but this show will be spontaneous, similar to our earliest shows in Flagstaff, coming full circle in some ways, with different equipment, yet spontaneous. I don't really know what to expect. It's a conversation between us and the audience, an energetic conversation. It's different each time [depending on] who's there, the venue, last night's dreams, tonight's dinner, the energy that is present. The collaboration with the frequency of the audience.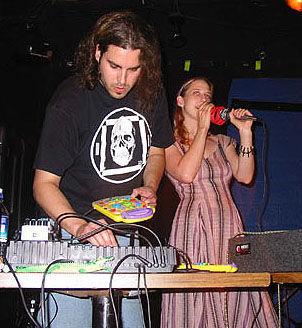 How would you describe the electronic noise/experimental music scene in Flag?
K: It's underground, hidden and pocketed, yet vibrant and exciting, welcoming. It's in bedrooms, house shows and classrooms, but it's not easy to find. Soap bubbles, appearing, sliding away, popping; it disappears and returns and surprises me.
Vesica Piscis is currently working on new material. Their last album, Imaginary Film Soundtrack #10, (part of a larger series) was recorded live at the Green Room in 2016. They will perform Friday, Nov. 16, at Kickstand Kafe, 719 N. Humphreys St. with an opening performance by letmechoosetodrown. Tickets are $5 and the show starts at 7 p.m. Visit www.shimmersounds.com or www.interferenceseries.org for more information.