Sharp angles and meticulously drawn lines pay tribute to some of the most majestic landmarks on the Colorado Plateau in drawings made by artist Chelsea Kavanagh. The lines crisscross slabs of local alligator juniper and walnut woods, combining geometry with geology through depictions of Corona Arch, Mooney Falls, Shiprock and other regional landmarks.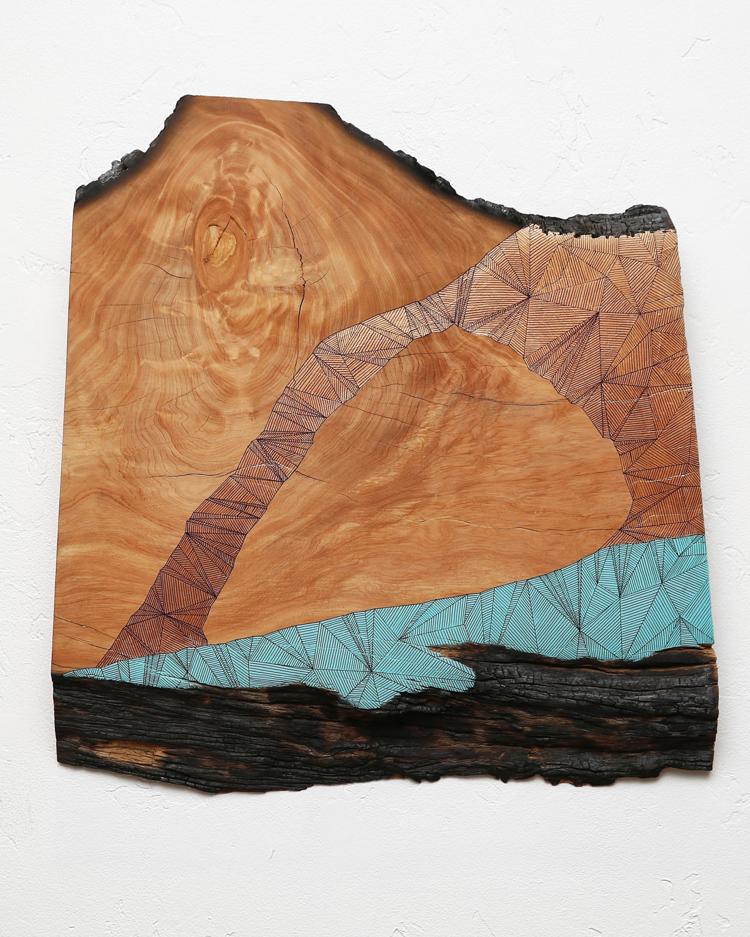 Kavanagh began collaborating with nature three years ago and appreciates the way in which the curving patterns in the wood complement and contrast with the fine, straight lines used to create intricate landscapes on the one-of-a-kind canvas.
"I like the fact there's an organic and a very inorganic thing working together," she says.
The Flagstaff-born artist has always found inspiration in her surroundings. A self-proclaimed tomboy when she was growing up, Kavanagh recalls taking mud baths, making mud pies and spending time outside in Sedona during weekend trips with her friends. The San Francisco Peaks dominating Flagstaff's northern border were the first thing she remembers ever drawing as a child.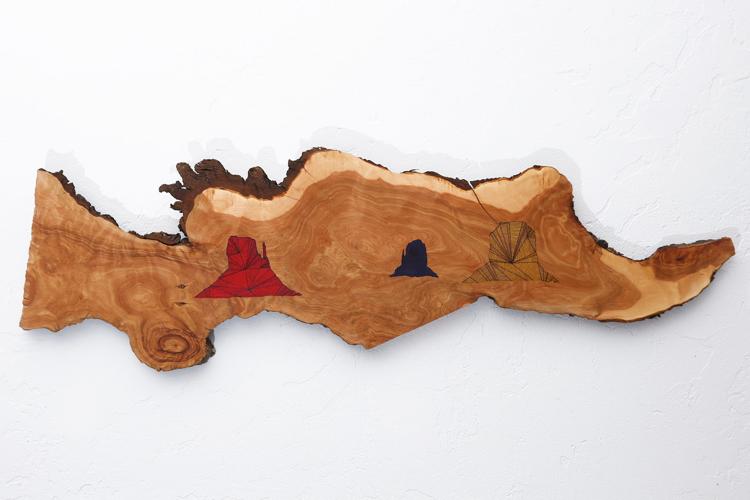 "It's still one of my favorite things to draw," she says. "Every aspect of the Peaks is kind of phenomenal because it's just like this sore thumb that sticks out from this vast openness. Every time I come up from Phoenix, I see that mountain and it's like, 'I'm home.' How the weather gets pulled to the mountain, I feel like it pulls people to it also."
She finds a spiritual comfort in the mountain and her love for it goes skin deep, illustrated by tattoos on her arms depicting the Peaks as seen from the south and the north from the perspective of Wupatki National Monument.
"It's always been my place where I've gone when I need alone time," she says. "That's always been my backyard. It's the woods where I got dirt under my nails, and it just reminds me of my childhood." 

Kavanagh majored in photography at Northern Arizona University but says she's always been a sketcher and gradually settled in to her current style of geometric line work while doodling. She first created landscapes with just pen on paper before moving on to canvas, a platform she found lacking for her detailed work as any give in the canvas would distort the pattern, creating jags or curves she didn't want in her designs.
This frustration with the soft and flexible surface led her to seek out something firmer and better suited for her visions. Kavanagh picked up some plywood from HomCo Lumber & Hardware on which to test out some designs and was delighted by the result. She has since moved on to working with recycled wood slabs from AP Sawmill & Lumber Products. Wood gives Kavanagh a rigid surface, and she's learned to embrace the natural curves and idiosyncrasies of the grain to incorporate them into her art.
"The wood gives it that soft, organic feel, and sometimes there are these amazing burls in them that make it look kind of like a sunburst in them or a sunset or mimics water sometimes," she says.
After she picks out her wood canvases, she takes them back to her downtown apartment where she'll sand the surface smooth before sealing the wood. She'll then compare reference photos of landscapes to each individual piece to determine which slab would be more fitting for each drawing and then lay down acrylic paint to create the base on top of which she'll add her intricate geometries with a Sharpie marker. Kavanagh tends to complete each painting in one sitting and rarely sketches out a preliminary design.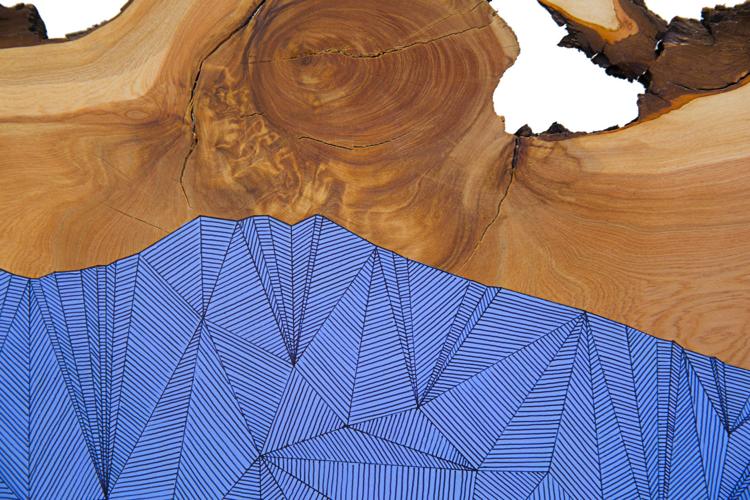 "When I do the line work, it's just what I feel like doing. It's not a planned thing," she explains. "Sometimes it works and sometimes it doesn't, but thankfully it's on wood so I can just sand it and start all over if I don't like it."
Balancing art with her full time job at Ceiba Adventures requires strict time management and an understanding boss, both of which she is grateful to have when she's on a deadline to create new pieces for an exhibit. Her work has appeared at Criollo Latin Kitchen, Flagstaff Coffee Company and Museum of Contemporary Art Flagstaff. Her latest showing, Land Lines, is currently on display at the Museum of Northern Arizona.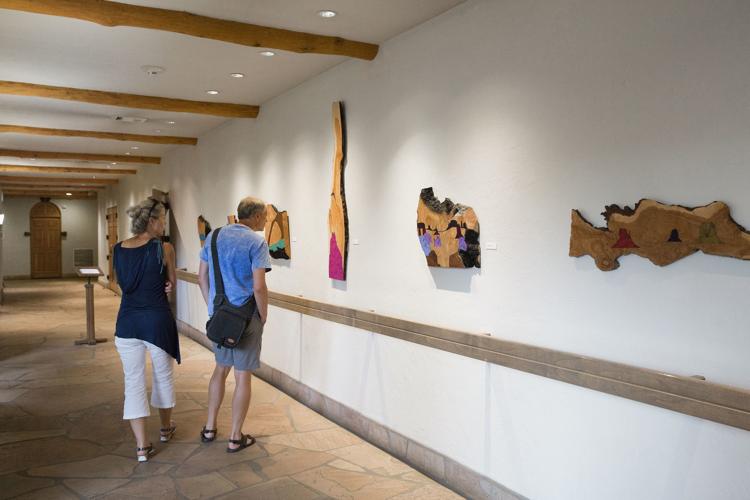 As for any future plans, she hopes to take a road trip through the Colorado Rockies to gather inspiration for a series on some of highest peaks in Colorado that reach above 14,000 feet, colloquially referred to as the fourteeners. She would also like to take a camping trip through the Grand Canyon and create a series where she outlines the monuments under which she lays her head for a few nights.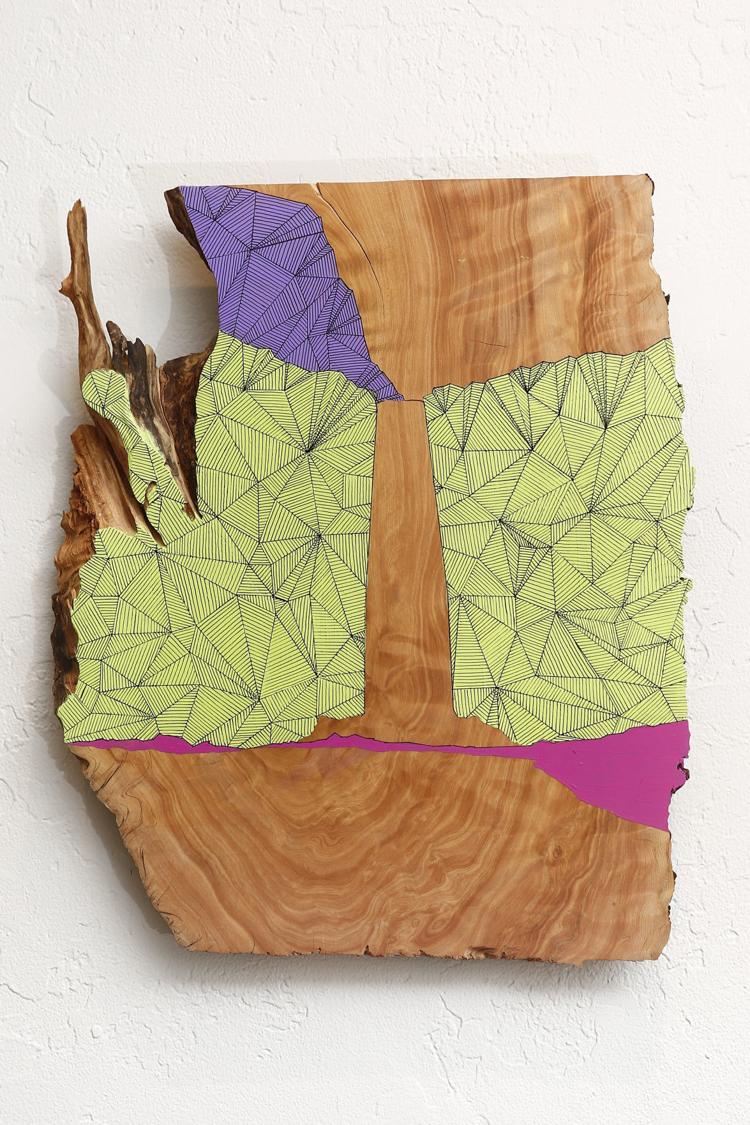 "If I didn't grow up here I don't know what I would draw," Kavanagh says of northern Arizona. "I don't know if I would be so drawn to these jagged mountains, canyons and landmasses that look like they're from the planet Mars. It's just a phenomenal place to grow up and experience nature."
Chelsea Kavanagh's exhibit, Land Lines, is showing through Aug. 19 at the Museum of Northern Arizona, 3101 N. Fort Valley Road. Regular museum admission is $12 for adults; $8 for youth, students with ID and American Indians; members and children under 10 are free.