At a special reception for her new exhibit A Choctaw Story of Land and Blood, Karen Clarkson introduced herself to an elderly couple gazing at the images: Faces of Choctaw children, women and men painted over archival documents, some dating to the early 1800s. Newspapers, land allotments, photos, stamps, birth certificates, marriage certificates, petitions and rolls, the Dawes Rolls, became canvases for the Prescott-based artist. 
After showing them around the room, the man told Clarkson that the exhibit was "depressing." The story of the Choctaw and the Five Civilized Tribes is a story of broken treaties by the United States government. It is a story of forced removal from lands the Choctaw once called home. It is a story of the systematic assimilation of a culture and its rippling effects that linger in America. It is a story, not despite but because of its cruelty, worth remembering.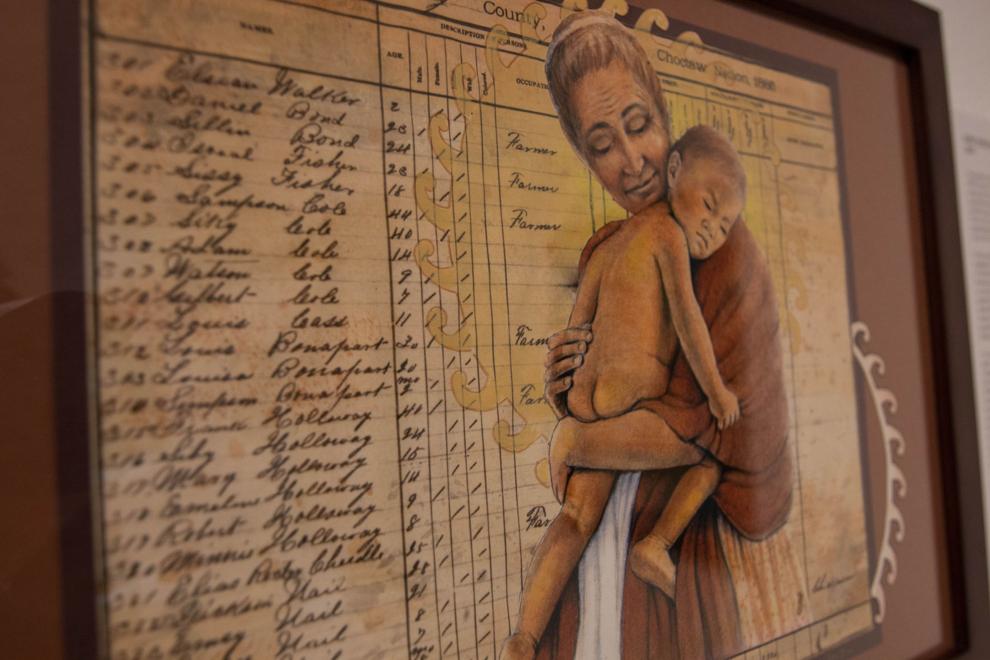 "I am very respectfully your friend, & the friend of my Choctaw and Chickasaw brethren."
- Andrew Jackson to the Choctaw & Chickasaw Nations, 1829.
"Surrounded by whites with their arts of civilization, which by destroying the resources of the savage, doom him to weakness and decay." 
- Andrew Jackson, "On Indian Removal," a message to Congress, 1830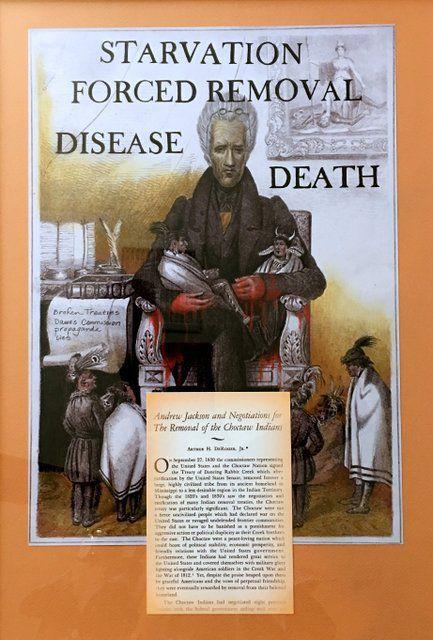 Within a year, President Andrew Jackson's tone toward Native Americans shifted, and citing U.S. interest he began an effort to remove American Indian tribes from the southeast. He signed the Indian Removal Act on May 28, 1830. By September, the Treaty of Dancing Rabbit Creek was signed, effectively beginning the forcible relocation of the Choctaw from modern-day Mississippi to Oklahoma. Thousands of Choctaw died along the Trail of Tears.
But 50 years later, the perceived Indian problem remained. The U.S. sought to expand its reach and exert control over Indian Territory, but tribal and communal mentality proved to be a barrier to American intention. The Dawes Act of 1887, otherwise known as the General Allotment Act or the Dawes Severalty Act, authorized the division of tribal lands into allotments which would be given to individual Indians.
"[The Dawes Act] effectively revoked all tribal land ownership in Indian Territory and cleared the way for any unallocated land to become the state of Oklahoma," says Clarkson, who is Choctaw. "Once they had made everybody an individual with a small allotment of land, the tribe was automatically splintered."
The Dawes Act, named after one of its commissioners and creators, Massachusetts Sen. Henry Laurens Dawes, and its amendments under the Curtis Act of 1898 and the Burke Act of 1906, abolished Native American tribal and communal rights with the intention of assimilating Indians into American society and transferred land to the settlers, as well as the U.S government. Within half a century, Indian land would decrease from 138 million acres to 48 million acres.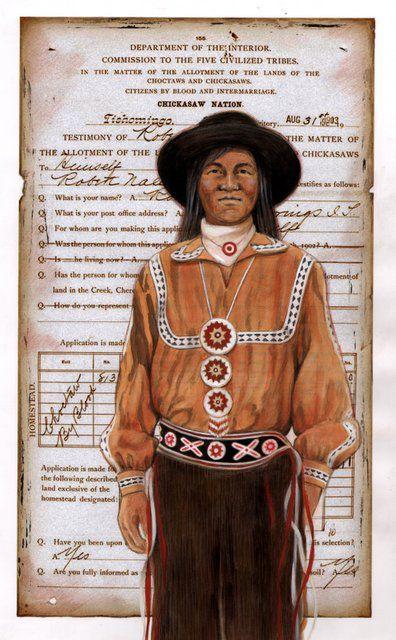 "When you take land away from people that shared it freely among each other and started basing Indian-ness on whether you had a land allotment it changes tribal dynamics," says the artist. "The allotment policy depleted the land base and ended hunting as a means of sustenance. It also affected gender roles, as communal living had always shaped the order of Native communities."
President Jackson's latter sentiment it seemed was the sentiment of America.
Though the practice of blood quantum laws was not widely accepted by the U.S. government until 1934 with the Indian Reorganization Act, the Dawes Act began the policy of certifying Native identities based on percentages of native blood.
"Because most tribes require a specific percentage of native blood, few, if any, Native Americans ignore their own and other's blood percentage in everyday life," says Clarkson, who argues the effects of blood quantum continue to impact Native Americans' right to self-definition. "The paradox is you cannot be an American Indian unless you are federally recognized, and you cannot be federally recognized unless you are an American Indian."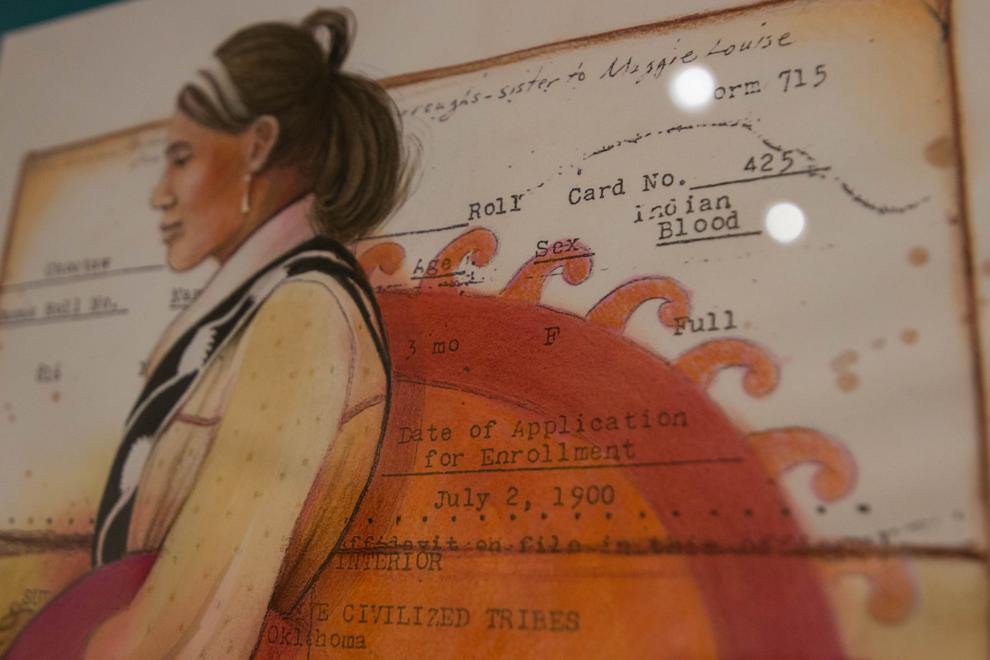 Clarkson feels the continued effects of blood quantum in her relationships with Americans, other Native Americans and even members in her own tribe. She asserts that the practice of blood quantum was used "as a wedge to drive native people apart."
"Just going to Native American shows and showing my art, people will come up to me and will say, 'You don't look Indian,' basing my identity on how much 'Indian' they can see. I just thought maybe there is room for discussion on this, and maybe I could try to show people how this all came about."
Throughout the exhibit are paintings and pictures of Clarkson's father, Charlie, who served for more than 20 years in the U.S. Navy, and grandmother, Margaret Nale, who were both listed in what is now referred to as The Dawes Rolls. At the age of two, when Charlie's father, a white man, died, he was taken from Margaret, a Choctaw Indian, and raised by his aunt. Margaret was never heard from again.
"All the time I was growing up [my dad] would never talk about her," says Clarkson. "I feel it's important to tell a little bit about her life in art as much as I can and try to illustrate what she went through, what the general feeling was at the time toward Native Americans."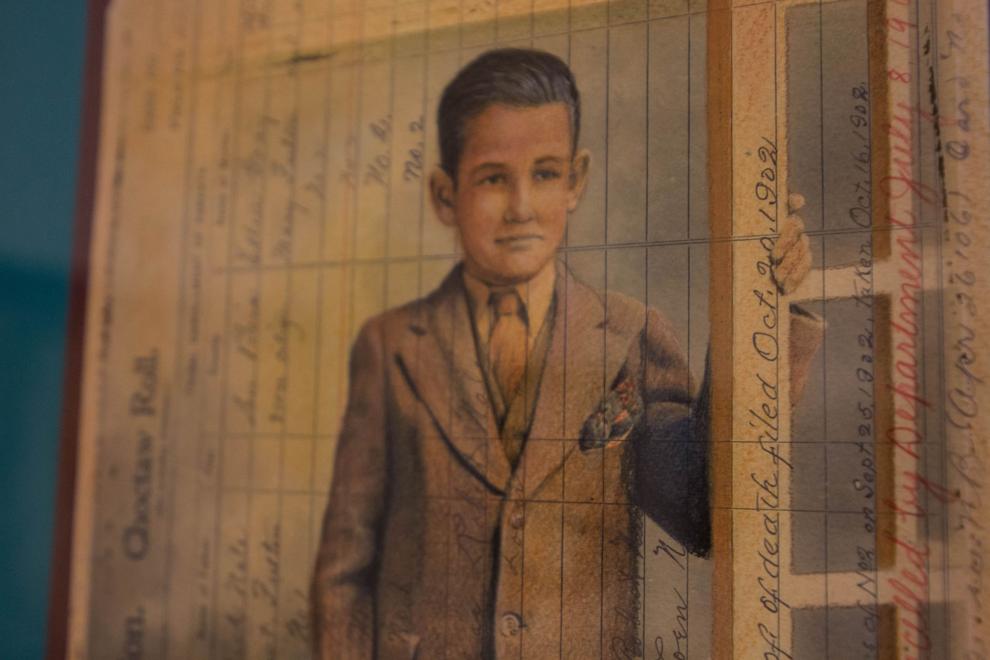 With little to no knowledge about her grandmother, her culture and her ancestry, Clarkson set out researching her ancestors and learning about Choctaw beliefs. What she discovered was the tragic history of a nearly forgotten people.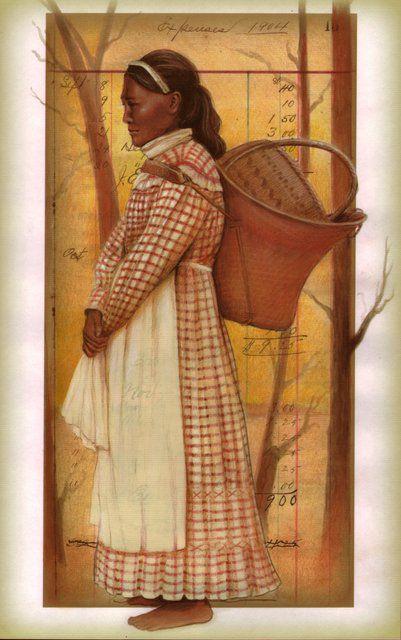 "We cannot bring ourselves to believe that such a great, grand, and Christian Nation, as the U.S. Government would so stultify itself in the eyes of the civilized world, by disregarding treaties heretofore solemnly entered into, with a weak and dependent people, regardless of justice and equity. – Simply, because she is numerically able to do so."
 – Wilson Nathaniel Jones, Choctaw Chief, in a letter to the Dawes Commission, 1894
Despite overwhelming opposition from the Choctaw Indians, America, a nation whose pride existed in and among its Christian values, spent the next century taking from the Five Civilized Tribes – Choctaw, Creek, Seminole, Cherokee and Chickasaw – their land, children, culture and identities.
"It was very sad and unfortunate, but it still is a part of history. Any time you can reflect upon history it's only a good thing, whether it's a sad history or a violent history," says Clarkson remembering her encounter at the member's preview. "I thought it was important not to try to dress it up."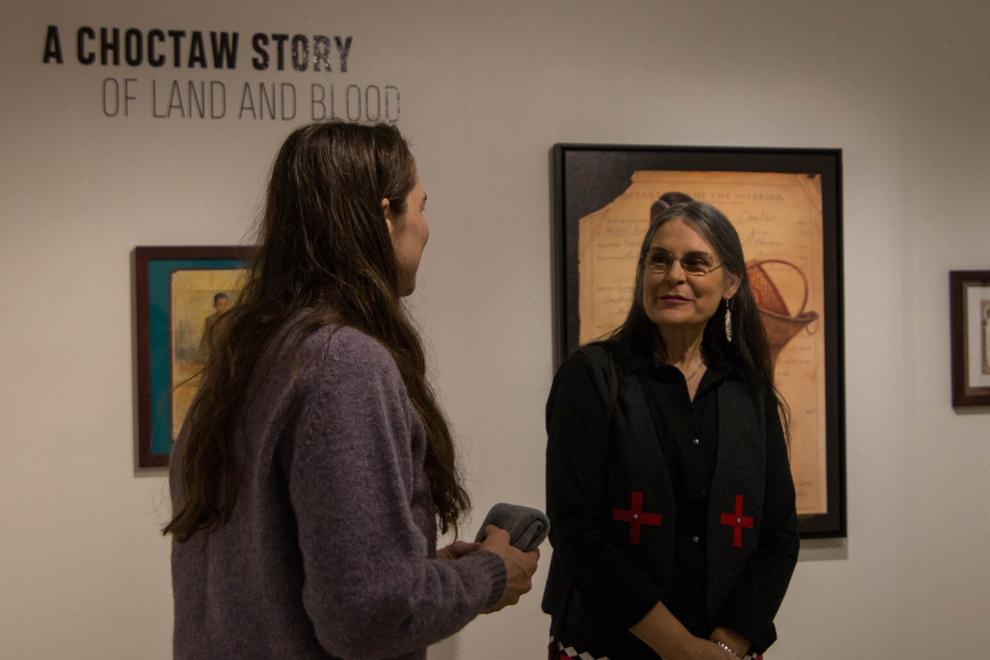 America, along with other countries in the developed world, evolved from a history of violence. And by painting faces and people over legal, binding documents, Clarkson reminds us of the real-life consequences of the Dawes Act and the systemic subjugation and assimilation of Native Americans, that history is not as clean as the documents that tell its tale.
A Choctaw Story of Land and Blood brings to life the humanity hidden behind jumbled narratives and a complex centuries-long history that is violent, brutal and unbecoming of the America we strive to be.
The public opening reception for A Choctaw Story of Land and Blood will take place on Saturday, Jan. 13, in the Jewel Gallery at the Coconino Center for the Arts alongside Arrangement for a Silent Orchestra in the Main Gallery. The exhibit will be on display Jan. 9 through Feb. 10. For more information about the award-winning Choctaw artist, Karen Clarkson, visit www.clarksonart.com.