This month, Flagstaff's HeArt Box Gallery and Studio will be featuring the work of artist and illustrator Katie Vernon with her series of botanically inspired new works entitled "Odd Flower." HeArt Box founding artist Jill Sans describes these paintings as "fresh, beautiful, inspiring, big, full-of-life pieces" that are "exactly what we need to see right now." In light of her first solo painting show since moving to Flagstaff, Flag Live! had the pleasure of chatting with Vernon. 
Flag Live!: I know that you are also an illustrator, is this your first solo painting show, or just your first painting show since moving here?
Vernon: This is the first show for this series. I feel like maybe 10 years ago I had painting shows when I lived in Bloomington, Indiana.
FL!: And what was the genesis of this particular work?
Vernon: Time and space I suppose. I had this little bit of time over the past six months or so and I just wanted to do things creatively. And I had the space to do bigger work. I've slowly taken over more and more square footage of our garage [laughs].
FL!: I know some great painters have come from Bloomington. Did you get an MFA from Indiana?
Vernon: Actually, I studied art education at the University of Indiana but I soon realized that I did not want to teach art! When we started a family I began to work from home, doing some illustration work. I'd always kind of dabbled here and there in illustration. Thankfully it worked.
FL!: I love how things sometimes just fall into place. What was your first big illustrating gig?
Vernon: Well around that time I'd done a couple pieces that were featured in a pretty big design blog, Design Sponge [laughs]. Do people even look at design blogs anymore? But that kind of opened up doors, for instance it led to a deal with Chronicle Books, doing pattern work. Oh, and I also ended up doing some greeting cards for IKEA.
FL!: IKEA, that's a nice gig!
Vernon: I actually had a friend that was traveling around Istanbul and they saw one of those IKEA postcards in this tiny cafe, and they sent me a picture.
FL!: It really is the best when you find a way to support yourself artistically. Living the dream. How long ago was this?
Vernon: Oh totally. After our daughter was born I got an agent and that really allowed me to focus on making art full time. So I guess I've been making art full time for eight years now.
FL!: I'm working out the timeline in my head, you were in the Midwest and then how did you make it to Flagstaff?
Vernon: We moved to Dubuque when my husband got a two-year postdoc position and then after that we went to Evanston, Illinois, for two more years. He got a job at Northwestern, which was great because we're both from around there and it was good to be around family for a bit. But before too long we were like 'We've gotta get out of here!' [laughs]
Vernon: We did! My husband got a job at NAU where he built and teaches an online master's program in the school of geography. His background is in outdoor education and research methods so it has been kind of perfect. Around the time we moved here is when I was getting back into painting.
FL!: Has the change in landscape, from the Midwest to the mountains, impacted your work?
Vernon: It definitely has changed the way I work. Just being here in Flagstaff, just the colors of the landscape. We live right on the mesa near BASIS School and all the different colors that come out at sunrise [are inspiring]. It is gorgeous here.
FL!: Has the landscape inspired you to work in that vein? Have you been painting any mountain landscapes?
Vernon: Before these florals, I was doing these loose, abstract, landscape-ish things. And they were really satisfying. But then I felt myself stiffening up. It felt too big to make a landscape but also to make it fresh. You know? It was putting too much pressure on me and the work. So I just asked myself, 'What feels easiest right now?' And that is how I went back to the flowers.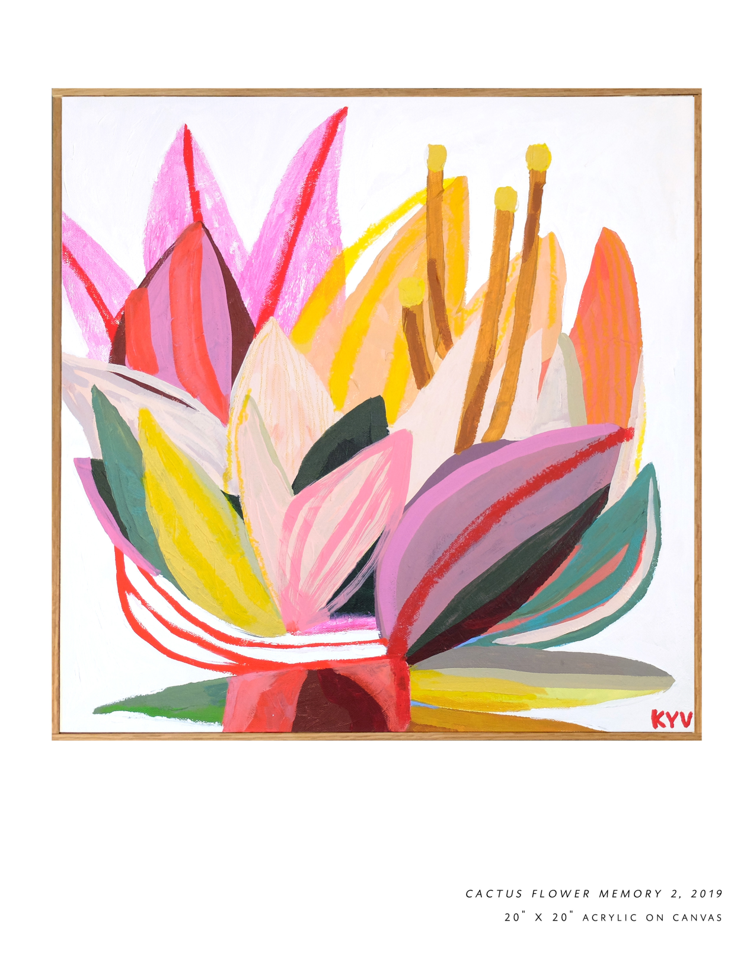 FL!: Back to the flowers?
Vernon: Back in Bloomington I was a florist. There was a florist who opened this brick and mortar and I applied as a helper sort of person, schlepping things. I was like, 'I know I can arrange flowers [laughs].' And then pretty soon I became her head designer. Maybe that is kind of why I always go back to flowers—it's what I've always loved and known. For this series I've been working large and cutting some out, cutting off a petal here or there and then collaging. Cutting out pieces and collaging digitally is how I do my illustration work. Doing what felt easy and natural.
FL!: You can tell by looking at them that you are really in love with the process.
Vernon: Oh yeah. I found myself really falling in love with the more abstract elements of the pieces. It kind of morphed into playing with color and shape and form. Every time I stepped up to the canvas I'd ask myself, 'How can I have fun right now?'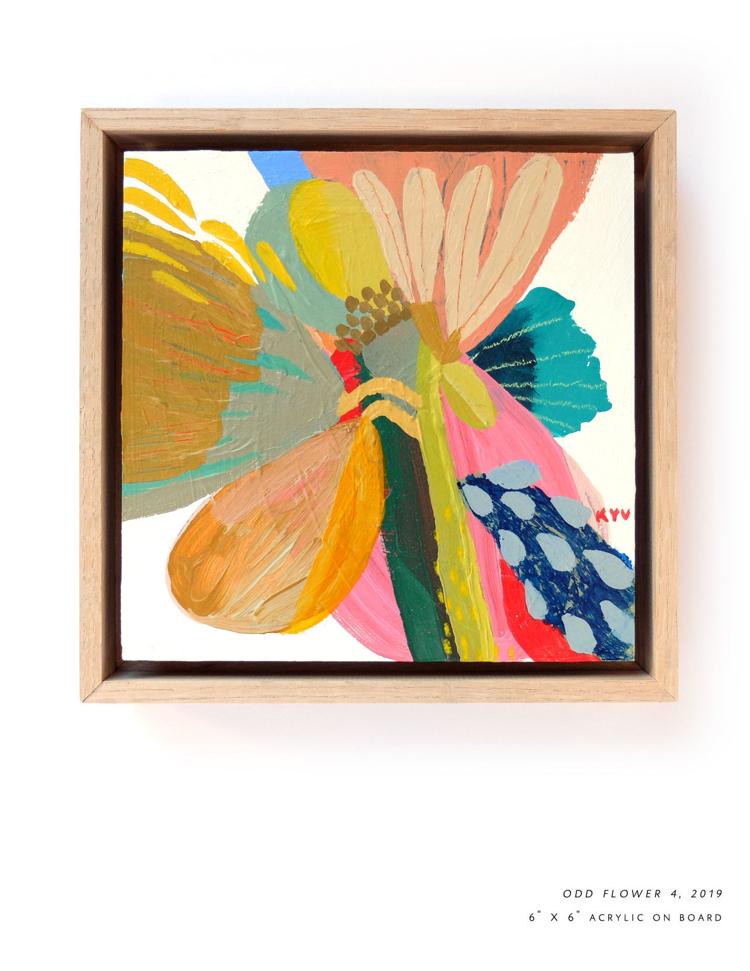 FL!: Do you think there is a chronology with the paintings, or a narrative? What I mean is, do you think someone standing in the gallery could tell which was the first flower painting and which was the last?
Vernon: I think so! Some artists can paint the same thing a hundred times and that is fine, but with these I wanted each one to morph a little and push it in another direction. They started out as more representational, but the last one, the biggest one, the most abstract one, has the most craziness. I really loved how they got bigger. There is something about scale, it is so important being engulfed by the work sometimes.
Katie Vernon's "Odd Flower" opens with a virtual reception Friday, July 3, on Facebook Live. Tune in to The HeArt Box at 6 p.m. to hear from Vernon and gallery founder Jill Sans. The show will run through Aug. 1. An exclusive pre-sale will be held Thursday, July 2. The HeArt Box is located at 17 N. San Francisco St., with appointments available for in-person viewing. Masks are required. Visit www.theheartbox.space to view the show online or reserve an appointment. Vernon's painting and illustration work can be found at www.katievernon.com
Be the first to know
Get local news delivered to your inbox!