In a watercolor painting by Lyncia Begay, a young woman, back scooped forward, hair speckled with the night sky and tied in a Tsiiyéeł Navajo bun, draws a handful of spring water to her lips. In it are tiny deer, leaping, swimming and prancing up from the blue pool.
Titled "Biihbitódnii Magic," Begay's painting is part of the High Desert Matriarch exhibit, which features work by indigenous female artists from the high desert of the Southwest and around the country. Like other pieces included in the show, currently hanging on the walls of Firecreek Coffee Company, "Biihbitódnii Magic" is deeply layered. Begay modeled the subject of the painting after herself, something that helps eliminate the cost of a model but also gives her control over her own image. The deer represent Begay's clan, Biihbitódnii, or the Deer Spring clan. The water—both that used to create the painting and depicted in it—represents its importance on Native land, to tribes in Arizona and the fact that it has been historically contaminated, rerouted and taken by government and business interests.
"Water is life for a lot of Dine people," Begay says. "It's not separate from us. There are so many issues surrounding it. We live in a time where people treat it as if it were separate, it's being abused, altered, diverted out of its ecosystem. I like to think [that] water is something you should give a home and that means allowing it to exist in an ecosystem where it's interacting, feeding animals, growing plants."
Behind the drinking woman in Begay's painting is a thick green wall of leaves, vibrant and thriving.
Venaya Yazzie too examines water, among other motifs, in her multimedia piece "Bahane'." A photograph of her great grandmother, born in 1907, is pasted over layers of acrylic blue paint. Blue infuses the background. Blue brushstrokes cover a series of duplicate photos of her standing with her sheep herd.
"Blue signifies the way we see the color of the earth, but also the sky. And symbolically that's also life, it's water. I kind of surrounded her with the blue and put her off center there to be showing her as a denizen—someone who is always going to stand and protect not only her family but the land," Yazzie says.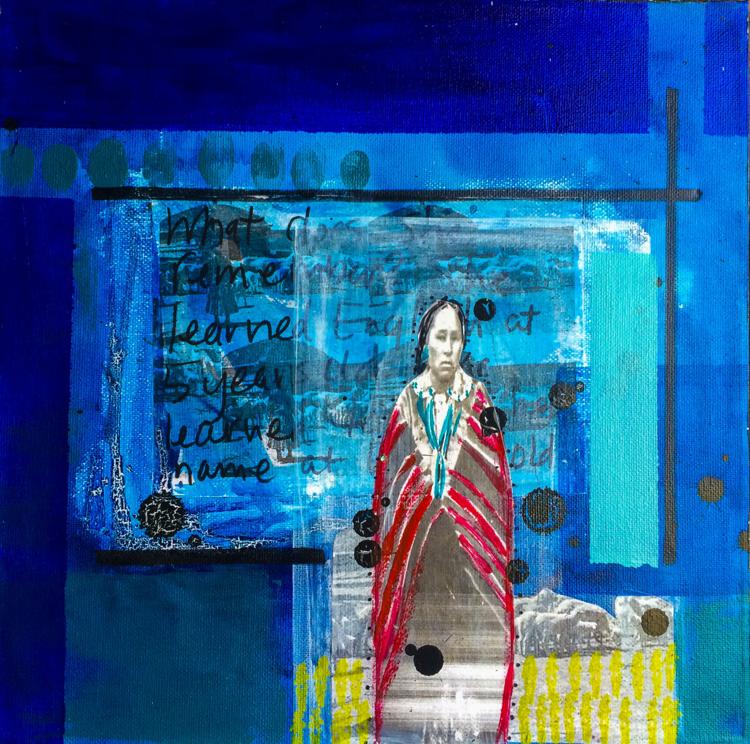 Yazzie, alongside fellow artist Jihan Gearon, helped conceive of High Desert Matriarch. Over the span of about two years, they and local photographer Amy Martin created what would culminate in six artists contending with their surroundings via art. Yazzie and Martin met by way of the 2018 Coconino Center for the Arts exhibit Hope + Trauma in a Poisoned Land: The Impact of Uranium Mining on Navajo Lands and People, and the rest sprang up from there.
"I met some other women from the area near Flagstaff [there] who I saw were doing some really good art and very much about the environment and land," Yazzie says. "And they were all women, all very empowered."
Yazzie returned to her home in northwest New Mexico hyperaware of how women around her were navigating similar subject matter; in her case, fracking and the oil and gas industry, contaminated drinking water, the prevalence of thyroid disease in women in the area.
"I saw how much we all mirrored each other," Yazzie says of her fellow artists. "We all had that same spirit. I see it as the spirit of our matriarchs, our grandmothers, our aunts, our sisters doing that steadfast work and being a voice for the people and carrying that legacy. And I just wanted to bring these groups of [artists] together."
The term matriarch is in many ways the pulse of the exhibit and a great deal of the planning centered on the word itself—specifically in contrast to the word feminism.  
"In my experience coming from Navajo society, our tradition of matriarchy means everything followed through the woman's line and it has nothing to do with American politics. That's how I see feminism in America, it's more of a political identity, and I don't think being indigenous in the southwest is a political identity. The femme, womanhood, gender matters in my Navajo culture," Yazzie says.
While some artists identify with indigenous feminism and others don't, as each experience, piece of art and way of approaching the world are distinct among the artists, what winds its way through High Desert Matriarch are issues of land, colonialism, resistance and resilience. Washington, D.C.-based photographer Aretha Shining Moon looks at each, seeking to highlight resilience in her art—that which continues to grow amidst the chaos.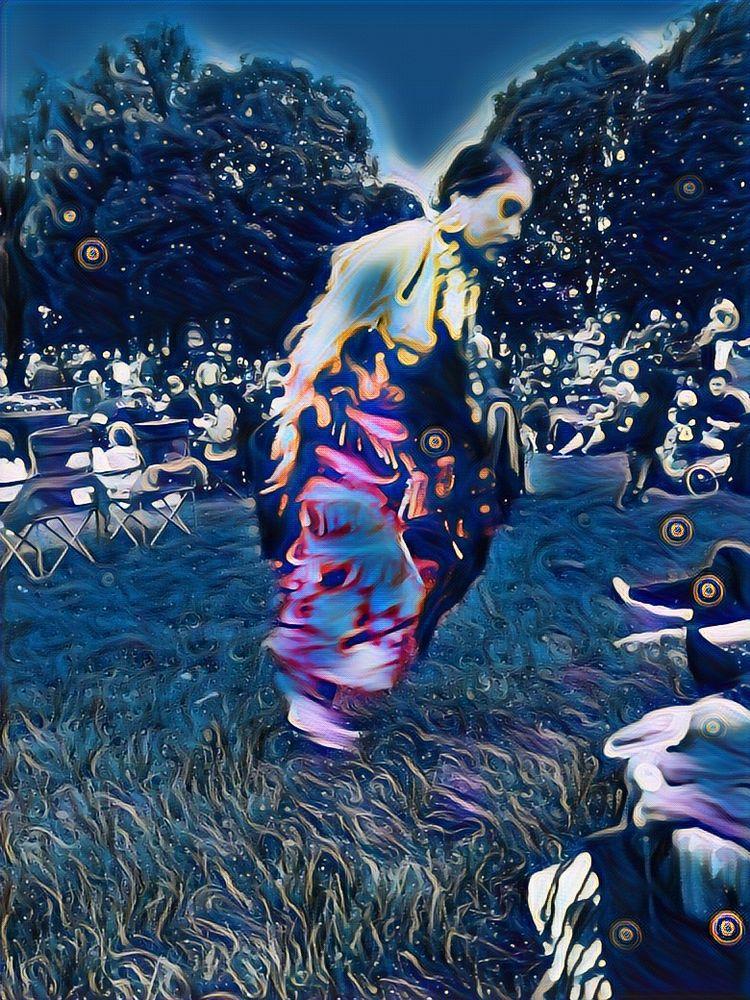 "I think all too often we are hyper focused on the evil from the environmental to the white supremacist uprising we're seeing. And we must focus on that. However, I think it's important that right beside that you show the hope, resilience, the solidarity," she says. "In my art I seek to elevate and demonstrate the things that are working, the ways that people are speaking up, praying up, even within these times. So I illuminate in many of my pieces how healing traditions are being kept alive, how indigenous people, and specifically indigenous women, are still dancing, are still adorning, are still maintaining a connection to the earth despite every attempt to erase that connection."
In "Gathering at the Falls," a photo Shining Moon took on traditional Spokane tribal land at the annual Gathering of the Falls powwow, a young woman walks amid blues and purples, rows of chairs. Glimmering pinks and silvers added in digital editing highlight her form as she moves forward in dance-like motions.
"Birth Right," taken on Spokane Indian Reservation, shows people dancing. In the forefront, a woman holds a baby upon whose head Shining Moon has placed a brilliant neon purple crown-like shape.
"[Digital editing] allows me to work with frequencies of color that I think best express how I was feeling in this precious moment of being surrounded by the people," Shining Moon says. "This photograph is a recognition of principles [of resilience] focused through this beautiful child: one part of the essential equation that we need for the algorithm of survival as we move ahead."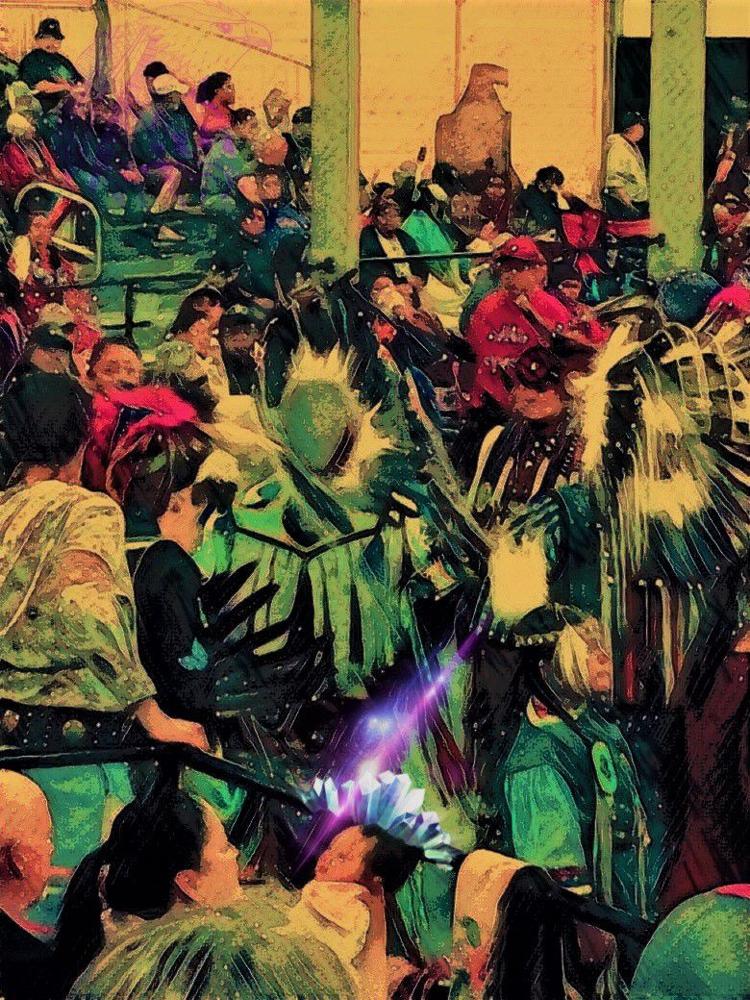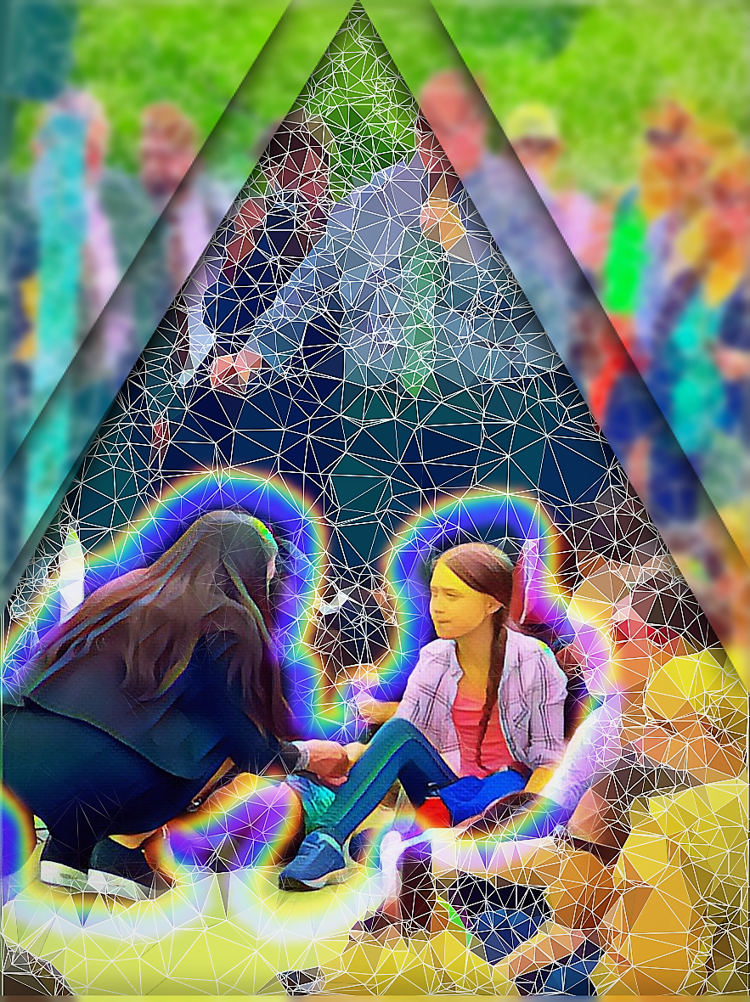 "Birth Right"and "Greta Touches Down" are both part of her photo series Make America Again. For this collection, Shining Moon captured photos at gatherings, from Pride festivals, political art installations and memorial sites and digitally altered them to bring forth her impressions of a moment, an event in time.
"Greta Touches Down" captures then-16-year-old climate activist Greta Thunberg's visit to The United States Supreme Court. Thick indigo halos enshrine Thunberg and Deb Haaland, one of the first Native American congresswomen, as the latter bends down to shake Thunberg's hand.
In Begay's "The Center of the Universe," a woman re-stokes the stove in her Hogan. In "The Medicine of Flower Nations," Begay has washed the world in bright yellow. Golden fields surround another young woman, this time seated and smelling the flowers around her. Depicting indigenous women in simple acts, like drinking water, making a fire or sitting in a field, have become increasingly important to Begay.
She frames it through stories of her grandmother picking flowers to make into soup while out tending to her sheep. She wasn't given a term for this practice until boarding school, where it was called poverty.
"You still see how those kinds of things impact our perceptions of self and what is 'acceptable.' I want to show strong Dine women that are happy doing something simple," Begay says. "I remember creating art when I was younger and it was really dark, it was really emo, dark, angsty. And appropriately. Colonialism is no joke, especially for a young person."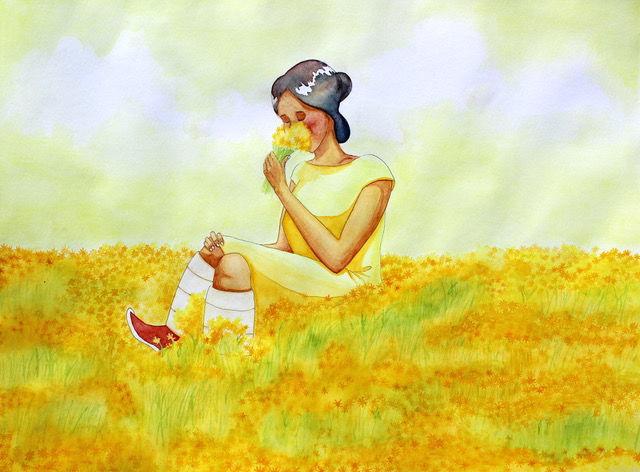 "I think as I get older I see how important it is to have a state of Hózhó, harmony and balance. When I look at the world I see our grandmothers, Shimásáni. They represent that balance, they're always trying to maintain that whole. But it's becoming less and less, people become more and more disconnected from culture and history and being."
High Desert Matriarch is currently on display at Firecreek Coffee Company, 22 W Route 66. There will be a panel featuring artists Jihan Gearon, Venaya Yazzie, Eileen Baca, Lyncia Begay, Monica Wapaha and Diedra Peaches sharing their perspectives on contemporary matriarchy, expression through art and connection to place. Short films by the artists will accompany the session. The event begins at 11 a.m. and goes until 1 p.m. as part of the Flagstaff Mountain Film Festival. For more information, visit https://www.facebook.com/events/827218207691199/
Be the first to know
Get local news delivered to your inbox!