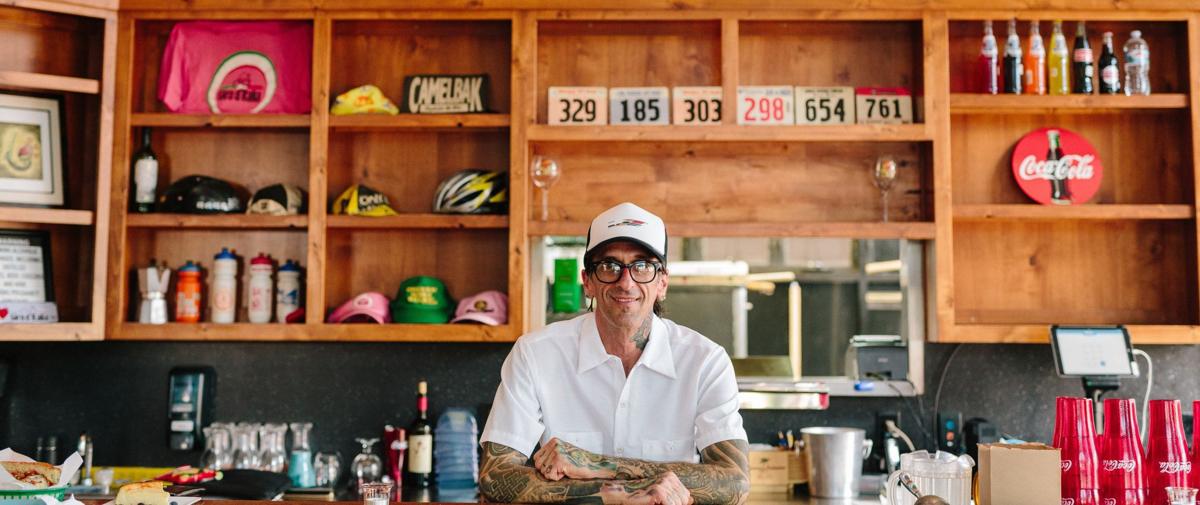 It all started with food. And you could also say a dream.
For years, 13 to be somewhat exact, Bob Verderame had a vision about a pizzeria in Flagstaff that was more than just pizza—all while he was laying down ink on body parts at Tat-Fu Tattoo, which he opened in 2001.
In July of 2014, he got his chance. With a handshake from a local property owner he says "didn't know him from Jack," but who recognized his passion for food—one passed down through generations of family, Il Rosso Italiane was born. And for close to two years Verderame built up a small business and sense of place that amassed what has been likened to a "cult-like" following, all in the name of excellent Italian food.
Then, as quick as it took off, the lease was unexpectedly terminated to make way for the Marriott hotel now sitting on the corner of Humphreys and Aspen Avenue. One of the truest local eateries in Flagstaff to come along in years, sadly, no longer had a home.
Over the course of that next year, with nearly everything lost and an assist from a fellow Flagstaff restaurateur who supported him when no one else would, Verderame, against all odds, was able to continue to breathe life into that dream.
As of this past May, those humble breaths have turned into a new home in Heritage Square next to Cuveé 928, where Verderame grinds away in his new kitchen, making some of the most delicious food in town, all so he can put and enjoy a smile on the faces of those who scarf it down.
They were words this writer and many who frequented the "old joint" thought they'd never hear again. But then, on an idle Monday evening, a deep-fried Panzerotti was served to golden perfection with that staple red gravy and all the fixings—and it was yelled once again: Order up!          
Ask Verderame and he'll tell you, "It almost didn't happen"—the re-emergence of Il Rosso. He'll also tell you that, "It came really close to me just giving up."
After getting the boot from his old location, Verderame wasn't left with much. He had sunk everything he had into it. But, as Flagstaff does, he was picked up. Tyler Christensen—who Verderame will also say "ties into all of this"—moved to town from Phoenix in 2013 to open SoSoBa and eventually The Commerce, and gave Verderame a spot to continue his craft in the form of pop-up Mondays. The only catch was he didn't have his oven. But nonetheless, he stayed alive.  
"Him [Christensen] allowing me to do my pop-ups on Mondays, we did that for 10 months every Monday, and not only did he keep Il Rosso on the street, it kept me engaged," Verderame says. "It kept me feeling like people wanted Il Rosso, and it was worth the extra work to make that happen."
During those 10 months, Verderame started tracking down a new, full-on location that Il Rosso could fill. Because the nitty-gritty details are many, let's just say there was a ton of back and forth between multiple parties over the course of six months, and Verderame was time and again, he says, "put on the backburner—you know, to use a good restaurant pun," in favor of other bidders looking to buy-out the whole Cuveé 928 space. Ultimately, just as the future of Il Rosso started looking grim, a deal was worked out that allowed Verderame to occupy one half of the prime, downtown real estate.
"I feel like everything that happened here happened for a reason, starting with being kicked out of my original location," Verderame says, noting that keeping Il Rosso alive is in so many ways connected.
And with the new location, the new dream is to take the old hole-in-the-wall space and create more of a full-service restaurant, adding more entrees, appetizers, desserts and a full bar. Dan Hernandez, Verderame's new partner and co-owner, will oversee the bar while Verderame maintains the quality and consistency of the food—each with a clear-cut dedication to customer service. And with all the changes also comes a new name: Il Rosso's Pizzeria & Bar.
"I'm really happy. Everything is falling into place and everything is coming together as good as I could've ever dreamed it to happen. This is my dream location, my dream kitchen. I feel like we're the right business for this spot," Verderame says. "I'm planning on being here for a long time. Really, my plan is to take Il Rosso to the next level."
From start to finish, Verderame's hands are on every aspect of his business and culinary creations.
The lineage of his food follows a classic story of a family that went from Italy to New Jersey, and brought with them those family recipes. Add all that stuff up and it is what fuels Verderame's passion for food.
"I've combined my experience with my family's recipe to create my own style," he says. "The [red] gravy started out as my grandmother's, then it went to my mom, then it went to me." But the cheesecake is another story. He adds, laughing, "The cheesecake is my grandfather's recipe; you do not touch that."
Verderame's second and third passions, cycling and music, also factor in heavily to the passion for his business. An avid biker and competitor himself, race bibs and jerseys adorn the restaurant's walls, as well as photos taken during a trip to Italy where he followed a three-week bike race. As for the music, you can hear it flowing through the speakers at all hours of the day, from Frank Sinatra to old-school hip-hop to the Dead Kennedys. And like the food, his love for music stems from family—once again, all connected.
"A part of my growing up with my grandparents and cooking involved listening to Frank Sinatra and Dean Martin," Verderame says. "If there's no music here, it doesn't feel like Il Rosso."
Whether it's the food, bikes or music, that passion is shared by Il Rosso's loyal following, and the fact that people enjoy it all as much as Verderame does makes him want to be there for the 16 hours a day that he is, giving no second thoughts about what he's doing there.
"People are just as passionate about how my food tastes and the experience they have here as I am about cooking food and providing the experience," he says. "It goes hand-in-hand. I want it to feel like home."
And a good home it is. In the couple months since re-opening, Verderame has seen most of his regulars come through the door at least once, 90 percent of which are community members or friends. He also notes that because of the new location, a lot of new customers are checking it out.
As for the Marriott, Verderame says, "I've moved on. What I'm trying to do now is capitalize off of that."
And with an unnerving feeling that Flagstaff is becoming overrun by Phoenix and NAU, it's refreshing to see a local guy fall and rise back up to prominence. We need more of that: More humble. More local. More Flagstaff. Should you need more of any of that, you can find it in Heritage Square at Il Rosso's Pizzeria & Bar. 
"I'm in here all day, every day, and I'm not looking for anybody to say 'thank you'," Verderame says. "I'm just looking for a big smile on your face after you have my food."
Also, he'll tell you, "They can't kick me out!" And because of that, he, too, has a big smile on his face.
Dig into Il Rosso's Pizzeria & Bar at 6 E. Aspen, Ste. 120. Current hours are 11 a.m.–3 p.m. (lunch) and 5–10 p.m. (dinner). However, as soon as they get their liquor license, hours will expand. For more info, call 440-5272. But for the full experience, just swing through. 
"I'm planning on being here for a long time. Really, my plan is to take Il Rosso to the next level." — Bob Verderame
Be the first to know
Get local news delivered to your inbox!